Busy people are never too busy to take the absolute best care of their dogs. Instead of leaving your puppy at home alone all day, take him to a doggy daycare facility where he can run and play all day. He can make friends and climb on play structures. He may even be able to splash in a pool on a hot summer day. Daycare is the perfect place for dogs who need to burn energy. Check out this list of the best doggy daycares in Albuquerque, New Mexico. Hopefully, you find the perfect fit for your puppy!
Other articles you would like: Small Nonshedding Dog Breeds and Best Dog Brushes for Tangles!
Camp Bow Wow strives to give your puppy the best experience at their Albuquerque location. Safety is their top priority with Camp Counselors certified in pet first aid and CPR. Dogs receive spacious play areas to avoid overcrowding and anxiety. You can also watch your puppy play from Camp Bow Wow's live webcams!
Daycare includes indoor and outdoor playtime with constant supervision from Camp Counselors. You can also enroll your puppy in individual enrichment activities for an extra fee. Snuggle Time is one-on-one time with a Camp Counselor in a quiet area for your dog to relax with belly rubs, cozy beds, warm blankets, treats, and a massage. Sniff & Seek is another one-on-one session where a Camp Counselor teaches your dog to use his nose to find food, treats, and toys. This exercises their brain while their body gets a bit of a rest. Play Pals is a one-on-one session where a Camp Counselor plays a game of fetch, frisbee, or tug-of-war. This design gives your dog the extra mental and physical stimulation he needs.
The Interview Day for daycare is free. This is a requirement for daycare or overnight boarding. A half-day of daycare costs $22 and a full day costs $29. Start by filling out a New Camper Application! They are one of the most popular dog daycares in Albuquerque.
Albuquerque Dog Daycare Information:
Address: 3228 Los Arboles Avenue NE, Albuquerque NM 87107
Telephone: 505-881-3647
Arie's Dogland offers Doggie Playgroup in three different sections. Puppyville is for large and medium-breed puppies. Tiny Town is for small and tiny dogs and puppies under 25 pounds. Central Park is for all big dogs over 30 pounds. New dogs must do a scheduled free introduction to meet the group and see how they feel about the other dogs. Plan on doing a couple of introduction sessions until your puppy is completely comfortable.
Play Group begins at 7:00 a.m. Central Park dogs go into their crates at 4 p.m. for a 90-minute nap time. Tiny Town and Puppyville dogs are in their crates between 3:30 p.m. and 4:15 p.m. for nap time.
Arie's Dogland has a few temperament requirements. Dogs must not be human or dog aggressive or reactive in any way. Dogs may not show any bullying or rude behavior. Staff members will test your dog to ensure it can play with good manners. If your dog does not pass, an Arie's staff member will give you specific reasons and options on the next best step. Oftentimes, they recommend a private session. We really like this dog daycare in Albuquerque because they temperament test all dogs before letting them in.
A full day of Play Group costs $30 for any group. A half-day costs $20 for any four hours
Albuquerque Dog Daycare Information:
Address: 3530 Pan American FWY Suite H, Albuquerque NM 87107
Telephone: 505-884-4335
With two locations in Albuquerque, Canine Country Club offers daycare amenities seven days per week. Dogs get between 2,000 and 4,000 square feet of outdoor space to run and play with the pack. Your dog will learn proper manners from interacting with dogs of varying sizes, personalities, breeds, and ages. Interacting with a "pack" in daycare teaches your dog to be mature and gives him that mental stimulation he needs.
Does your puppy need a bath or a trim? Book one of their grooming services while he stays at the Canine Country Club.
Does your dog have a feline friend? Check out their Cat Boarding services, too. Spending the day in caring hands could keep Fluffy out of trouble while you're away.
Half a day of daycare costs $20 while a full day costs $27. Day boarding costs $34. Multi-day packages are available. Be sure to take advantage of their Pet Points Rewards!
Albuquerque Dog Daycare Information:
North Valley
Address: 7327 4th Street NW, Los Ranchos de Albuquerque NM 87107
Telephone: 505-814-5513
Westside
Address: 4201 Marna Lynn NW, Albuquerque NM 87114
Telephone: 505-933-7844
Pet Paradise is the perfect doggy daycare for those sweltering New Mexico days. Dogs get to romp in swimming pools and hang out in climate-controlled indoor play areas. You can even watch your puppy play on their live webcams!
Daycare doubles as an animal amusement park with three indoor heated pools and multiple play areas. Dogs can enjoy synthetic grass play areas, shaded yards with misting fans, and pet pools. (Life jackets are available!)
Playgroups are created based on breed size and activity level. Playtime is always supervised for everyone's safety. Coordinators host a variety of games and activities in the play yards to keep the puppies happy and stimulated. And when you pick up your puppy you get a Lil' Camper Report Card!
Weekly passes are $24 per day. A single half-day costs $27 for four hours or less. A single full day costs $37. You can also sign up for training classes while your puppy has a stay!
Pet Paradise partners with local animal hospitals to offer the best veterinary medicine and wellness care in case your puppy needs it.
Albuquerque Dog Daycare Information:
Address: 580 Quantum Road NE, Albuquerque NM 87124
Telephone: 505-891-4100
Monte Vista Pet Lodge aims to strengthen the bond between humans and animals. They specialize in pets with special needs and medical needs. Staff members and dogs spend up to 10 hours running, jumping, splashing, playing, rough housing, socializing, and making friends. Dogs can also play in the pool during the summer months to cool off from the New Mexico heat.
Monte Vista requires proof of current vaccines. A veterinarian must administer all vaccines. No vaccines purchased over the counter and administered at home. Dogs must have active flea and tick prevention prescribed by a vet, if boarding between April and October. No flea collars such as Hartz or other OTC brands.
A full day of daycare costs $22. A half-day costs $17. Monte Vista can accommodate Play Dates if your dog has a best friend at their facility. They can arrange for the puppies to attend daycare on the same day!
Albuquerque Dog Daycare Information:
Address: 365 Unser Blvd SE, Rio Rancho NM 87124
Telephone: 505-998-1494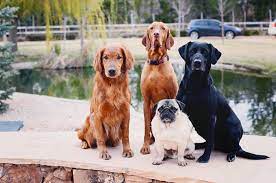 Triple Quest is a full-service training and boarding kennel. The owners live on campus to provide 24-hour attention and service to the dogs. The small business size allows the staff members to give the best possible dog-centered experience while he's staying. If you have a Retriever or Pointer, consider daycare here! They offer Retriever training for hunting and competition and Pointer training for hunting. All other dogs can enroll in obedience training with the option of in-board training and private lessons.
In daycare, dogs get group playtime or one-on-one playtime with a staff member. The runs are indoor/outdoor with heating and air conditioning. All dogs are kenneled individually unless staying with a fellow canine family member.
Daycare costs $35 per dog. Two dogs in one run costs $57.
Albuquerque Dog Daycare Information:
Address: 8 Coyote Lane, Los Lunas NM 87031
Telephone: 505-980-4480
Caring Paws Doggy Daycare is a locally owned and operated dog boarding center. They offer a clean and safe environment for your puppy to be happy and healthy with his canine friends. Dogs get to enjoy a roomy outdoor space with plenty of toys and climbing structures.
For new clients, schedule your dog's free two-hour trial daycare session. 6 hours or less of daycare costs $15 for one dog. A full day (more than six hours) costs $20 for one dog. A second dog from the same family receives a discount. Five- and ten-day packages are available with discounts.
Caring Paws is open 365 days per year. They're there for you whenever you need them!
Albuquerque Dog Daycare Information:
Address: 2519 Madison Street NE, Albuquerque NM 87110
Telephone: 505-883-7297
Best Doggy Daycares in Albuquerque, New Mexico
Hopefully, you found a dog daycare in Albuquerque that suites your needs! Albuquerque has a variety to learn about. As always, be sure to take a tour of the daycare facility before officially enrolling. Bring your dog for an introduction to the other dogs to make sure he cooperates with them. He won't enjoy daycare if he's intimidated by the other dogs or can't make any friends. Make sure the staff members take proper care of the dogs they host. Do all the dogs look happy? Are they playing with each other? Is there plenty of freshwater for everybody? Does the daycare facility require vaccines and a behavior exam? If so, you may have found a very good fit for your puppy.
Other articles you would like:
Garrett loves animals and is a huge advocate for all Doodle dog breeds. He owns his own Goldendoodle named Kona. In addition, he volunteers at the Humane Society of Silicon Valley, where he fosters dogs and helps animals. Garrett enjoys writing about Doodles and believes that dogs can teach humans more about how to live than humans can teach a dog.
Why Trust We Love Doodles?
At We Love Doodles, we're a team of writers, veterinarians, and puppy trainers that love dogs. Our team of qualified experts researches and provides reliable information on a wide range of dog topics. Our reviews are based on customer feedback, hands-on testing, and in-depth analysis. We are fully transparent and honest to our community of dog owners and future owners.