Is your dog in need of socialization with other dogs? Do you need to leave for the day but want someone who will take care of your best friend for a small fee? Doggie daycare is a way for your pet to have fun while having the opportunity to socialize with other dogs. It can also help lower anxiety or boredom, as well as provide an activity to look forward to every day.
Other articles you would like: How Fast Dog Hair Grow? and How Long Does Dog Grooming Take?
How to Choose a Dog Daycare in Boise, Idaho
Is your dog comfortable around other dogs? Be aware of how he/she interacts with them. If you notice that your pet is aggressive or anxious around others, then this may not be the right daycare for him/her.
What does the facility consist of? Does it have indoor playrooms and outdoor spaces as well? Is there grass, sand, etc.?
How many dogs are kept at one time? This includes puppies as well as adult dogs. A smaller location with fewer dogs would be better for your pup, but if they do not have the resources to accommodate all of their clients, you may want to consider a larger location. A good facility will have enough space for each dog and ensure that there is no overcrowding.
How many staff members are present at any given time? The more people watching over all of the pets, the safer it should be. Make sure that everyone has appropriate certifications in pet first aid and CPR.
What types of activities does the daycare offer? Does your dog enjoy playing tetherball or going on walks around the block? Some facilities include these activities while others simply let all of their guests play with one another.
What is their vaccination policy? Be sure that all of your dog's shots are up to date for his/her protection as well as the other dogs at the facility. If you do not bring proof of vaccinations, some facilities may not allow him/her to play with others.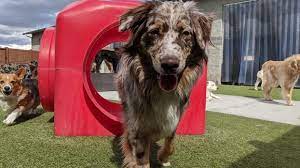 They make a point of teaching all of their employees how to deal with certain dog behavior and appropriate play behavior. With this tremendous information, their workers may mix and match the dogs to create the best doggie daycare experience for each one.
They begin with the basics and gradually increase your pup's exercise and skills through everyday games and challenges. Every day, their instructors' select groups of dogs to ensure that your dog makes new friends, learns good play socialization, and is happy and comfortable. They've created a timetable with learning in mind, which means they devote part of each day to "group sits," "recalls," "boundaries," and waiting properly at the gates.
Their groups are determined by your dog's playstyle and how at ease they are in the group. They believe that balance is crucial for your dog to Play, Learn, and Relax while they're at daycare. Since they understand your dog's unique personalities and what makes them happy, they can ensure that each puppy is healthy and safe.
They guarantee to provide a sparkling clean, safe, and pleasant setting that your dog will want to return to time and again, and you will rely on every time! We really like this dog daycare in Boise!
Boise Dog Daycare Information:
Address: 8453 W Elisa St, Boise, ID 83709
Telephone: (208) 362-0882
Camp Bow Wow is a popular destination for pet parents because they know their dogs are in excellent care. They are surrounded by Camp Counselors who treat them as if they were their own family from the moment they stride through our doors until you come to pick them up. We make certain that our facilities are both safe and secure, so there's nothing to worry about.
Their Camp Counselors are trained to look for signs of stress or anxiety in all of the dogs that they watch over, and their goal is to help your dog be happy and healthy while you're away. They believe it's important for pups at any age to get out of the house and play with others, socialize, and exercise.
They accept dogs of all breeds and sizes, so it doesn't matter if your pup is big or small – they're always welcomed with open arms!
They help you to develop a customized training and exercise plan so that your dog feels happy and fulfilled when they're with them and also when you two are back at home. They will take them out individually or in small groups to allow them plenty of time to play, relax, and enjoy their time with Camp Counselors.
Boise Dog Daycare Information:
Address: 3430 S Tk Ave, Boise, ID 83705
Telephone: (208) 331-5091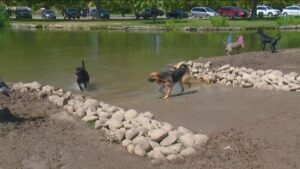 Treat your furry pal to a fantastic day of dog day camp at Idaho Dog Park. You will get a "Welcome to the Family" certificate on your first visit, as well as a grade for how well your dog interacted with their kennel technicians and other dogs (standardized behavior assessment).
Before they are allowed in open play, each dog is subjected to a behavioral evaluation. The Trial Day allows the staff to accurately evaluate their, confidence, temperament, and dog communication abilities.
Their trained, kennel technicians regularly monitor play yards. Their technicians are there to give some dog love, but more so to facilitate communication between them. They discourage mounting and bullying and advocate for PLAY GROUPS that are HEALTHY AND HAPPY!
All dogs can be categorized according to their size, energy level, and behavior. Watch your pet through their webcams for peace of mind! Their daycare doors are always open, and dogs are free to come in and go out as they wish.
Every day, their facility is cleaned from top to bottom with their built-in Wet Vacuum cleaning system! Their Wet Vac allows them to sanitize, rinse, and dry all in one.
Boise Dog Daycare Information:
Address: 5019 N Sawyer Ave, Boise, ID 83714
Telephone: (208) 322-3317
All Paws offers a typical day in the life for dogs: playtime with friends, plenty of attention from their committed team, and more than enough room to romp about in our 13,000+ sq. foot facility. Every dog should be so fortunate.
The biggest outdoor dog grass play areas – There is no mud!
Only doggie daycare car-hop service in Boise
Tour the day camp during office hours (except holidays)
Multi-generational family-owned and managed full-service doggie daycare
The All-Inclusive package is for everyone who wants it all. Hugs and luvs are complimentary.
Dogs celebrate their birthdays for FREE!
They categorize dogs according to their playstyle and temperament. Typically, their groups include 12-15 dogs. Dogs are swapped in and out of playgroups on a regular basis, with time for rest, water, and food.
Please review their vaccination, spaying/neutering, and other policies. They may feed lunch to those who require it; simply bring in your pup's pre-portioned food for the day.
Boise Dog Daycare Information:
Address: 454 N Phillippi St, Boise, ID 83706
Telephone: (208) 501-8056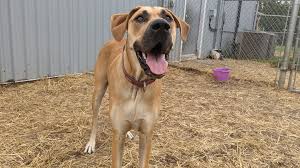 Socialization with the rest of the nice dogs is essential to your dog's health and pleasure. That's why Companions Dog Resort, a canine daycare facility in Boise, stresses socialization with other dogs and staff during dog daycare.
A healthy activity routine burns off your dog's daily energy while keeping him or her looking fit and cheerful. Many of their regular dog parents consider their facility to be a second home for their dogs. During his/her stay, their trained staff ensures that your dog receives just the amount of exercise just right for them.
By leaving your dog at their resort, you can avoid behavioral issues that are the result of pent-up energy. Your dog can burn off his excess energy by romping around outdoors with other dogs being watched closely by their dog-loving team.
They were previously voted as the #1 Best Dog Daycare in Boise!
Boise Dog Daycare Information:
Address: 106 W 39th St, Garden City, ID 83714
Telephone: (208) 386-3647
6. Pet Lodge
They offer a one-of-a-kind day camp experience at IPH's Life Enrichment Activity Program (or L.E.A.P.). They don't just tucker your dog out with playing all day; they also concentrate on all aspects of enrichment to help them avoid boredom, stress, and bad behaviors.
They provide group playtime as well as mental stimulation such as games, puzzles, noises, scents, and training to meet the physical exercise and behavioral needs of your pet.
Dogs will be in small playgroups during the day, going from one stage of play to another and then back again. They'll get to learn new things and have exciting experiences during periods of cognitive stimulation, which are followed by periods of play. All dogs in the Treasure Valley may attend their day camp.
Dogs who board with them are welcome to participate in their day camp programs for a modest fee. They examine each pet for temperament before allowing him or her to join so that everyone is safe and comfortable. To ensure the safety of all participants, they conduct screening on each pet prior to letting them attend camp.
Boise Dog Daycare Information:
Address:  800 W Overland Rd, Meridian, ID 83642
Telephone: (208) 888-2910
Conclusion for Dog Daycares in Boise
If you want a list of all-around excellent dog daycares in Boise, we recommend checking out these facilities mentioned in this article! Remember that no matter which one you choose, it pays off to do plenty of research beforehand and make sure they have everything on your checklist before signing up. You'll be able to find the perfect match for your dog. Happy hunting!
Other articles you would like:
Garrett loves animals and is a huge advocate for all Doodle dog breeds. He owns his own Goldendoodle named Kona. In addition, he volunteers at the Humane Society of Silicon Valley, where he fosters dogs and helps animals. Garrett enjoys writing about Doodles and believes that dogs can teach humans more about how to live than humans can teach a dog.
Why Trust We Love Doodles?
At We Love Doodles, we're a team of writers, veterinarians, and puppy trainers that love dogs. Our team of qualified experts researches and provides reliable information on a wide range of dog topics. Our reviews are based on customer feedback, hands-on testing, and in-depth analysis. We are fully transparent and honest to our community of dog owners and future owners.