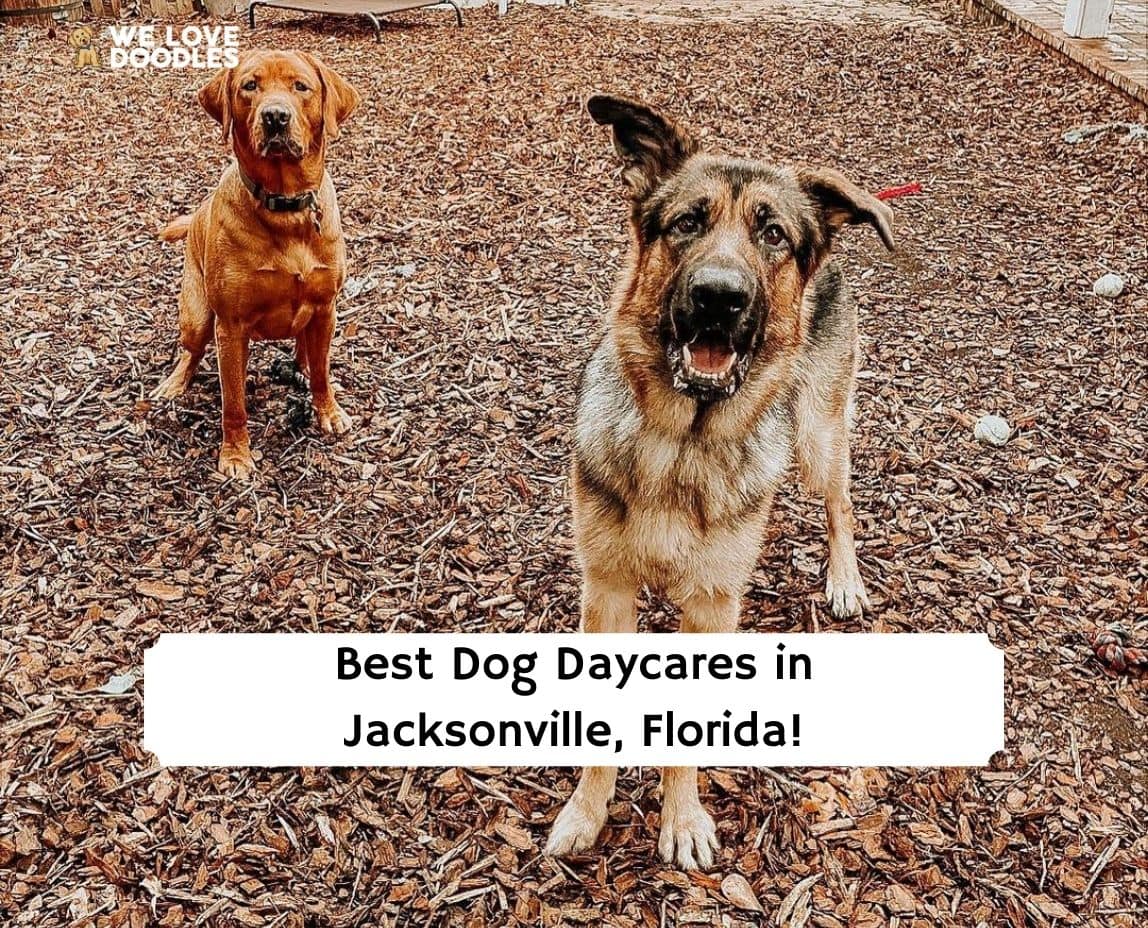 Jacksonville, Florida is home to some very cool doggy daycares. Swimming pools are a big hit with the balmy Florida summers. One daycare even features a bar and hangout area for the humans while the dogs play! Check out this list of daycares in Jacksonville and see if one is a good fit for your puppy.
Other articles you would like: Dog Daycares in Tampa and Dog Daycares in Orlando.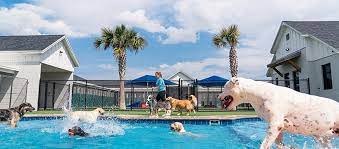 Pet Paradise at Jacksonville University gives dogs air-conditioned suites and ample room to run and play. Shady play areas, a bone-shaped pool, and automatic freshwater fillers give dogs the perfect cool-down spot in the hot Florida summers. Busy owners can drop their puppies off early before beginning their days. Then owners can watch their puppies play on live webcams.
Pet Paradise has an onsite vet clinic for the safety and well-being of your puppy if any accidents were to happen. You are also welcome to sign up for a Wellness Plan. They include unlimited office visits, day camp access, basic diagnostic testing, core vaccinations, and routine deworming.
All dogs must pass a personality assessment before boarding. Puppies must be at least 12 weeks old and have Rabies, DAPP, and Bordetella. Contact Pet Paradise for daycare rates.
Jacksonville Dog Daycare Information:
Address: 5140 University Blvd W, Jacksonville FL 32216
Telephone: 904-936-7368
Looking for basic obedience classes for your puppy as well as a daycare center? Camp Bow Wow in Jacksonville offers not only daycare but also reward-based enrichment training. Daycare at Camp Bow Wow gives dogs the physical and mental exercise they need to feel happy and fulfilled.
Camp Bow Wow believes in the utmost safety for your puppy. Each camp counselor is certified in canine CPR and trained in dog behavior and pet first aid. All dogs must pass a Camper Interview, be spayed or neutered, and are current on vaccinations.
Interview Day is free! After a successful interview, daycare costs $27 for a full day and $20 for half a day. 10 and 20-day packages are available at a discounted rate. Feel free to sign up for extras such as Snuggle Time, Sniff and Seek, and Brain Games. We really like the Camp Bow Wow dog daycare in Jacksonville.
Jacksonville Dog Daycare Information:
Address: 8505 Baymeadows Road, Jacksonville FL 32256
Telephone: 904-732-9663
Bark is an urban dog retreat with two dog daycares in Jacksonville, Florida. In addition to daycare, Bark on Park offers professional grooming, boarding, and training. They also have a boutique storefront with natural food, baked goods, apparel for the people, and entertaining toys for the puppies.
Bark employees understand that humans have long workdays. Our dogs shouldn't get stuck at home because we want to work and provide the best life for them. So, Bark's daycare lets your dog interact with humans and other dogs. Your puppy will play in the spacious outdoor turf yard that is always kept clean. In bad weather, dogs get to hang out indoors on rubber flooring that doesn't make their joints ache.
All dogs must register before daycare and show written proof of current vaccinations (Rabies, Distemper, Parvo, and Bordetella). A half-day (up to 4 hours) costs $25. A full day costs $35. 10 days costs $330 (saving you $20). Additinally, 30 days costs $900 (saving you $150!). For the amenities that this dog daycare offers, it's relatively affordable.
Jacksonville Dog Daycare Information:
Address: 1021 Park Street, Jacksonville FL 32204
Telephone: 904-356-4530
Happy Hound Dog Resorts was the first doggy daycare in Jacksonville to offer the first day free back in 2014. You can also refer a new client and earn another free day. If you'd like to give it a trial run before enrolling, feel free to buy a "Try Me Out" session for 2 hours of daycare to see if your puppy has fun.
If you have a small dog who loves playing with the big dogs (or vice versa) feel free to ask about putting your puppy in the other playgroup, and Happy Hound will be willing to cooperate. Playgroups are 100% supervised so your puppy can have safe fun with his friends.
So, your first day of daycare is free. The Try Me Out session costs $19. Standard Doggy Daycare costs $29. ($21 for your second dog) 10, 20, and 30-day packages are available with discounts.
Check out either of their two locations!
Jacksonville Dog Daycare Information:
Address: 4603 Shirley Avenue, Jacksonville FL 32210
Address: 11000-203 Beach Blvd, Jacksonville FL 32246
Telephone: 904-800-8800
The Pooches Playhouse started when Karen, the owner, couldn't find a suitable place to take her Yellow Lab while she was out all day. Pooches Playhouse strives to give dogs a safe environment to play all day and to earn trust in owners that their dogs will be well taken care of. Since 2008, Pooches Playhouse has made additions and improvements to give their doggy guests a better daycare experience.
Daycare at Pooches Playhouse in Jacksonville costs $35 per day. 3, 5, 10, and 20-day packages are available with discounts. All days must be prepaid. All new dogs get one free day after passing the initial evaluation.
The Pooches Playhouse wants to remind you that dogs new to daycare may come home with sore pads or muscles, exhaustion, enthusiasm, and a damp coat (from playing in the swimming pools). This is all normal! Your dog will be very happy coming home in these conditions!
Jacksonville Dog Daycare Information:
Address: 1075 Atlantic Blvd, Atlantic Beach FL 32233
Telephone: 904-247-6624
Dogtown is the top-rated indoor dog service provider in Jacksonville with 30,000 square feet of space in their facility. They offer luxury boarding, daycare, spa, and animal hospital with a natural pet food market. Your dog will be in the best of hands, with staff that is members of Dog Gurus and the International Boarding and Pet Services Association. Staff members participate in ongoing training to keep dogs safe and happy at daycare.
Daycare guests get to enjoy six large indoor play areas and an indoor pool. The facility is climate-controlled and sheltered from the rain, making it the perfect all-year boarding facility.
The first day of daycare is free and includes a pet evaluation. Dogtown studies your puppy to find the right playgroup and choose the best activities for him. Then they give you feedback when it's time to go home. Contact Dogtown for their daycare rates in Jacksonville.
Jacksonville Dog Daycare Information:
Address: 11740 San Jose Blvd, Jacksonville FL 32223
Telephone: 904-677-4435
Kanine Social is one of the coolest doggy daycares in Jacksonville with a craft beer and coffee bar for the humans while the dogs run and play. They feature 15 local and regional craft beers on tap along with kombucha, nitro cold brew coffee, and wine.
As for the doggy daycare, dogs get all-day play with each other and staff members. Daycare is limited to 30 dogs per day to avoid overcrowding and safety risks. Each owner gets daily pictures and videos of their dog playing and making friends. Feel free to drop off and pick up your dog any time. Kanine Social understands that everyone's schedules don't line up perfectly.
Kanine Social also features an onsite full-service animal hospital. Forever Vets Animal Hospital gives you the peace of mind that your dog will be safe and well taken care of if any mishaps should happen.
The first visit to daycare with the temperament test costs $10. A half-day (up to 5 hours) costs $25. A full day costs $35. 10 and 20-day passes are available with discounts.
Jacksonville Dog Daycare Information:
Address: 580 College Street, Jacksonville FL 32204
Telephone: 904-712-6363
Just like daycare for kids, you can drop off your puppy at Poochie's Park where he gets to run and swim and fetch and chase squirrels all day. Dogs get as much outside time as they want (without overexerting themselves). They get to play under giant oak trees. Playing in nature feeds their canine instincts better than playing on turf or rubber. For days that are too hot, Poochie's Park has a 2,000 square foot indoor air-conditioned room for cooling off and relaxing.
Poochie's Park has a veterinary clinic right next door in case of any emergency – big or small. Dogs are required to have five vaccines, but if they are not up to date, the veterinary clinic can administer those. Males older than 7 months must be neutered. Females may not be in heat while attending daycare. Dogs must have flea, ticket, worm, and parasite prevention. Puppies must be at least four months old. Dogs may not have any contagious conditions.
A full day (more than four hours) costs $27. A half-day costs $19. 5 and 10-day passes are available. Check out their website for daycare extras.
Jacksonville Dog Daycare Information:
Address: 21 Fountain Drive, Orange Park FL 32065
Telephone: 904-272-4545
Conclusion for Dog Daycares in Jacksonville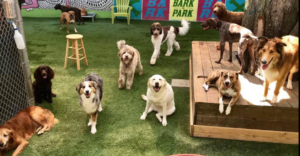 Wouldn't you agree – Jacksonville has some pretty cool doggy daycares? Daycare in the woods? Daycare with a craft beer bar? Daycare with an onsite vet clinic? It can't get better than that. But of course, be sure your dog is happy with whatever daycare you choose. It's all about your dog, after all. Take a tour of the facility, chat with the staff, and make sure they know how to keep your dog safe. Have fun at daycare!
Other articles you would like:
Garrett loves animals and is a huge advocate for all Doodle dog breeds. He owns his own Goldendoodle named Kona. In addition, he volunteers at the Humane Society of Silicon Valley, where he fosters dogs and helps animals. Garrett enjoys writing about Doodles and believes that dogs can teach humans more about how to live than humans can teach a dog.
Why Trust We Love Doodles?
At We Love Doodles, we're a team of writers, veterinarians, and puppy trainers that love dogs. Our team of qualified experts researches and provides reliable information on a wide range of dog topics. Our reviews are based on customer feedback, hands-on testing, and in-depth analysis. We are fully transparent and honest to our community of dog owners and future owners.