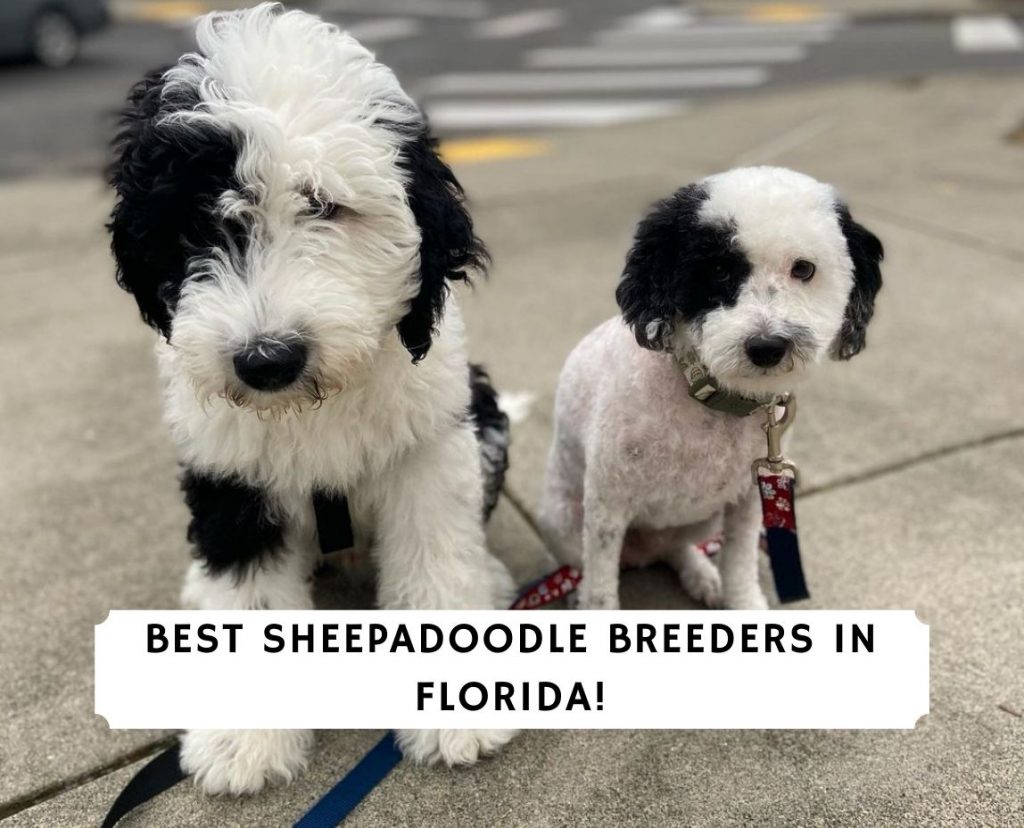 Sheepadoodles are one of the most trending Doodle breeds. A mix between the Old English Sheep Dog and the Poodle, dog owners are attracted to their multi-color coat, nonshedding coat, hypoallergenic coat, and larger stature. You'll see many Sheepadoodle puppies for sale in Florida, but that doesn't mean that they are from reputable breeders.
Thus, we put together a list of the best Sheepadoodle breeders in Florida to help you find your next puppy. We always suggest that you ask questions of any potential dog breeder before you put down a deposit for your next puppy. It's important to find a breeder that you can trust to sell you a healthy and happy Sheepadoodle puppy. This list will help you with your research to narrow down some choices!
Other articles you will like: Sheepadoodle Rescues for Adoption and Sheepadoodle vs. Goldendoodle.
1. Sheepadoodle Wonderland Florida
Sheepadoodle Wonderland is a small in-home breeder located in Lehigh Acres, Florida. They conduct extensive health testing from the OFA to test DNA, health, structure, and temperament on all their Sheepadoodle breeding parents. This helps to protect against known hereditary diseases and health issues. Sheepadoodle puppies in Florida are then tested for temperament and personality. Many of Wonderland dogs are titled, trained, and even are sport prospects!
To be added to Sheepadoodle Wonderland's waiting list, an application must be filled out and a $300 deposit is required.   Wonderland is very picky when it comes to adopters and they only want their Sheepadoodle puppies going to the best homes possible.
Included with Sheepadoodle puppies is a four-year genetic health guarantee, copy of the written contract, a veterinarian certified health certification, all records from a veterinarian, vaccines, one month of Nexgard flea and tick preventative, a puppy kit, and a lifetime of breeder support.
Additionally, all the Sheepadoodle dewclaws are removed and the tails are docked at two days old. Adopters will receive a copy of parents' genetic testing and OFA results. Finally, all their Sheepadoodle puppies for sale in Florida will come microchipped. This will help you find your puppy if he ever gets lost and returned to a veterinarian.
Puppies from Sheepadoodle Wonderland cost $3,000 for Black, black and white, and brown and white.  Sheepadoodles that are merle, brindle, phantom, or tricolor cost $3,500. For more information, contact Sheepadoodle Wonderland via their website.
Sheepadoodle Breeder Information
2. Rising Star Standard Poodles and Doodles FL
Rising Star Standard Poodles and Doodles is a premier Sheepadoodle breeder located in Central Florida. Their dogs and puppies are raised with love and socialization in their personal home where they strive to produce fun and unique coat colors. They breed Poodles, Old English Sheepdogs, Goldendoodles, and Sheepadoodles.
Rising Star Sheepadoodle puppies are healthy, happy, quality dogs that will be a wonderful addition to any family. All of their adult dogs have great conformation, temperament, and health checks before they are sold.
The Sheepadoodle puppies from Rising Star are all taken care of by their family where they are socialized and given proper attention from people of all ages. They are also well suited to home noises and life by the time they are ready to go to their new adopted homes.
Rising Star Standard Poodles and Doodles asks for anyone interested in a puppy from their upcoming litters to contact them via their phone number or Facebook page. This is where they are most active and will help answer any questions you may have.
Sheepadoodle Breeder Information
3. Big Bear Doodles and Poos
At Big Bear Doodles and Poos, their dogs are raised as members of the family in a loving environment. They work from home which allows them to spend quality time with all of their Sheepadoodle puppies. In addition, Big Bear owns and operates a doggie daycare and boarding facility on their property.
Big Bear Sheepadoodles in Florida have 13 acres to play and explore. In between all the playtime, they enjoy a variety of homemade treats with unlimited attention from the Big Bear family. Big Bear Doodles and Poos goal is to ensure their dogs are happy and healthy before they get adopted out.
All Sheepadoodles are AKC registered and have been health tested.  The parent dogs are also cleared for health tests; ask the breeder to see records. 
Big Bear Sheepadoodles asks families to choose their specific puppy when the puppies are 5 weeks old. The choosing order goes in order of when the deposit was made. When it is an adopter's turn, they may choose a puppy, move a deposit to a future litter, or have the deposit refunded. They do not sell breeding rights, and adopters are required to sign a spay or neuter contract.
To adopt Sheepadoodle puppies from Big Bear, you just place a deposit of $300. The full price of one of their Sheepadoodles puppies for sale in Florida is $1,600. For more information, contact Big Bear Doodles and Poos via their website or phone.
Sheepadoodle Breeder Information
4. Palm Beach Puppies Florida
Palm Beach Puppies and Boutique was conceived in 2005 in Boca Raton, Florida. Their vision was to create an environment that was different from the traditional puppy store.
Palm Beach Puppies vows not only to create a better living environment for their puppies but also to extend to their customers a wonderful opportunity to meet and greet puppies. Thus, they developed a Puppy Park where customers can sit in an enclosed area and bond with their new prospective family member.
Palm Beach Puppies is a family-owned and operated business that takes pride in the Sheepadoodle puppies they sell. They also are an American Kennel Club (AKC) approved facility and all of the new puppies they sell come with an AKC protection package.
Palm Beach Puppies are placed in elegant, high-end baby cribs with colorful bumpers with plenty of room to romp and play. Their Sheepadoodle puppies are not enclosed in a kennel, so customers can see the puppies in their comfortable surroundings playing with their roommates. 
These Sheepadoodle puppies for sale in Florida vary in price depending on size, color, and gender. For full pricing, payment options, and financing, as well as any other information needed, contact Palm Beach Puppies via their website or by phone.
Sheepadoodle Breeder Information
Conclusion for Best Sheepadoodle Breeders in Florida
Sheepadoodle breeders in Florida are becoming more and more popular. Between their mild and easygoing temperaments and beautiful coat colors, it's no surprise why this Doodle breed is becoming so popular. We hope that this list helped you find your next Sheepadoodle puppy in Florida!
Always do your best to ask any Sheepadoodle breeder lots of questions. It's important that you avoid purchasing a dog from a puppy mill or backyard breeder because your dog may have health issues later on in life. In addition, we recommend that you visit all potential breeders in person to validate their breeding practices!
Other articles you will like: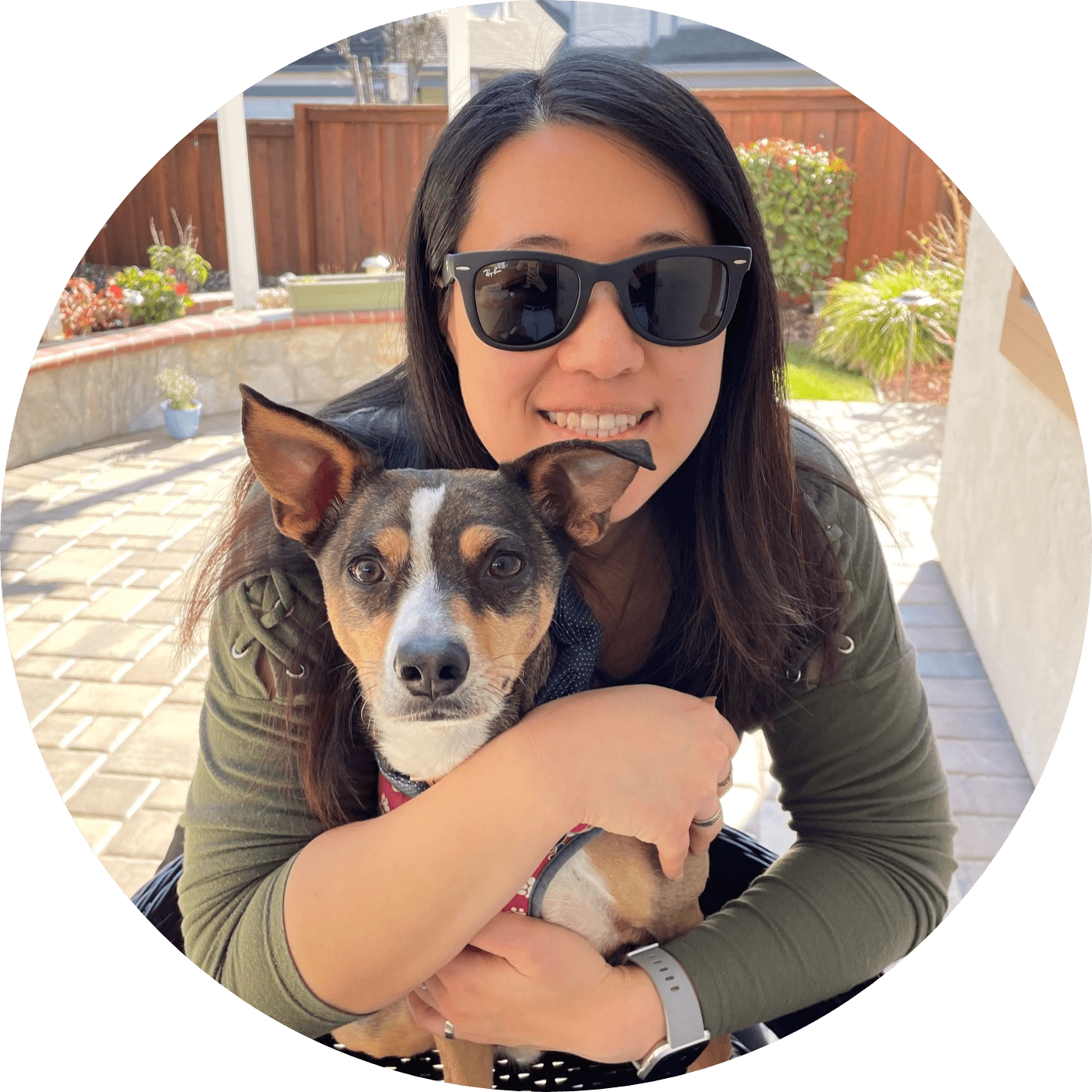 Dr. Sabrina Kong graduated from the Royal Veterinary College in England in 2016 and has been working at a small animal clinic in Northern California since then. She grew up in the Bay Area and got her bachelor's degree from Cal Poly San Luis Obispo. She also became a Certified Canine Rehabilitation Practitioner through a program at the University of Tennessee.
When she isn't in the clinic taking care of her four-legged patients, she enjoys traveling and trying new foods with her friends and her three-legged dog, Apollo. She adopted Apollo from her clinic when he was a puppy with numerous health issues. Dr. Kong truly cares about taking care of animals.