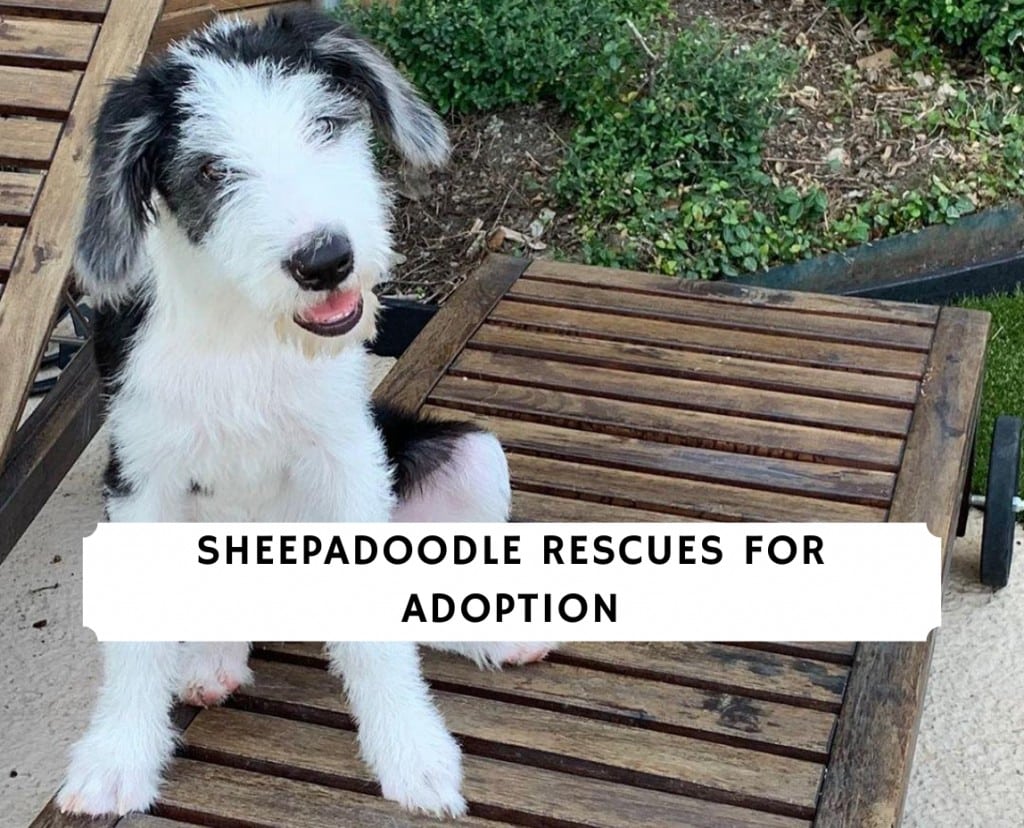 If you're looking for a great mixed breed companion, you don't need to look any further than the Sheepadoodle. The Sheepadoodle is half Old English Sheepdog and half Poodle, and one of the newer doodle dog breeds. The Sheepadoodle is a perfect blend of both breeds with the ideal traits like being nonshedding, hypoallergenic, and easygoing.
In addition, the Sheepadoodle is playful, intuitive, intelligent, and always down for a training session. Generally, the Sheepadoodles' calm and gentle spirit makes them excellent therapy or service dogs if you're interested in training them.
While a rescued Sheepadoodle may exhibit these positive traits, it's important to note that a rescued or adopted Sheepadoodle can be quite different. If the Sheepadoodle goes through traumatic life experiences, it can change them or have an effect on them.
Additionally, due to the booming popularity of Sheepadoodles across the US, you may not find many Sheepadoodles to adopt in your community or local shelter. The best bet is to look for rescue organizations that either specialize in rescuing Sheepdog mixes or Poodle mixes.
We have curated a list of Top 5 Sheepadoodle Rescues for Adoption to help you identify organizations that you can reach out to if you're interested in adopting a Sheepadoodle. Most of these organizations are open to adopting out-of-state which is a win if you really want this doodle breed in your life.
1. Poodle Rescue of New England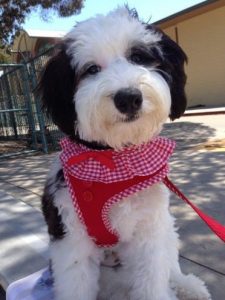 Poodle Rescue of New England is a volunteer rescue organization that rescues, rehabilitates, and rehomes Poodles. They open their doors to all types of Poodles and Poodle mixes including Sheepadoodles.
Poodle Rescue of New England doesn't own any shelter or central office. All their Sheepadoodles are hosted in foster homes across the New England area as they await their forever homes.
They have 3 Sheepadoodles sizes: Toy size which is under 10 pounds, Mini size between 10 and 25 pounds, and Standard size between 40 and 60 pounds. The average age of their rescue Sheepadoodles is 5 years old. However, many of their Sheepadoodles and other types of doodles are 8 years and above.
When rehoming Sheepadoodles, Poodle Rescue of New England is very strict about which home their dog goes to. They require all adopters to have a securely fenced yard and prohibit any use of bark collars or electric fences. They also do not allow any Sheepadoodles adoptions to homes with children under 10 years old.
Their adoption donation varies according to the age and needs of the dog. As of 2020, their donation ranges from $300 to $800. To kick-off, the adoption process, Poodle Rescue of New England requires a non-refundable $10 application fee.
Before rehoming, all dogs are spayed/neutered, vaccinated, heartworm tested, and groomed. If the new furry friend addition doesn't work in your home, they are open to taking the dog back for any reason and at any time.
Sheepadoodles Rescue and Adoption Details:
2. Oodles of Doodles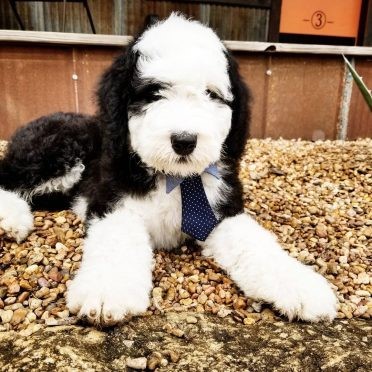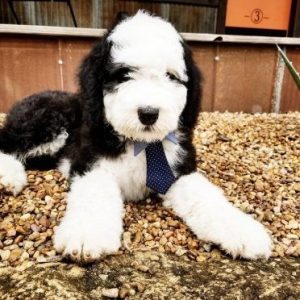 Oodles of Doodles is a rescue organization located in the state of New Jersey. Their goal is to advance and promote responsible pet ownership. Oodles of Doodles is 100% volunteer-run which means they don't have any central facility for their Sheepadoodle rescues. Most of their foster homes are based in New Jersey but their foster network extends to other states.
They open their doors to all types and mixes of doodles including Sheepadoodles, Schnoodles, and poo-mixes.
Every Shepadoodle in their care undergoes screening, treatment as required, and excellent medical care. The Sheepadoodle rescues are vaccinated, spayed/neutered, and updated on all vaccinations before they are adopted out.
Oodles of Doodles are very thorough when placing a Shepadoodle. All Sheepadoodles are only placed in approved adoptive homes. To be approved, you need to submit an extensive application. If the application meets the Shepadoodle's needs then a phone interview is conducted, references are checked, and a home visit is done. If all is well, a trial period of 7-14 days commences. If it's a match, the adoption of the Sheepadoodle starts.
Sheepadoodles Rescue and Adoption Details:
3. Carolina Poodle Rescue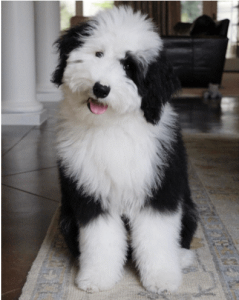 Carolina Poodle Rescue is a private rescue committed to ensuring a no-kill nation. They rescue and rehome Poodles, Poodle mixes like Sheepadoodles, and other small dog breeds. Carolina Poodle Rescue houses over 150 animals at their Dreamweaver farm in upstate South Carolina at any one time. Their volunteers are spread across the U.S. in the Carolinas, New York, Texas, Virginia, and Georgia among many more.
So far, Carolina Poodle Rescue has rehomed over 5,000 dogs into loving lifetime homes. Since each Shepadoodle rescue is unique, the adoption fee is also unique and varies from one dog to another.
They are open by appointment and schedule adoptions every Thursday to Saturday. On a monthly basis, they host mobile events in the North Carolina area where interested adopters can have a meet and greet.
Unlike other rescues, Carolina Poodle Rescue works with out-of-state adopters. If you live outside South Carolina, they will require you and anyone living with you to visit their Dreamweaver farm to meet the chosen fur friend. If you have any pets, they require the pets to be spayed or neutered prior to adoption in order to be consistent with their philosophy and commitment to a no-kill nation.
Currently, they don't adopt to homes with kids under 5 years old and don't conduct any trial periods.
Sheepadoodles Rescue and Adoption Details:
4. Doodle Rock Rescue (Texas and Surrounding States)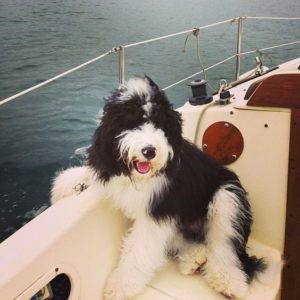 Doodle Rock Rescue is a volunteer-based rescue in Dallas, Texas. They rescue, rehabilitate, and rehome neglected, abused, and abandoned Poodle mixes such as Sheepadoodles. Most of Doodle Rock Rescue dogs come from shelters or streets and are often in critical conditions or on the edge of euthanasia.
Since 2017, they have rehomed over 900 dogs in need. They welcome dogs from all over the U.S. and make it a priority to assist dogs in South Texas shelters where euthanasia rates are the highest in the nation.
All their rescue Sheepadoodles live in foster networks across Texas. Their Sheepadoodles undergo excellent medical treatment and are kept up-to-date on all vaccinations according to age.
They don't adopt outside of 350 miles of Dallas/Fort Worth. Moreover, their adoption fees range from $150 to $650 and depend on age, breed, and size.
Doodle Rock Rescue has a 2-week trial period after the dog is placed to ensure that if there's no match, the dog can easily go back to their Foster program.
Sheepadoodles Rescue and Adoption Details:
5. Poodle Rescue of Houston (Texas and Surrounding States)
Poodle Rescue of Houston rescues, rehabilitates, and matches distressed Poodles, Poodle mixes like Sheepadoodles, and honorary Poodles with forever homes. Poodle Rescue of Houston has been in operation for over 20 years and has saved thousands of dogs in the five-state region.
Many of their Sheepadoodles are strays who were injured, abandoned, or special needs animals that would not get a chance at life. Poodle Rescue has a shelter in Northwest Houston with large indoor and outdoor kennels, and enough space for all the services the dogs need. They also have 4 quarantine buildings to allow easy acceptance of dogs from all places without risking the health of the larger rescue population.
They tackle out-of-state adoptions on a case-by-case basis. One key factor to have this kind of adoption is to ensure you have a viable and acceptable transport plan.
Adoption fees vary according to the age, size, and needs of the dogs. Generally, the fees only go up to a maximum of $610. Special needs and senior dog adoption fees are usually less or can be waived altogether.
Sheepadoodles Rescue and Adoption Details:
Conclusion for Sheepadoodle Rescues for Adoption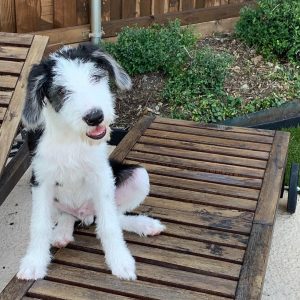 The Poodle and Sheepdog cross is one of the cutest dogs around. Moreover, they are hypoallergenic and non-shedding which is amazing for individuals or families with pet allergies.
While there aren't any specific Sheepadoodle rescue organizations in the U.S., there are tons of Poodle and Sheepdog rescues. These rescues open their doors to all mixes of these breeds making it easier to locate a Sheepadoodle rescue next to you. We recommend you start with our list to get a head-start. The organizations listed above have been rescuing dogs for a long time and adhere to no-kill and euthanasia philosophies.
Adopting a Sheepadoodle takes a lot of time, money, and effort so don't rush into it. Take your time, learn about the breed, and make a wise choice. In addition, Sheepadoodles are not cheap to raise. On top of regular dog costs such as food, training, and vet bills, you can expect to pay around $120 every 4 to 6 weeks to keep your Sheepadoodle groomed.
If you're not in a position to adopt a Sheepadoodle, consider fostering or volunteering your services. There are tons of Sheepadoodles rescues that need help rehoming animals.
Garrett loves animals and is a huge advocate for all Doodle dog breeds. He owns his own Goldendoodle named Kona. In addition, he volunteers at the Humane Society of Silicon Valley, where he fosters dogs and helps animals. Garrett enjoys writing about Doodles and believes that dogs can teach humans more about how to live than humans can teach a dog.
Why Trust We Love Doodles?
At We Love Doodles, we're a team of writers, veterinarians, and puppy trainers that love dogs. Our team of qualified experts researches and provides reliable information on a wide range of dog topics. Our reviews are based on customer feedback, hands-on testing, and in-depth analysis. We are fully transparent and honest to our community of dog owners and future owners.