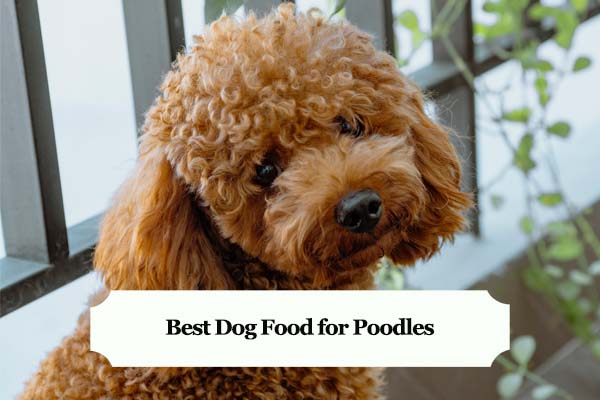 There are hundreds of reasons why Poodles are so popular – for starters, they're very obedient and do well in dog competitions and showcases. Secondly, they're downright adorable with a hypoallergenic and nonshedding coat! Their tight curls are something to be admired, and they can be groomed in lots of different ways.  
Poodles are loyal, smart, and friendly to almost anyone, so it's not surprising that they're one of the most sought after dog breeds out there. However, with that being said, there are a few things that you should know before bringing a Poodle into the family.  
To keep your Poodle healthy and on top of their game, you need to invest in the right food to keep them thriving. Even if you have no plans to raise a show dog, you want to opt for high-quality food to aid them through their life and make sure they will live as long as possible. Believe it or not, the Poodle is a working dog breed and they are highly active dogs that need plenty of nutrition.
Below we've found the best dog food for Poodles, both in wet and dry options. We've also collated useful information for you to learn more about your Poodle and their dietary needs. In general, Poodles aren't particularly fussy, but there are a few things to look out for when comparing food options. 
In a hurry? Here are our top 3 picks!
Product
Best for Toy Poodles
Hill's Science
Best Standard Poodle
Purina Pro Plan
Best Wet Food
Royal Canin
Best Puppy Food
Royal Canin
Image
Poodle Dog Food Reviewed
We've included the best wet and dry dog food for Poodles of all life stages so that you can choose the best food when it comes to their age. However, as the adult stage is often the longest, we've put this as the best on the market (if you need puppy or senior poodle food, scroll down). 
Cesar Gourmet Wet Dog Food Variety Packs come with 24 trays of food, which is excellent value for money, and your dog can enjoy the mixture of gourmet flavors. You'll be able to see what your dog likes and dislikes thanks to the range of tastes, allowing you to bond and give you the ability to choose their favorite flavors in the long run. 
You'll find no filler ingredients within these gourmet foods. Wheat is often used to thicken dog food, and this doesn't aid your poodle in any way. Instead, Cesar has packed each tray with high-quality ingredients and important components.
Choose between 15 different flavors of variety packs for your Poodle. The wet food comes in small metal trays which is ideal for smaller dogs such as Poodles. If you don't want to waste food day in and day out, the small dishes will help to prevent this.  
The ingredients list contains no grains and has meat as the first ingredient, so you know that your Poodle is only getting high-quality ingredients and plenty of protein. There are plenty of vitamins and minerals within each serving to help small breeds of dogs remain healthy and happy through the prime of their life.  
A variety pack is beneficial for dog owners who are weaning their pet onto a new type of food so that you can see what your dog prefers the most. The serving size is ideal for Toy Poodles and can be combined with a side of kibble for Standard Poodles. For the price, this is one of the best dog foods for your Poodle. In general, dogs absolutely love wet food so it's great even if you're going to use this as a topper.
Next up is a dry kibble option for small and miniature breeds of adult dogs. Dogs eat adult food for around seven years, so you need to make sure that you choose a good one! This dog food was specifically designed for miniature breeds like the Toy Poodle, but it can also work for Standard Poodles. The main difference between small dog and large dog food is the kibble size. Standard Poodles can eat smaller kibble but it's oftentimes difficult for Toy Poodles to eat larger kibble.
The food that we've chosen is for dogs that suffer from sensitive stomachs and skin conditions – two of which are common issues with all types of Poodles. You'll oftentimes see Poodle itch their hypoallergenic coat because dander and dirt tend to get stuck in their coats easier. The dded prebiotic fiber helps to regulate and maintain digestive health, and omega fatty acids have been added to give your Poodle's coat a glorious shine. If your dog likes to take part in competitions, this is a great benefit. 
Each of the ingredients is easily digestible in case your dog has a sensitive stomach, and the kibble size is 3 x 6.5 mm. The incredibly small size is ideal for smaller Poodles with smaller jaws like the Toy Poodle. This dog food can also help if your Poodle is struggling with teeth and gum issues. Overall, we would highly recommend this dog food for Poodles if they have sensitive skin and stomach issues.
If the adorable puppy on the front of the bag doesn't immediately convince you to purchase Royal Canin Small Breed Dog Food, perhaps the plethora of benefits will help. You can opt for the puppy, adult, and senior versions of this wey dog food. The flavor is chicken and pork, and you get 12 sachets in one packet which are great as individual meals for smaller Poodles or toppers for standard Poodles.
The servings are individually wrapped in pouches, and the food comes in the form of meat chunks in gravy. Dogs love the mixture of liquid and solids, so this wet food is sure to be a hit with your Poodle. 
Plenty of antioxidants and Vitamin E is in each serving, helping your puppy to develop their immune system and setting them up well for the future. Your Poodle's digestive health can be temperamental and sensitive, so Royal Canin has aimed to stabilize this as much as possible through easily digestible ingredients.
We've paired the Royal Canin wet food with dry food from the same line so that you can maximize the benefits. We're a huge fan of Royal Canin because they are no only veterinarian recommended, but their food contains all the necessary nutrition for Poodles. The brand has specifically tailored this food to be for puppies up to 10 months old, or until your Poodle reaches their adult weight. They also have adult dry food which can be combined with the wet food to create a delicious meal for your dog.
The dog food pieces have been made smaller to help your puppy through the eating process, and this will be very beneficial when your Poodle is teething. A unique blend of antioxidants, vitamins, and minerals aids the growing period and helps everything to develop as it should. 
The ingredients list features lots of healthy protein that's easily digestible. Still, there is also an increased amount of fat and carbohydrates to give your puppy a higher boost of energy throughout the day. Puppies need lots of energy to enjoy their exciting puppy months, so this is a nice touch.
For the best senior dog food for Poodles, we've eliminated the option for dry food to avoid your older dog being in pain should they be developing teeth and gum issues. Hill's Science is a well-known brand specializing in dog food, but the one we've picked out here is specifically for Toy Poodles. For older Standard Poodles, you can simply feed them more food (roughly 1 can per serving).
You can choose between chicken or chicken and barley flavors for your dog, each being made with natural ingredients to offer your Poodle as much goodness as possible. There is plenty of protein in each serving, which is essential for aiding senior dogs' health, and each component is easily digestible. 
Hill's Science has created a blend of antioxidants specially formulated for small dogs, so you'll know that your Toy Poodle is getting all the necessary nutrients within their meals. The cans are a smaller size to prevent you from wasting any food, as senior Poodles tend to eat less than bigger dogs.
Blue Buffalo Life Protection dog food is great for standard Poodles. Not only is it the most popular dog food on Amazon, but it contains tons of nutrition at an exceptional price. First, high-quality protein is always the top ingredient. On some other dog foods, you'll find that filler ingredients like corn, wheat, or soy are the top ingredient which doesn't provide your Poodle with enough nutrition. In addition, Omega 3 and 6 fatty acids, will help keep your Poodles hypoallergenic coat shiny and healthy. Fatty acids will also prevent your Poodle from itching their skin because it provides a type of moisture.
Lastly, Blue Buffalo provides great overall nutrition with its life bits that contain  antioxidants, vitamins, and minerals. Honestly, for the price, you can't go wrong with Blue Buffalo and is one of the most popular dog foods for Poodles.
For adult Poodles, you can't really go wrong with Purina Pro Plan Savor with added probiotics. This dog food works great for all sizes, but we found it is best for standard Poodles because the kibble tends to be slightly larger than a small dog breed food. So why is this dog food so highly rated and one of the top dog foods on the market?
First, this dog food is made with chicken and rice which most dogs tend to love. If you haven't been keeping up with the times, grains like rice are becoming an important ingredient in dog foods. The FDA released a warning that grain-free dog foods could be causing heart disease. Combining a lean protein like chicken with a grain like rice creates a nutritious dog food that won't harm your Poodle. Chicken and rice is also a bland diet that won't upset your dog's stomach or cause allergies.
In addition, this dog food is great for standard Poodles because it contains probiotics. Probiotics help to support digestion as well as immunity in dogs. All too often, Poodles tend to get loose stools because they lack a dog food that doesn't provide enough nutrition like probiotics. In addition to probiotics, this dog food for Poodles also has vitamins and omega-6 fatty acids to support healthy skin and a shiny coat. Overall, this is one of the highest-rated dog foods and will work great with your Poodle.
Best Dog Food for Poodles Buying Guide
Now you know the best food options on the market for your Poodle, here is the list of important information about picking the right food that we promised earlier. We've brought together the most essential factors that you should consider before committing to just one meal, so make sure to read our buyers guide in its entirety before landing on one option.
Calorie Count
Poodles are small but extremely active, and you need to know how many calories your Poodle needs to consume so that you're not over or under-feeding them. The number of calories that your Poodle needs is dependent on their size and lifestyle. 
There are different types of Poodles – toy, miniature, or standard – that all vary in size and weight. Below is the average amount of calories that your Poodle needs per day, depending on their size.
Toy Poodles (6 – 9 pounds): 300 calories

Miniature Poodles (15 – 17 pounds): 490 calories

Standard Poodles (45 – 70 pounds): 1230 calories
Bear in mind that these numbers are on average and the number can change depending on your dog's individual weight. Also, the dog's lifestyle comes into play here. If they're very active and like to play, they might need more calories to give them enough energy. If you have a couch potato Poodle, however, you might find that they need fewer calories to fend off obesity. 
Life Stage
The life stage of your Poodle will also depend on how old they are. Puppies (under 12 months), adult dogs (one to seven years), and senior dogs (seven years and up) all have different needs for their foods, so it's important to remember the age of your Poodle. 
Puppies need a higher number of calories than an adult or senior Poodles, whereas seniors need higher levels of protein and lower amounts of fat, carbohydrates, and calories in their diet. Most brands offer variations of their food for the different life stages, so bear in mind your dog's age before committing to one type of food. 
Nutrients
Poodles are, unfortunately, prone to suffering from a number of different health conditions such as pancreatitis, Cushing's disease, and diabetes. A healthy and balanced diet can help keep your poodle happy and healthy without obtaining any of these illnesses. 
While some illnesses are unavoidable, a balanced diet should always be followed to prevent your poodle from suffering. 
We've already talked about calories, but what about the other nutritious content? Let's take a quick look into what you want to check in regards to the ingredient list and nutritional value on the back of the packet. 
Omega fatty acids
Omega fatty acids are beneficial in a number of ways. There have been studies to show that they help prevent heart issues in both humans and pets, which is why more dog food brands have started incorporating them into their products. 
Fatty acids are also beneficial for dog skin and fur, which is especially crucial for many Poodle owners. Treat your pup to a nourished, shiny coat that is more manageable and softer by incorporating omega fatty acids into their diet. 
Toy Poodles tend to suffer from bladder stones, cataracts, and skin tumors. While this is unfortunate, these conditions can be helped by the appearance of omega fatty acids in their diets. There is no guarantee that it'll prevent the illnesses altogether, but fatty acids can certainly help to avoid them. 
Protein
Protein is an essential nutrient that you should be aware of in your dog's food, because amino acids help to repair and restore your pooch's muscles. Your dog needs to be consuming the correct amount of protein for their size, age, and lifestyle so that they don't run out of energy. 
You can easily find how much protein your dog needs with a simple search online. Older dogs tend to need more protein in their diets, but it's an important nutrient for all life stages. In adult poodles, protein should make up 85% of their food to support healthy growth and heart health. 
Wet or Dry Dog Food?
Does your Poodle prefer to eat a wet or dry diet? As we've shown above, Poodles can eat both moist and dry food, so you'll need to play around with your dog's feeding schedule and find out what they like to eat the most. 
Poodles tend to prefer wet food, like most dogs, but dry kibble is beneficial for teeth and gum health as well as being easier on the gut. Most dog owners will suggest opting for a mixture of both wet and dry food. Wet food can be used as a topper on the kibble which will get your dog to eat all of their food.
You'll want to purchase the best food for your Poodle. If you have a pup that has mouth problems or is classed as a senior dog, wet food will be more comfortable and less stressful for them to eat. 
Toy Poodles are often subject to teeth issues as well thanks to their small size. If tartar begins to build upon your pet's teeth, it can lead to infection in the gums and roots. If this is left untreated, the teeth themselves can rot. For this reason, toy poodles may also prefer wet food if they have sensitive teeth. 
On the other hand, some dogs love the crunch and texture of dry food, so much so that they won't even entertain the idea of wet food in their bowl. You need to get to know your Poodle to understand what kind of food they like to eat. 
Price
Dogs are great and bring an incomparable amount of joy into our lives as owners, but let's face it – Poodles can be expensive to keep up with. The beds, toys, routine check-ups, and don't even get us started on the price of grooming them. 
For this reason, you may be reluctant to spend more than you have to on food for your pooch. If you don't have the money in your budget for high-quality food, you don't have to take out a loan on your property to be able to afford it – go for what you can afford. 
However, if you can afford the extra price of purchasing high-quality food, we would advise doing so. More expensive foods tend to be packed with better quality ingredients instead of by-products, and they also regularly use a natural formula rather than artificial ingredients.
Frequently Asked Questions
What foods are Poodles allergic to? 
Poodles are very sensitive little things, and this includes their stomach. Every Poodle is different, so there isn't a list of ingredients that should be avoided for every single poodle. One of the main foods that a lot of dogs are intolerant or allergic to is grains, such as wheat, and dairy, soy, or corn. 
There is no guarantee that your poodle is allergic to these ingredients, but if you choose to feed them to your dog, be mindful and aware of possible side effects. 
Do Poodles have digestive problems?
Poodles aren't always born with digestive problems, and some even live a long life without any trouble at all. However, with that being said, poodles come from a long line of breeding, which makes them more susceptible to digestive problems. 
These can involve the intestines and pancreas, and as your dog gets older, they can become intolerant or allergic to some foods. To avoid these problems from arising, feed your dog a well-balanced diet with minimal carbohydrates and fat. 
Fat and sodium are bad for your poodle's digestive health, so bear this in mind before you feed them some food off of your plate. 
Garrett loves animals and is a huge advocate for all Doodle dog breeds. He owns his own Goldendoodle named Kona. In addition, he volunteers at the Humane Society of Silicon Valley, where he fosters dogs and helps animals. Garrett enjoys writing about Doodles and believes that dogs can teach humans more about how to live than humans can teach a dog.
Why Trust We Love Doodles?
At We Love Doodles, we're a team of writers, veterinarians, and puppy trainers that love dogs. Our team of qualified experts researches and provides reliable information on a wide range of dog topics. Our reviews are based on customer feedback, hands-on testing, and in-depth analysis. We are fully transparent and honest to our community of dog owners and future owners.