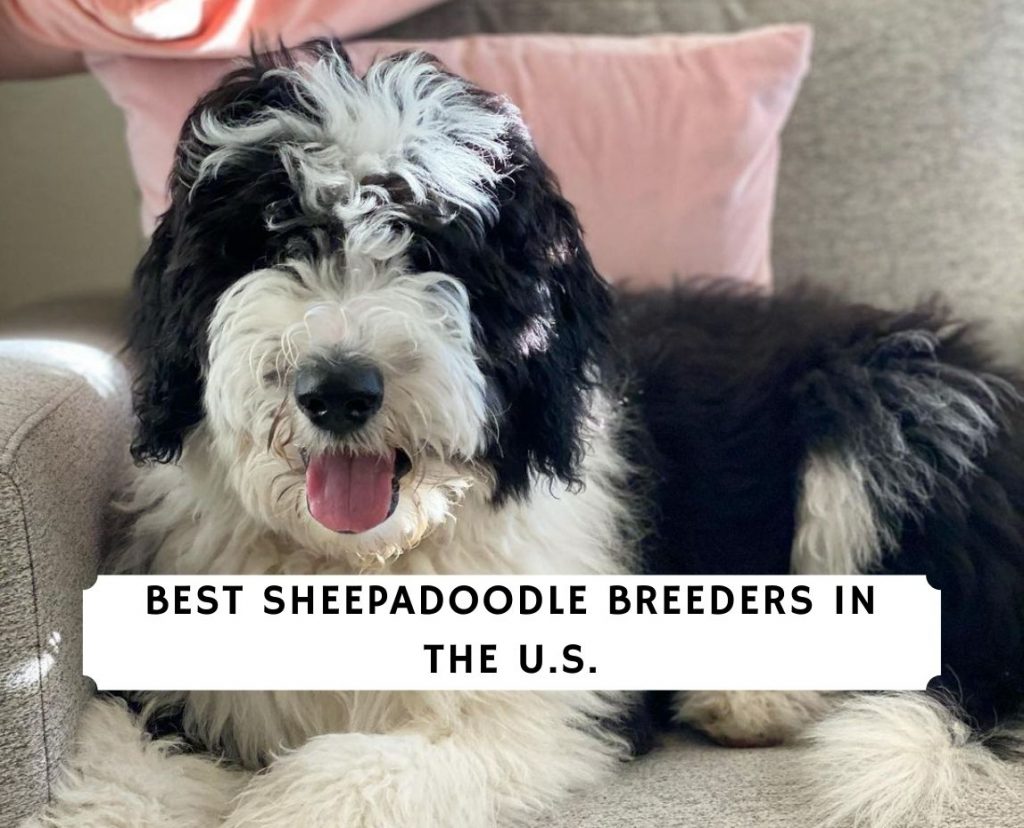 Hybrid breeds, those that mix two purebred breeds, bring a variety of desirable characteristics great for all sorts of family lifestyles. Especially with a Poodle parent, these "Doodle" varieties tend to have very friendly personalities, adorable appearances, nonshedding coats, and hypoallergenic coats.
That is certainly the case for the Sheepadoodle as they typically have soft multi-color fur coats and lively personalities. They've become a popular choice for those seeking a designer dog breed. You'll see tons of Sheepadoodle puppies for sale from all sorts of breeders. However, not all Sheepadoodle breeders are the same. Finding a reputable Sheepadoodle breeder will be one of the most difficult tasks you make when deciding on a puppy.
Check out these other articles: Aussiedoodle Puppies for Sale and Best Mini Goldendoodle Breeders
Sheepadoodle Breeders in the United States
With their friendly personalities, outgoing temperaments, and adorable appearances, the Sheepadoodle can be an ideal choice for a furry family friend. As you start the adoption process for your Sheepadoodle puppy, a breeder that specializes in Doodles will be a great next step.
Be sure to do in-depth research as to what a breeder's availability and history are like. To help you get started, we share some of the top Sheepadoodle breeders in the United States. You'll find a brief overview of what the breeder is all about as well as contact information if you're interested in learning more about their availability or adoption process.
1. Grace Wood Farm Sheepadoodle Puppies
Are you looking for the best Sheepadoodle breeder in the country? We couldn't be more proud to recommend Grace Wood Farm as our number one pick for the top Sheepadoodle breeder around. If you are searching for the highest quality Sheepadoodle puppies for sale, look no further than the nationally recognized Grace Wood Farm.
Grace Wood Farm is a family-run business operated by Luke and Brittney Stasi, offering Sheepadoodles in standard, mini, and micro sizes available nationwide. Their vision is to breed the best family pets possible. Grace Wood Farm has five small family-run locations in South Carolina, Georgia, and Ohio. All of their locations are run by Luke & Brittney and managed by their best friends. Each location has a limited amount of dogs so that the puppies they raise can receive their full time and attention in a family atmosphere. Luke & Brittney have six kids, and each of their location breeders has children as well. All of their pups get held, kissed, snuggled, and played with by their kid's tiny hands, which is so great for their socialization. They raise their pups with the most incredible level of care available. They start with selecting top-quality parent dogs. Luke and Brittney rigorously vet their parent dogs for health, behavior, temperament, and trainability before considering the dogs for their breeding program. All of their parent dogs live as family pets and get as much love and attention as a doggie could ask for. Setting the standard for ethical breeding, Grace Wood Farm limits how many times they breed their dogs. They also restrict the number of litters they have at a time to give the full required attention to each puppy.
Grace Wood Farm provides their dogs with industry-leading care and developmental stimulation. Prior to conception and while pregnant, their parent dogs receive a regimen of vitamins, supplements, and the choicest quality diet. Appropriate nutrition ensures the highest standards of prenatal development of their puppies. After birth, the puppies' time with their mama is managed to ensure their proper reception of nutrition, growth, and bonding. From prenatal to in utero, birth, nursing, growing, and going home, their puppies are getting the best of the best. Grace Wood Farm follows the Early Neurological Stimulation (ENS) methodology created by the US military, a system of individual puppy exercises. This program is clinically found to produce adult dogs that are better behaved, calmer, easier to train, and healthier. In addition, Grace Wood Farm has created an industry-leading regimen of individual socialization and stimulation for their puppies. This approach ensures their dogs will be calmer, more adaptable, and have the most excellent long-term mental health. Their puppies come with a health guarantee and are thoroughly veterinary examined before going home. Their pups go to their forever homes at eight weeks of age and are up to date on their shots and dewormer. Grace Wood Farm also has their own transport service, offering ground transportation and flight nannying to get your pup safely home and into your arms. Their team is trained in the care and safety of puppies and adult dogs to ensure a premier level of care is provided to the pups on their way to their new homes. Puppy transport is available nationwide.
We were also blown away by the level of customer service that Grace Wood Farm provides to all their families adopting a puppy. Luke & Brittney and their team are happy to get on the phone with you to answer all your questions. They guarantee you will always receive courtesy, kindness, fairness, open communication, and reasonable response times. All the families who adopt one of their puppies must love them because they have a 5-star rating on all of their reviews online. Many families love the Grace Wood Farm experience so much that they come back to buy a second or third dog, sharing that their Grace Wood Farm dog is the best dog they have ever owned.
Put all this together, and Grace Wood Farm measures up to be the best Sheepadoodle breeder in the country!
Sheepadoodle Breeder Information
Location: Fort Mill, South Carolina. They can deliver their Sheepadoodle around the United States.
Phone Number: 803-888-4149
Website: Grace Wood Farm Sheepadoodles
Email: gracewoodfarmsc@gmail.com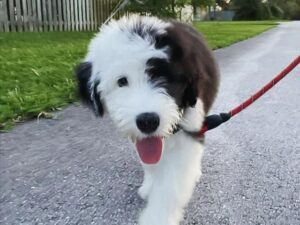 Since Sheepadoodle puppies are relatively new, there aren't many reputable breeders that can ship throughout the United States. That's where PuppySpot comes in as the most reputable network of Sheepadoodle breeders that are registered and licensed. Additionally, each breeder is vetted and screened before they are allowed to list a puppy. This entire process is backed by the American Kennel Club, which is the biggest dog organization in the United States.
The best part of using PuppySpot is that they have Sheepadoodle puppies for sale today. Most Sheepadoodle breeders that you can contact will have an extremely long puppy waitlist and you'll end up waiting 6+ months for a puppy. That's one of the biggest advantages of being a network of breeders.
Also, it doesn't matter where you are located in the United States. PuppySpot has its own airline carrier that can get you a Sheepadoodle puppy. They will safely transport and hand-deliver a Sheepadoodle puppy to you. We've used them in the past and had a good overall experience.
Sheepadoodle Breeder Information
2. Rockadoodles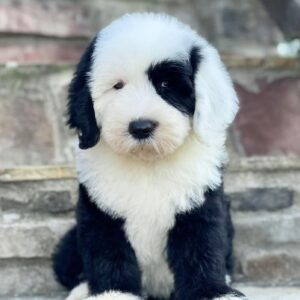 The Sheepadoodle puppies raised at Rockadoodles are shown love and attention as they grow and socialize with other dogs and people. They are raised in a home with 14 children so attention and socialization are always a given. Their goal is raising and caring for Sheepadoodle puppies that are healthy and have great temperaments to share with other families.
In addition to Sheepadoodles, the team at Rockadoodles also breeds Bernedoodles. For them, it's all about the Doodles that are hypoallergenic and nonshedding. In terms of sizes, they have Standard, Moyen, and Miniature Sheepadoodles to choose from.
Families that are interested in adopting a puppy from Rockadoodles can submit a deposit to be put on their reserve list. When available, the Sheepadoodle puppies are then selected when they are 6-7 weeks old. Updates on litters and how the puppies are growing is available on their website and social media.
As you get ready to welcome home your new Sheepadoodle, Rockadoodles shares helpful resources in everything from training to nutrition to other health resources that you'll want to know as you adopt your puppy. They also provide helpful insights on finding the right veterinarian to help take care of your puppy and other things to watch out for as your puppy grows healthy. Feel free to reach out to this Sheepadoodle breeder if you have any questions.
Sheepadoodle Breeder Information
3. Feathers and Fleece Farm Sheepadoodles
The team at Feathers and Fleece farm are dedicated to sharing in the joy and companionship of all things Doodles. In addition to Sheepadoodle puppies, they also breed for Whoodle puppies, Schnoodle puppies, and Newfkom puppies. What began as a garden sale farm has become the home for numerous puppies for them to run and explore as they grow before joining a forever home.
Their puppies are raised in a family home environment and introduced to socialization practices to help them become ready for when they join their forever home. Their Sheepadoodle puppies don't leave until they are 10-12 weeks old to ensure the health and safety of the puppy – some breeders will release their puppies as early as 8 weeks. The additional two weeks allows their Sheepadoodles to socialize with their littermates, parent dogs, and receive some basic training.
All their Sheepadoodle puppies for sale come with appropriate vaccinations, are fully weaned, and come with helpful resources to get you started. Sheepadoodles can be found in three sizes at Feathers and Fleece, including Standard, Miniature, and Micro sizes. Families interested in a puppy can submit their non-refundable deposit as well as a completed application.
Keep in mind that Sheepadoodles puppies are popular, as there is a typical 6-9 month waiting period depending on when litters are scheduled. You can also schedule a visit to the farm to connect with the team and ensure your next steps in adopting a puppy from Feathers and Fleece Farm.
Sheepadoodle Breeder Information
4. Sheepadoodles by Design
With such a popular hybrid, these designer dogs at Sheepadoodles by Design can't be missed. As a small family breeder with years of experience in raising and breeding Doodles, the team is passionate about sharing the love of Doodles with other people.
Owner, April Tilley, raises dogs in her own home so they can receive endless love and attention as they grow and become socialized to all the activity around them.
Families interested in adopting from Sheepadoodles by Design can begin the process by submitting an application as well as a deposit to secure their spot. Due to the planning of litters and high demand, the typical wait time for a puppy is between 4-6 months. However, a waitlist of at least 6 months is extremely common with highly reputable Sheepadoodle breeders. If you find a Sheepadoodle breeder with puppies that are available immediately, you should be skeptical whether they are a puppy mill or backyard breeder.
Each of their Sheepadoodle puppies comes with a two-year health guarantee that protects against serious defects. Their Sheepadoodle puppies are most often mini or medium in size based on the Poodles used in the breeding process. Each dog is fully health tested and are intentionally cared for.
When you're ready to get your puppy, you'll be able to choose your puppy based on where you are on the waitlist. Keep in mind that availability fluctuates and may depend on any preferences you set for the puppy's appearance.
Sheepadoodle Breeder Information
Location: Greenbrier, AR
Email: apriltilley@yahoo.com​
Phone: (501) 472-5596
5. Deb's Doodles and Sheepadoodles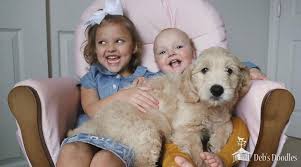 The team at Deb's Doodles specializes in Goldendoodles, Sheepadoodles, and Bernedoodles. Their website shares valuable information as to the personality and appearance of Sheepadoodles so you know what you can expect in adopting your own puppy.
Also, online you'll be able to browse through available Sheepadoodle puppies for sale as well as see the upcoming puppy schedule to know what kind of availability they have.
In addition to breeding, the team at Deb's Doodles also runs a training camp to equip dogs to be obedient and great family friends. For three weeks, puppies are well trained and ready to enter into their new family home. They'll learn things like crate familiarization, leash training as well as other basic commands. This extra training makes things even easier for you as you adopt them.
Each Sheepadoodle puppy comes with a two-year health guarantee to protect against any genetic defects or other concerns. Pets are also checked by a veterinarian prior to adoption.
As you move through the adoption process, they also provide helpful resources to make you more comfortable raising and training your Sheepadoodle puppy. Feel free to reach out to this breeder if you have any questions about Sheepadoodles!
Sheepadoodle Breeder Information
6. Crockett Doodles
You can easily find a Doodle variety that's just right for you with Crockett Doodles. Choose from either Miniature or Standard Sheepadoodle puppies that are healthy and loyal companions.
They are well socialized and raised in a family home environment. Crockett Doodles also has several pickup locations as they are able to offer a variety of different Doodle varieties including Goldendoodles, Labradoodles, Maltipoos, Cavapoos, and much more.
Their website shares available Sheepadoodle puppies for sale and upcoming litters that are planned. Keep in mind that this breed can be popular, so waiting times may vary. Online you can also find a large collection of photos of available and adopted puppies so you can know what to expect as you adopt your own puppy.
Families interested in moving forward with a puppy from Crockett Doodles can submit their refundable deposit and complete their application of interest. Each Sheepadoodle puppy comes with a three-year health guarantee so you can adopt with confidence. The team at Crockett Doodles also allows you to choose the exact puppy you want, while that may affect waiting times.
Crockett Doodles is a network of Doodle breeders, so it's important that you ask them questions about the parent dogs. If possible, always try to talk to the original breeder and see if you can schedule a visit to see the parent dogs.
Sheepadoodle Breeder Information
More Information About Sheepadoodle Puppies
The Sheepadoodle is a mix between an Old English Sheepdog and a Poodle. As with all hybrids Doodle breeds, their features and characteristics come with a range of possibilities, depending on how much "Poodle" or "Sheepdog" the puppy exemplifies.
Sheepadoodles tend to have coats that are black, white, or a combination of both colors. Sometimes, they can have coat colors like red or gray as well. Sheepadoodles puppies have very soft fur that is perfect for cuddling. These Doodle hybrids can come in a variety of sizes as well, including Micro, Miniature, and Standard. The Standard Sheepadoodle typical size ranges from 60-80 pounds and a height of 16 to 22 inches tall.
Sheepadoodles coats also tend to not shed much, making them easy to maintain and clean up after. Their lack of shedding also helps cut down on allergy concerns.
The temperament and personality of the Sheepadoodle is expected to be outgoing, friendly, and active. They tend to be obedient and loving toward their owners. They are also highly intelligent, making them a desirable furry friend for a variety of activities. Sheepadoodle puppies are also fairly gentle, meaning they're great to have around small children and other pets.
With their heightened need for attention and their energy levels, keep in mind that it may not be best to leave your Sheepadoodle alone for the majority of the day. They crave attention and love spending time with their owners and other dogs.
If you're considering adopting a Sheepadoodle to your family, be sure you do your research as to what type of dog is best for your lifestyle. Sheepadoodles tend to require a lot of attention, so you'll want to be sure that your schedule can accommodate that.
Conclusion for Sheepadoodle Breeders in the U.S.
The Sheepadoodle can be a great family friend perfect for all ages. With their adorable appearance and friendly personalities, they're hard to resist which is why they are one of the top trending Doodle dog breeds. If you're ready to move forward in adopting your own Sheepadoodle puppy, starting with a reputable breeder can be a great next step.
By using this list as well as doing your own research on breeders in your area, you can find a breeder that is passionate about puppies and has the best interest of both the dogs and the new families in mind.
Related Articles:
Garrett loves animals and is a huge advocate for all Doodle dog breeds. He owns his own Goldendoodle named Kona. In addition, he volunteers at the Humane Society of Silicon Valley, where he fosters dogs and helps animals. Garrett enjoys writing about Doodles and believes that dogs can teach humans more about how to live than humans can teach a dog.
Why Trust We Love Doodles?
At We Love Doodles, we're a team of writers, veterinarians, and puppy trainers that love dogs. Our team of qualified experts researches and provides reliable information on a wide range of dog topics. Our reviews are based on customer feedback, hands-on testing, and in-depth analysis. We are fully transparent and honest to our community of dog owners and future owners.