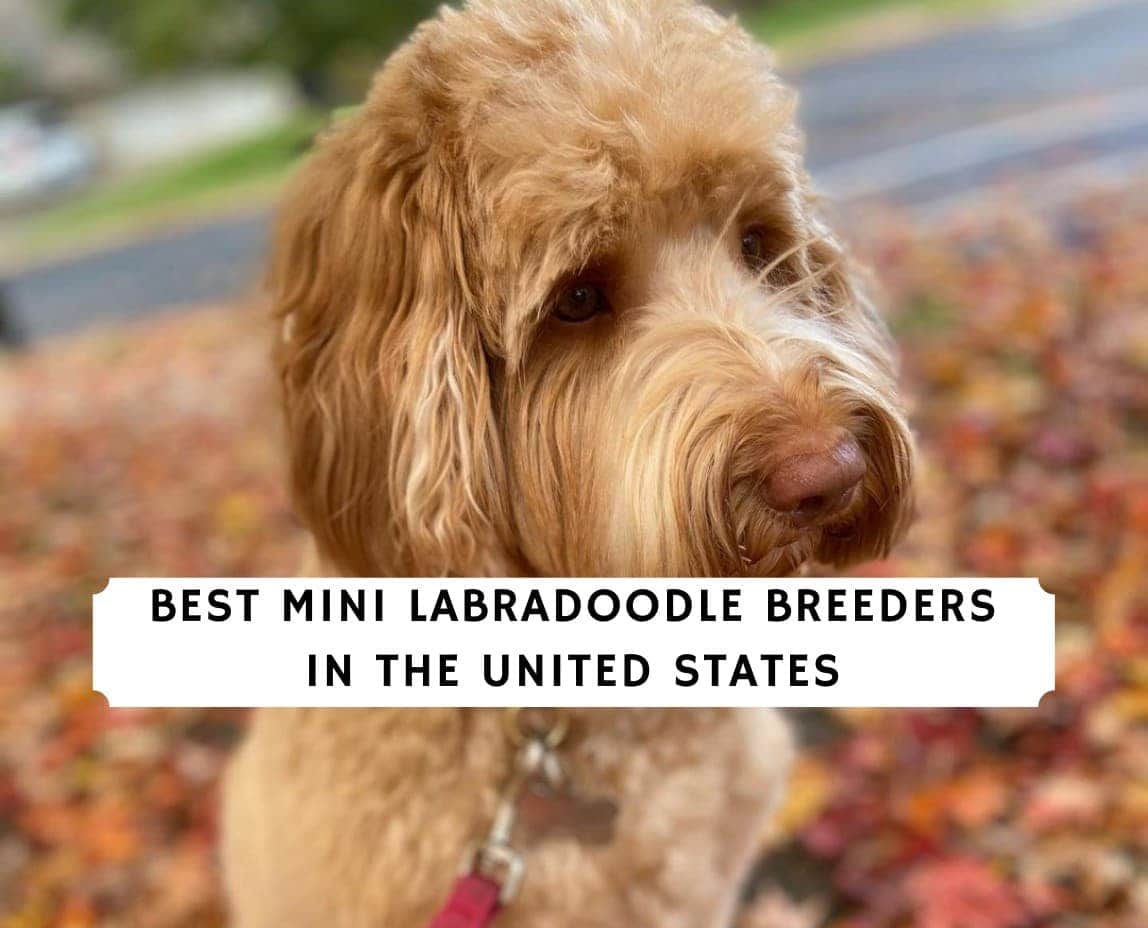 With their furry body and peppy personality, miniature Labradoodles are a hybrid family favorite type of dog. A mini Labradoodle is a cross of a purebred Labrador Retriever and a purebred miniature or toy Poodle. In addition, many people are falling in love with the mini Labradoodle because of their hypoallergenic and nonshedding coats.
Wherever you live, Mini Labradoodles can make a great pet that will fit in well with you, your family, and your lifestyle. As dedicated and active companions, they'll crave attention and you can't help but give it to them.
To help you get started on your search for a puppy, here are some of the best mini Labradoodle breeders throughout the United States. Remember that all breeders are not the same and always have different breeding practices. In general, you want to find a miniature Labradoodle breeder who does health checks on their dogs, offers a puppy warranty, and doesn't keep their dogs in kennels all day. In addition, you want to find a mini Labradoodle breeder that you can trust and will answer all your questions.
Be sure to do your own research to find a breeder that you can trust and is convenient to reach. Breeding practices do change, so we suggest that you contact the miniature Labradoodle breeders on our list and ask them lots of questions before putting a deposit down on your puppy. Many of the breeders on our list will also ship you puppies, but we highly recommend that you pick up the dog in person.
Other articles you would like: Mini Bernedoodle Breeders and Mini Goldendoodle Breeders.
The #1 miniature Labradoodle breeder on our list is PuppySpot. They are actually a credible network of breeders that are licensed and state-registered. The benefit of using a large network of breeders is that you won't have to wait for a Labradoodle puppy because they have puppies available today. When you traditionally contact an individual Labradoodle breeder, chances are they will make you wait on a long puppy list before the litter is even born.
Additionally, when using PuppySpot, you can choose between gender, size, coat color, generation, and price. This allows you easily select the exact puppy you want and saves you time from interviewing multiple breeders. If the miniature Labradoodle puppy that you are looking for isn't available in your state, then PuppySpot has its own private airline carrier that safely delivers puppies to you. 
We got one of our doodles from PuppySpot and the best experience. Not only did it save us time from researching breeders, but we were able to find the exact puppy we were looking for. PuppySpot also has a health guarantee, a "no puppy mill" guarantee, and is backed by the American Kennel Club. They are disrupting the dog breeding industry and we highly recommend that you check them out.
Mini Labradoodle Breeder Details
2. Dixie Mini Doodles (Texas)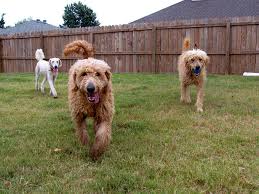 Located in both Austin and San Antonio, Dixie's Doodles come with years of experience breeding healthy and happy mini Labradoodles. Each miniature Labradoodle is fully tested and comes with an up-to-date health record.
As these mini Labradoodle puppies are raised in a home environment, they develop friendly temperaments and become accustomed to living life in a family setting. These puppies are well socialized and exposed to many different noises and environments to help ease the transitions to a forever home.
If you're interested in getting a puppy, you can put out an initial deposit to secure your place on a waiting list. Once there's a litter scheduled, you'll get an email notification to move forward with the mini Labradoodle adoption process. This is followed up by a newsletter series that helps you see how the mini Labradoodle puppies are growing.
Your puppy application includes some key questions to help the breeders place you with the right puppy that fits your lifestyle and family environment. They want to match each of their miniature Labradoodles based on how active your current lifestyle is.
Each of their mini Labradoodle puppies comes with a microchip and pre-registration with the Australian Labradoodle Association of America (ALAA). They also have their proper vaccinations and other health checks to ensure your puppy is as healthy as can be.
Mini Labradoodle Breeder Details
3. Hidden Beach Mini Australian Labradoodles (California)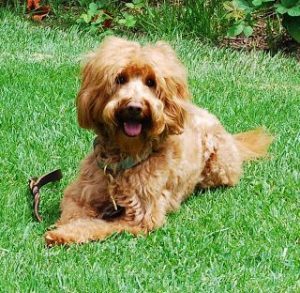 The team at Hidden Beach Australian Labradoodles is dedicated to maintaining the integrity and quality of the mini Labradoodle. They focus on breeding miniature and medium-sized dogs that are multi-generational. Thus, their mini Labradoodles are going to be mostly nonshedding and hypoallergenic. However, the downside of this is that you will have to groom your Labradoodle on a regular basis which includes brushing, haircuts, and bathing.
Each of their mini Labradoodle puppies undergoes thorough health testing before breeding and is only bred a total of three times to emphasize the quality of life. The miniature puppies are raised in a home environment and receive personalized one-on-one time with the owner. You can guarantee that your mini Labradoodle puppy is going to be well socialized and adapt to your new home easily.
When the mini puppies are ready to be welcomed into their new families at 8-weeks old, they come with a full check of health and other important breeding information. They also come with a two-year health warranty that ensures they are free from genetic disease in their first couple of years of life. They also are mostly potty trained and well socialized to fit well into your family and lifestyle.
Mini Labradoodle Breeder Details
Location: Aptos, California
Email: puppies@hiddenbeachlabradoodles.com
Phone: 831-708-8369
4. Mini Labradoodles of Long Island (New York)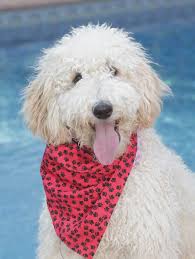 Right from the start, the puppies at Labradoodles of Long Island are loved and cared for with intention. The puppies aren't kept in kennels but in a spacious environment in their own home. This setting allows their mini Labradoodle puppies to socialize, be trained, and be ready to be part of their new family.
Since 2006, the team at Labradoodles of Long Island has been raising and caring for puppies and sharing them with families. With the mini Labradoodle's friendly and loving personality, they make great pets for families with kids of all ages. For what it's worth, they are one of the oldest mini Labradoodle breeders on our list.
The team at Labradoodles of Long Island has also been featured in a variety of videos and programs that highlight the beauty of this hybrid breed. You can view more of their interviews and videos on their website to get a better understanding of their breeding practices.
They're also recognized by the Australian Labradoodle Association of America and are Golden Paw Breeder. Based on this accolade, there is a very reputable miniature Labradoodle breeder. Their website also shares a wide collection of adorable photos from past litters and parents that will make you fall in love with these dogs even more. You'll also get a sense of their coat colors and sizes from these pictures.
If you're interested in being put on the waiting list for a mini Labradoodle puppy, you can complete your family profile online. This profile helps them match the right puppy to your family.
Mini Labradoodle Breeder Details
5. Faithful Doodles (California)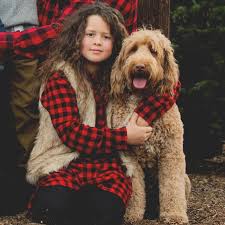 Whether you're looking for a Labradoodle or a Goldendoodle, you can find both at Faithful Doodles in California. As a family-run operation, puppies raised here are shown love and attention as they prepare to be welcomed into your own home. With a passion for the hybrid variety of dogs, this family has been puppy fans for years and is eager to share the joy of doodles with others.
Each dog is registered with the ALAA and is given full health testing. You can also see the genetic background of the parents to help you see what kind of mini Labrabdoodle puppy you can expect. Puppies come with a two-year health guarantee to provide you the confidence and assurance of the health of your doodle.
Their mini Labradoodle puppies are also microchipped, vaccinated, and dewormed. Your puppy also comes with a trial period of pet insurance and a sample of dog food they're used to eating. The team at Faithful Doodles is also available to answer questions and help resolve any issues as you and your family transition to having a Mini Labradoodle puppy.
When a litter is ready to be welcomed into a family, they are chosen and taken home on the same day. Setting up a reservation helps as they are sold on a first-come, first-serve basis.
Mini Labradoodle Breeder Details
6. Brookside Mini Labradoodles (California)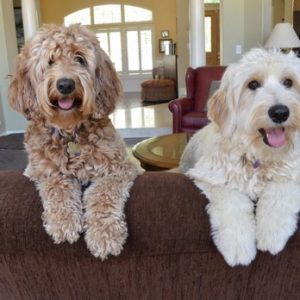 With a dedication to providing families with the best fit for a puppy, the team at Brookside Mini Labradoodles breeds only the best mini Labradoodles. The parents are tested for temperament, health, and wellness so that the puppies they breed follow those same high standards.
This miniature Labradoodle breeder is also recognized by the Australian Labradoodles Association (ALAA) as a Golden Paw Breeder, giving you confidence in their quality and breeding practices. Raised in a home environment, these puppies are given intentional love, care, and attention as they grow and socialize with other puppies and people.
If you're interested in a puppy from Brookside Mini Labradoodles, you can complete your puppy application. This application asks important questions to help pair you and your family with the right puppy. Once there's a litter available, you can submit a deposit to secure your spot. When they're ready, you can schedule an appointment to visit and pick up your new puppy.
Mini Labradoodle Breeder Details
7. Labradoodle Lane (Florida)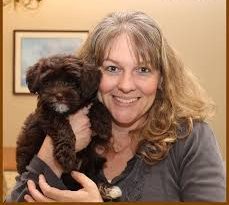 Miniature puppies from Labradoodle Lane come in a variety of sizes and colors to love. Each puppy from Labradoodle Lane comes with helpful information like health records and paperwork as well as puppy gear like a collar and a toy. As you make this adjustment to welcoming home a puppy, the team at Labradoodle Lane is available for support and to offer insight.
If you're interested in a puppy from Labradoodle Lane, you can complete an application to express what you're looking for in a puppy and what life with a puppy might look like. You can then be added to a waiting list for the next available litter.
Mini Labradoodle Breeder Details
How to Choose a Mini Labradoodle Breeder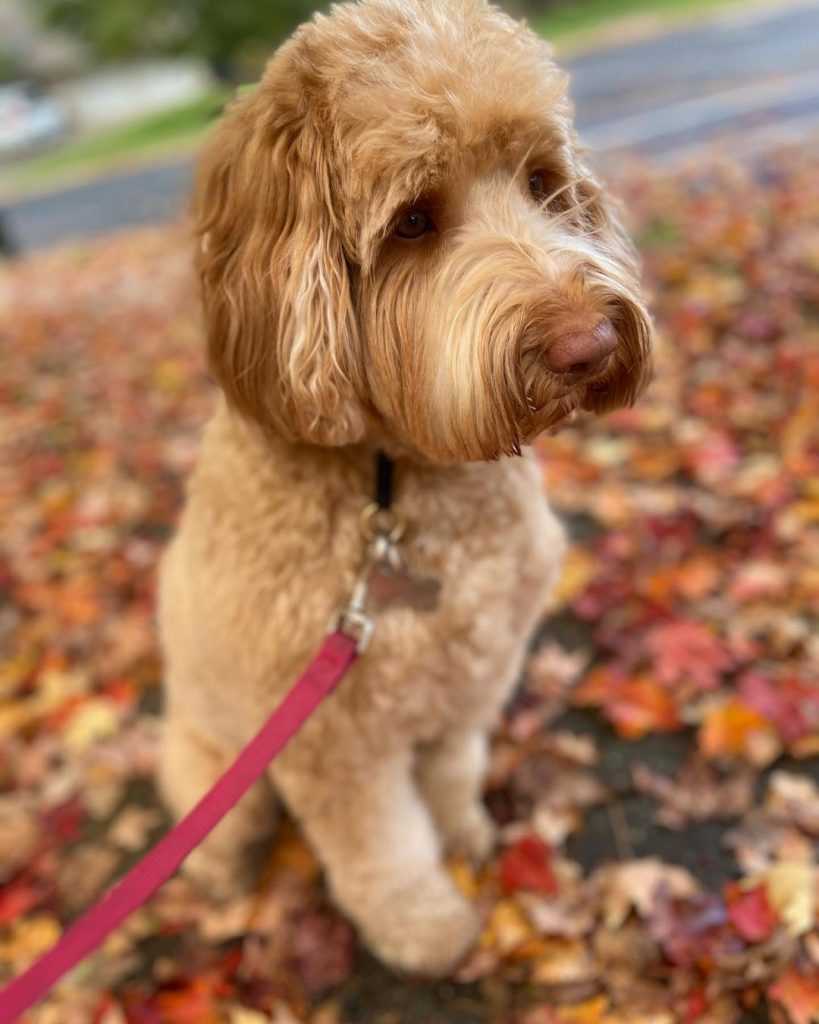 Mini Labradoodles are growing in popularity around the United States. If you couldn't find a miniature Labradoodle breeder from our list, we highly recommend that you visit the Australian Labradoodle Association of America (ALAA) or do lots of independent research.
There's no organization that regulates crossbred dogs like the American Kennel Club (AKC) does for purebreds. Thus, you'll need to do a lot of research and ask any potential breeder lots of questions. Here are some tips for choosing a mini Labradoodle breeder.
Does the breeder offer genetic and health testing on the parent dogs? Most reputable mini Labradoodle breeders will offer health and genetic testing to ensure that they aren't passing genetic issues to their puppies.
Does the breeder offer a puppy warranty? Miniature Labradoodle breeders who believe in the health of their dogs will typically offer at least a 1 to 2-year health warranty on their puppies.
How long has the breeder been in business? I personally would never purchase the first set of mini Labradoodle puppies from any breeder. Dog breeding is a skill and takes years of experience to get good at. Make sure that any potential breeder has been breeding for a long time.
More Information About Mini Labradoodle Puppies
As its name implies, these Labradoodles are small in size, as a result of the "Miniature" in its Miniature Poodle parent. In size, these dogs get to be only 14 to 16 inches tall and weigh between 15 to 35 pounds. There are smaller Labradoodle sizes like the teacup or micro, but we don't recommend those puppies due to the health issues and controversy of breeding those dogs.
The appearance of a Mini Labradoodle depends on the genetic make-up of the dog. While some puppies have more "Poodle-ness" to them, others may have more of the "Labrador-Retriever-ness" to them. In any case, these dogs are characteristically soft and furry with coats that are just like a rug. This coat, however, has been known to be allergy-friendly and hypoallergenic, which can be an important feature for your family.
Like their variety in appearances, these dogs also come in a variety of colors, including white, tan, caramel, and black. While the Poodle parent may be responsible for the furry coat, the Labrador Retriever appears in their strong build and muscular body.
As is the case with other cross-breeds, Mini Labradoodles can be varied in their temperaments and personalities. Part of the excitement comes in the variety and surprise you can get with your puppy. Whether you're still considering your options or have had your heart set on a Mini Labradoodle for years, you're in for an adorable treat.
Conclusion for Mini Labradoodle Breeders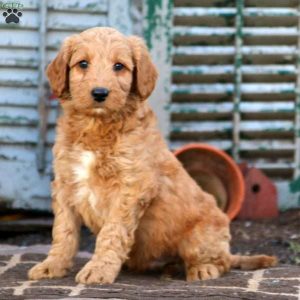 The mini Labradoodle brings the best of a Labrador Retriever and toy Poodle. With their small to medium size, curly coats, and bright personalities, this dog fits in a variety of family situations and lifestyles.
Wherever you live, you can find reputable mini Labradoodle breeders, recognized by the Australian Labradoodle Association of America. By doing your own research on breeders in your area and using this helpful list to get you started, you can be on your way to finding your new furry friend.
Other articles you might like:
Garrett loves animals and is a huge advocate for all Doodle dog breeds. He owns his own Goldendoodle named Kona. In addition, he volunteers at the Humane Society of Silicon Valley, where he fosters dogs and helps animals. Garrett enjoys writing about Doodles and believes that dogs can teach humans more about how to live than humans can teach a dog.
Why Trust We Love Doodles?
At We Love Doodles, we're a team of writers, veterinarians, and puppy trainers that love dogs. Our team of qualified experts researches and provides reliable information on a wide range of dog topics. Our reviews are based on customer feedback, hands-on testing, and in-depth analysis. We are fully transparent and honest to our community of dog owners and future owners.