Finding the best Sheepadoodle breeders in California can be difficult when you're trying to find a reputable and trustworthy breeder. Within the past decade, the interest in raising Sheepadoodles skyrocketed.
Sheepadoodles are mixed between the Old English Sheepdog and the Poodle. Their intelligence and hypoallergenic characteristics have numerous benefits, which is why so many people want this Poodle mix. You'll find many different Sheepadoodle puppies for sale in California, but not all of them come from reputable breeders. This is where we can help you narrow down your research!
Other similar dog breeders in California are Poodle Breeders in California and Bernedoodle Breeders in California.
Sheepadoodle Puppies For Sale in California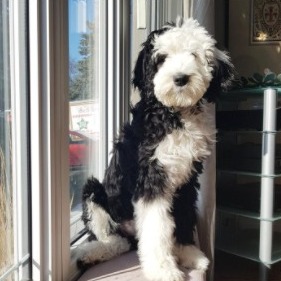 Our team at WeLoveDoodles compiled a list of the best Sheepadoodle breeders in California for interested owners. We listed their contact info, so you can reach out to these breeders to bring home a companion in no time. Breeding practices change all the time, so it best to reach out to each individual breeder and try to meet them in person.
In general, try to find a Sheepadoodle breeder in California that cares about their puppies, socializes them, and keeps up with their health records. Ultimately, you want to find a breeder that you can trust will sell you a healthy puppy and answer your questions even after they have sold you a dog.
Learn more about Sheepadoodles before you get started: Best Sheepadoodle Generations and Sheepadoodle Sizes.
1. Gracewood Farm Sheepadoodles
Gracewood Farms is the top Sheepadoodle breeder in California on our list. They recently expanded a new location to Tehachapi, California, where they will be breeding standard-size Sheepadoodles (some will be merle colored as well). At their other locations, they still have miniature Sheepadoodles that they can easily transport. The reason that we like Gracewood Farms is that the owners, Luke and Stasi, are extremely responsive and willing to answer any questions that you might have via phone or email. All their parent dogs are also AKC registered and purchased from recognized breeders.
As far as their puppies go, they go through an extremely comprehensive Early Neurological Stimulation (ENS) program that exposes their Sheepadoodles puppies to sites and sounds. This helps prepare your puppy for the real world by reducing their anxiety when they go to their forever home. All their Sheepadoodle puppies are also heavily socialized with people, children, and other animals. Additionally, they begin early potty training to make the transition to your home easier.
As with any reputable Sheepadoodle breeder, their puppies will be vet checked, up to date on shots, and have a comprehensive 12-month health guarantee. They also have a ton of online reviews for their other locations and are highly transparent. If you're looking for a standard Sheepadoodle in California, we highly suggest you check them out.
Grace Wood Farm Details
2. California Sheepadoodles
Second on the list of Sheepadoodle breeders in California is "California Sheepadoodles." In 2013, California Sheepadoodles quickly became one of the most highly regarded breeders of Sheepadoodle dogs in the western United States.  They are located in Yuba City, California, and reside in a farmhouse on 6 1/2 acres.  It is a perfect setting to raise their dogs and puppies as they have lots of room to romp and play. 
They also feature a fully insulated two-room infant nursery with heating and air, a heated floor, and puppy cams so that these puppies can continuously be monitored. The mother dogs stay in the infant nursery with their babies until they are four weeks old, and then everyone is moved to the toddler nursery, and mom will stay in with them at night until they are fully weaned. 
The toddler nursery is where puppies will stay until they go home with their new families.  There are four indoor areas with heat and air conditioning, and each has an extensive outdoor space for the puppies to romp and play. Puppies begin to learn to use the doggy door at 4-5 weeks to go outside to potty and are fully doggy door trained at 5-5 1/2 weeks old. 
California Sheepadoodles have recently built an extra kennel for boarding and for holding area.  They offer free boarding to all our guardian families and will board them in the new space. Pricing for California Sheepadoodle dogs is as follows: solid black, black, grey, brown, and white puppies are $3000. On the other hand, merle and phantom or blue eye Sheepadoodle puppies are $3500. A non-refundable $500 deposit must be paid to be placed on the waitlist.
California Sheepadoodles Details
3. California Magnificent Mini Sheepadoodles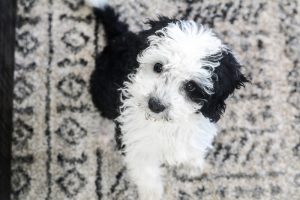 California Magnificent Mini Sheepadoodles has been breeding Sheepadoodle puppies since 2010. Over the past decade, they have consistently produced some of the best Mini Sheepadoodles in the United States. They use AKC registered miniature Poodle males bred to AKC registered OES females to deliver their litters.
To adopt a California Magnificent Mini Sheepadoodle, an application and deposit must first be submitted. The application is to ensure their Sheepadoodle puppies are going to the best families possible. This is also where an adopter can choose the size, gender, and color that is desirable. A deposit of $500 will hold a puppy from an upcoming litter. Their Sheepadoodles puppies for sale in California cost $3,000, though occasionally there will be a higher price for a dog with blue eyes.
California Magnificent Mini Sheepadoodles Details
4. Kingsboro Doodle Ranch CA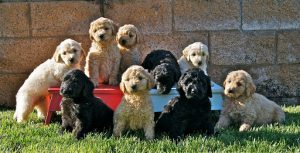 Kingsboro Doodle Ranch is a breeder of many different poodle mixed breeds, including Sheepadoodles. Their goal is to provide a good breeding program, using dogs who show good traits and good temperaments to make amazing puppies who will be low-noshed. Their dogs are combined to create a large breed, loving companions who can be inside without causing an allergic reaction and who make life a bit easier simply due to their hair.
All of Kingsboro Doodle Ranch puppies are born inside their home and raised inside a puppy nursery. While they provide plenty of outside playtime for the puppies, none of their animals are expected to sleep outside. As soon as the sun goes down, the animals are all put away into their indoor enclosures due to weather conditions and safety from wild animals that live around the acreage featured at their ranch.
Kingsboro Doodle Ranch Sheepadoodle puppies are sold as pet companions, which means they are only pets and companions. They are not to be used for breeding. They send each puppy home already spayed/neutered or with a spay or neuter contract. Pricing for a Kingsboro Doodle Ranch puppies ranges depending on size, gender, and color. Kingsboro asks to be contacted via their website or by phone for complete pricing and more information on upcoming litters.
Kingsboro Doodle Ranch Details
5. Sheepadoodle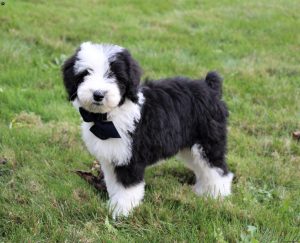 Sheepadoodle is a breeder located in Orange County, California, who has been breeding only Sheepadoodle puppies since 2004. All puppies are birthed and raised inside their home in spotless conditions. The Sheepadoodle puppies are not allowed outside until they have been vaccinated at six weeks. They will need a second vaccination at nine weeks and every three weeks after that, which will need to be taken care of by the adopter.
All Sheepadoodle puppies are socialized from birth with both adults and children. When the puppies are old enough, they are allowed outside for short periods to play with each other and all the adult dogs. Necessary social skills are learned by being allowed to play with mom, dad, and siblings. This helps them to become better dogs when they are grown. Sheepadoodle also introduces them to my other Old English Sheepdogs and Standard Poodles.
Their Sheepadoodle puppies in California are shipped at eight weeks of age. If a puppy is taken away from its littermates before this period, it misses a significant part of its life where it learns to socialize and play with its littermates. All puppies are up to date on vaccinations and are de-wormed by the date of adoption. Dewclaws are also removed by a veterinarian when they are just days old.
The cost of adopting one of Sheepadoodle's puppies is $2,000. A non-refundable $250 deposit must be made to hold a puppy from an upcoming litter. Sheepadoodle does ship their dogs. This cost varies depending on the location to be shipped but averages around $500. For more information, contact Sheepadoodle via their website or by phone.
Sheepadoodle Details
6. Sutter Buttes California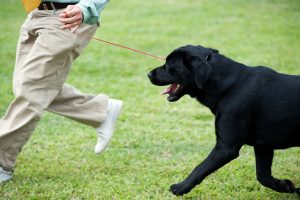 Last on the list of Sheepadoodle breeders in California is "Sutter Buttes." Sutter Buttes is a breeder of many different poodle mixed breeds, including Sheepadoodles. They are located in the Yuba City and Marysville area, which lies right in Sacramento and Chico. All Sutter Buttes breeding stock undergo hip testing (OFA) and eye testing (CERF). This is to ensure that their Doodle puppies are free of potential hereditary defects.
While these tests do not guarantee that puppies will not have any hereditary problems, they are still the best way to determine that the breeding stock is clear of specific defects. With this testing in place, Sutter Buttes can be sure they are passing the best possible genetic combinations along to the puppies.
When adopting Sutter Buttes, an adopter will receive a spay/neuter agreement included in the health warranty and contract. The puppies must complete six months of age with copies of the spay/neuter certificate sent to Sutter Buttes for confirmation. If buying a pup for breeding purposes, this will not apply to your puppy.
The puppy will also get its first series of vaccinations as well as current de-worming. Adopters will be given a health record to update as necessary and give to a veterinarian. Puppies will be microchipped at seven weeks of age. A puppy will also go home with a 3-day supply of the kibble he/she has been eating at Sutter Buttes. A signed contract that will include a 2-year health guarantee, sales conditions, as well as any other necessary details spelled out specifically for a puppy.
This contract is binding and designed to protect the seller, the buyer, and most important – the puppy. Sheepadoodle puppies in California from Sutter Buttes are priced at $3,500. A non-refundable deposit of $515 must be made to reserve a spot on their waitlist. Payment in full is required when the puppies reach four weeks of age. Sutter Buttes do ship their puppies out of Sacramento International Airport.
The additional cost of this service is $200, and the adopter is also responsible for all flight and travel fees required by the airline and will be paid directly to the airline. For information on upcoming litters from Sutter Buttes or any other information, they ask to be contacted via email or phone.
Sutter Buttes Details
Conclusion For The "Best Sheepadoodle Breeders in California"
Finding Sheepadoodle breeders in California can be difficult for some people. We hope this list of the best Sheepadoodle puppies for sale in California will help you bring home a beloved companion. If you're planning to purchase from other unknown Sheepadoodle breeders, we recommend doing your research. You could stumble across a Sheepadoodle puppy mill without even knowing it. Aside from all of this, we wish you and your Sheepadoodle the best in your new chapter in life.
For other Sheepadoodle breeder recommendations, check out:
To learn more if the Sheepadoodle is for you or not, watch "Sheepadoodle Pros and Cons" from Dog Solid down below: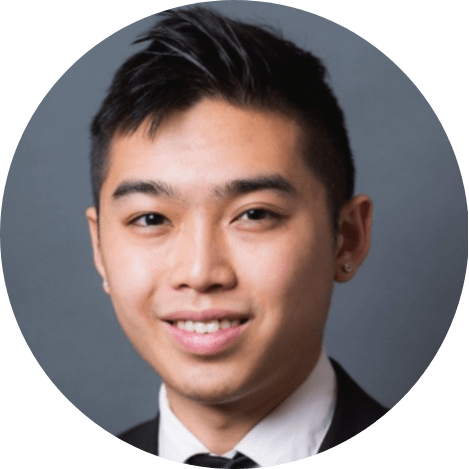 Andy is a full-time animal rescuer and owner of a toy doodle. When he's not saving dogs, Andy is one of our core writers and editors. He has been writing about dogs for over a decade. Andy joined our team because he believes that words are powerful tools that can change a dog's life for the better.
Why Trust We Love Doodles?
At We Love Doodles, we're a team of writers, veterinarians, and puppy trainers that love dogs. Our team of qualified experts researches and provides reliable information on a wide range of dog topics. Our reviews are based on customer feedback, hands-on testing, and in-depth analysis. We are fully transparent and honest to our community of dog owners and future owners.