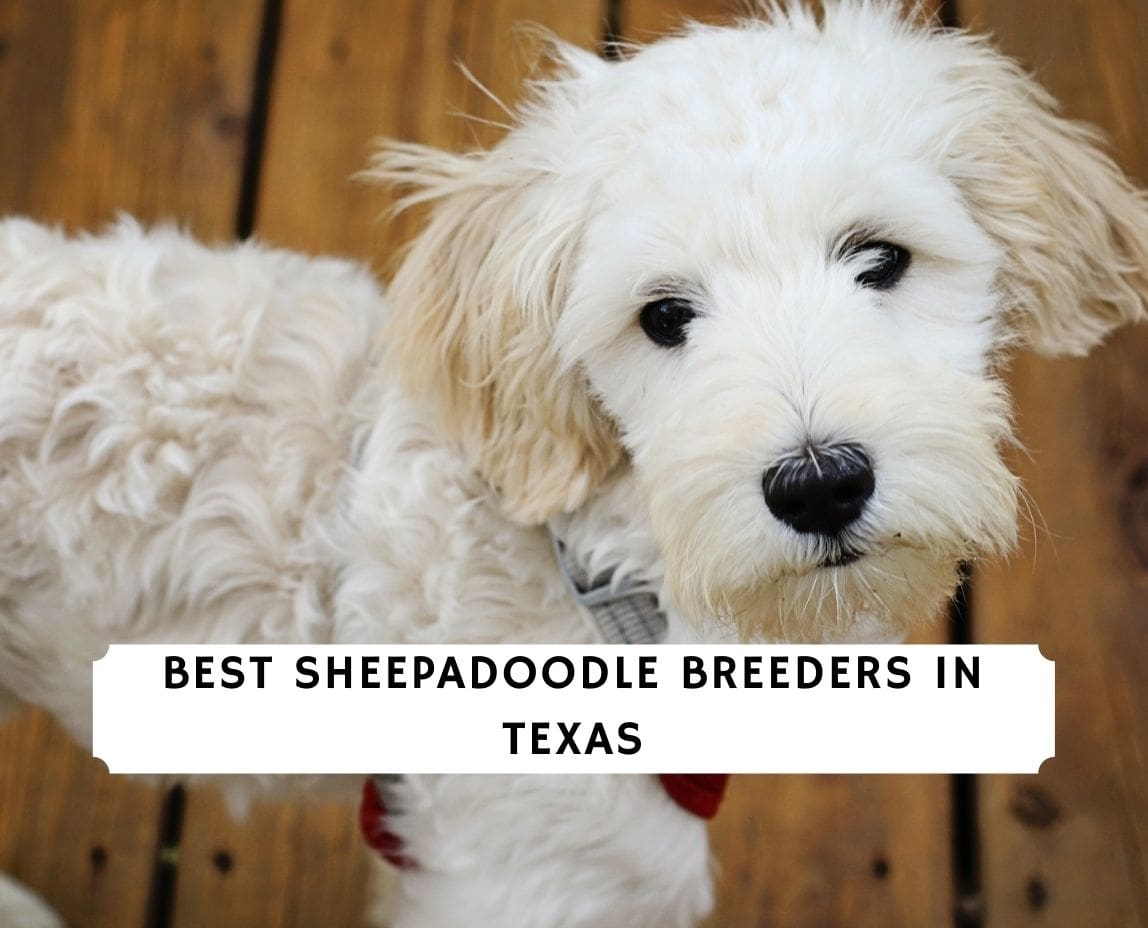 Sheepadoodles are one of the most loved designer dogs in the United States. High profile A-listers such as Meryl Davis are not immune to the Sheepadoodle's charm. Many celebrities have been spotted carrying these cuddly bears around which makes the Sheepadoodles even more popular. Thus, you'll find tons of Sheepadoodle puppies for sale in Texas, but not all breeders are reputable.
Sheepadoodles are low-maintenance and make a wonderful addition to anyone's life as a companion, service, or therapy dog. If you're looking for Sheepadoodle breeders in Texas, we've created a list of the 6 best places to help you find a puppy. We've done our own independent research to help you find your next puppy. However, breeding practices frequently change, so we always suggest any new potential puppy owner to contact a breeder prior to putting a deposit down.
1. Dallas Doodle Ranch Texas
Dallas Doodle Ranch is a mini and standard Sheepadoodle and Bernedoodle breeder in Northeast Texas in Trenton. The breeder offers quality Sheepadoodle puppies in Texas raised in their own home environment for families across the United States.
Every puppy starts a learning journey at 3 days old and goes through neurological stimulation exercises, crate and potty training, and socialization. This ensures that your Sheepadoodle puppy doesn't develop anxious or aggressive tendencies when both of you live together. It also helps to prepare them for the real world where they will experience various sights and sounds that they won't be used to.
This Sheepadoodle breeder in Texas also offers personalized shipping to hand-deliver your puppy wherever you are in the USA. If you would like to be a guardian, you can reach out to the breeder about their partner homes.
Sheepadoodle Breeder Details:
2. Liberty Hill Sheepadoodles Texas
At Liberty Hill Sheepadoodles, soulful eyes are their specialty. The Austin, Texas, based breeder offers quality Sheepadoodles born and raised in their home. They introduce the puppies to Early Neurological stimulation for optimum results.
Liberty Hill Sheepadoodles has two sizes of Sheepadoodle puppies: Standard Sheepadoodles for $2000 and medium Sheepadoodles for $2200. If your gender or color is not available, you can choose to transfer to future litters down the line.
Every Sheepadoodle puppy comes with a 2-year health guarantee and spay/neuter arrangement. If you can't pick your puppy at 8 weeks, you can request the breeder for boarding which goes for $10 per day.
This Sheepadoodle breeder in Texas doesn't ship the puppies via cargo. You can fly into Austin to pick your pup as long as they will fly with you under your seat in the cabin.
Sheepadoodle Breeder Details:
3. Faith, Love and Doodles Texas
This is a small home-based breeder of Sheepadoodles, Cavapoos, and Goldendoodles in the Dallas Fort Worth Area. Faith, Love, and Doodles strives to ensure you have a happy, healthy, intelligent, and well-adjusted puppy to love forever.
The breeder's parent dogs are extensively health-tested and DNA tested before breeding. All the Sheepadoodle puppies are born and raised in their home in Texas, where the breeder and her family of 7 tend to them.
For early neurological development, the breeder uses the "super puppy" method. The method emphasizes frequent short training sessions and positive reinforcements to train puppies effectively. It's important to find a Sheepadoodle breeder in Texas who will provide some sort of socialization during the first 8 weeks of their life before you pick them up. This is when a puppy learns and experiences new sights and sounds.
There Sheepadoodle puppies for sale in Texas are $3000 and come with a 2-year health guarantee and lifetime breeder support. The breeder encourages adopters to pick up the Sheepadoodle puppy at her residence. If you're looking for service, therapy, or companion Sheepadoodles, this is one of the best breeders in Texas to talk to.
Sheepadoodle Breeder Details:
4. Little Fur Friends TX
If you've ever owned or met a Sheepadoodle, you know how loving these cuddlers with their big and beautiful eyes are. When Sarah had her first Sheepadoodle litter in 2015, she fell in love along with her big team at Little Fur Friends. That litter led Sarah and her team to raise various doodles such as F1 Sheepadoodles for loving lifetime companions.
Little Fur Friends are raised in Sarah's home in El Campo, Texas, with tons of love and affection. Before breeding, the team ensures the mommas and daddies are in excellent health and have great genes. The parent dogs are AKC registered and the mixed bred ones CKC-registered.
The team provides ground transport and flight shipping via a flight nanny. They, however, do encourage pickup at Sarah's home to prevent less stress on the Sheepadoodle puppy.
All doodle puppies are CKC registered. You can expect to spend between $2800 to $4500 for a Sheepadoodle puppy from this breeder. All Sheepadoodle pups come with a health guarantee and breeder support.
Aside from Sheepadoodles, Sarah and her team also breed F1BB Aussiedoodles, F1 Goldendoodles, and F1 Bernedoodles. So if a Sheepadoodle doesn't fit your ideal dog, you can contact them for other Doodle dog breeds.
Sheepadoodle Breeder Details:
5. Texan Doodles
Texan Doodles is one of the top Sheepadoodle breeders in San Antonio, Texas. They take pride in socializing their Sheepadoodle puppies and offering a 3-year health guarantee on all their dogs. The breeder offers F1B Sheepadoodles in mini and standard sizes.
The breeder doesn't offer puppy training but starts the puppies on basic commands during the first 8 weeks. All their Sheepadoodle puppies in Texas are registered with the Designer Breed Registry and the United All Breed Registry.
All their Sheepadoodle puppies are also raised and cared for on the breeder's property. The breeder monitors the pups closely and ensures they are in a healthy, safe, and friendly environment.
Texan Doodles prices their Sheepadoodle puppies for sale at $3500 for minis and $3000 for standards. To hold a spot on the waitlist, you will need a $500 deposit. The deposit is refundable after 12 months and transferable to any litter of your choice.
It's worthwhile to note that this Sheepadoodle breeder in Texas doesn't offer any shipping. They are, however, are close to major airports such as San Antonio (30 minutes away) and Austin (90 minutes away). You can fly to the airports, pick your Sheepadoodle puppy in Texas and fly back home
Sheepadoodle Breeder Details:
6. Groodle Doodle Ranch Texas
At Groodle Doodle Ranch, perfection and excellence are not words. They are a lifestyle and promise all current and future Groodle families healthy and happy puppies. The breeder prides themselves on consistent efforts to produce doodles with gentle dispositions, great temperaments, and great looks.
They do this through a lot of effort, passion, and attention to detail to every Sheepadoodle puppy. The first piece starts with healthy, genetically tested parents before breeding. When the puppies are born, the breeder exposes the Sheepadoodles to the essential 7 regimes.
The regime is designed to expose their Sheepadoodle puppies in Texas to 7 categories to stimulate their senses. The puppies also undergo a massage and early neurological stimulation program to enhance socialization, trainability, potential, and health.
When their Sheepadoodle pups in Texas are ready to go home, you can expect your dog to be up to date on current all age-appropriate vaccinations, well-socialized, leash trained, crate trained, desensitized to household noises, introduced to how grooming feels, and microchipped.
Every Sheepadoodle puppy for sale also comes with a 2-year health guarantee, lifetime access to the breeder, and part of the Groodle community. You can expect to pay an average of $2500 for your Sheepadoodle!
Sheepadoodle Breeder Details:
7. Pawsitively Blessed Doodles
Pawsitively Blessed Doodles strives to give you a healthy, happy, intelligent, and well-socialized Sheepadoodle puppy. All their parent dogs are born and raised in their home as part of their family. Their Sheepadoodle puppies in Texas are socialized and raised among other dogs to get a feel of life with you.
This Sheepadoodle breeder in Texas starts litter training at 3.5 weeks and introduces the pups to crate training and doggy doors. The Sheepadoodle puppies are also kept current on vaccines and deworming, and health checked before leaving for your home.
The home-based breeder also provides a 1-year health guarantee and a spay/neuter agreement. The breeder also recommends you continue an all-natural/raw food diet when you take your puppy home. You can expect to pay an average of $2500+ for an F1 or F1b Sheepadoodle puppy.
Sheepadoodle Breeder Details:
Conclusion for Sheepadoodle Breeders in Texas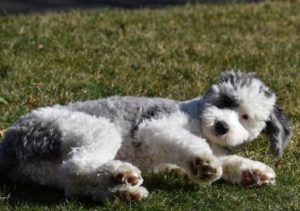 Sheepadoodles have big hearts full of love and all they want is to shower you with love. Whether this is your first dog or an addition to the crew, a Sheepadoodle is your best bet. Sheepadoodle breeders in Texas have become popular because people like having a larger dog breed with a hypoallergenic coat. Remember, not all breeders are the same and it's important that you can find someone that you can trust. Happy searching!
For more guides and info related to "Best Sheepadoodles in Texas," check out: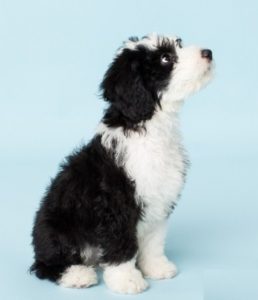 Garrett loves animals and is a huge advocate for all Doodle dog breeds. He owns his own Goldendoodle named Kona. In addition, he volunteers at the Humane Society of Silicon Valley, where he fosters dogs and helps animals. Garrett enjoys writing about Doodles and believes that dogs can teach humans more about how to live than humans can teach a dog.
Why Trust We Love Doodles?
At We Love Doodles, we're a team of writers, veterinarians, and puppy trainers that love dogs. Our team of qualified experts researches and provides reliable information on a wide range of dog topics. Our reviews are based on customer feedback, hands-on testing, and in-depth analysis. We are fully transparent and honest to our community of dog owners and future owners.