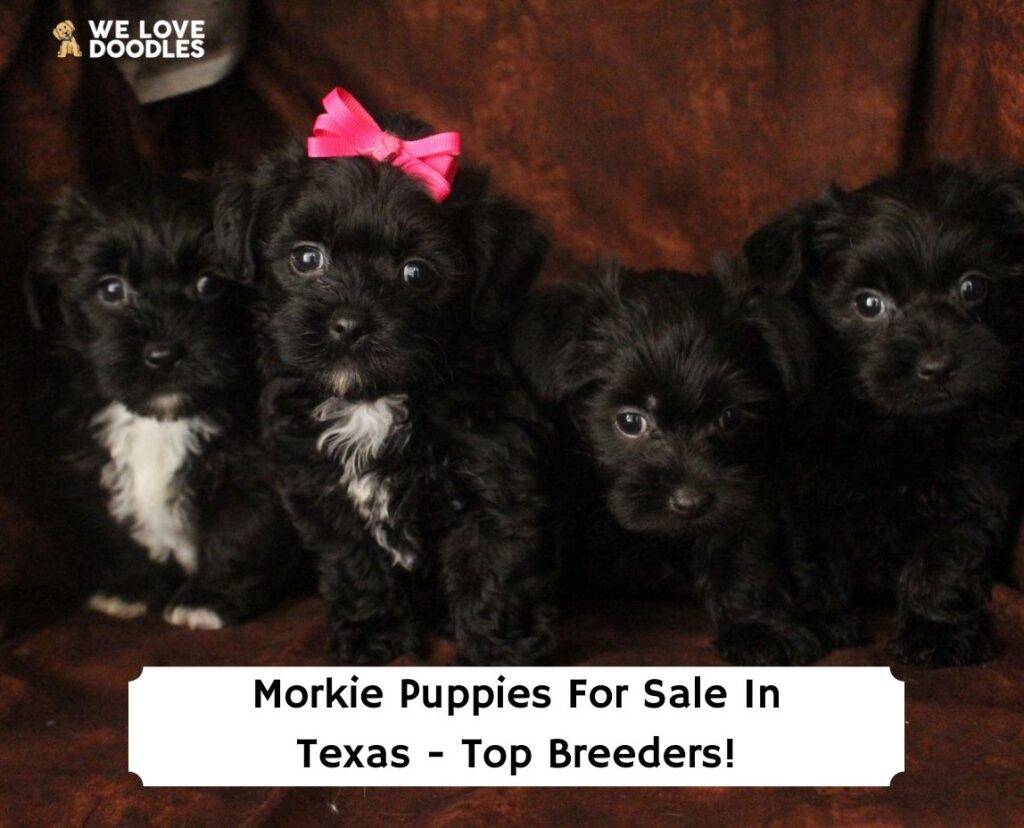 If you are trying to find breeders with Morkie puppies in Texas, we've got a list for you. Morkshire Terriers, often affectionately referred to as "Morkies," are hybrid mixed breed dogs with Yorkshire Terrier and Maltese parents.
Morkies are known for their long life expectancies, often living as long as 15 years. Although Morkies may resemble plush teddy bears, they are assertive, full of confidence, fearless, and stubborn. However, Morkies still tend to be very affectionate and playful and require much attention from their owners.
This unique combination of qualities has made Morkies popular, especially since they are adaptable to various settings and homes. Morkies are devoted lapdogs and vigilant watchdogs. You can expect your Morkie to be completely fearless, standing their ground and raising the alarm when faced with the sound of approaching footsteps, wildlife, cars, and more.
The Morkie stands out from other breeds' "hair-like" coats, which gives them an irresistible cuteness. The Morkie is exceptionally popular with those allergic to pets as they rarely shed and produce negligible amounts of allergy-triggering dander.
Before you scroll down this list of breeders with Morkie puppies in Texas for sale, check out these other recommendations from our team at We Love Doodles: Best German Shepherd Rescues in Texas and Best Beagle Rescues in Texas.
Morkie Breeders In Texas
The Morkie's coat is fluffy and fine, developing knots and gathering dirt if left untreated. To keep your Morkie's coat in the best condition, daily brushing, grooming, and trimming are recommended.
Furthermore, it is also recommended that you wash your Morkie's coat with mild dog shampoo at least once a month. This will establish good grooming habits for Morkies to live long and happy lives.
Morkie Product Recommendations: Best All-Natural Shampoos For Dogs and Best Bone Broth For Dogs.
1. PuppySpot's Morkies For Texas
First on the list of the best breeders with Morkie puppies in Texas for sale isn't an individual breeder but an enormous platform dedicated to puppies. PuppySpot is a reputable and trusted dog marketplace where you can browse for available Morkie puppies right from the comfort of your home in Texas.
It would be best if you remembered that all breeders with Morkie puppies must undergo a strict screening process, so you can rest assured knowing that your companion will be safely shipped to your home in Texas. Before continuing on your journey for a Morkie puppy for sale in Texas, you can check out the link to the marketplace below.
PuppySpot Details
2. Wendy's Yorkies
Wendy's Yorkies is a breeder based in Powderly, Texas, that aims to provide their puppies with loving homes. All puppies are raised inside the breeder's home and come pre-spoiled by the family. The breeding dogs at Wendy's Yorkies are available on site and love having visitors.
Wendy, the breeder, even encourages all potential adopters to visit and fall in love with her puppies. All dogs, puppies included, are fed a fresh, raw diet to ensure they live long and healthy lives.
Many health benefits come with a raw diet, including joint and bone health, a strengthened immune system, enhanced reproductive health, a shinier coat, and reduced stool and body odor.
Moreover, the adult dogs are all either APRI (America's Pet Registry), or AKC (American Kennel Club) registered, so you can be sure your puppy will conform to the breed standards.
The adult dogs at Wendy's Yorkies are also subject to genetic testing, allowing the breeder to make informed and educated decisions when planning their litters.
When you bring a puppy home from Wendy's Yorkies, you can expect it to come fully vaccinated and dewormed. Wendy also starts building the foundations for potty training her puppies, so your puppy will likely have fewer accidents when transitioning into your home.
Each puppy has a certificate of health signed by a local veterinarian, all of its medical documents, and a puppy pack filled with goodies. Some of these items include a starter bag of food, a blanket with the scent of the puppy's littermates, and various treats and toys.
Wendy's Yorkies Details
3. Vicky's Toy Puppies
Vicky's Toy Puppies is a breeder based in Childress, TX, that aims to produce puppies capable of making a positive difference in people's lives. The breeder's mantra is "special puppies for special people," which consistently rings true.
Many of this breeder's puppies have become seizure-alert dogs, and cancer detection specialists and have changed the lives of many diabetics, asthmatics, and more as therapy dogs.
Many of the adult breeding dogs at Vicky's Toy Puppies were raised by the breeder, who finds that her dogs make better parents and raise calmer, happier puppies. As the puppies develop and mature, they are provided with enrichment activities such as car rides and play sessions with the breeder's grandchildren.
This allows them to become well-rounded adults and desensitized to various stimuli. The breeder also sensitizes the puppies to a wide range of people and handles them daily to ensure they become loving family pets.
When you pick up your puppy, you can expect it to come with all age-appropriate vaccinations and dewormings. You can also expect them to come with a certificate of health signed by a licensed veterinarian and all of their medical documentation.
In addition to this, the puppies will come with copies of their parents' pedigrees. The breeder, Vicky, is also very helpful in answering any questions and is available to address any concerns you may have.
Vicky's Toy Puppies Details
4. Lil Prairie Kennels
Last on the list of the best Morkie breeders is Lil Prairie Kennels, based in Washington, Louisiana. The breeders at Lil Prairie Kennels have been breeding Morkies for the past 12 years and pride themselves on giving their puppies the best start in life.
This kennel is unique in the special diet fed to its adult dogs and puppies. The dog food at Lil Prairie Kennels is homemade and includes additional vitamins, minerals, and probiotics for digestive health.
Each dog also receives individual attention and is exercised daily to keep them fit and healthy. All of the puppies at Lil Prairie Kennels are handled and socialized daily.
The puppies can build their confidence and improve their cognitive and critical thinking skills by exposing them to various enrichment activities such as new environments, people, and pets. This also teaches the puppies basic manners and appropriate ways to interact with human handlers.
Before the puppies can join their new families, they receive all age-appropriate vaccinations and are dewormed several times. They are also given their first checkup and receive a health certificate from a licensed veterinarian. Furthermore, all puppies are microchipped, allowing you to reunite with them should you become separated.
Lil Prairie Kennels Details
Choosing a Morkie Breeder in Texas
Choosing the right Morkie breeder in Texas can be daunting, but knowing what to look for can make the process much easier. Adding a Morkie to your family is a major decision and a big responsibility, so it is essential to do your research before committing to a breeder.
Here are some tips for finding and working with a responsible and ethical breeder:
The breeder promptly responds to any questions or concerns
All of the breeder's animals receive exceptional care
The breeder is selective about placing their puppies with the right family
The breeder rehomes their animals after they are eight weeks old
The breeder performs genetic and health tests on their animals
The breeder has proof of pedigrees and health screenings readily available
The breeder allows you to meet your puppy's parents
The breeder is genuinely passionate about what they do
The breeder is available to answer any questions after your puppy goes home
Following these guidelines ensures your puppy will be healthy, happy, and an excellent companion. If you plan to visit a breeder, it is recommended that you make a list of questions to make an informed decision on adding a new member to your family.
More Information About Morkies In Texas
We've spent a lot of time and effort independently finding and researching these reputable Morkie breeders in Texas and the surrounding areas. This list is guaranteed to exclude unethical "backyard breeders" and puppy mills, which tend to be prevalent amongst breeders of small-breed dogs.
Morkies are especially susceptible to various health problems due to their popularity and irresponsible breeders' use of ill-bred dogs. This list is guaranteed to exclude these unethical breeders, so you can rest assured knowing your Morkie will be healthy now and for years to come if you choose to work with one of them.
Conclusion For "Morkie Puppies in Texas For Sale"
By ensuring your breeder loves, respects, and treats their animals with care, you can be confident that your Morkie will be a loving companion and exemplify the best traits of the breed.
The process of finding a reputable breeder can be exhaustive and time-consuming. Still, you will save yourself a lot of headaches, heartaches, and vet bills if you thoroughly screen whatever breeder you choose to work with.
For more guides with mentions of breeders with Morkie puppies in Texas for sale, you can check out:
If this list of breeders with Morkie puppies in Texas helped you, you could learn more about raising them by watching "Morkie Dogs 101" down below:
Garrett loves animals and is a huge advocate for all Doodle dog breeds. He owns his own Goldendoodle named Kona. In addition, he volunteers at the Humane Society of Silicon Valley, where he fosters dogs and helps animals. Garrett enjoys writing about Doodles and believes that dogs can teach humans more about how to live than humans can teach a dog.
Why Trust We Love Doodles?
At We Love Doodles, we're a team of writers, veterinarians, and puppy trainers that love dogs. Our team of qualified experts researches and provides reliable information on a wide range of dog topics. Our reviews are based on customer feedback, hands-on testing, and in-depth analysis. We are fully transparent and honest to our community of dog owners and future owners.