If you're looking for the best Beagle rescues in Texas, there's a list below to help. Going for rescue dogs is not only the best way to adopt a pet; it also counts towards doing your part to help save the millions of dogs in need of food, shelter, and love.
A Beagle has been one of the most famous family-loving breeds of dogs for centuries now, and having one in your home has always made things better. With a cheerful attitude that's always bent on being cute and playful, Beagles don't take much time to settle in with new families.
They're quick to make friends and are very loyal. You can train Beagles easily as they respond well to it. Normally Beagles don't come in large sizes, with the largest males going for 36 – 41 cm. No dog can be called a bad dog once you realize that all behaviors in dogs are caused directly or indirectly by the environment they've grown up in.
Before scrolling down this list of Beagle rescues in Texas you can check out these other recommendations from our team at We Love Doodles: Best Dog Rescues in Texas and Best Doberman Rescues in Texas.
Find a Beagle Rescue Near Me in Texas
Though this breed of dog is known to be lovable, adorable, and family-friendly, being abandoned and left outdoors to survive in the wild can turn them violent and aggressive. This is why it's important to rescue dogs as early as possible and why we need to provide them with everything they need while they're young.
However, it's not as simple as going to a shelter and picking up the first pet you like. Apart from the vet checks and adoption processes conducted by a credible shelter, it's your responsibility to ensure that the pet is healthy and taken care of once you meet it.
Product Recommendations For Your Rescue: Best Muscle Growth Supplements For Dogs and Best Harness For a Tie Out.
1. God's Dogs Rescue
God's Dogs Rescue is a non-profit pet rescue in Texas dedicated to providing love, food, and shelter to stray dogs, cats, and horses around Texas. Their work has been making the state a better place with more saved animals than abandoned ones for a long time.
All the dogs in the shelter have been rescued and rehabilitated in a protective environment where they interact with many other animals and humans. With 5 acres of land to play around, the dogs learn to love and play again as they grow older. Available in a variety of breeds, colors, ages, and sizes, these dogs eventually find their forever homes when an aspiring pet owner comes in to meet them.
The rescue shelter organizes and participates in events where pet seekers and volunteers are encouraged to engage. You can check their social feed for regular updates about animals and upcoming events. The adoption process for God's Dogs Rescue is simple. Just fill out the form, and you'll be contacted back.
God's Dogs Rescue Details
2. Charming Pet Rescue
Charming Pet Rescue is another name you can trust for your next best friend. Over the last decade, this rescue has saved thousands of dogs and cats around Boerne, Texas. Provided with first aid, food, and long-term psychological treatments, the dogs at Charming Pet Rescue are more than just cared for.
All the animals in the shelter are given special attention, and the shelter is always on the lookout for more volunteers to help. Several families have found their furry family members in the rescue, and by filling out the adoption application form available on the website, you can too.
The shelter discourages making payments for the pet until they accept the application. Once reviewed, you can expect a call back with a confirmation or additional questions in 3 days.
The shelter doesn't give pets away to people below the age of 22. Instances that involved pets returning to the shelter prompted such a restriction. So, make sure that you're all ready and fill your application out completely to get accepted.
Charming Pet Rescue Details
3. Houston Beagle and Hound Rescue
HBHR is a non-profit 501-(c)-3, all-volunteer organization that has dedicated years of service to rescuing and saving Beagles and Hounds. While this puppy rescue in Texas doesn't offer a single shelter facility, it aids shelters and connects them with individuals seeking homes for dogs.
Most of the dogs available for adoption on the website were poor pups scheduled to be euthanized. Rescued and placed in shelters and foster homes, these dogs are provided love and care when they are in these temporary homes until they find families to settle with.
Houston Beagle and Hound Rescue were founded upon the vision of saving the maximum number of strays and abandoned and mistreated dogs around Texas. And it works to this day, uniting pets with families that can give them a second chance at life. However, this doesn't mean they give pets away.
HBHR follows a strict adoption process that involves vetting customers and conducting background checks to ensure you're the right person for the pet. The personnel from the rescue may contact customers and ask for a home visit for evaluation.
Once the process is done, you can visit the dogs you're interested in and choose one to go home with you. The shelter encourages people to participate and volunteer to help educate the American public about the pet overpopulation problem in the country in hopes that rescues won't be needed one day.
Houston Beagle and Hound Rescue Details
4. Austin Pets Alive!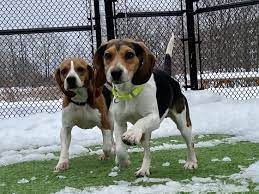 Austin Pets Alive! is one of the best Beagle rescues in Texas, considering the organization's efforts towards realizing its long-term goal. Envisioned at a time when Austin had a kill rate of 87%, APA! Proved itself to be the key to changing that statistic to a 97% save rate.
Though the rescue has faced countless hardships and difficulties along the way, it managed to save thousands of pets from around Austin and unite hundreds of them with their forever families. From 1997 to 2022, APA! has become one of the most reputable rescues in the country that has done its part in ensuring that Austin remains the largest No-Kill city in America.
Getting a dog from APA! It isn't that hard. While it's recommended that you fill out the appointment form and schedule a visit, the shelter also entertains walk-ins. However, this will limit you to the choices available at the kennels only. Should you find a dog you want on their website, you'll have to schedule a visit accordingly.
The fee for the animal that you wish to adopt may vary depending upon its age, breed, or medical conditions. Heartworm tests, spay or neuter surgeries, current vaccinations, microchips, deworming treatments, etc., will all be included in the fee.
Austin Pets Alive Details
How to Choose a Beagle Rescue in Texas
Although the list above can help you start your search, don't think twice about doing your homework. There are a lot of local shelters, and pet rescues around, and there's a chance your furry best friend could be somewhere else.
To be able to vet a rescue shelter or a rescue dog yourself, you don't need to know much. Dogs aren't that complicated to figure out. You'll be able to spot most problems yourself, even if they're behavioral.
Aggression, hostility, exhaustion, or depression are among symptoms that are classified as easy to identify. However, to be extra sure, you can take your dog to a vet of good standing and have them diagnose problems if there are any.
Ensure that the rescue you're going for is trusted and credible. Don't hesitate to ask for medical histories and records should you have any doubts. While most shelters present their own along with local vets as guarantees, you should always get another opinion.
Conclusion For The "Best Beagle Rescues in Texas"
It's no secret that you don't need the best Beagle rescue shelter in Texas to get yourself a dog. However, if you choose to go for it, ensure you know what you're doing. No dog can be called a bad dog once you realize that all behaviors in dogs are caused directly or indirectly by the environment they've grown up in.
The same is true for Beagles. Though this breed of dog is known to be lovable, adorable, and family-friendly, being abandoned and left outdoors to survive in the wild can turn them violent and aggressive. This is why it's important to rescue dogs as early as possible and why we need to provide them with everything they need, especially when they're not on their best behavior.
Thus, it would be best if you were sure about your preparedness to handle the situation of the pet, regardless of whatever it becomes. While all the above shelters are excellently doing their part in rehabilitating the dogs they have found across the state, it's up to their guardians to help them have a life.
The worst thing anyone can do is abandon a dog and leave them outdoors to fend for themselves. You must return the dog to the shelter if you can't find another guardian to adopt it.
For more guides similar to this list of Beagle rescues in Texas, you can check out:
If this guide for Beagle rescues in Texas helped you, then you may also want to take a look at this "How To Prep For A Rescue Dog" video down below:
Garrett loves animals and is a huge advocate for all Doodle dog breeds. He owns his own Goldendoodle named Kona. In addition, he volunteers at the Humane Society of Silicon Valley, where he fosters dogs and helps animals. Garrett enjoys writing about Doodles and believes that dogs can teach humans more about how to live than humans can teach a dog.
Why Trust We Love Doodles?
At We Love Doodles, we're a team of writers, veterinarians, and puppy trainers that love dogs. Our team of qualified experts researches and provides reliable information on a wide range of dog topics. Our reviews are based on customer feedback, hands-on testing, and in-depth analysis. We are fully transparent and honest to our community of dog owners and future owners.