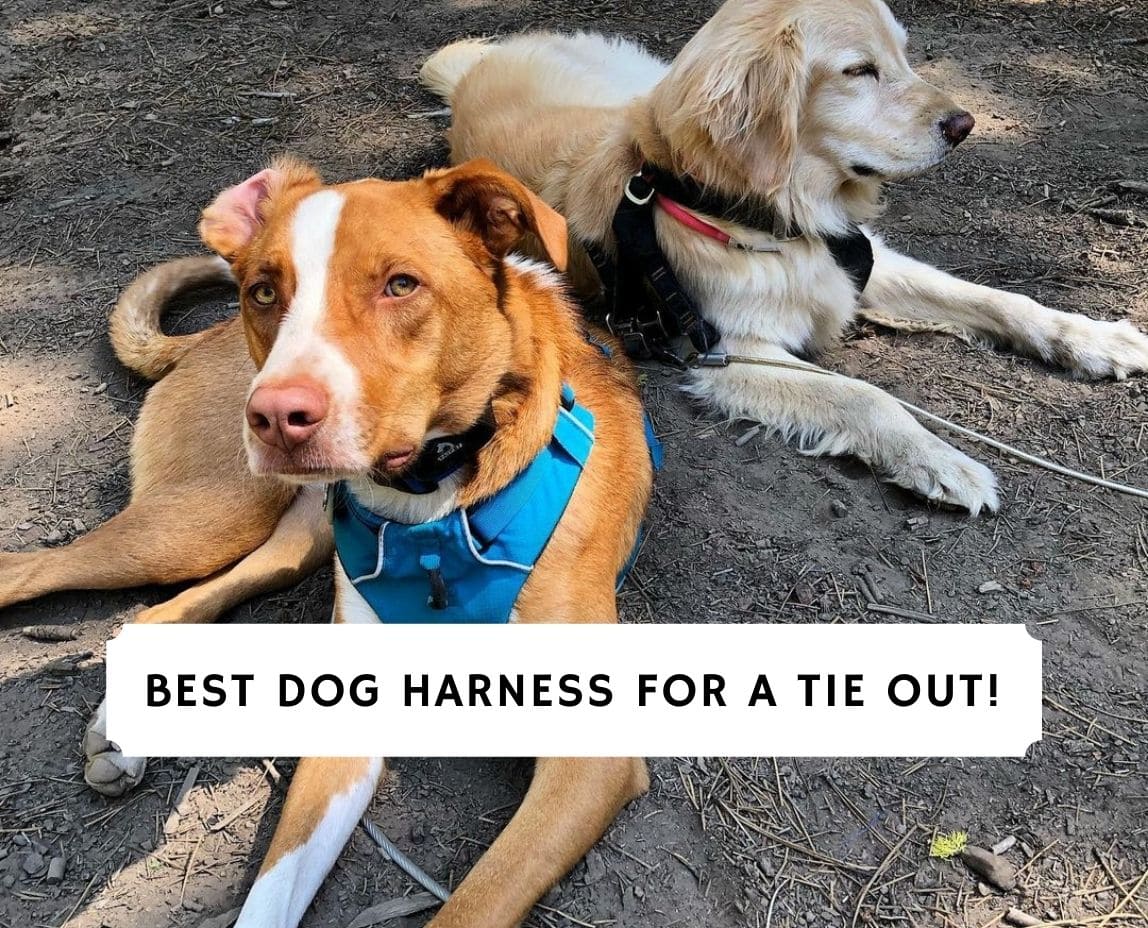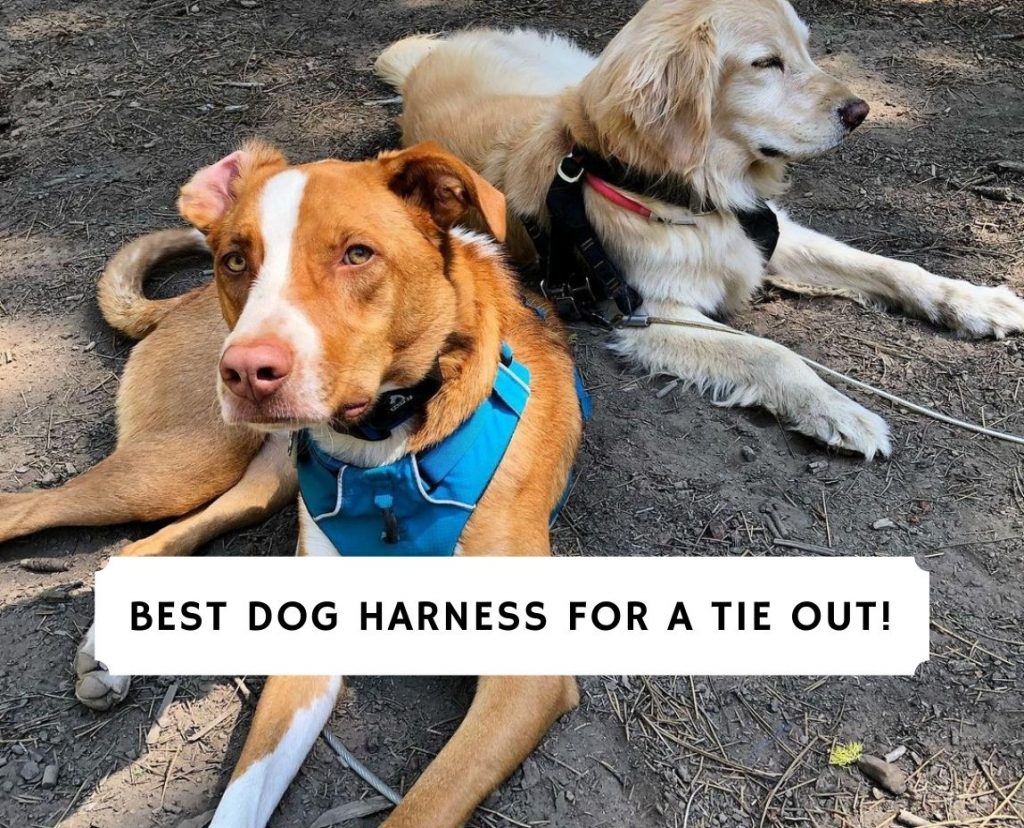 A dog tie out is great if you want to let your dog roam around the backyard when you don't have a fence. Traditionally, many people use a dog collar for their tie out. However, if your dog is pulling, jumping, zigzagging, or trying to wriggle out of its collar to escape, then you need to come up with a new solution.
A dog harness for a tie out instead of a collar makes it easier to control and manage any dog. Harnesses also are significantly safer than a collar because they help you control your dog without pressuring their neck muscles. Thus, it's important to find the best harness for a tie out.
It should be noted that a dog harness is only useful when used correctly. Harnesses come in different varieties, sizes, and types. If you do not know the best choice for a tie out, you will end up with the wrong product.
In a rush? Here are the top picks!
Product
Best Overall
Ruffwear Dog Harness
Runner Up
tobiDRI Harness for Dogs
Image
The Ruffwear Web Master Harness is very secure and durable, making it our top choice for a tie out. It is a very supportive harness that was originally built to assist and maneuver dogs up and over obstacles. This harness is thin but extremely durable, and it supports any dog without any hindrance in motion.
The chest area is padded for additional comfort, especially if your dog intends to pull the line of your tie out. The adjustment straps give a secure fit with padded chest and belly straps that make it comfortable for all-day wear. This harness has five convenient points for making adjustments.
For reference, this harness is used for many avalanche rescue dog programs, service dog handlers, and amputee dogs. Furthermore, it is a great collar substitute and ideal for hiking, scrambling, and mobility facilitation. What we liked a lot about this product is that it comes in five different sizes. You can also find it in three colors: red, blue, and gray. No matter what size of a dog you have, there will be a harness for your dog. When used correctly, this is an escape-proof harness for a dog tie out.
TobeDRI features two strong metal rings on the front and back to attach a tie out. These clasps are sturdy and rust-resistant. Additionally, the strong metal delta-shape rings restrain pulling. This harness design makes sure that when your dog pulls on the tie-out line, the force is distributed throughout their body instead of just their neck area. This prevents your dog from choking if you're not watching them while they are on the tie out.
The thick nylon webbing sewing increases the harness's durability, and the box stitches prevent the material from ripping off. Also, the material is waterproof, which makes it durable and long-lasting.
The loop on the back of the harness allows you to grip the dog easily and controllably. The stitches are reflective to maintain high visibility at night. The best part is that this tie out dog harness has a strong buckle, making it a lot safer to clasp around your dog and quicker to put on and take off. Your dog won't be able to escape from this harness if they decide to try.
This beautiful harness comes in four sizes and four unique colors. The choice of colors alone will persuade you to buy this product. This harness also comes with a five-foot-long leash as well. This is the best harness not just for tie out, but also for daily walks, running, hiking, and even outdoor adventures like hunting. It is washable in the machine, so you won't have to worry about cleaning it regularly.
If you are looking for a sturdy and protective harness, the Rabbitgoo Tactical Dog Harness certainly fits the bill. This tie out harness is ideal for large dogs. It also serves as a vest for service, police-military dogs, and hunting dogs. This is a heavy-duty harness with nylon stitching designed for the outdoors. Additionally, the metal shoulder buckles are made for great pulling force, ensuring your dog's safety during training, hunting, working, and running on a tie out.
The mesh used in the dog harness is breathable and comfortable. The unique design also enables you to carry pouches, water bottles, and dog tactical gears, making it a much more interesting product. Loop panels and multiple hooks are provided for you to show off your dog's morale patches and badges. For your dog's safety, it has two metal tie out attachment points on the front and top. The top handle is there to add more control over your dog. You can easily put on or take off the harness with four quick-release buckles!
One of the best harnesses that actually is military-grade is the Barbay Tactical Harness. It is built with military specification materials with high-strength nylon construction, giving it extra durability. The tie out harness is also dirt, water, and abrasion-resistance. This is a functional dog vest for service, police, or military dogs, but it's also great for tie outs. The harness is easy to put on because of quick-release buckles, which allow you to adjust the sizing in just a few minutes.
It has a molle system on both sides to carry essential items and water bottles. Additionally, there is an identification panel display area on the chest where you can keep a tag and ID card. Heavy alloy metal leash clips are provided for no-pull control over your dog, along with a reinforced top handle. Additionally, the harness has reflective material to make it visible at night with an escape-proof design. This is the best tie out harness for large dogs.
Last on our list is another good-quality harness for a tie out by Icefang. Stitched by Bartack and an "X" in box pattern on each joint allows you to control your dog without it breaking out or snapping. It offers four position-adjustable points to help your dog to fit perfectly in the harness so they cannot escape. Additionally, the harness has buckles and won't rub on your dog's skin.
Large and durable handles provide you a good grip over your dog. The no-pull handle on the front of the harness allows you to walk your dog without any neck strain or pain. Hoops and loops are sewn in molle formation to help you carry your essentials and water bottles. If you want to keep your dog identified, there is a panel for your dog's tag. This harness comes in three sizes and four colors.
How To Choose the Best Harness for a Tie Out
There is a wide range of harnesses depending on the type of dog and activity you will be performing. There are many styles for harnesses, but not all of them can be used for a tie out. We will give some tips on how to choose the best harness for a tie out.
Back Clip Harness
On some harnesses, there is a leash attachment ring at the back to control the dog and make it easy to lead. The back clip is useful for a tie out but not in all cases. Dogs that are not calm and trained shouldn't use the back clip of a harness because it doesn't give proper control when they are pulling. 
Front Clip Harness
Front clip harnesses are attached at the center of the dog's chest rather than on their back, giving you more control over your dog while they are using a tie out. Front clip harnesses control your dog better and don't allow them to pull as much when tied to a tie out. Just be careful of the leash when attached to a tie out because it can tangle under your dog's front legs.
Tightening Harness
Harnesses come in several types. Some of them can be too tight and add pressure to your dog when pulled. This can be uncomfortable for your dog and causes rubbing against their skin. Some tightening harness may cause pain, which is why you need to find one that fits well.
Fabric Type
The main fabric for many tie out harnesses is either nylon or another synthetic fabric with padded leather. A nylon harness is better for a more humid environment and is generally more durable. Padded harnesses are more expensive, but they also provide more comfort to your dog.
Measurements of Your Dog
As we are talking about your dog's comfort, it would be better for you to buy a harness that accurately fits your dog. Use a measuring tape t measure the main parts of your dog's body. Starting with the broadest part of their chest to their neck and take proper measurements before you make a purchase.
It's also worth weighing your dog as the sizes of most harnesses are determined by their weight. After getting the accurate size for your dog, you should find a which will fit your dog properly and not cause discomfort. The harness's size is wrong if your dog can wriggle out of it or the back part of the harness rotates.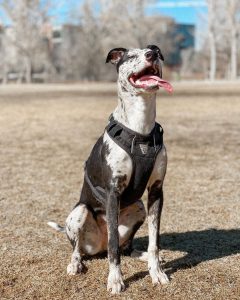 Collar or Harness for a Tie Out
When pulled a lot, a collar may increase the blood pressure flowing to your dog's eyes and cause neck strain. That can cause strains or sprains in their necks and may even break their larynx and trachea, based on a 2006 study. Moreover, a dog collar provides less control over the dog as it only has a singular point of control.
On the other hand, control is redistributed equally by a harness, providing equal pressure on a dog's body. Additionally, it is less likely for a dog to break away or slip off with the harness when on a tie out. Lastly, harnesses give your dog a sense of comfort and security based on how a harness wraps around its body. It would boost their confidence, make them more receptive to your commands, and lessen their fear of a new environment. Overall, we think a dog harness is best for a tie out.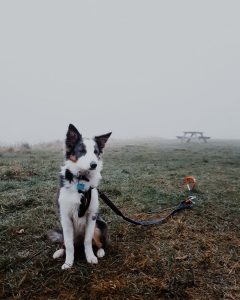 Benefits of a Harness for a Tie Out
Harnesses are a good training tool for puppies that are using a tie out. A harness can prevent the dog from getting tangled up on the tie out leash which can hurt your dog. Additionally, there are many other benefits of using a harness for a tie out:
A harness offers better control.
With a very large dog, a harness relieves pressure on your dog's neck.
Very small dogs can be prone to injury from pulling or tugging. A tie out harness distributes pressure over a larger area of the body, reducing strain on the neck and back.
Harnesses with a front clip discourage pulling.
Harnesses are more difficult to escape out of.
In a nutshell, harnesses are the best choice you can make to control your dog on a tie out.
Conclusion for Best Harness for a Tie Out
No-pull dog harnesses for a tie out are necessary if you are worried about your dog pulling. You wouldn't want a rash on your dog's neck just because they like to pull on the tie out. Additionally, harnesses are great not just for tie-outs but also because they make training and walking your dog much easier and comfortable.
Each harness mentioned in this article is designed to work perfectly for a tie out. Our detailed guide will help you make the best choice. Hopefully, you found a product that can give you control over your dog while maintaining its comfort.
Other articles you will like:
Frequently Asked Questions
1. Why should I use a harness instead of a collar?
Both collars and harnesses have their advantages and disadvantages. However, harnesses are a better choice if you use them for taking your dog out on a leisure walk or a run. They reduce the pressure on your dog's neck from pulling.
On the other hand, collars tend to direct the whole pressure of the pull of the leash to the dog's neck. It's not only discomforting, but it can also cause your dog to choke.
In other situations, collars are preferred because they are more comfortable. Your dog won't feel tied up, and they may be more comfortable in it.
2. What is a no-pull harness?
No-pull harnesses are designed so that they reduce the pulling of the leash by the dog while they walk. In normal leashes with collars, dogs can pull their own will. With no-pull harnesses, pulling is not an issue. A no-pull harness will typically have a front loop where you can attach a leash or tie out.
3. Can dogs get hurt by pulling on the leash?
Yes, dogs don't understand that they can get hurt if they pull on a leash too hard. If a dog pulls too hard, then it can experience tracheal collapse. However, this is not an issue if you are using a harness. 
4. How can I stop my dog from pulling on the leash?
Dogs pull on the leash for two reasons. They are either excited about something and want to break free. They don't want you to control them via the leash. Dogs don't know that if they pull on the leash that it will hurt them. That is why you need to be careful and buy a good quality no-pull harness.
You have to be patient and calm. Lead your dog with a no-pull harness, and it will make training easier for you.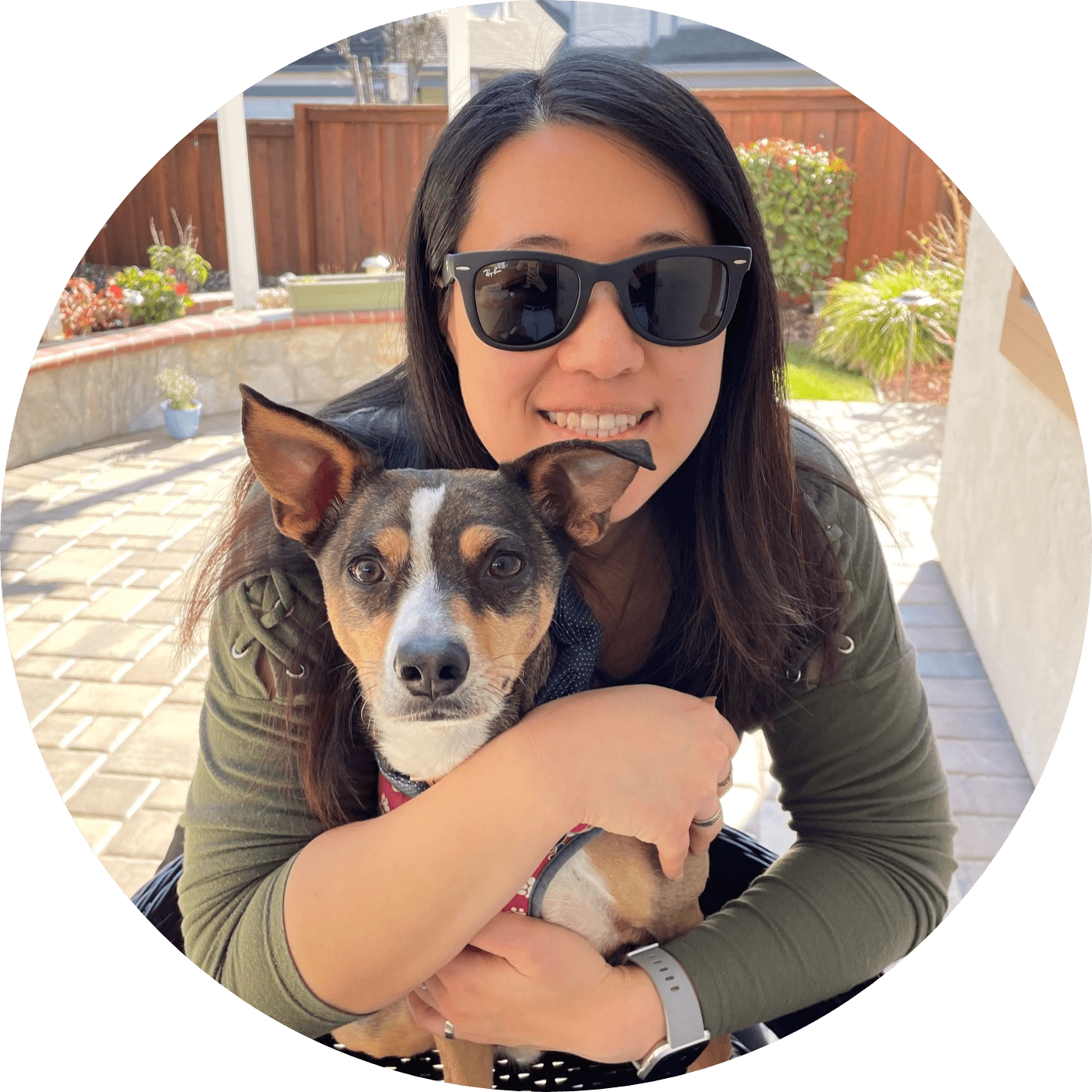 Dr. Sabrina Kong graduated from the Royal Veterinary College in England in 2016 and has been working at a small animal clinic in Northern California since then. She grew up in the Bay Area and got her bachelor's degree from Cal Poly San Luis Obispo. She also became a Certified Canine Rehabilitation Practitioner through a program at the University of Tennessee.
When she isn't in the clinic taking care of her four-legged patients, she enjoys traveling and trying new foods with her friends and her three-legged dog, Apollo. She adopted Apollo from her clinic when he was a puppy with numerous health issues. Dr. Kong truly cares about taking care of animals.