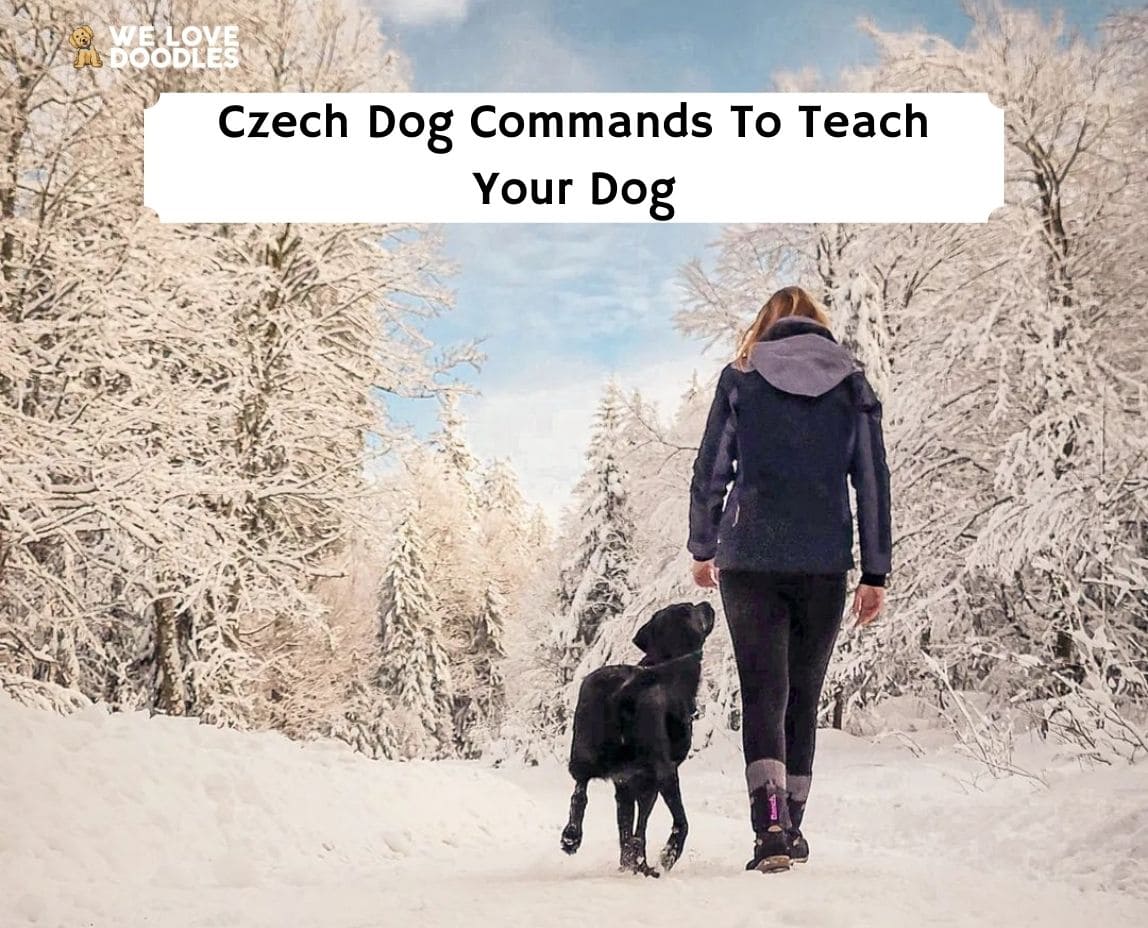 Teaching your dog its commands in a foreign language is beneficial for several reasons. Most essentially, using a foreign language to train your dog makes the language for commands stick out vibrantly from the everyday language the dog hears.
What's more, having your dog learn commands in a foreign language allows you to practice an interesting target language at the same time that you're training your dog. 
In this article, we'll cover fun and useful Czech dog commands for you and your puppy to start practicing with today.
Other articles you might like: German Dog Commands and Italian Dog Commands.
Czech Dog Training Commands
Now we'll begin our rundown of the most useful Czech dog training commands. 
To compile this list, we've thought of the most useful words that you'd want to teach a dog (like sit, stay, come, and others), as well as some fun commands with which you can impress your friends. 
Before we begin, a note about our method. Czech uses a slightly different alphabet from that of English, and as a result, when looking up words for dog commands in Czech, one often encounters foreign-looking letters. In this list, we have narrowed down popular police commands to those whose letters are the same as in English. That being said, the pronunciation of Czech words is often different than in English, so we've put in the Czech dog commands pronunciation following each command. We encourage you to read aloud, practicing the commands while you read.
Sit: Sedni!
The most basic command in Czech is pronounced "sed-nee."
Down: Lehni! 
Down is a highly useful command, especially when your dog is over-excited and you need it to simmer down. "Lehni" is pronounced "lay-nee," a command that's very easy to remember for how much it sounds like "lay down."
Come: Kemne!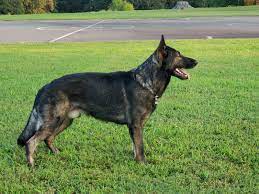 "Come" is another of the most basic commands for any dog to know. Kemne (pronounced "come-enye") literally means "to me" in Czech. Wherever your dog is or whatever it's doing, you should instill Kemne such that the dog drops everything and goes "to you."
Up: Stuj
When your dog is in a recumbent or otherwise sedentary position, it can be helpful to have him or her stand up on all fours. Stuj (stew-yuh) is a great command for popping your dog up and getting them ready for some activity.
Stay: Zustan
The command kin of "come," stay is a handy command for all dogs. When off-leash in a high-traffic area, stay can help keep your dog safe, while when practicing at home it's a highly effective command for training and obedience practice. Zustan is pronounced "zoo-stan."
Heel: Knoze
Heel is one of those dog commands that many owners wish their dogs could learn but have trouble teaching. Luckily, many online resources can help in training this oh-so-handy command. To pronounce Knoze, say "no-say."
Bark: Stekej
Stekej, pronounced "eh-stek-ay," literally means "flow" in Czech. Like a slam poet, telling your dog to bark should free its voice box and have it yapping away. This command is useful for obedience training, but, paradoxically, it's also helpful in training your dog not to bark. Ian Dunbar suggests that teaching a dog to bark first opens up a world where your dog will only bark on command.
Jump: Hop
This Czech dog command is especially cute: if you want to tell your dog to jump, instead just tell it to "hop!" This command can be fun to learn for obedience and agility training but is also fun if you just want to invite your canine companion up into your loving arms.
No: Pfui
Pfui, pronounced "fooey," is in many ways an indispensable command for dog trainers everywhere. Without an order like Pfui, we have no way to communicate to our dog that we are dissatisfied with his or her behavior.
Police Dog Commands In Czech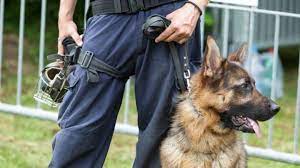 Now that we've gone over some basic Czech dog training commands, let's look at some of the more sophisticated commands that police dogs need to learn for when they're on duty. 
Much of the police dog commands in Czech aren't violent in nature, as violence is the last resort for K9s, especially as attacking a violent perpetrator can end in injuries for the dog. Here are a few of the anti-violence commands police dogs learn in Czech.
Guard Alert (Pozor)
An alert like a siren call, Pozor (pronounced just how it looks) signals that anyone nearby will have to contend with an aggressive and scary guard dog. Pozor is a powerful preventative measure that can stop a crime before it's committed. 
How might you use Pozor in your home? If you're living in a neighborhood in which you sometimes feel unsafe, having a dog trained to sound aggressive and clamorous can lend a fantastic feeling of comfort on those nights alone in your apartment. Having a dog learn a guard alert can also help you "say something" if you "see something" in crowded areas. 
Search (Revier)
Revier (Rav-ear) is a highly specialized police dog command. Most people can't foresee using their dog to track down narcotics, but the search command can, surprisingly, be a fun trick for a trainer to work on with their dog. 
To see the usefulness of this command, we need to look back at how police train K9s to search for drugs. In K9 training, a dog learns to associate the smell of drugs with its favorite toy. This is done by wrapping narcotics in the toy and hiding the toy. Using the search command, the dog follows its nose to find the toy, while associating the smell with the fun. 
When the dog returns this toy, it earns a treat for its effort. In this way, a dog learns to seek out the smell of drugs with the "Revier" command in places like airports and other transportation hubs. 
While teaching our dogs to sniff out narcotics may be impractical and useless for most people, playing a good old-fashioned game of "search" can be great fun with our dogs. You can hide treats around the house, for example, and send your dog off to search. This is a great way to keep your dog's sense of smell engaged and give it a feeling of "doing its job."
Let Go (Pust)
Let go is a command which we casual dog owners often teach our dogs but which can mean the matter of life and death in the world of police dogs. 
Though we teach our canines bite inhibition, K9 units sometimes need to be able to cause damage if it means stopping a perpetrator. Let go, pronounced "poost," forces the dog to drop its bite on someone before the dog does lasting damage. 
For us, teaching let go can be beneficial, especially when training puppies not to, for example, steal socks and shoes lying around the house.
Track (Stopa)
"Stopa" (pronounced stop-ah) is an excellent police command that you can teach your dog. A command such as track can be great for playing hide-and-seek throughout the house, or for getting your dog to locate a friend or relative when out on a walk through the woods. 
Though a command like "track" is somewhat beyond the scope of this particular article, you can read more about the fascinating training process here.
Why Do Police Give Police Dog Commands In Czech?
It's a widely known fact that police dogs often speak a different native language than their partners in crime (fighting). 
A common myth tells us that police dogs learn their commands in a foreign language so that bad guys can't give commands to an attacking dog. 
Anyone who has owned a dog, however, will understand that such an opinion is ludicrous. All dogs are deeply receptive to their owners' tone of voice and body language. That a visibly distressed owner's commands could be countered by a violent criminal calmly saying "sit" is not realistic. 
So why do police give their dogs commands in a language other than English? The language a dog speaks is based on the country in which it received "basic training." This article lays out the process whereby police dogs receive training overseas (in Germany or, say, the Czech Republic) and then shipped off to the police forces of the world. 
Police learn to speak Czech or Polish or German to their dogs because, quite frankly, that's the language their K9 partners already speak!
Conclusion for Czech Dog Commands
In this article, we've covered some of the most basic commands that police dogs everywhere learn, as well as giving Czech dog commands pronunciation. We've also gotten into why police dogs are often instructed in a foreign language and how teaching your dog a foreign language might be both edifying for you and valuable for your and your canine's relationship. 
Did we leave anything out? If there are commands you want to teach your dog but that you don't know the Czech for, there are plenty of resources available online, most notably Google Translate. Google Translate provides translations of any English word you can think of for any language and gives quality pronunciations if you're lost. 
Best of luck with the training, or, as they say in Czech, Hodně štěstí (hod-nia styes-tee)!
You can also check out this Czech Dog Training Video:
Other articles you would like:
Garrett loves animals and is a huge advocate for all Doodle dog breeds. He owns his own Goldendoodle named Kona. In addition, he volunteers at the Humane Society of Silicon Valley, where he fosters dogs and helps animals. Garrett enjoys writing about Doodles and believes that dogs can teach humans more about how to live than humans can teach a dog.
Why Trust We Love Doodles?
At We Love Doodles, we're a team of writers, veterinarians, and puppy trainers that love dogs. Our team of qualified experts researches and provides reliable information on a wide range of dog topics. Our reviews are based on customer feedback, hands-on testing, and in-depth analysis. We are fully transparent and honest to our community of dog owners and future owners.