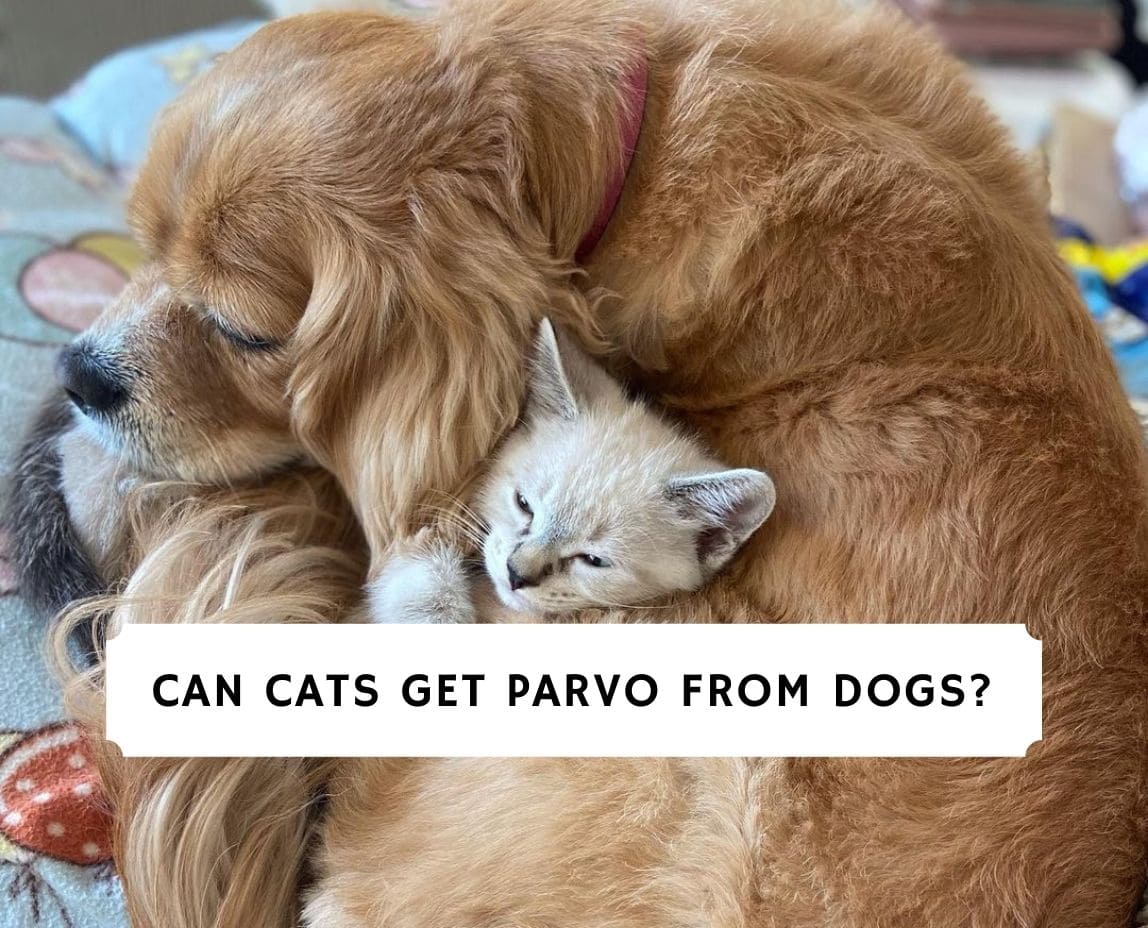 Do you have a dog with Parvo and are worried your cat might also catch this illness? Maybe you have an outdoor cat who comes into contact with dogs frequently? If this is the case, you may have a fear of your cat becoming sick.
The main question becomes, "Can cats get parvo from dogs?" The simple answer is yes, cats can catch Parvo from dogs. However, it is considered rare for a cat to actually get Canine Parvovirus from a dog, but studies have shown that it is possible.
What is Parvo?
Canine Parvovirus, most commonly known as simply Parvo, is a highly contagious gastrointestinal disease widely found among dogs. Puppies between the ages of 6 weeks and 6 months are the most at-risk for this illness, as they are not vaccinated or are only partially vaccinated. This illness can be fatal in puppies, so it is essential to keep your puppy away from potential risks until it is fully protected.
Cats, on the other hand, have their own strain of Parvovirus. This is most commonly called Feline Infectious Enteritis (FIE), Feline Panleukopenia (FP), or Feline Parvovirus. This disease is highly similar to Canine Parvovirus as it affects the intestinal tract. In cats, this also negatively affects the bone marrow and blood cells, significantly weakening the cat's immune system. The similarities between Canine Parvo and Feline Parvo are strong, but they are still considered different diseases.
Can Cats Get Parvo From Dogs?
Often, Parvo is referred to as Canine Parvovirus. This creates the impression that cats are immune to this disease. So is it possible for cats to catch Canine Parvovirus as well? Yes, cats can catch this disease from dogs depending on the strain they are exposed to.
A 2012 study conducted by Simon Clegg and published in Veterinary Microbiology proved that some cats can catch Parvo from dogs. Each cat's feces were examined, and it was determined some cats did display proof of Canine Parvovirus in their system. That being said, this is a rare occurrence and is not something most people have to worry about when they have a cat. On the other hand, if your dog manages to get Feline Panleukopenia, then it can more easily spread to your cat.
How Does Parvo Spread?
As mentioned before, Parvo is a highly contagious illness among dogs. There are two primary ways that this disease can spread. The first is through direct contact. This means that a healthy dog has interacted with a Parvo-infected dog or its feces. Feces is a highly contagious source of Parvo, so it is strongly recommended that you teach your dog to avoid other dogs' excrement from an early age.
The second way this illness can spread is through indirect contact. Indirect contact typically results from the sharing of certain things among dogs. For example, dogs that share a ball, a chew toy, a water dish, a leash, a collar, or a kennel can easily catch Parvo from one another. Indirect contact can also result from someone petting or playing with a dog with Parvo, who then pets your dog.
When it comes to cats with Feline Parvovirus, the illness can be spread to other cats in the same way dogs can spread to other dogs. Cats can also catch Parvovirus from dogs in the same way. However, the strain and severity of the virus affect the likelihood of your cat catching Parvo from a dog. In rare cases, this does happen, but in most cases, a cat cannot get Parvo from a dog.
How to Prevent Parvo in Cats and Dogs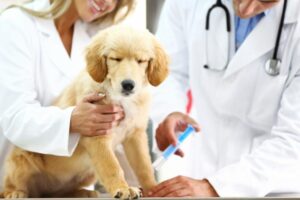 The easiest way to prevent Parvo in dogs and cats is through vaccination. Dogs require 3 shots between the ages of 6 weeks and 16 weeks of age in order to be considered vaccinated from Parvo. A booster shot is also recommended for dogs starting one year after initial vaccination and every 3 years after that. These booster shots ensure your dog has maximum protection against this illness and is less likely to catch or spread Parvo to other dogs and cats.
Kittens should also be vaccinated against Feline Parvovirus on a very similar schedule to puppies. This being said, dog vaccinations and cat vaccinations protect against species-specific strains of the virus. Thus, a vaccinated cat still has a slight chance of catching Canine Parvovirus from a dog. However, there is very little chance of your cat catching Feline Parvovirus from your dog if they are vaccinated.
If your pet does get diagnosed with Parvo, it is essential to keep it isolated to prevent the spread. Yes, dogs and cats which are vaccinated are less likely to catch it. However, it is not impossible. So, if your dog has Parvo, you should keep it away from your cat just in case it happens to have the strain that cats are susceptible to.
Symptoms of Parvo
When it comes to symptoms, some Parvo-infected cats do not show any. Typically older, unvaccinated cats do not show signs of the virus even when they have contracted it and are contagious. The virus is still present and maybe harming the cat silently.
On the other hand, kittens are more likely to show the most severe symptoms of the disease. Unfortunately, for kittens under the age of two months, there is a 95% death rate if left untreated. Kittens older than two months have a 70% death rate if left untreated. If you suspect your cat may have Parvo, there are some common symptoms to watch out for. If your pet is displaying these symptoms, it is essential to bring them to a veterinarian as soon as possible.  These symptoms include, but are not limited to:
Diarrhea (sometimes bloody)
Vomiting
Abnormal hair loss
Dehydration
High temperature
Loss of appetite
Depression
Canine Parvo symptoms are similar to Feline Parvovirus, as this disease primarily targets the intestines as well. If you suspect your dog has Parvo, you should keep it away from all other animals, including cats.
Conclusions on Can Cats Get Parvo From Dogs?
Parvovirus is a highly contagious disease that is common among dogs and cats. Feline Parvovirus is spread among cats and cannot be spread to dogs. On the other hand, Canine Parvovirus is spread among dogs and can, in fact, be spread to cats. However, this is a rare phenomenon and does not happen in most cases. Regardless, the most effective way of keeping your pets safe is to vaccinate them early in life so they can fight Parvovirus as best as possible.
Other articles you might like:

Dr. Chyrle Bonk received her veterinary degree from Oregon State University in 2010. She has been practicing in a mixed animal clinic in rural Idaho ever since at Clearwater Valley Veterinarian Clinic. When she's not busy writing, treating animals, or working on her cattle ranch, she may be found somewhere in the Idaho wilderness with her husband and kids. Dr. Chyrle Bonk is a writer for We Love Doodles and verifies that the information we post is accurate the up to date! She is also an advisor and editor.
Why Trust We Love Doodles?
At We Love Doodles, we're a team of writers, veterinarians, and puppy trainers that love dogs. Our team of qualified experts researches and provides reliable information on a wide range of dog topics. Our reviews are based on customer feedback, hands-on testing, and in-depth analysis. We are fully transparent and honest to our community of dog owners and future owners.