If you are searching for Sheepadoodle breeders in Virginia, then you've come to the right place. Choosing the right puppy for your family can seem like an overwhelming task.
There's such a range of breeds of dogs available, but if you've found yourself clicking on this guide, odds are you're strongly considering buying a Sheepadoodle puppy. Sheepadoodles are a crossbreed between an Old English Sheepdog and a Poodle.
This breed is most notorious for its adorable, teddy-bear appearance, next to its obedient and friendly temperament. These dogs are incredibly affectionate and kind, not to mention how gentle they are with children, making them an ideal addition to a family with kids.
Their easy-to-train nature also makes them a great companion for new dog owners. No wonder Sheepadoodles are so popular. Ideally, dog owners should find their dogs from rescue shelters.
However, due to the popularity of Sheepadoodles, it's infrequent to find one of these gorgeous dogs in a rescue shelter. The only other option is to buy a Sheepadoodle puppy from a breeder. However, this is where some issues can arise.
Distinguishing between a reputable breeder and a backyard breeder isn't always easy, and the last thing you want to do is buy a seemingly "healthy" puppy who has an abundance of health issues. Nor do you want to contribute to the backyard breeder trade.
Before scrolling down this list of Sheepadoodle breeders in Virginia, checkout these recommedations: Best Golden Retriever Breeders in Virginia and Best Labrador Breeders in Virginia. 
Sheepadoodle Puppies or Sale in Virginia
If you're looking for a reputable Sheepadoodle breeder, but you don't know where to start, you've come to the right place. Here is our guide to the best Sheepadoodle breeders in Virginia, complete with information about detecting a backyard breeder.
Sheepadoodle Product Recommendations: Best No Spill Dog Water Bowls and Best Soft Dry Dog Foods
1. Gracewood Farm Sheepadoodles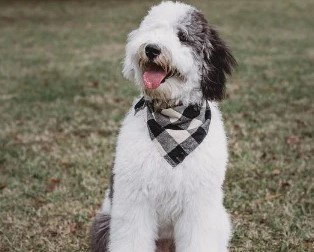 Gracewood Farms is the top Sheepadoodle breeder on our list located in Lynchburg, Virginia. This breeder was originally from South Carolina and built an extremely good reputation for breeding Sheepadoodles. They breed standard-size Sheepadoodles, which come in various types of merle coloring. Merle coloring on a Sheepadoodle is extremely rare and is passed down through unique Poodle genetics.
The owner's name is Luke, and he runs the business with his wife, Stasi. They are extremely responsive to calls and emails and they were able to answer all of our questions. Some highlights about their breeding program is that they do an Early Neurological Stimulation (ENS) program for all their puppies to get them used to various sites and sounds. Gracewood Farms also socializes their puppies with children and sets a high standard for ethical breeding.
All Sheepadoodle puppies in Virginia will come veterinarian checked, up to date on vaccines, and with a health warranty. If you're looking for a standard Sheepadoodle in Virginia, we highly suggest that you contact Gracewood Farms. They also have mini Sheepadoodles available at their other facilities close by and offer national transportation.
Grace Wood Farm Details
2. PuppySpot's Sheepadoodles For Virginia
Since you're searching for Sheepadoodle breeders in Virginia, then it's worth taking a look at PuppySpot. In case you're wondering, PuppySpot isn't an individual Sheepadoodle breeder but rather an enormous marketplace for families and breeders.
You can find countless available Sheepadoodle puppies for sale from trusted breeders who will ship your companion to your home in California. Before you continue on your search for a Sheepadoodle puppy for sale in California, check out the link below.
PuppySpot Details
3. Hawksbill Farm Sheepadoodles
Hawksbill Farm Sheepadoodles is a family-owned and operated breeding business that specializes in Sheepadoodles and Old English Sheepdogs.
With an absolute love for the Sheepadoodle breed, the Hawksbill Farm family is dedicated to producing happy and healthy puppies for everyone to enjoy the particular breed. However, they don't breed at the risk of creating or enhancing health problems.
Each puppy comes with a two-year genetic guarantee, which means that if a puppy is to show signs of a genetic disease in the first two years of its life, the breeders will take the puppy back happily.
However, the chances of this happening are relatively small, as the parents of all the puppies undergo extensive health checks to ensure hereditary diseases don't exist. Each puppy is also vaccinated and microchipped before being adopted.
Hawksbill Farm Sheepadoodles don't sell their puppies to just anyone. These puppies are their babies, which means they will only sell them to the ideal homes. They refuse to sell their puppies to other breeders due to the risk of selling to a backyard breeder. The ideal home for these dogs is one with a fenced backyard and a lovable, active family.
If the application is successful, you can collect your puppy at eight weeks old. Hawksbill Farm Sheepadoodles also commit to staying in touch to see how the puppy is progressing, and they are always keen to answer any questions.
Hawksbill Farm Sheepadoodles Details
4. McKenzie's Doodles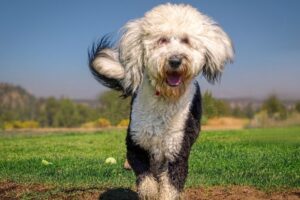 Based in the Shenandoah Valley in northern Virginia, McKenzie's Doodles is a family-run and operated breeder that specializes in Sheepadoodles, Goldendoodles, Bernedoodles, and Irish Doodles.
While this might seem like a lot of dogs, McKenzie's Doodles strictly does not breed too many dogs simultaneously, so they don't always have all of these breeds on offer as litters.
Likewise, they don't overbreed the dogs either, so don't expect to see constant litters from the same mother (unlike backyard breeders). This means that if you are looking for a Sheepadoodle, it's essential to get in contact with McKenzie's to see when their next litter is due.
McKenzie's Doodles only allow their puppies to be adopted by loving forever homes, not breeders. Applicants must also pay a non-refundable deposit once they have chosen their puppy.
They can then pick up the puppies no earlier than eight weeks after being born when the puppies have been successfully wormed, vaccinated, microchipped, and given a clean bill of health.
If your puppy develops a genetic disease after two years, McKenzie's Doodles has a policy wherein they will take the puppy back if you cannot cope with their health issues. Plus, McKenzie's Doodles offers a companion home scheme where they find temporary homes for their adult dogs when they are not being used for breeding.
The companion homes can then choose to be the forever home for these dogs once they have made 3-4 litters in their lifetime to prevent overbreeding.
McKenzie's Doodles Details
5. Deb's Doodles
Deb's Doodles is a family-run and operated breeding business specializing in Sheepadoodles, Goldendoodles, and Bernedoodles. Every puppy is brought up in a friendly environment, allowing them to get used to other dogs and humans from a young age.
These dogs undergo extensive health tests (both the parents and the litters) to ensure that they are only sold as healthy puppies. In addition, Deb's Doodles have also recently started genetic health testing, which is excellent for giving a heads-up about potential genetic health problems (not to mention the 2-year genetic health guarantee).
Deb's Doodles has a strict policy about selling to breeders. Each applicant must sign a contract that requires spaying or neutering the dogs to prevent overbreeding, leading to an unhealthy dog. Each puppy can be adopted at eight weeks of age, and they arrive at their new home with vaccinations, a microchip, and shot and deworming records.
Due to the popularity of Deb's Doodles' puppies, make sure to keep up-to-date with their website to see when the next litter of Sheepadoodles is to be expected. Most litters can be up to a year apart.
Deb's Doodles Details
6. Briarwood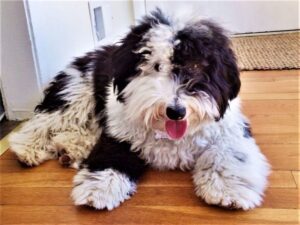 Last on the list of Sheepadoodle breeders in Virginia is "Briarwood." Briarwood is a family-run and operated breeding business specializing in breeding Sheepadoodle, Bernedoodle, and Labradoodle puppies.
This is probably one of the most ethical breeders in the whole of Virginia, with all the proceeds from the adoptions going towards their dogs, missionaries, humanitarian work, community outreach, pre-and post-adoption counseling, and adoptions worldwide.
From a family of two to fourteen with adopted children, Briarwood understands the importance of providing dogs with the perfect family home and how dogs can help people, especially children.
Briarwood offers standard, mini, and micro Sheepadoodles – though not all at the same time. The breeder is committed to breeding from the mom only a handful of times in her life to prevent dangerous overbreeding, and due to such a large family of humans, they cannot possibly have the time to overbreeding.
This is why it is essential to contact the breeder to know when the next litter of Sheepadoodles is expected. Each puppy is only allowed to be adopted by non-breeders.
They cannot be younger than eight years old, and they all come with an extensive health check and 1-year health guarantee. Every parent undergoes a similar health check, including a genetic health test. In addition, the puppies all come with up-to-date vaccinations, microchips, and worming.
Briarwood Details
Spotting a Backyard Sheepadoodle Breeder in Virginia
Unfortunately, distinguishing between a backyard breeder and a reputable breeder can often be hard at face value. Here are the key indicators of a backyard breeder:
Excessive Litters And Parents
If you visit a breeder that has an abundance of litters and adult dogs, this is a huge indicator of a backyard breeder. Backyard breeders don't care for the health of the parents or the puppies as long as the mom can produce multiple litters for money in her lifetime.
Dogs don't experience menopause, which means they can be forced to give birth until they die. Also, an abundance of dogs suggests that they cannot take care of them all, contributing to neglect.
No Visits Or Lots Of Visits
If a breeder refuses to allow you to visit the dogs before you buy one, there's a chance that this is because they don't want their facilities to stop you from buying a dog. They will charge an exorbitant non-refundable deposit, or often draft a contract, meaning you cannot back out once you see the dogs in their environment.
However, some reputable breeders will also have strict rules against visiting to prevent the puppies from catching any bugs or illnesses, so this is a gray area. On the other hand, if a breeder encourages lots of visits, this could suggest that they don't care for the health of the puppies who have weak immune systems.
No Health Checks
Lack of medical certificates, licensing, and proof of health checks is a massive indicator that you're dealing with a backyard breeder. Vets don't encourage backyard breeders, which is why they keep medical records hidden away.
Always ask to see the medical records of both the parents and the litter – a reputable breeder will offer this information and proof to you immediately.
Cheap Dogs
Lastly, if the puppies are curiously cheap, there's a chance this could be a backyard breeder. Cheap dogs are a selling tactic to sell more dogs, after all. Sheepadoodle puppies generally cost between $1000-$3000.
Conclusion For The "Best Sheepadoodle Breeders in Virginia"
Sheepadoodles are very intelligent dogs to raise in your home in Virginia.
For more articles with mentions of the Sheepadoodle, you can check out: 
Learn more about the Sheepadoodle dog breed by watching "Sheepadoodle – Facts and Information" down below: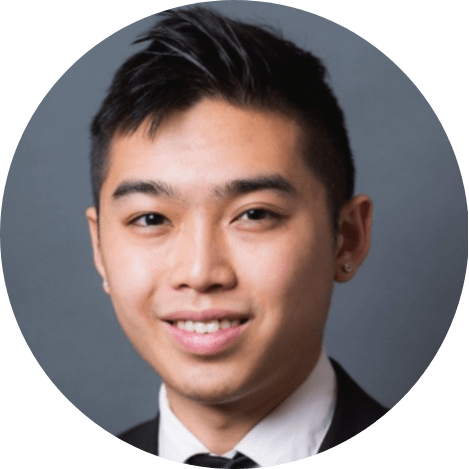 Andy is a full-time animal rescuer and owner of a toy doodle. When he's not saving dogs, Andy is one of our core writers and editors. He has been writing about dogs for over a decade. Andy joined our team because he believes that words are powerful tools that can change a dog's life for the better.
Why Trust We Love Doodles?
At We Love Doodles, we're a team of writers, veterinarians, and puppy trainers that love dogs. Our team of qualified experts researches and provides reliable information on a wide range of dog topics. Our reviews are based on customer feedback, hands-on testing, and in-depth analysis. We are fully transparent and honest to our community of dog owners and future owners.