Do you suffer from allergies but want to adopt a dog? Maybe you have heard of Sheepdoodles before but are unsure whether this breed sheds or not. Well, you're in luck because today we are going to answer the question, "Do Sheepadoodles shed?" In general, Sheepadoodles are generally considered mostly nonshedding and hypoallergenic because they inherit genes from the Poodle. The Poodle is known to have a coat that doesn't shed much fur because it closely resembles hair. On the other hand, the Old English Sheepdog is known to be a heavy shedding. This is one of the reasons why many people like Sheepadoodle puppies, because it's the best of both worlds.
However, there are several factors that will determine whether your Sheepadoodle sheds or not. This is typically known as Sheepadoodle generations like F1, F1B, F2, F2B, etc. The generation of Sheepadoodle affects how much percentage of Poodle the dog inherits. In general, the more Poodle genetics that your Sheepadoodle inherits, the less it will shed. Not all Sheepadoodles are going to be nonshedding, and we will tell you which generation of Sheepadoodle is best to buy.
Before scrolling down this list, check out our other recommendations: Best Sheepadoodle Generations – F1, F1B, F1BB, F2, F2B, F3.
Do Sheepadoodles Shed?
First, let's answer the question: do Sheepadoodles shed? Unfortunately, there is no definitive yes or no answer to this question as shedding varies from dog to dog, even within the same breed. Basically, some Sheepadoodles shed, and some do not.  
In order to understand Sheepadoodle shedding better, it is best to look at what precisely a Sheepadoodle is. Sheepadoodles are a designer dog breed resulting from mixing Poodles and Old English Sheepdogs. Many people assume Sheepadoodles do not shed at all because of their Poodle genetics. However, Old English Sheepdogs do shed, which means so can your Sheepadoodle puppy. 
Sheepadoodle Generations and Shedding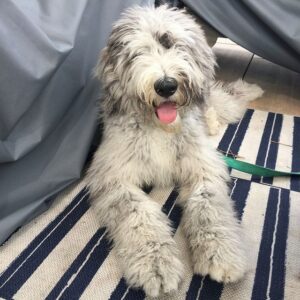 There are a few factors that go into why your Sheepadoodle might shed. First and foremost, the generation of your Sheepadoodle affects the amount of shedding it will do. The generation of designer dogs helps us understand how much of each parent breed is present in your puppy. Below we will look at the different generations and how each one can affect shedding in Sheepadoodles. 
If you are looking for a Sheepadoodle that sheds the least, you should look for generations with more Poodle genetics than Sheepdog genetics. However, it is never possible to guarantee that your Sheepadoodle will not shed at all, so keep that in mind if you are severely allergic. If you want a nonshedding Sheepadoodle, we recommend F1B, F1B, F2B, or F2BB generations.
F1 Sheepadoodles
F1 Sheepadoodles are created by breeding a purebred Sheepdog with a purebred Poodle. This means that your dog is equal parts Sheepdog and Poodle. Therefore there is a 50-50 chance that your dog inherits a shedding coat like its Sheepdog parent. On the other hand, if your dog inherits its Poodle parents coat, it will not shed. Often F1 Sheepadoodles have coats somewhere in-between these two breeds.
F1b Sheepadoodles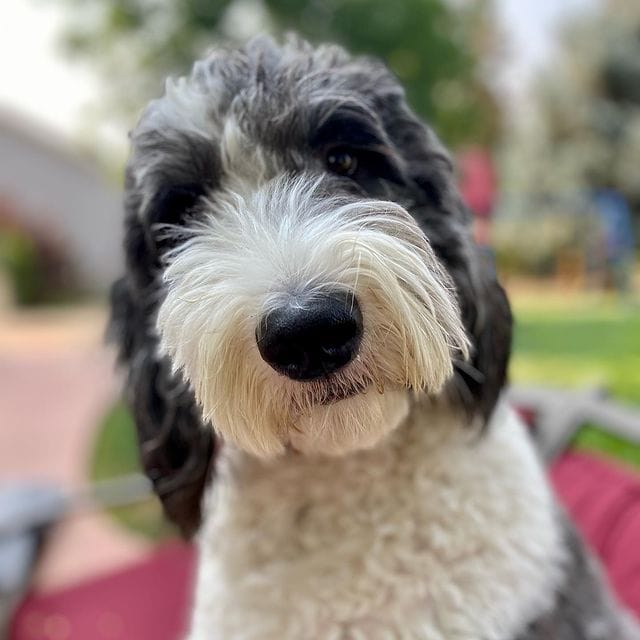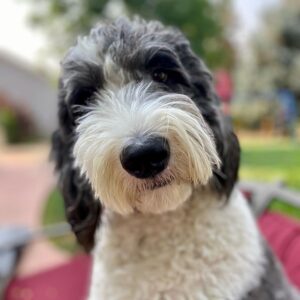 F1b Sheepadoodles are the combination of an F1 Sheepadoodle with a purebred Poodle. This combination of breeds causes puppies to shed even less than an F1 Sheepadoodle because they are 75% Poodle and only 25% Sheepdog. This is the most popular generation of Sheepadoodle because it sheds minimally without sacrificing too much of the Sheepdog appearances.
In some very rare cases, breeders will backcross an F1 Sheepadoodle with a Sheepdog, making 75% Sheepdog and 25% Poodle. This is referred to as a reverse F1b. These puppies are more likely to shed because of their increased Sheepdog genetics. However, this combination is uncommon because most breeders want to minimize the shedding as best as possible. 
F1bb Sheepadoodles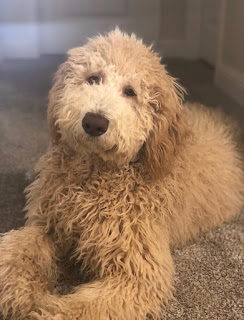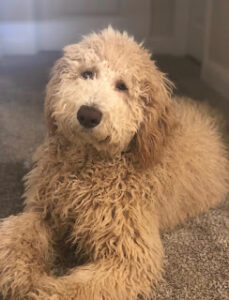 An F1bb Sheepadoodle is the closest your Sheepadoodle will get to a purebred Poodle. These dogs result from mixing an F1b Sheepadoodle (75% Poodle, 25% Sheepdog) with a purebred Poodle. Combining these dogs creates puppies that are 87.5% Poodle and only 12.5% Sheepdog. This generation of Sheepadoodle is the least likely to shed, so it is the best choice for those with allergies.
F2 Sheepadoodles
F2 Sheepadoodles are the combination of two F1 Sheepadoodles. This results in Sheepadoodles that are, once again, 50% Poodle and 50% Sheepdog. However, F2 Sheepadoodles have the least predictable coats making them the wrong choice for people with allergies.  
F2b Sheepadoodles
F2b Sheepadoodles are also known as multigenerational Sheepadoodles. These dogs result from mixing an F1 Sheepadoodle with an F1b Sheepadoodle. This results in puppies that are 62.5% Poodle and 37.5% Sheepdog. Therefore, these dogs are less likely to shed because of their higher Poodle percentage.  
Other Factors That Affect a Sheepadoodle Shedding
Now it is time to look at some of the other factors that affect shedding in Sheepadoodles. First, it is important to remember that shedding is normal, even among humans! So, some shedding will occur once in a while. However, excessive shedding is never a good thing. 
Health 
Although shedding is generally normal among dogs, it can be a sign of health problems at times. Keep an eye out for drastic changes in your dog's shedding. If you find that your Sheepadoodle is suddenly shedding excessively, it can be a sign of a more complex issue. 
Your dog may begin shedding if it is suffering from allergies. Allergies can cause your Sheepadoodle to bite at its skin, causing hair to fall out. These allergies may be caused by something in your dog's diet or external factors such as pollen. Some dogs may even have this problem if bathed too often or with the wrong shampoo. 
If you notice your dog shedding excessively, it may also be a sign of stress. If this is the case, try to keep your dog on a daily routine to eliminate surprises resulting in less day-to-day anxiety. 
Puppy Coats
Puppies are born with a lighter coat than adult dogs. As your Sheepadoodle gets older, you will notice this puppy coat falling out as its adult coat grows in. This is normal and happens to every dog. It is not an indicator that your dog will shed for the rest of its life, but rather just a normal part of puppyhood. Your Sheepadoodle's puppy coat should be fully grown out by the age of two years old. 
How to Prevent Sheepadoodle Shedding 
As you can see, there is a chance that your Sheepadoodle will shed because of its Sheepdog genetics. However, there are some easy grooming tips and tricks that will help you manage your Sheepadoodles shedding.
Brushing 
It is recommended that you brush your Sheepadoodle at least three times a week. Brushing helps Sheepadoodles maintain a healthy coat regardless of whether they are heavy shedders or not. Also, if your Sheepadoodle sheds a lot, regular brushing will help catch as much of those loose hairs as possible, so they don't end up all over your house. On the other hand, if your Sheepadoodle barely sheds at all, brushing will help prevent matting. 
Bathing
Bathing is another easy way to prevent your Sheepadoodle from shedding. However, you should not over bathe your Sheepadoodle, or shedding may increase due to skin irritation. You should only wash your Sheepadoodle approximately every 6-8 weeks. This bathing helps keep your dog's coat clean and healthy. Bathing your dog also helps remove stray hairs, preventing them from ending up all over your house!
Trimming 
Trimming your Sheepadoodle's hair depends on a couple of different factors. First, consider how much time you have to brush your Sheepadoodle weekly. As we mentioned, Sheepadoodles need to be brushed at least 3 times a week. If you want this brushing to go by quickly, consider trimming your Sheepadoodle's hair short. The shorter the hair, the less time it takes to brush it, and the less likely you will skip brushing!
Lastly, consider what coat type your Sheepadoodle has. If you find that your Sheepadoodle has a coat closer to a Poodle's, you may want to cut its hair more often. This is because Poodle coats do not shed, so they are continually growing. If your Sheepadoodle has hair that is constantly growing, it will become matted and long; these things can cause your dog to lose excess hair. Therefore, cutting your dog's hair promotes health and prevents shedding. 
Conclusion for Do Sheepadoodles Shed?
As you can see, there are many different factors to consider when answering the question, "Do Sheepadoodles shed?". Sheepadoodles are considered a low-shedding breed, but that does not mean they do not shed. The amount of shedding that Sheepadoodles experience is unique to each specific dog. So, keep these things in mind when deciding if a Sheepadoodle is a suitable choice for you.
You will also like:
Garrett loves animals and is a huge advocate for all Doodle dog breeds. He owns his own Goldendoodle named Kona. In addition, he volunteers at the Humane Society of Silicon Valley, where he fosters dogs and helps animals. Garrett enjoys writing about Doodles and believes that dogs can teach humans more about how to live than humans can teach a dog.
Why Trust We Love Doodles?
At We Love Doodles, we're a team of writers, veterinarians, and puppy trainers that love dogs. Our team of qualified experts researches and provides reliable information on a wide range of dog topics. Our reviews are based on customer feedback, hands-on testing, and in-depth analysis. We are fully transparent and honest to our community of dog owners and future owners.