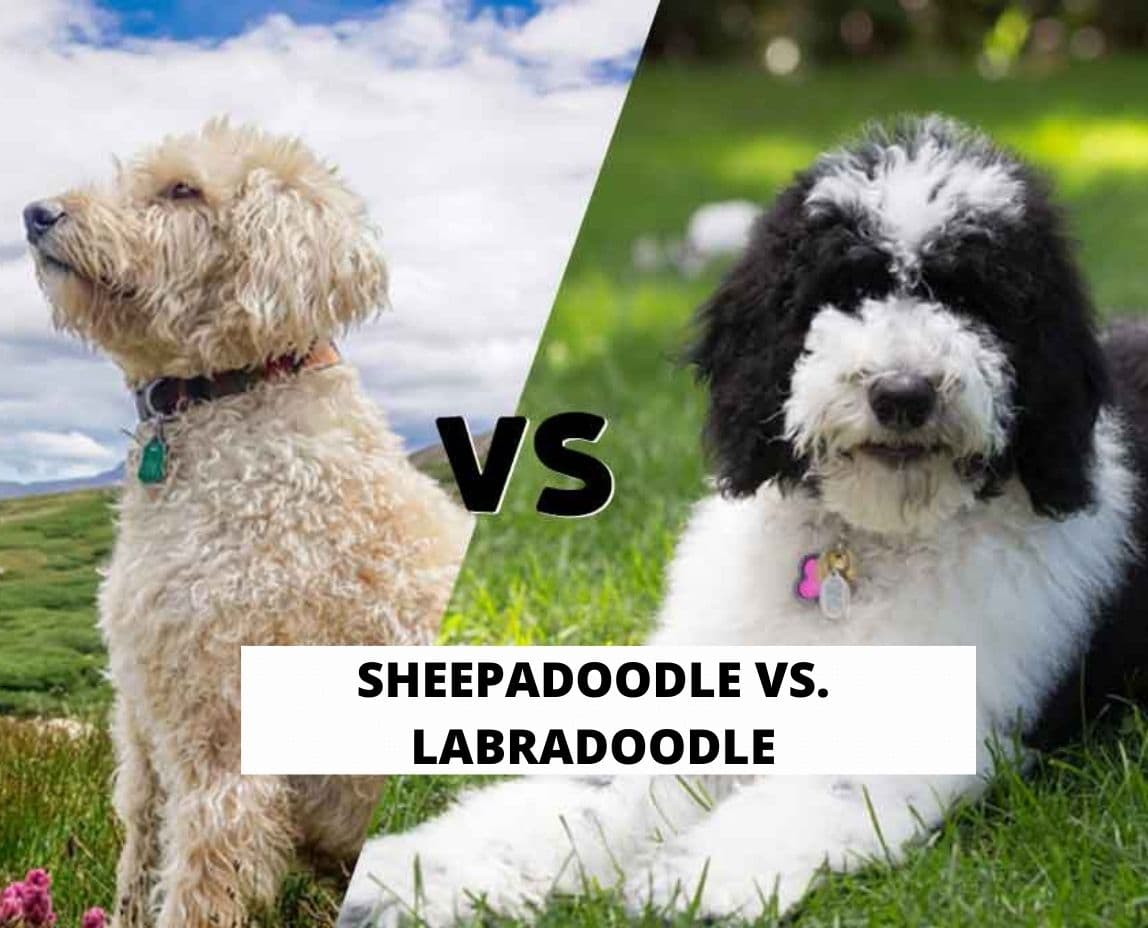 Before going over the differences between a Sheepadoodle vs Labradoodle, here's a question we have for you. Have you ever considered adopting a Sheepadoodle or a Labradoodle but are having a hard time deciding which is the best fit for you? Maybe you have heard the names Sheepadoodle or Labradoodle before but are unsure what exactly they are? If any of these scenarios sound like you, then you are in the right place. Today, we will look at precisely what Sheepadoodles and Labradoodles are as well as their similarities and differences. Sheepadoodle vs. Labradoodle – which one to choose?
Before scrolling down this Sheepadoodle vs Labradoodle guide, check out our other comparisons: Sheepadoodle vs. Bernedoodle and Australian Labradoodle vs. Labradoodle.
What is a Sheepadoodle?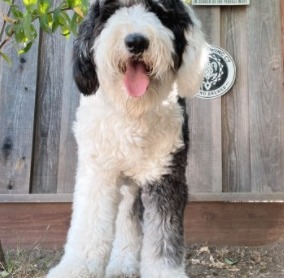 To start, let's look at what a Sheepadoodle is. Sheepadoodles are a hybrid dog breed that results from mixing an Old English Sheepdog and a Poodle. These dogs are also known as Sheepdogpoos, Sheeppoos, Sheepdoodles, and Sheep-a-Poos.
Sheepadoodles are a relatively new designer dog breed but are gaining tremendous popularity worldwide; for a good reason. These dogs inherit all the best traits from both Sheepdogs and Poodles, making them great companions for anyone. They are known for their loving, intelligent, and playful temperament, as well as their beautiful non-shedding hair.
What is a Labradoodle?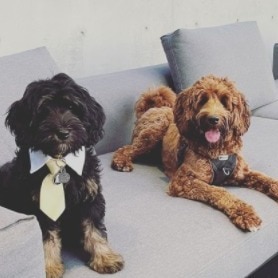 The other dog breed we will be focusing on is the Labradoodle. Labradoodles are a hybrid mix of Labrador Retriever and Poodle known for their fantastic temperament, intelligence, and low-shedding coat. Even though Labradoodles are not purebred dogs, they are still one of the most popular dog breeds globally because of these desirable characteristics. Labradoodles were originally bred as service dogs. This is because of their high intelligence, sociability, and non-shedding hair. However, as people began to discover these beautiful dogs, they have now become beautiful companions to families worldwide.
Related: Best Mini Labradoodle Breeders in the United States.
Sheepadoodle vs Labradoodle Sizes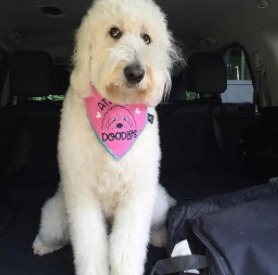 When it comes to the size of both Sheepadoodles and Labradoodles, many important factors to keep in mind; first, the size of any Poodle mix is greatly affected by the size of the Poodle used for breeding. Because Poodles can range in size from 8 to 24 inches in height and 6 to 90 lbs in weight, they can be bred with any dog breed. The other thing that affects the size of a dog is its gender.
Generally speaking, male dogs tend to be slightly larger than female dogs. However, it is essential to remember that there is still much to be discovered because these are both relatively new hybrid dog breeds. There are no strict standards for these dogs, like with purebred dogs, so variations are normal. Therefore, keep an open mind if you are considering adopting one of these dogs.
Sheepadoodle Sizes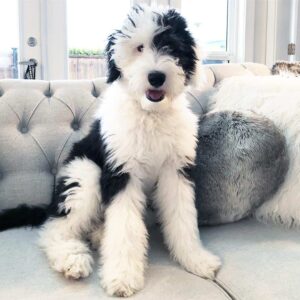 Sheepadoodles can come in three different sizes: toy, miniature, and standard. However, because Old English Sheepdogs are relatively large dogs, the most common size of Sheepadoodle is standard-sized. Standard Sheepadoodles are a combination of Standard Poodle and Sheepdog. These dogs usually weigh 60-80 lbs and stand 16 to 22 inches tall.
However, as we mentioned before, miniature and toy Sheepadoodles are also possible. These dogs result from mixing an Old English Sheepdog with a Miniature Poodle or a Toy Poodle. Miniature Sheepadoodles are 15 to 20 inches in height and weigh approximately 30 to 35 lbs. Toy Sheepadoodles weigh 10 to 25 lbs and are 15 inches or less.
It is also important to remember that the size of your Sheepadoodle will vary depending on its sex. Therefore, looking at the measurements above, a standard-sized female Sheepadoodle will be closer to 16 inches tall and 60 lbs in weight. In contrast, males will be more relative to the larger size of the range. Miniature females will stand closer to 15 inches in height and weigh closer to 30 lbs. Toy females will likely be closer to 10 inches tall and 10 lbs in weight.
Labradoodle Sizes
Similar to Sheepadoodles, Labradoodles also come in three different sizes. However, they do not come in toy size like Sheepadoodles. The sizes you can find for Labradoodles are standard, medium, and miniature. Labradoodles never get as small as toy-sized Sheepadoodles. Standard Labradoodles weigh 50 to 65 lbs and stand between 22 to 24 inches tall. Medium Labradoodles weigh between 30 to 45 lbs and are 18 to 20 inches in height.
Lastly, miniature Labradoodles are 14 to 16 inches tall and weigh approximately 15 to 25 lbs. Just as we saw with Sheepadoodles, female Labradoodles also tend to be slightly smaller than males. Standard-sized females weigh closer to 50 lbs and stand around 22 inches tall. Medium-sized females usually weigh approximately 30 lbs and are 18 inches in height. Lastly, female Labradoodles of the miniature size weigh 15 lbs and stand closer to 14 inches tall.
Related: When Do Labradoodles Stop Growing?
Sheepadoodle vs Labradoodle Appearances
Sheepadoodles and Labradoodles may look different, but there is one thing they both have in common: they are beautiful dogs. Sheepadoodles have a more uniform look across the breed, while Labradoodle appearances can vary greatly between dogs.
Sheepadoodle Appearance
As mentioned above, Sheepadoodles have more minor variations in appearances than many other Doodle dogs. This is because Old English Sheepdogs have a distinct look, which plays a massive role in the appearances of Sheepadoodle puppies. Sheepadoodles typically have the same familiar patterns and colors as their Sheepdog parent. Therefore, Sheepadoodles generally are a combination of black and white.
With that being said, the Poodle parent does play a role in the color of Sheepadoodle puppies. Depending on the color of the Poodle parent, Sheepadoodle puppies can be lighter in color or darker in color. For example, if you have a light-colored Poodle, the Sheepadoodle puppies may be white and grey instead of white and black. Additionally, sometimes Sheepadoodles are solid colors. The most common color for solid colored Sheepadoodles is black or grey.
Sheepadoodles usually have long, thick coats. These coats can be straight, wavy, or curly, depending on which parent the puppy takes after more. If your Sheepadoodle puppy takes after the Poodle parent more, it will have curlier hair. If your Sheepadoodle takes after its Sheepdog parent more, its coat will be straighter. Wavy-haired Sheepadoodles are a perfect in-between of the two breeds.
Lastly, one of the most significant things that makes these dogs great for all families is that their coat is non-shedding. This is a trait that these dogs inherit from their Poodle parents. These non-shedding coats allow allergy-sufferers the ability to adopt one of these adorable dogs without having to worry about irritating allergies.
Related: Best Sheepadoodle Haircuts.
Labradoodle Appearance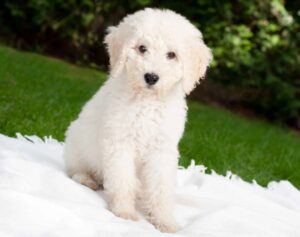 Labradoodles come in a much wider variety of colors than Sheepadoodles. This is because both the Labrador Retriever parent and the Poodle parent come in many colors. In addition, unique combinations of dogs result in all different colors. From gold, apricot, and cream to black, chocolate, and silver, you can find a Labradoodle in pretty much any color. There are even Labradoodles that inherit unique pattern genetics such as parti and phantom.
There are three different types of coat that a Labradoodle can have. The type of coat your Labradoodle has is determined by which parent dog they take after more. The curlier the hair, the more similar your Labradoodle is to the Poodle parent. The three types of coats are hair, wool, and fleece.
Hair-coated Labradoodles are the least common. These are also the Labradoodles who shed the most because they take after their Labrador Retriever parent more than their Poodle parent. Hair-coated Labradoodles have straighter hair than the other types of Labradoodles. The perfect in-between coat is the wool coat. Wool coated Labradoodles have hair that hangs in loose curls. These dogs are similar to their Poodle parents in that they shed significantly less than hair-coated Labradoodles.
Lastly, fleece coated Labradoodles are the most popular of the three coat types. These dogs are known for their soft coats that can be both straight or curly. However, this is the easiest coat to maintain because it lacks the density and coarseness of the other coat types. In addition, these dogs are typically non-shedding, making them an excellent choice for anyone who suffers from allergies.
Related: Red Labradoodle Coat Guide.
Grooming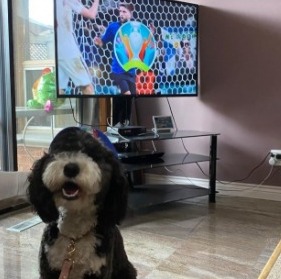 With many Doodle breeds, grooming depends on the type of coat your dog has. The most important thing to remember is that because these dogs are low to non-shedding, they will need to be groomed more often than dogs that do shed. This is because the coats of non-shedding dogs will continue to grow, resulting in them becoming unruly and tangled.
Before getting into the specific breeds, we will quickly address the grooming procedures that both dogs have in common. First, you should attempt to brush your Sheepadoodles' and Labradoodles' teeth regularly. Additionally, clipping your dog's nails is also a necessary grooming procedure that needs to be completed periodically. This requires patience and precision, so if you are uncomfortable doing this, take your dog to a veterinarian or professional groomer who will be happy to help.
Sheepadoodle Grooming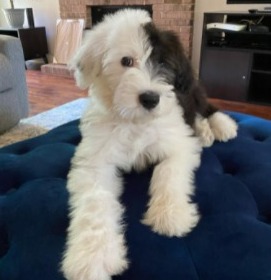 Because of the texture of Sheepadoodle hair, they are prone to matting. To avoid this problem, you should brush your Sheepadoodle 2 to 3 times a week. They should also receive a bath and haircut approximately every eight weeks. This ensures your Sheepadoodle maintains a healthy coat that is not too unruly. However, it is essential to note that you should not bathe your Sheepadoodle too often. This can cause dryness and irritation of the skin. Additionally, Sheepadoodles have very dense coats, perfect for winter months, but may become too hot in summer months. Therefore, you should consider getting your Sheepadoodle groomed in the summer to maintain your dog's comfort.
Labradoodle Grooming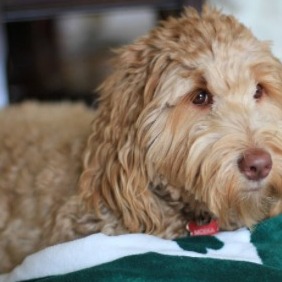 Grooming a Labradoodle is similar to grooming a Sheepadoodle. Depending on the coat type, these dogs need to be brushed 2 to 3 times a week. However, suppose your Labradoodle has particularly curly hair. In that case, it may require daily brushing because curlier hair is more likely to become matted.
Getting your Labradoodle a haircut every 6 to 8 weeks also prevents matting and tangles from developing. However, Labradoodles should only be bathed when needed as they have susceptible skin that can be irritated by bathing. That being said, you should clean your Labradoodle's ears once a week to prevent ear infections, which these dogs are known for developing.
Related: Best Clippers For a Labradoodle.
Temperament
The popularity of both Sheepadoodles and Labradoodles has dramatically increased recently. Both of these dogs have excellent temperaments that allow them to be great additions to any family.
Sheepadoodle's Temperament
Sheepadoodles are known for their gentleness and affection, especially with children. Therefore, if you are looking for a good family dog, a Sheepadoodle is an excellent choice. However, these dogs don't just get along with children; they are also extremely friendly with other dogs and pets. In addition, these dogs have high intelligence, which they inherited from their Poodle parents, making them easy to train.
Labradoodle's Temperament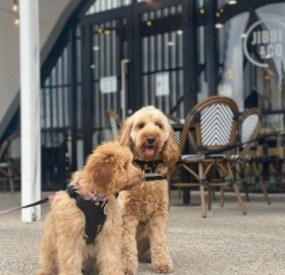 Originally bred to be service dogs, Labradoodles are notorious for their beautiful temperaments. These dogs are loving and gentle but also extremely intelligent and active. They love spending time with their families and are easy-going, making them extremely friendly with strangers. These excellent characteristics make Labradoodles a great addition to any family. Just keep in mind, Labradoodles require at least 45 minutes of exercise a day as they are very high in energy.
Conclusion For "Sheepadoodle vs Labradoodle"
As you can see, there are many similarities and differences between Sheepadoodles and Labradoodles. Both these dogs have beautiful low to non-shedding hair, as well as excellent temperaments. They both get along with people exceptionally well and love spending time with their families. However, these dogs differ in appearance and size. However, regardless of which dog you choose, one thing is guaranteed: you will receive a beautiful and loving companion.
For more dog comparisons like this Sheepadoodle vs Labradoodle guide, feel free to check out these articles:
To learn more about this topic, watch "Sheepadoodle vs Labradoodle" from The Designer Dogs down below: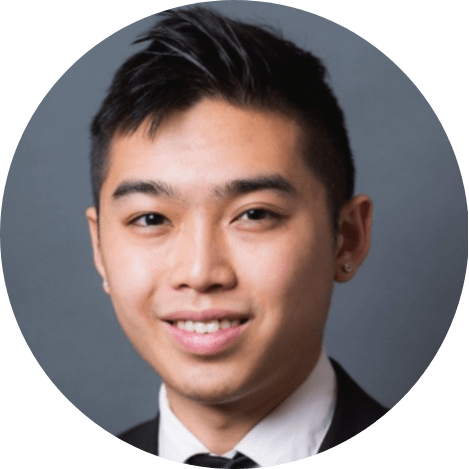 Andy is a full-time animal rescuer and owner of a toy doodle. When he's not saving dogs, Andy is one of our core writers and editors. He has been writing about dogs for over a decade. Andy joined our team because he believes that words are powerful tools that can change a dog's life for the better.
Why Trust We Love Doodles?
At We Love Doodles, we're a team of writers, veterinarians, and puppy trainers that love dogs. Our team of qualified experts researches and provides reliable information on a wide range of dog topics. Our reviews are based on customer feedback, hands-on testing, and in-depth analysis. We are fully transparent and honest to our community of dog owners and future owners.