When it comes to choosing the right dog for you and your family, your dog's size is an important factor to consider. Designer breed dogs like the Sheepadoodle offer versatility and can come in several sizes since Old English Sheepdogs typically weigh between 60 to 100 pounds, and Poodles typically weigh between 5 to 60 pounds.
With a mixed breed comes variances in the dog's size, color, temperament, and health. As Sheepadoodles are not purebred but are a mix between an Old English Sheepdog and a Poodle, each dog tends to look just a little bit differently than others of its kind. In general, there are three main Sheepadoodle sizes that will discuss more in-depth: Toy Sheepadoodles, Mini Sheepadoodles, and Standard Sheepadoodles. To help you make the best decision on the breed of dog and the size of the breed, here we share some helpful things to know about Sheepadoodles.
Other popular Sheepadoodle articles: Sheepadoodle Generations (F1, F1B, F2, F2b, etc) and Sheepadoodle vs Goldendoodle.
Sizing Up Sheepadoodles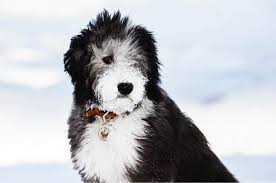 Perhaps the most important factor in determining the size of your Sheepadoodle is the size of the Poodle. Unlike Old English Sheepdogs, which come in just one standard size, Poodles come in multiple sizes, including Toy, Miniature, and Standard. When determining just how big your Sheepadoodle will get, the size of the Poodle is the most obvious indication.
Knowing the size of different Sheepadoodles can help you make the best decision for you and your family. This will help you ensure you'll have enough space for them to run around and know what you can expect to feed them.
In addition to the Poodle parent, another factor that may affect the size of your dog includes what generation of Sheepadoodle they are. Different dogs may have different lineages, giving them more or less "Poodleness" or "Old English Sheepdogness." Their genes and how much of either breed they have in their pedigree can influence their overall adult size.
 Additionally, the overall health and well-being of the dog also influence the size of a Sheepadoodle. When dogs are well taken care of and provided with regular exercise opportunities, they may consistently fall into a healthy weight range. However, if dogs are either overfed or not given access to regular exercise, their size may grow to unhealthy levels. In general, small dogs also tend to live longer than larger dogs.
While it's impossible to predict just how big a Sheepadoodle can be, their pedigree and overall health can be key indicators. And as you consider adding a Sheepadoodle to your family, the size of the dog is something you'll want to know about. To help you make the right decision, here we share the different sizes of Sheepadoodles.
Toy Sheepadoodle Size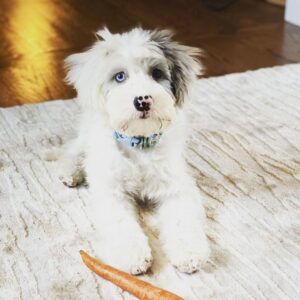 Sheepadoodles with a Toy Poodle as a parent dog are the smallest size of Sheepadoodles. Toy Sheepadoodles usually reach a weight between 10 and 25 pounds. Their height reaches up to only 15 inches or less when measured at their shoulders. Due to their small size, toy Sheepadoodles take less than a year to reach their full adult size.
Toy Sheepadoodles can be a great fit for families and individuals with limited living space. While they'll still require regular exercise, they may not need as much room to run and roam around. They're easy to hold and great for cuddling up.
We've seen some breeders advertising teacup Sheepadoodles and micro Sheepadoodles. There are smaller versions of the Sheepadoodle that fall into the "toy" category. However, we generally recommend against sizes smaller than a toy Sheepadoodles because they are prone to health issues. If you're interested in a smaller doodle dog, you should perhaps check out the Cavapoo or Cockapoo.
Miniature Sheepadoodle Size
The next size up is the Miniature Sheepadoodle which is also called the "mini Sheepadoodle." These puppies have a Miniature Poodle for a parent. They have a weight between 24 and 44 pounds and have a height that is less than 20 inches when measured at the shoulder.
The mini Sheepadoodle size is highly popular due to its convenient size and adorable features. However, with a weight range so large, it's important to know the size of the parents in order to determine just how big your puppy will get. You could end up with a 44-pound medium dog that's 20 inches tall or a 24-pound ball of cuteness that is easy to pick up with its smaller frame. Some breeders may also be characterized as a mini Sheepadoodle as "Medium Sheepadoodles," especially if they have a size that is on the higher end of the spectrum.
Miniature Sheepadoodles are a great size dog because they aren't too small and they aren't too big. It's a happy medium between getting a dog that you can easily control and exercise while not being too small. In general, the larger the dog size that you get, the more exercise and living space that they will require.
Related article: Best Mini Sheepadoodle breeders on the East Coast
Standard Sheepadoodle Size
The largest size of Sheepadoodles is also called a Standard Sheepadoodle. This size Sheepadoodle has a Standard Poodle for a parent. They also may have a larger-sized Old English Sheepdog, making them quite large dogs. Standard Sheepadoodles can have a weight between 60 and 80+ pounds, depending on the size of the parents. They also have a height with a range of 18 to 22+ inches tall when measured at the shoulders.  
Larger dogs like the Standard Sheepadoodle may require more room to live, run, and play. They may be best suited in a home with a yard where they can play fetch and chase things around in the grass. Standard Sheepadoodles require a bit more physical exercise than a Toy Sheepadoodle, making them great active friends. If you want a larger dog for protection, exercise, or just enjoy larger sizes, you'll want to find a standard size Sheepadoodle breeder.
All About Sheepadoodles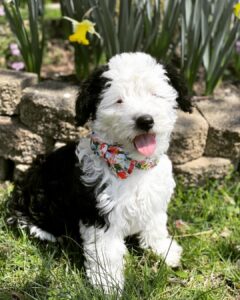 Sheepadoodles are a hybrid dog breed that has gained significant popularity. They are a mix between an Old English Sheepdog and a Poodle which makes them generally hypoallergenic and nonshedding when they inherit Poodle genes. Sheepadoodles have a lifespan that ranges between 12 and 15 years, depending on the size of the dog and overall health.
Appearance
Sheepadoodles can come in various colors but most often are white and black in accordance with Old English Sheepdog coats. Their Poodle genes make them fairly hypoallergenic and non-shedding, which means they can have three different coat types: straight, wavy, and curly. Their soft and snuggly coats make them great companion pets. The main downside is that since your Sheepadoodle doesn't shed, you will regularly need to groom them and give them haircuts.
Personality
Sheepadoodles are known for being fairly obedient and sociable. They enjoy being around other dogs and people, making them a great social companion. Sheepadoodles don't do well spending significant time at home alone as they oftentimes get separation anxiety. Their gentle demeanor also makes them great around young children.
Conclusion for Sheepadoodle Sizes: Toy, Miniature, & Standard!
When picking out the right dog for you and your family, the Sheepadoodle can be a great option. Knowing the various Sheepadoodle sizes can help you make the best decision based on your activity level and the space you have available. With their friendly personalities and loveable qualities, the Sheepadoodle can easily become your next furry family friend.
Other articles you would like: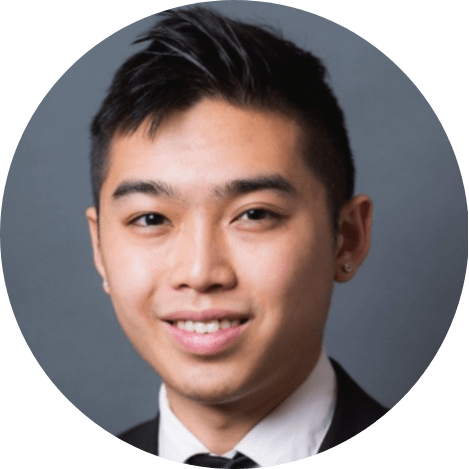 Andy is a full-time animal rescuer and owner of a toy doodle. When he's not saving dogs, Andy is one of our core writers and editors. He has been writing about dogs for over a decade. Andy joined our team because he believes that words are powerful tools that can change a dog's life for the better.
Why Trust We Love Doodles?
At We Love Doodles, we're a team of writers, veterinarians, and puppy trainers that love dogs. Our team of qualified experts researches and provides reliable information on a wide range of dog topics. Our reviews are based on customer feedback, hands-on testing, and in-depth analysis. We are fully transparent and honest to our community of dog owners and future owners.