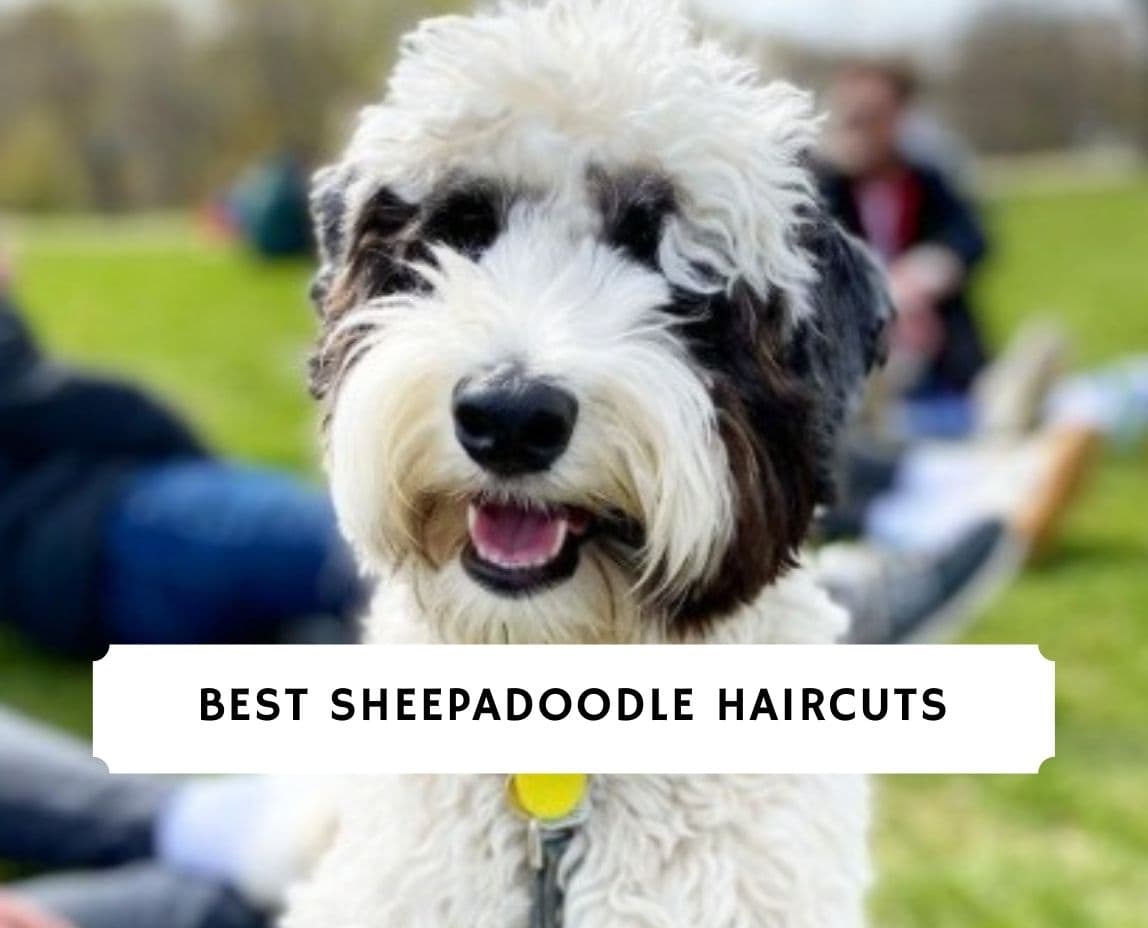 If you're searching for the best Sheepadoodle haircuts, then this guide has you covered. From short to long to bangs to mullets, there are many ways to cut our hair. Often, the haircuts we choose say something about our personality and who we want to present ourselves as. As a hybrid breed, the Sheepadoodle has been praised for its friendly personality and beautiful soft coat. As a mix between an Old English Sheepdog and a Poodle, their coats can come in various colors and styles with an attractive appearance.
Whether you plan out what you ask the pet groomer to do for your dog or you're ambitious enough to DIY your pet's haircut, grooming your pet is an essential part of keeping your dog happy and healthy. To help you keep your Sheepadoodle looking and feeling their best, here we share some critical things to know about your Sheepadoodle's coat and the best ways you can take care of it. Keep in mind that Shepadoodle isn't Sheepadoodle, so don't mistake between the two.
Before scrolling down this article, check out our recommendations and info to help get you started: Best Dog Grooming Shears and Best Dog Grooming Kit.
Sheepadoodle Dog Breed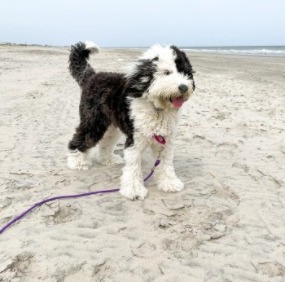 When determining the best way to take care of your Sheepadoodle's coat, there are some important things to know about how their coat works. As a mix between an Old English Sheepdog and a Poodle, their coat's exact makeup and behavior may vary significantly. Some Sheepadoodles may have coats that are more similar to that of the Old English Sheepdog. Other Sheepadoodles may have coats that are just as curly as their Poodle parent. It all comes down to the genes of the dog and how much of each breed they have. Knowing the texture and feel of your Sheepadoodle's coat can help you make the best decisions as to how to care for it. Some haircuts and grooming tools may work better for one type of coat and not another.
Poodle-Like Coats
Coats that are more similar to a Poodle tend to be much curlier and tighter than others. These coats tend to be pretty dense but shed very little. This can be great news for families where allergies are a concern. When brushing your Sheepadoodle with a Poodle-like coat, it's helpful to use a comb or brush with pins in it to catch the curls and not pull.
Sheepdog-Like Coats
While Poodles tend to be very curly and tight, Old English Sheepdogs have more smooth and relaxed hair that's not very curly. Sheepadoodles that have coats more similar to a Sheepdog may have more flowy hair and a higher potential for shedding. Regular brushing helps to remove the loose hair that has become detached from their skin. Doing so will help minimize shedding and keep your home cleaner.
Regardless of how curly their coats are, regular brushing is required for Sheepadoodles. That beautiful coat comes with a cost of time and energy in keeping it well maintained. Their coats can quickly become tangled and snarled, leading to mats and other skin irritations.
Sheepadoodle-Related Articles: Best Sheepadoodle Generations
Sheepadoodle Haircuts
When it's time to grab the scissors and start trimming and cutting your dog's coat, there are several options you have, regardless of what time of coat your dog has. Some types of haircuts may suit better for warmer weather, such as more trimmed looks. Others can amp up the style and fashion of the dog with long, flowy coats. In any case, you can have your Sheepadoodle looking and feeling their best with a simple haircut.
Whether you choose to outsource your dog's haircut to a professional or try to DIY, there can be a lot of fun trying out new styles and looks for your Sheepadoodle. The best part? If you don't like a specific look or mess up on a particular cut, their hair can grow back quickly for you to try again. Some types of cuts require just a trim without much attention to style or layering. Other cuts may require a more dynamic approach to trimming and cutting.
To spark some inspiration for your own Sheepadoodle's look, here are some standard and easy haircut ideas to try out:
1. Shaved
Perhaps one of the most manageable haircuts is the shaved look. This helps your dog stay cool in warm temperatures with a cut that's close to their body. This tight look also makes grooming and caring for your pet's coat so much easier. While you'll still need to brush and wash their coats, the short hairs don't require near as much work.
2. Shaggy
Perhaps opposite of the shaved look, the shaggy haircut lets their smooth or curly coat stay. This haircut can be pretty easy to do, but you'll need to keep up on regular grooming. With so much hair, it's essential to brush them regularly so they don't develop mats or other skin irritations.
3. Puppy Cut
Perhaps one of the most popular looks for Sheepadoodles and Doodle varieties, in general, is the puppy cut. This haircut is also easy to do on your own as it requires minimal trimming around the right areas. Your dog doesn't have to be a puppy to have this look, either. It can be a great fit throughout their life.
4. Teddy Bear
The teddy bear look leaves hair around the face and cheeks for the extra ambitious groomers, giving them that different cute and cuddly look. While it may be more difficult to DIY, it's a look that's grown in popularity with Doodle hybrid breeds.
Are you looking for more inspiration? Browse through photos on Pinterest or other pet grooming resource sites for helpful tutorials and other ideas to keep your dog looking their best.
Dog Grooming Product Recommendations: Best Shampoo For Poodles and Best Waterless Dog Shampoos.
DIY With the Right Tools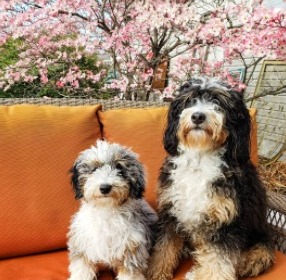 Doing your dog's grooming yourself can be a great way to save money. Especially for higher-end fancy haircuts for Sheepadoodles, the price tag on a haircut can easily exceed that for a person. If you're looking to cut your own dog's hair, you must have the right tools. Get a good pair of scissors that are sharp enough to be precise and exact in your cutting. You'll also want to be sure to have a brush that works well with the type of coat your dog has.
Specific brushes may do well depending on if your dog has a coat that's more similar to that of a Poodle or an Old English Sheepdog or an equal mix between the two. Other tools you'll want to have at the ready when grooming your dog include a pin brush to pull out loose hairs in their coat. A de-matting tool is helpful when getting out those stubborn knots and mats that can appear in your dog's fur. Clippers and shavers also come in handy, depending on what type of look you're going for your dog. A quality pair of nail clippers also keep your dog's paws easily mobile and not caught in things.
If you don't have a Sheepadoodle yet but you're planning to, check out: What is a Reverse Sheepadoodle? and Best Sheepadoodle Breeders in the United States.
Conclusion For The "Best Sheepadoodle Haircuts"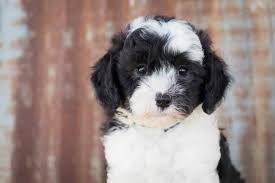 Like a person's haircut can say something about their personality, Sheepadoodle haircuts can also match their temperament. When choosing the right haircut and groomer for your dog, keep their personality and temperament in mind. Know the type of climate they live in when determining whether a short or long look works best for them. By keeping these key factors in mind, you can style your dog's look in a way that's just right for them.
For more content related to the "Best Sheepadoodle Haircuts," check out:
To learn more about Sheepadoodles, watch "Sheepadoodle Groom" from Fort Worth Groomer down below: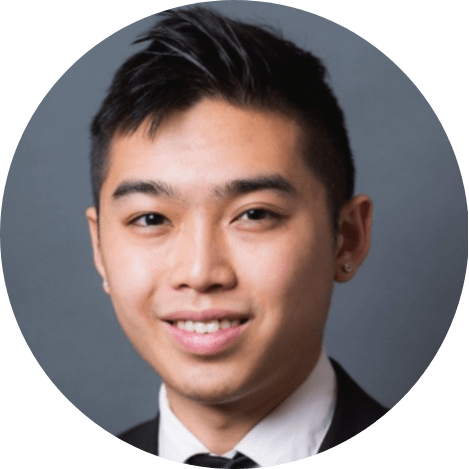 Andy is a full-time animal rescuer and owner of a toy doodle. When he's not saving dogs, Andy is one of our core writers and editors. He has been writing about dogs for over a decade. Andy joined our team because he believes that words are powerful tools that can change a dog's life for the better.
Why Trust We Love Doodles?
At We Love Doodles, we're a team of writers, veterinarians, and puppy trainers that love dogs. Our team of qualified experts researches and provides reliable information on a wide range of dog topics. Our reviews are based on customer feedback, hands-on testing, and in-depth analysis. We are fully transparent and honest to our community of dog owners and future owners.