Finding a great breeder with Sheepadoodle puppies in Indiana can sometimes be challenging. Many breeders, but very few, are trustworthy and authentic. To save you from the time-consuming search, we have compiled a list of Indiana's seven best breeders of Sheepadoodle puppies.
Before scrolling down this list of breeders with Sheepadoodle puppies in Indiana for sale, you can check out these other recommendations from our team at We Love Doodles: Best Cavapoo Breeders in Indiana and Best Doberman Breeders in Indiana.
Sheepadoodle Breeders in Indiana
Tagging Sheepadoodles as perfect companion dogs would not be wrong. They are highly sought-after dogs. Perhaps their cuddly body, furry face, solid emotional attachment, intelligence, and loyalty are a few traits that make them so. Now let's dive deeper to help you find the best breeder to get a Sheepadoole puppy from. 
Sheepadoodle Product Recommendations: Best Dog Detangler Sprays and Best Puppy Potty Training Sprays.
1. PuppySpot's Sheepadoodles For Indiana
First on the list of breeders with Sheepadoodle puppies in Indiana is PuppySpot's trusted platform. PuppySpot is a highly reputable dog marketplace where you can browse for available Sheepadoodle puppies right from the comfort of your home in Indiana.
All users should remember that Sheepadoodle breeders on PuppySpot must undergo a strict screening process, so you can rest assured that your companion will be safely shipped to your home in Indiana. Before continuing on your journey for a Sheepadoodle puppy for sale in Indiana, you can check out the link to the marketplace below.
PuppySpot Details
2. Feathers and Fleece Farm Sheepadoodles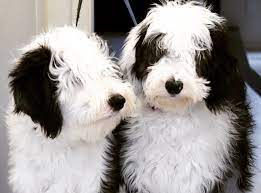 Feathers and Fleece Farm is one of the best Sheepadoodle puppy breeders in Indiana, which started its journey in 1993. Their farm specializes in producing beautiful, well-socialized, and hypoallergenic Sheepadoodle puppies. Because of their early imprinting procedure, your puppy will be peaceful, well-adjusted, healthy, and easily trainable.
You can understand imprinting as teaching you give to puppies so that they can learn to interact with their environment. The kennel has an on-site veterinarian, emergency care, grooming, and training center. The Sheepadoodle puppies in this kennel are health-tested regularly.
You can only take your puppies home once they are 10-12 weeks of age. The breeder also ensures that the puppies have been vaccinated, fully weaned, and ready to start their new lives in new surroundings. This kennel aims to provide its clients with the most well-socialized and trained puppies.
Feathers and Fleece Farm Sheepadoodles Details
3. On Pointe Poodles and Sheepadoodles
Located in the southeast corner of Indiana, On Pointe Poodles and Sheepadoodles grow and raise puppies on their sprawling 15-acre farm. They ensure that you take home a healthy, top-notch, and trained Sheepadoodle puppy with you. All newborn puppies are taken care of at their farm. They encourage families and kids to interact with puppies to be well-socialized from an early age.
Every litter is health-tested and ensures they're free from genetic disorders. The kennel works hard to produce friendly and healthy family puppies with exceptional conformation, health, and temperament. They ensure that they keep their promise of no puppy mill. Your purchase includes one year of health guarantee.
On Pointe Poodles and Sheepadoodles Details
4. Red Barn Sheepadoodle
If you are looking for Sheepadoodle puppies for sale in Indiana, contact Red Barn Sheepadoodle. They make every effort to raise the best possible companions for your family. They carefully select their adult dogs to ensure they breed the most well-behaved puppies to become ideal family pets.
They ensure that their Sheepadoodle puppies closely match the new owners' lifestyle and temperament. From the beginning, all the puppies are nurtured and stimulated. Their staff thoroughly explains the puppy-rearing process and ensures families know the challenges of parenting a puppy.
These Sheepadoodle puppies in Indiana are vaccinated, dewormed, healthy, and potty trained. They also ensure that your little furry baby is nurtured in a comfortable environment. They have a climate-controlled chamber as a puppy nursery on their farm.
Red Barn Sheepadoodle Details
5. The Farm's Precious Doodles
Savannah is the lady behind The Farm's Precious Doodles and is one of the top breeders of Sheepadoodle puppies for sale in Indiana. She and her family live on a huge 110-acre family farm, perfect for raising dogs. Most of her time is spent in a puppy nursery, caring for and grooming the puppies.
Every puppy at their farm undergoes a DNA test, ensuring that there is no genetic health issue. Also, a complete body checkup is done by a certified vet before you take a puppy home.
They provide loving attention and care to make each puppy's upbringing special. The team works hard to ensure the adoptive families receive healthy and well-socialized Sheepadoodle puppies. They select breeding stock based on health and temperament.
The Farm's Precious Doodles Details
6. Aly's Happy Dogs, LLC.
Aly's Happy Dogs has been breeding puppies since 2003. They are licensed in Indiana and are a member of Northern Indiana Breeders. You can book a puppy, but you won't be able to take it home until it turns eight weeks old. The puppies here are vaccinated for distemper, adenovirus, and parainfluenza. Also, they deworm them with pyrantel pamoate and Panacur.
You get a seven-day health guarantee against primary viral diseases and a one-year warranty against genetic problems when you buy a Sheepadoodle puppy from this breeder. Their team provides you with a bag of puppy food and all vaccination reports with your purchase. They work hard to ensure that each puppy is happy and healthy and remains in its new home.
Aly's Happy Dogs, LLC. Details
7. Best Doodle Puppy
Best Doodle Puppy is yet another Sheepadoodle puppy breeder in Midwest, Indiana. They are specialized in breeding Sheepadoodles and have experience of 16 years in breeding quality puppies. They began breeding as a hobby that soon became a passion for making high-quality puppies with the right coat quality, demeanor, and temperament.
They take great delight in raising healthy, happy puppies. They also work hard to ensure that each puppy is healthy, trained, and vaccinated before moving to its forever home. Every puppy you purchase from here has a documented health guarantee that ensures the puppy's health.
Best Doodle Puppy Details
8. Danes and Doodles LLC
Danes and Doodles LLC is the last on our list of the best breeders of Sheepadoodle puppies in Indiana. They carefully choose their breeding dogs for their conformation and healthy genetics. The good thing about them is that all the puppies are vaccinated and inspected regularly by a certified vet.
In this kennel, everyone is dedicated to producing quality, healthy, happy puppies with great temperaments. For early socialization, the puppies interact with the kids in the family to easily adapt to their new home.
Once you book your puppy, you will get pictures and updates about your furry companion. All their puppies are highly trained in basic behavior skills. So, when you take your puppy home, they will adjust well to the new surroundings.
Danes and Doodles LLC Details
How to Choose a Sheepadoodle Breeder in Indiana
Getting such an intelligent and beautiful dog from a substandard breeder would be wrong. Consider the following things when you choose a breeder for getting a Sheepadoodle puppy.
Reach Out to Your Close Circle
Sometimes what you have been searching for was all along with you. So, do not forget to ask for Sheepadoodle breeder references from your neighbors, friends, and families. You may get lucky and land up with an excellent Sheepadoodle breeder.
Get Help From the Internet
It's a no-brainer — simply Google to get a horde of breeders in Indiana that sell Sheepadoodle puppies. But make sure you're not picking a puppy mill or a shady kennel. The tricky part is that the Internet is noisy and takes well-planned and deep research to find reliable information. Thankfully, you have that with our list here.
Get On a Call With The Breeder
Once you shortlist breeders, get on a call with all of them. Ask every question you have about getting a Sheepadoodle. Mindfully notice how they talk and behave and if there is passion in their voice.
Moreover, they should also ask you many questions to find out your experience with keeping pet dogs, where you live, and your lifestyle in general. A good breeder never lets go of their puppies before ensuring their forever home is the right fit.
Ensure You Visit The Kennel
Before you make the purchase, visit the breeder's kennel if possible to ensure your shortlisted breeder is reputable. So, when you visit, check:
The relationship between the dogs, puppies, and the breeder. If the dogs look afraid, then there's something wrong.
If the kennel is well-sanitized.
If the breeder is willing to answer your queries patiently and in detail.
More Information About Sheepadoodle in Indiana
This list of top breeders of Sheepadoodle puppies in Indiana is made possible with the hard work of our team. We have only included well-recognized breeders who have a social presence and take breeding seriously.
You won't find substandard breeders on this list — we despise them. Further, we have tried to include the correct contact information of these breeders. We hope your Sheepadoodle puppy adoption process can start soon!
Conclusion For "Sheepadoodle Puppies in Indiana"
This article has covered the best breeders with Sheepadoodle puppies in Indiana. After searching hard on the Internet, we managed to jot down this list. So, if you're living in Indiana and thinking about getting a puppy to start making memories, now's the time.
Since Sheepadoodle dogs typically live for 12 to 15 years, you will have numerous moments to cherish for life. Remember, you would not find this dog species registered with AKC since it is a designer breed. However, that doesn't take away from the fun-loving and friendly pets they make for anyone.
For more guides similar to this list of breeders with Sheepadoodle puppies in Indiana, you can check out:
Before you bring home a Sheepadoodle puppy from a breeder in Indiana, you can learn more about this dog breed by watching the "Sheepadoodle – Top 10 Pros and Cons of Owning a Sheepadoodle" down below: