If you're searching for the best Sheepadoodle breeders in Ontario, then you've come to the right place. The Sheepadoodle is a mix between a purebred Old English Sheepdog and a purebred Poodle.
This mix can also be called Sheepdog, Sheeppoo, and Sheepdog. These dogs usually reach an adult size of about 22 inches tall and weigh around 80 pounds. With that in mind, let's proceed to your list of Sheepadoodle breeders in Ontario.
Before scrolling down this list of Sheepadoodle breeders in Ontario, check out these recommendations from the area: Best Akita Breeders in Ontario and Best Labrador Breeders in Ontario.
Sheepadoodle Puppies For Sale in Ontario
This guide contains a comprehensive listing of reputable Sheepadoodle breeders throughout the country. In addition to finding the best places to find Sheepadoodle puppies for sale in Ontario, you'll also find their contact information, addresses, and social media links.
We only list Sheepadoodle breeders who have been in business for several years. There is a high likelihood that you will be happy with your choice from this list. Let's get started.
Sheepadoodle Product Recommendations: Best Medicated Dog Shampoos and Best Dog Scooting Treatments.
1. I Love My Sheepadoodles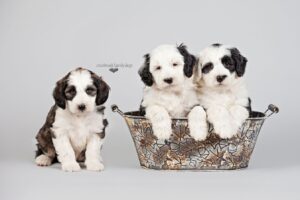 I Love My Sheepadoodle's, Pete & Delicia Kraayenbrink, raise their puppies as though they were a part of their family. After eight weeks, they are well-rounded, socialized puppies ready for adoption.
Their puppies have plenty of space to run and play on their 54 acre bush property just outside the town of Wingham, Ontario. This is about 1.5 hours from London or 2 hours from Toronto.
They breed designer Sheepadoodles in a variety of sizes. I Love My Sheepadoodle's puppies are friendly, cute, and kind-hearted. They have their local vet come over to their home to look over and approve each puppy before they offer it up for sale.
Puppy vaccinations, deworming, and a health card will be given to each puppy. In addition, breeders offer a life-threatening genetic illness guarantee on their puppies for an entire year. Hips, hearts, and eyes are included in this guarantee.
I Love My Sheepadoodles Details
2. Willow Run Farm
Willow Run's philosophy is to start with the highest quality breeding dogs to breed the finest Sheepadoodle puppies. All of their adult dogs are purebred and extremely healthy.
Their food is of the highest quality, and they also offer a comprehensive supplement program and health testing to ensure this. In addition, having wonderful temperaments, they make excellent family dogs who pass these attributes along to their offspring.
At eight weeks old, sheepadoodle puppies go to their forever homes. Before this, puppies are raised with plenty of love, attention, and devotion, enhancing their imprinting and fostering their socialization.
Puppies from Willow Run go to their new homes with complete vaccinations, microchips, and puppy supplies, including TLC Whole Life Foods, a scented blanket, harness, and lead. In addition, a free 6-week PetSecure pet insurance policy (up to $750) is included with each puppy.
Willow Run Farm Details
3. Red Dog Canine
There are nine employees on staff at Red Dog Canine's facility, a 2-acre private park with interior play areas and luxury suites. Their specialty is hypoallergenic Goldendoodle, Irishdoodle, and Sheepadoodle.
Eight weeks is the minimum age when puppies can leave the facility. A puppy kit includes a toy, food, blanket, free 30day pet insurance with Trupanion, and a health booklet along with their first set of vaccinations and deworming.
They all live in their homes with their families, both males, and females. No cages or unethical practices are tolerated at Red Dog Canine. If you would like more information about their process, don't hesitate to contact them by email since they do have a waitlist.
Red Dog Canine Details
4. How I Met My Doodle
How I Met, My Doodle is dedicated to providing the most positive possible atmosphere for its Sheepadoodle and Bernedoodle puppies, one full of love and socialization.
To make the transition to their new homes as easy as possible for both the puppies and their adoptive families, they aim to prepare their puppies as much as they can.
Sheepadoodles and Bernedoodles are raised at home, not in kennels. They provide a sheltered birthing room for the first four weeks after birth, free of external interventions.
The puppies are then taken to an extra-large, brightly lit playroom, where they are kept until they are ready for adoption. A regular social schedule is provided to them, including some time spent on grooming and in a crate. They also experience all the routines of a regular household.
How I Met My Doodle Details
5. Halton Hills Doodles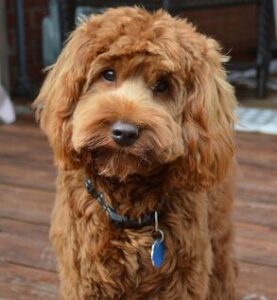 Last on the list of Sheepadoodle breeders in Ontario is "Halton Hills Doodles."Halton Hills Doodles is a reputable breeder from Burlington, Ontario. The owner has a solid understanding of nature and breeding. The dogs are kept inside, making them well suited to living in an apartment.
To raise healthy and happy puppies, the staff at Halton Hills Doodles provides them with proper food, toys, and care. Despite this, not everyone can purchase from Halton Hills Doodles. Aspiring owners of their Sheepadoodle puppies have to provide specific information about themselves.
The Sheepadoodle breeder will find the right dog for them if they pass the exam. If you consider adopting a dog, the owner will provide you with all the details you need, including pricing, availability, and how to proceed.
Halton Hills Doodles Details
About The Sheepadoodle Puppies in Ontario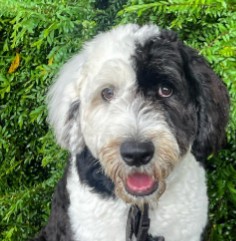 Standard Sheepadoodles require a spacious yard to run around in, while tiny and miniature Sheepadoodles are more suited to apartment life in Ontario.
As long as they receive enough physical and mental stimulation, this breed will not be too destructive. It is advisable to spend a lot of time with your Sheepadoodle since they enjoy being around their humans.
Despite their intelligence, Sheepadoodles are just as prone to picking up bad habits as positive ones. Therefore, training should be ongoing for Sheepadoodles in Ontario.
The earlier a puppy is socialized to other dogs and humans, the better it will behave when meeting new people and other animals later in life. Sheepadoodle diets should be formulated for large, energetic dogs.
They tend to gain weight and consume a lot of food in a short period, so they should have small meals throughout the day. Please consult your veterinarian first, though! Also, please don't engage in strenuous exercise after a meal and limit the number of treats they consume.
Sheepadoodle Guides: What is a Reverse Sheepadoodle? and Sheepadoodle Size Guide.
How to Choose a Sheepadoodle Breeder in Ontario?
Before committing to a Sheepadoodle breeder, it is wise to do your research. Meeting the breeder in person at their kennel or home is the most effective way to get to know them.
Ask your breeder to meet your dogs via video conferencing in place of meeting them in person during COVID-19. Ideally, a dog and puppy should not be afraid to approach the breeder and be outgoing around strangers.
Sheepadoodle Guides: Sheepadoodle vs. Labradoodle and Types of Sheepadoodle Coat Colors.
Finding a Sheepadoodle Breeder in Australia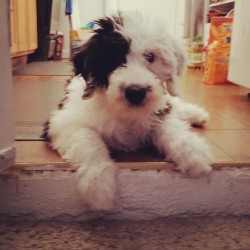 The more time you spend finding a responsible Sheepadoodle breeder that responsibly breeds healthy puppies, the greater your chances of having a dog that is happy, healthy, and lives a long time.
If a puppy purchase is rushed or instant, you may want to ask yourself why the breeder wants to sell the Sheepadoodle puppy so quickly. It is a bright idea to start with a breeder who has a reputation for caring for their dogs.
See if you can get any recommendations from friends, family, clubs, or your local veterinarian. It is crucial to verify if the breeder claims their puppies are registered with any clubs.
Sheepadoodle Guides: Do Sheepadoodles Shed and Sheepadoodle Lifespan.
Conclusion For The Best "Sheepadoodle Breeders in Ontario"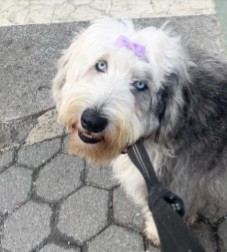 We have tried to highlight the most significant features each breeder offers. However, we strongly recommend contacting and visiting a couple of breeders before making a final decision. Don't buy a Sheepadoodlefrom a breeder who isn't reputable if you are planning to buy one.
The most critical step in becoming a Sheepadoodleowner is finding the right breeder. Breeders aren't simply a conduit between you and your puppy. Throughout the lifespan of your fur baby, they are an indispensable resource.
For more guides similar to this list of Sheepadoodle breeders in Ontario, check out:
Before buying a Sheepadoodle puppy in Ontario, learn more about the breed by watching "Sheepadoodle Dog Breed Guide" down below: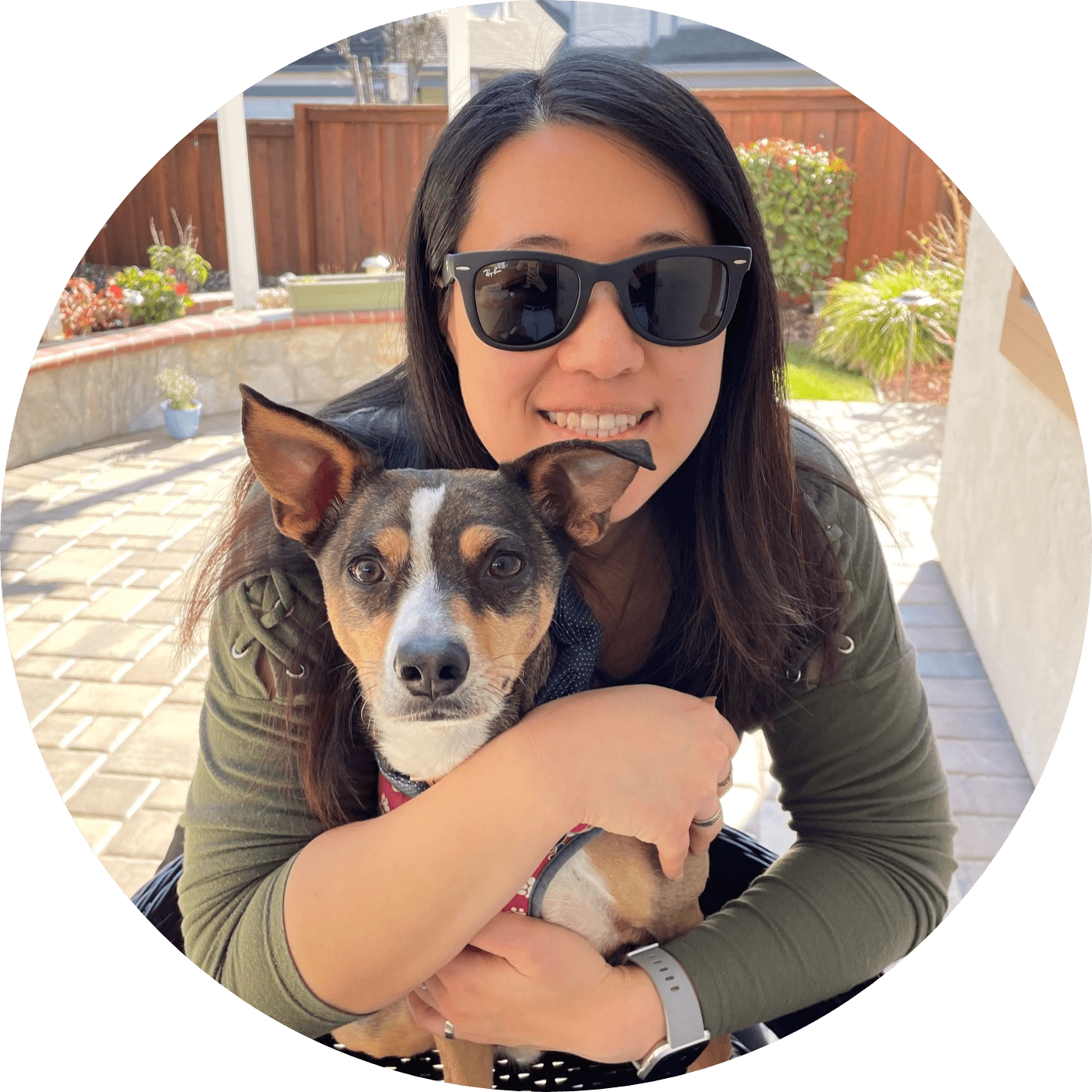 Dr. Sabrina Kong graduated from the Royal Veterinary College in England in 2016 and has been working at a small animal clinic in Northern California since then. She grew up in the Bay Area and got her bachelor's degree from Cal Poly San Luis Obispo. She also became a Certified Canine Rehabilitation Practitioner through a program at the University of Tennessee.
When she isn't in the clinic taking care of her four-legged patients, she enjoys traveling and trying new foods with her friends and her three-legged dog, Apollo. She adopted Apollo from her clinic when he was a puppy with numerous health issues. Dr. Kong truly cares about taking care of animals.