The Sheepadoodle is one of the latest designer doodle dog crosses that is gaining in popularity with owners and breeders. A cross between an Old English Sheepdog and a Poodle creates this adorable cross that is mostly hypoallergenic and nonshedding. They vary in size depending upon the size of the Poodle but tend to be on the larger size for doodles. However, through muti-generational breeding, they are available in miniature sizes.
Do your homework before you bring a Sheepadoodle puppy home to make sure that the dog is a good fit for your home and lifestyle. If you do choose a Sheepadoodle puppy to be your companion dog, you are guaranteed to have a cute and fun-loving puppy that is loyal and devoted to you.  To help you in your quest to find a puppy, we're listing the best Sheepadoodle breeders in the Midwest.
These are not puppy mills or clearing houses that source their Sheepdoodle puppies from unethical breeders. Only reputable breeders make it to our list. There are several Sheepadoodle breeders of Standard, Miniature, and F1B Sheepadoodles in the Midwest. Take a look at these adorable puppies that are available to purchase. We're pretty sure that you're going to be able to find one that you simply cannot live without.
Before scrolling down this guide, check out these related topics: Types of Sheepadoodle Coat Colors! With Pictures!
1. Prairie Hill Puppies
Located in Hutchinson, Kansas, Prairie Hill Puppies is a top breeder of Sheepadoodle puppies. This is a breeder who uses only AKC registered breeding stock, and has all their dogs DNA tested and certified. Prairie Hill breeds both Standard and Miniature Sheepadoodles and sells puppies with a health guarantee/contract, USDA Health certificate, Vaccination and deworming according to the age of the puppy and microchip implanted and registered.
You can begin the process of adopting one of these adorable Sheepadoodles by completing the paperwork on the website. You will then be required to place a deposit and if your puppy has already been born, you can pick him/her at age 4-5 weeks. If not, then you are placing your request on a waitlist for future breedings. Once your puppy is chosen, the breeder updates you with video and photos to track the puppy's progress until it's ready to come home.
Prairie Hill offers a variety of options/fees to deliver puppies, and they do welcom buyers to come pick up the puppies at their facility, or they will meet you at the airport in Wichita.
This is a breeder that is working and striving to better the doodle breeds and always keeps the health of the puppy foremost in their minds.
Sheepadoodle Puppy Information:
Price must be paid in full by delivery date
Sheepadoodles need names to register the microchip
Sheepadoodle Breeder Information:
2. Midwest Doodle Pups
Midwest Doodle Pups is found in Maryville, MO. They are small home breeders of miniature Sheepadoodles, and multi-generation F1B Sheepadoodles in the midwest. Puppies from Midwest Doodle Pups are raised with Puppy Culture which means they go home as wel-adjusted and well-socialized pups that will fit easily into your home and family. Puppy Culture creates confident and happy puppies.
Get on the waiting list for free, then place your deposit to hold/reserve the Sheepadoodle puppy of your dreams. Puppies from Midwest Doodle Pups go home with a genetic health guarantee, age-appropriate vaccination and deworming, and a microchip  implanted. Subscribe to Midwest Doodle Pups' YouTube channel and join the mailing list for updates and videos of the latest puppies available.
Sheepadoodle Puppy Information:
Miniature Sheepadoodle and F1B Sheepadoodles available
Read Policies on the website to understand the process to reserve a puppy.
Sheepadoodle Breeder Information:
3. Doodles & Doxies
Doodles and Doxies breed medium and F1B multi-generational Sheepadoodle puppies in the Midwest. They are located in Marion, Ohio. Additionally, they are a family run breeding facility that uses guardian homes to care for their breeding stock so that they can give all their attention to the dogs they are raising for you, the buyer.
A deposit is required to get on their wait list, with a second deposit required to hold your pick of the litter. This deposit is applied to the final price of the dog and the balance of the fees are due in cast at pick. Their Sheepadoodle puppies for sale are picked at 4 weeks of age and you can watch their growth and development on social media and in the group chat.
Sheepadoodle puppies go home at 8 weeks of age with support from the breeder. Doodles and Doxies offers a month long Puppy Preschool to help you with foundational training for your Sheepadoodle puppy. There are several options/fees available for delivery of your new puppy. Check out their website policies for more information and complete the contact form on the website to get the adoption process started for the puppy of your dreams.
Sheepadoodle Puppy Information:
Goes home with genetic health guarantee
Puppies can be delivered or picked up at 8 weeks of age
Sheepadoodle Breeder Information:
4. Angel Breeze Puppies
Angel Breeze Puppies breeds Sheepadoodle puppies, and F1B Multigenerational Sheepadoodles in Fresno, OH. They are a family owned kennel that raises several kinds of doodles in addition to the Sheepadoodles.
You can find the available puppies on the website, and a small deposit is required to reserve an available puppy or to get on the waitlist for a future breeding. Find out if a Sheepadoodle puppy from Angel Breeze is a good fit, but answering the questions on the website contact form.
These Sheepadoodles go home with a contract. They are pets only and the owner agrees not to breed the dog. Each owner must certify that they will have their dog spayed or neutered within the specified timeframe and be prepared to show proof of this to the breeder.
Testimonials on the breeder website for Angel Breeze Puppies rave about the quality and temperament of the dogs owners have purchased. Sheepadoodles make excellent family dogs and the testimonials bear that out. Sheepadoodles from Angel Breeze Puppies are also being trained for guidance work and as service and therapy dogs.
Sheepadoodle Puppy Information:
Pets only with a health certificate
Dogs go home at 8 weeks of age
Sheepadoodle Breeder Information:
5. Midwest Puppy LLC
Midwest Puppy is located in Omaha, NE and is a family run breeding operation that breed Standard Sheepadoodles. The CEO and her five daughters run the kennel and this means that your puppy will be hand-raised, socialized with children and other dogs. This gives you as a new puppy owner a confident and well-adjusted puppy that will adapt well to your home and family lifestyle.
The process to adopt from Midwest Puppy is to first be sure you're ready to have a puppy, then to make a deposit to get on the waiting list and reserve your puppy. Puppies are picked at 6 weeks of age and then the dogs are ready to go home after 8 weeks of age. A second deposit is required to hold your chosen puppy and the balance of payment is due by the time you pick up your puppy.
In the time between picking and delivery you will receive photos and video of your chosen puppy. Be sure to join the email list and follow the breeder on social media. Midwest Puppy LLC is happy to answer any questions you may have about raising a puppy either before you choose your dog, or during the purchase process.  Take a look through their gallery of dogs on their website to find the Sheepadoodle puppy you've been longing for.
Sheepadoodle Puppy Information:
Puppies are chosen at 6 weeks of age
Prices are listed on Deposit Contract
Sheepadoodle Breeder Information:
More Information About Sheepadoodle Puppies
One of the most desirable aspects of doodles in general, and Sheepadoodles in particular is the low shedding and less allergenic coat. While Old English Sheepdogs are known for being long-haired and shaggy, the Poodle gives them an easier to manage coat, that, while it still needs regular brushing to prevent matting, is far less dense and is considered low-shed. Sheepadoodles do need regular trims to keep the "poodle cut" fresh, but are fairly easy to maintain.
Sheepadoodles get the best of both breeds and are known for being playful, loyal, athletic, and great family dogs. They have a lot of energy, and need an owner who understands that Sheepadoodles cannot be left too long on their own. They are very devoted dogs and do best when they get frequent interaction, play and training sessions, and daily walks.  Sheepadoodles require a great deal of attention, regular grooming, and training reinforcement.
While the Sheepadoodle does have better health outcomes due to hybrid vigor, there are still health concerns that plague both breeds. This means that you should only purchase a puppy from a reputable breeder that does DNA and genetic testing on their breeding stock and can certify or guarantee the health of your puppy. The standard health guarantee is 2 or 3 years. Health guarantees are only valid if you maintain a strict vet care schedule, vaccinations and deworming included, for your puppy after you bring it home. Some breeders also have a "pet only" clause in their sale contracts. This requires that the dog be altered so it cannot be bred within a specified time period.
Conclusion For Sheepadoodle Puppies in the Midwest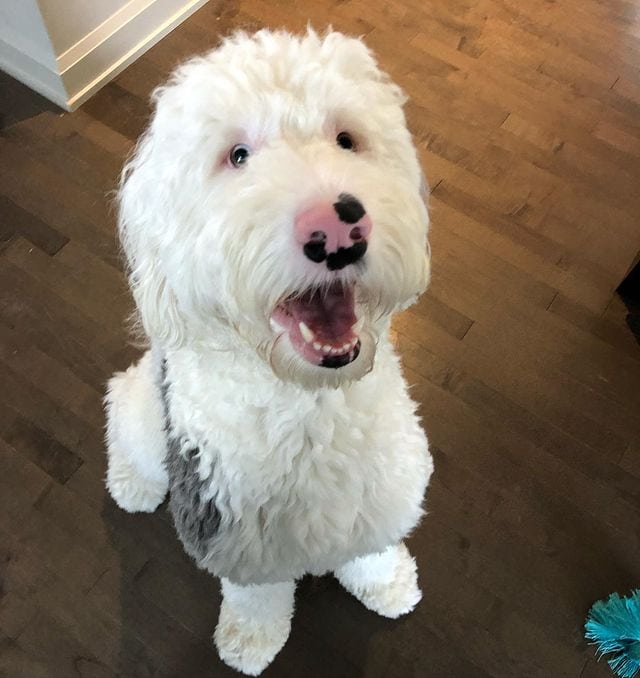 We hope that you were able to find the Sheepadoodle puppy of your dreams. Sheepadoodles have become quite popular in the past few years so it's likely that you'll have to wait on a waitlist from a reputable breeder. Remember to ask any Sheepadoodle breeder in the Midwest for a health warranty and customer reviews. Additionally, it's always best to see if you can visit and tour their facilities to verify that they are not a puppy mill. Best of luck finding your next puppy!
You will also like:
Garrett loves animals and is a huge advocate for all Doodle dog breeds. He owns his own Goldendoodle named Kona. In addition, he volunteers at the Humane Society of Silicon Valley, where he fosters dogs and helps animals. Garrett enjoys writing about Doodles and believes that dogs can teach humans more about how to live than humans can teach a dog.
Why Trust We Love Doodles?
At We Love Doodles, we're a team of writers, veterinarians, and puppy trainers that love dogs. Our team of qualified experts researches and provides reliable information on a wide range of dog topics. Our reviews are based on customer feedback, hands-on testing, and in-depth analysis. We are fully transparent and honest to our community of dog owners and future owners.