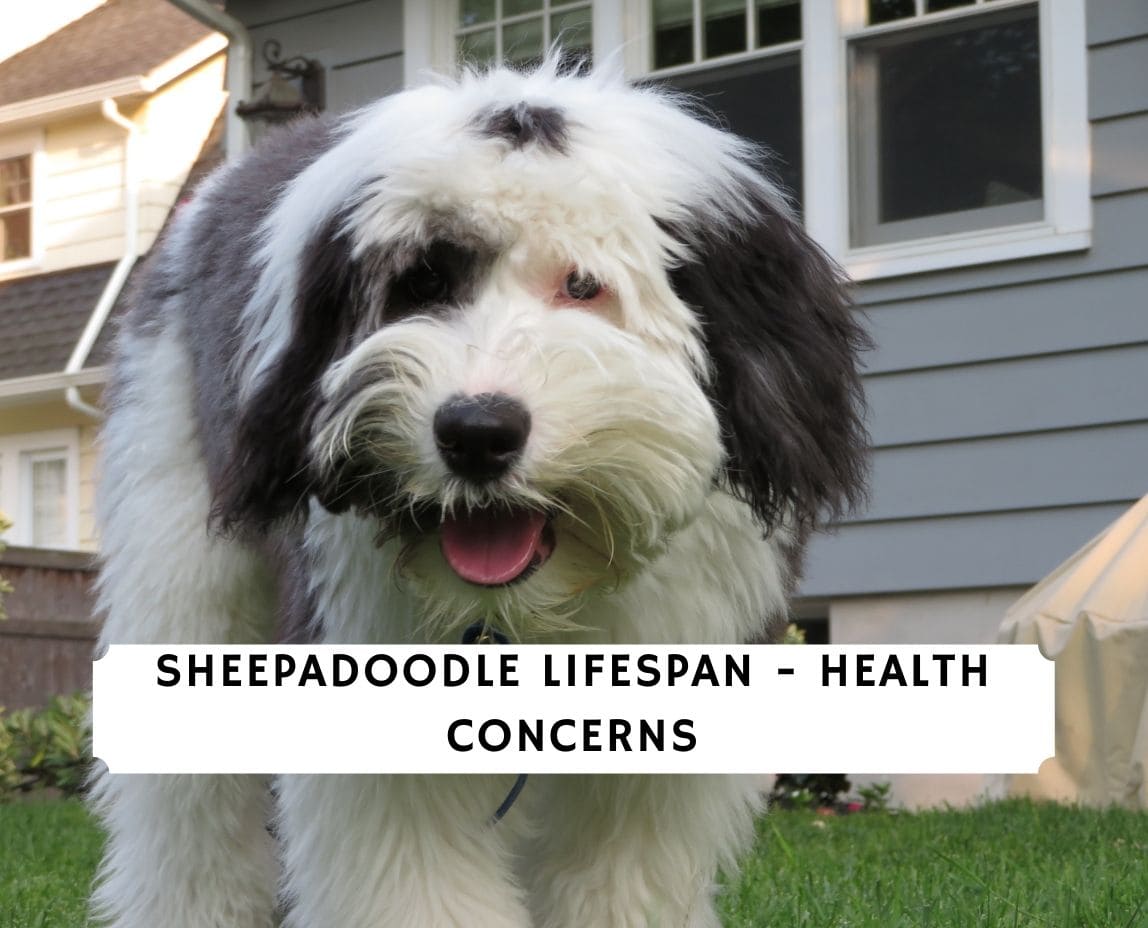 Are you a Sheepadoodle owner wondering how much time you have with your precious dog? Well, a Sheepadoodle's lifespan can range from 12 to 15 years of age.
However, many different factors affect how long your dog will live. Below you will find everything you need to know about Sheepadoodle lifespans and how you can help your dog live its longest and healthiest life.
Before scrolling down this guide "Sheepadoodle Lifespan – Health Concerns," check out these related topics: Factors That Affect a Giant Dog Breed's Lifespan and Police Dog Lifespan – How Long Do They Serve and Live?
About The Sheepadoodle
Before we look at the specifics of Sheepadoodle lifespans, it is essential to understand what precisely a Sheepadoodle is. Sheepadoodles are a relatively new designer dog breed resulting from breeding an Old English Sheepdog with a Poodle.
These dogs have all the best characteristics of both parent dogs resulting in beautiful, intelligent, and friendly puppies. Designer dogs are not just bred for excellent temperaments and looks, however.
These mixed breed dogs are often bred to avoid the health complications prevalent in purebred dogs. Therefore, Sheepadoodles have less chance of inheriting the health problems of purebred Poodles and purebred Sheepdogs. This contributes to their long lifespan.
Related: Types of Sheepadoodle Colors and Sheepadoodle vs Labradoodle.
Sheepadoodle Lifespan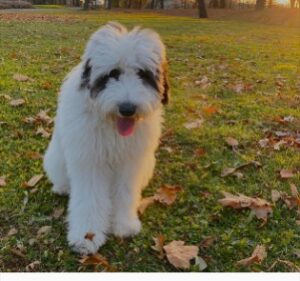 Sheepadoodles have an average lifespan of 12 to 15 years of age. This is pretty long for dogs, especially large ones. This means you will have many years' worth of quality time to spend with your Sheepadoodle.
However, essential factors must be considered when discussing a dog's lifespan. A dog with plenty of exercises and a healthy diet is more likely to maintain its health, leading to a longer lifespan. Additionally, smaller dogs tend to live longer, so the smaller your Sheepadoodle is, the longer it is likely to live.
In addition to their parent genetics, this healthy lifestyle leads Sheepadoodles to live long lives. Old English Sheepdogs have an average lifespan of 10-12 years. On the other hand, Poodles often live anywhere from 10 to 18 years. Therefore, Sheepadoodles are an in-between of their two parents.
Dog Lifespan and Size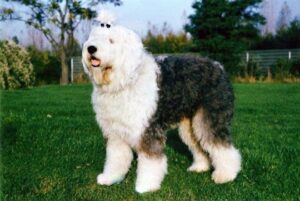 The size of a dog can affect how long it lives. Generally speaking, large dogs tend to have shorter lifespans than small dogs. This is because big dogs age faster, causing them to develop age-related complications earlier than smaller dogs, who take more time to age.
This rapid aging exposes your dog to age-related health conditions earlier in life. Sheepadoodles are a unique dog breed because they come in various sizes. Therefore, some Sheepadoodles are more similar to medium-sized dogs, while others are larger.
This results in some Sheepadoodles living longer than others. But why is there such a range in sizes among these dogs? Well, Sheepadoodles are Poodle mixes. Therefore, their size changes depending on the size of the Poodle parent.
Poodles come in four sizes: toy, miniature, medium, and standard. On the other hand, Old English Sheepdogs have a relatively universal size. Therefore, the size of the Poodle parent is what makes the difference in the size of the Sheepadoodle puppies.
Toy Poodles are the smallest of the different sizes. They are less likely to be used when breeding Sheepadoodles because of the size disparity with Sheepdogs. However, these would be the dogs with the most extended lifespan because they are the smallest.
Next, Miniature Poodles are slightly larger than Toy Poodles, resulting in larger Sheepadoodles. Medium Poodles are the next size up. These dogs, mixed with Old English Sheepdogs, result in large Sheepadoodles.
Therefore, these dogs live slightly shorter lives than the Sheepadoodles with Toy and Miniature genes. Lastly, we have the Sheepadoodles who are a result of mixing a Standard Poodle with a Sheepdog. These are the largest of the Sheepadoodles. Therefore, their lifespan is the shortest.
Remember, however, that Sheepadoodles' lifespan is typically 12-15 years. So, even though some Sheepadoodles are large, they will still fall into this range. Additionally, you will notice the difference between these ages is not a lot. This is because Sheepadoodles are generally healthy dogs.
Related: Best Sheepadoodle Generations.
Sheepadoodle Health Problems
As we briefly mentioned, hybrid dogs are typically very healthy. This is because people breed these dogs to reduce the chances of developing illnesses associated with purebred dogs. However, this does not mean that Sheepadoodles are safe from all health problems.
Below, we will look at some of these dogs' most common health problems found. However, it is essential to remember that some Sheepadoodles can live their lives without being affected by these problems, while others may suffer from multiple.
Sheepadoodles that suffer from one or more of these problems are at risk of living a shorter life. Therefore, it is essential to be aware of these issues so you can get your dog medical assistance when it is needed.
1. Addison's Disease
This condition results in an abnormal production of hormones by the adrenal gland. Specifically, dogs with Addison's Disease do not create enough cortisol and aldosterone, resulting in weakness, decreased appetite, and depression.
If you think your dog has Addison's Disease visit a professional veterinarian immediately. Your vet can treat any symptoms your dog is experiencing and provide medication to manage this condition.
2. Cushing's Disease
Cushing's Disease is another condition resulting from an abnormality with the adrenal gland. However, Cushing's Disease is the opposite of Addison's Disease because it results in an increased production of cortisol.
Common symptoms of Cushing's Disease are hair loss, increased appetite, and excessive panting. This condition is most commonly treated with medication, so visit a vet if you suspect your dog may have this disease.
Related: What Do I Do If My Dog's Stomach is Turning Purple?
3. Hip Dysplasia
Hip Dysplasia is a prevalent health problem among large dogs. This condition involves the improper alignment of the ball and socket of a dog's hip joint. This results in grinding and eventual deterioration of the joint. Hip dysplasia can be extremely painful and even result in loss of mobility.
The early stages of hip dysplasia can be more manageable by reducing weight-bearing activities and avoiding hard surfaces. As this condition worsens, your dog may become eligible for surgery.
4. Gastric Torsion (Bloat)
Gastric Torsion, also known as bloat, occurs when a dog's stomach fills with gas and becomes twisted. In some cases, bloat can be life-threatening. Certain dog breeds are more prone to bloat than others, resulting from increased air consumption because of anxiety or diet.
Symptoms of bloat include restlessness, excessive drooling or frothing around the mouth, and swollen abdomen. If you think your dog is suffering from bloat, contact a vet immediately, as this can be a life-threatening occurrence.
Sheepadoodle Food Recommendations: Best Dog Foods For Joint Health.
How to Keep Your Sheepadoodle Healthy
Although you cannot completely control your dog's lifespan, you can help it live its healthiest life. A healthy diet and ample exercise can ensure that your dog lives a long and healthy life. However, breeding also plays a significant role in this.
If you want to adopt a Sheepadoodle puppy, you should get it from a reputable breeder. Reputable breeders monitor the health of parent dogs to ensure they are not passing hereditary illnesses to their puppies.
Additionally, reputable breeders create the safest environments for your newborn puppy, which reduces the stress put on their bodies. Reputable breeders also get their puppies a complete veterinary check-up before sending them to their forever homes.
These practices minimize health complications from an early age. In addition to breeding, your Sheepadoodle has better chances of living a long and healthy life if fed a healthy diet.
These dogs need a well-rounded kibble that will provide them with essential nutrients. Additionally, because they are prone to bloat, Sheepadoodles require multiple smaller meals a day instead of one large meal.
These smaller meals help prevent bloat from occurring. Lastly, you should provide your Sheepadoodle with lots of exercises. Sheepadoodles are large dogs with high energy. These dogs are also prone to obesity in old age, so daily activity is crucial for keeping their weight down.
These activities also help provide your Sheepadoodle with mental stimulation, reducing boredom because of their extremely high intelligence. Therefore, exercise will keep your Sheepadoodle feeling its best physically and mentally.
Conclusion For "Sheepadoodle Lifespan – Health Concerns"
The average lifespan for a Sheepadoodle is 12 to 15 years. This number is affected by several factors such as your Sheepadoodle's size, health conditions it may have, the diet it follows, and its daily exercise.
If you're ready to bring home a Sheepadoodle after reading "Sheepadoodle Lifespan – Health Concerns," check out these breeder recommendations:
You can learn about a Sheepadoodle's life expectancy by watching "What Is The Lifespan of a Sheepadoodle" down below: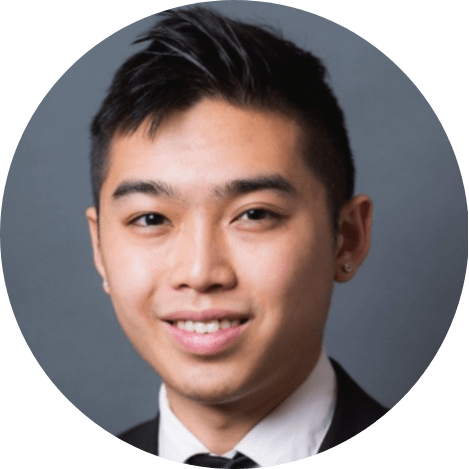 Andy is a full-time animal rescuer and owner of a toy doodle. When he's not saving dogs, Andy is one of our core writers and editors. He has been writing about dogs for over a decade. Andy joined our team because he believes that words are powerful tools that can change a dog's life for the better.
Why Trust We Love Doodles?
At We Love Doodles, we're a team of writers, veterinarians, and puppy trainers that love dogs. Our team of qualified experts researches and provides reliable information on a wide range of dog topics. Our reviews are based on customer feedback, hands-on testing, and in-depth analysis. We are fully transparent and honest to our community of dog owners and future owners.