If you're searching for the best Sheepadoodle breeders in Colorado, then you've come to the right place. Sheepadoodles are friendly, loyal, and energetic. They're sure to keep you and your family entertained for hours. Sheepadoodle puppies are a mix between a Poodle and an Old English sheepdog. The latter dog is probably where they get their energy from and can pick up commands quite well.
This makes them a breeze to train. While all families will appreciate this aspect of their lovable personality, this makes them well suited to families with children, seniors, and those adopting a doggie for the first time. Another trait that sets Sheepadoodles apart from other dogs is they are gentle and quiet and are unlikely to bark at other dogs or people.
Despite their quiet, mild natures, they make excellent watchdogs, on the alert for any strangers that approach your home. You're sure to know if a burglar is approaching your house when you have a Sheepadoodle around. Unlike other breeds of dogs, these puppies are the least susceptible to health issues and can live for around 12 to 15 years.
They can grow quite large, but some puppies grow to be more moderately sized. These puppies have a lot of energy and need an outlet for that energy. They need something to play with or another activity to keep them busy. Exercise is not only a good outlet for their energy but is a big part of their development and helps them grow in confidence.
Sheepadoodle puppies are pretty intuitive when it comes to their owners. They're able to pick up on your mood and are quick to initiate cuddles whether you're down or not. So if you live in the Colorado area, where can you adopt one of these adorable puppies? Below you'll find five of the best Sheepadoodle breeders in Colorado.
Before scrolling down this list of Sheepadoodle breeders in Colorado, check out these recommendations: Best Aussiedoodle Breeders in Colorado and Best Cockapoo Breeders in Colorado.
Learn About The Sheepadoodle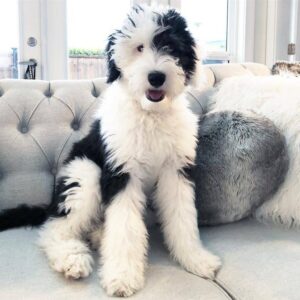 Although we've sung their praises above, the lovability of the Sheepadoodle puppy really cannot be understated. So let's take a closer look at why these puppies would make a great addition to your family.
Family-Friendly: Sheepadoodle puppies are a great addition to families with children. They're energetic and playful, so you will have no problem keeping up with your kids. However, they do need to be handled carefully. But once you have taught your children how to do this, they're sure to have a best friend they'll cherish forever.
Companionable: Not only are Sheepadoodle great additions to families but for singletons too. These affectionate, cuddly dogs love their owners and are a fantastic addition to any home.
Intelligence: If their energy is inherited from the Old English Sheepdog breed, their intelligence is thanks to the Poodle breed. Poodles are ranked number two for their intelligence level, and much like Old English Sheepdogs respond well to training. Regular exercise not only improves their physical health but their mental health too. Make sure to buy them some interactive toys to stimulate their brains.
Hypoallergenic: Sheepadoodles are low shedding dogs which means they don't produce much hair or dander. Some owners have claimed their Sheepadoodles do not shed at all, and while we can't vouch for that, it's certainly true that those with allergies can breathe easy around Sheepadoodles. Now let's take a look at where you can find some cute Sheepadoodle puppies in Colorado.
Related: Types of Sheepadoodle Coat Colors and Sheepadoodle vs. Labradoodle.
Sheepadoodle Puppies For Sale in Colorado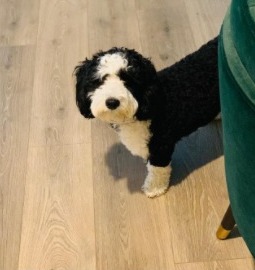 Our team at WeLoveDoodles compiled this guide of the best Sheepadoodle breeders in Colorado. If you're planning to purchase your Sheepadoodle from an unknown breeder, remember to do your research to avoid possible puppy mills. With that in mind, let's proceed to your list of Sheepadoodle breeders in Colorado.
Sheepadoodle Product Recommendations: Best Dog Grooming Scissors and Best Smelling Dog Shampoos.
1. PuppySpot's Sheepadoodles For Colorado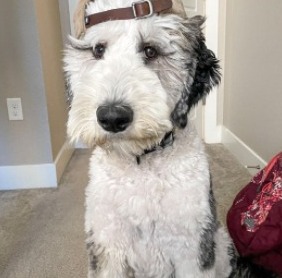 Since you're searching for the best Sheepadoodle breeders in Colorado, we highly recommend checking out PuppySpot. PuppySpot is an enormous dog marketplace that has Sheepadoodle puppies for sale and a variety of other breeds. Sheepadoodle breeders on this platform are all strictly screened, which means you'll be dealing with mainly reputable breeders.
Once you find a suitable Sheepadoodle puppy, your dog will be safely shipped to your home in Colorado. Before continuing on your search for Sheepadoodle breeders in Colorado, we highly recommend checking out PuppySpot.
PuppySpot Details
2. Once Upon A Doodle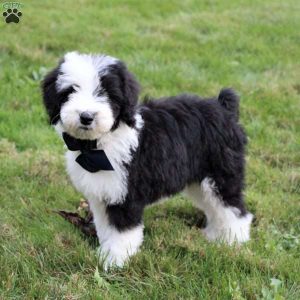 One of the most popular breeders in the USA, Once Upon A Doodle, was founded in 2013 and breeds high-quality mini and micro Sheepadoodle puppies. With Once Upon A Doodle, you can be assured you're bringing home a properly socialized puppy and can count on lifetime support from these fantastic breeders.
All of their puppies are up to date on vaccines and deworming and regularly go through health check-ups with a licensed vet. Once Upon A Doodle also offers a two-year genetic health guarantee on all their puppies. To adopt, all you need to do is fill out an application form, and then they will help you select a Sheepadoodle puppy that they believe will fit in with your home.
They'll start to pick out puppies when they're around six weeks old. Then they will send the Sheepadoodle puppy to your home with a gift package containing all you will need to welcome your new puppies, such as a leash, collar, chews, toys, and treats. You'll also receive a Once Upon a Doodle bag.
Once Upon A Doodle Details
3. The Doodle Farm
The Doodle Farm is another fantastic breeder that originally bred Labradoodles before expanding to Bernedoodles, Saint Berdoodles, and Sheepadoodles. The Doodle Farm is also a family-run breeder that matches you with the perfect puppy. To apply for a puppy, all you need to do is visit their website and select your favorite.
However, be aware that their puppies come on a first-come, first-serve basis, and you will be informed of the status of your process once you've paid your deposit. In addition, the Doodle Farm tests all their parent dogs for conditions like hip dysplasia by licensed veterinarians. Once the test is complete, you will be sent the Orthopedic Foundation for Animals results to confirm the parents are healthy.
They also test the parents' eyes for Progressive Retinal Atrophy and report to CERF to ensure the dogs are healthy. They also organize visitor days where you can go and meet some of their beautiful puppies and connect with them in person.
The Doodle Farm Details
4. Southern Sheepadoodles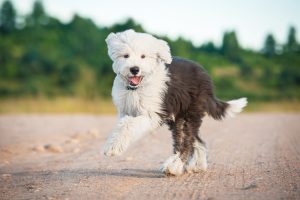 For the greatest variety of Sheepadoodle puppies in Colorado, look no further than Southern Sheepadoodles. As well as breeding high-quality puppies, they offer a two-year health guarantee. After contacting Southern Sheepadoodles, the team will contact you to see if their puppies are a good match for you and your family.
Then you place a deposit and follow the progress of your puppy on their website. You will also receive pictures updating you of your puppy's progress and video calls your puppy. You can meet your puppy when it's six weeks old, and Southern Sheepadoodles will be in touch to arrange a time and date to do this. Then two weeks later, you will be able to take your puppy home.
You have to wait so long to take your puppy home because Southern Sheepadoodles take the health of their puppies very seriously. But there are still plenty of opportunities to connect with your puppy via photos and video calls. In addition, Southern Sheepadoodles make sure all of their puppies have plenty of socialization if you're itching to get your puppy home and socialized.
Southern Sheepadoodles Details
5. Denver Doodles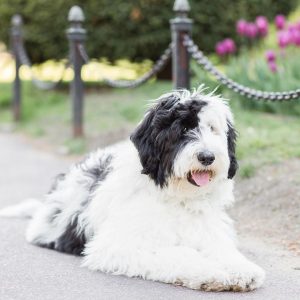 Denver Doodles is a breeder known for its fantastic health testing practices on its puppies in Denver, Colorado. They are a family-run breeder, and they raise their puppies at home. Much like Southern Sheepadoodles, you can select your puppy via photos and videos found on their website.
You can also watch videos of the litter and watch as the puppies grow and develop. Their Sheepadoodle puppies receive vaccinations for Distemper, Hepatitis, Parainfluenza, and Parvovirus. They are also dewormed every two weeks until they are eight weeks old and undergo multiple tests carried out by a professional veterinarian.
When your puppy is ready to come home, it will be delivered to your home with a puppy pack. This pack contains their health records, a list of vaccinations received, their deworming schedule, and a sample food bag. You'll also receive a security toy with the scent of the puppy's parents or siblings so that they can adjust to their new surroundings.
Denver Doodles Details
6. Open Range Pups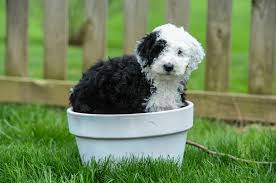 Last on the list of the best Sheepadoodle breeders in Colorado is "Open Range Pups." Open Range Pups breed their Sheepadoodles in the Tennessee hills before sending them to Colorado to be trained. They originally only bred mini Sheepadoodles but then later began breeding micro Sheepadoodles and English Cream Goldendoodles.
To ensure the puppies are as healthy, well-behaved, and happy as possible, they raise them using Early Neurological Stimulation (ENS). They are also a family-run breeder that socializes the puppies with other dogs and their children. They also organize puppy parties where the puppies can play with other dogs to encourage socialization.
They use Embark Vet to test their puppies for over 160 genetic disorders, and the puppies are wormed at 2, 4, 6, and 8 weeks. They receive their first shot at eight weeks old. Unlike other breeders, they do not accept applications. Instead, you speak to the owner directly via text or phone call, and they will inform you of the adoption process.
Open Range Pups Details
Conclusion For The "Best Sheepadoodle Breeders in Colorado"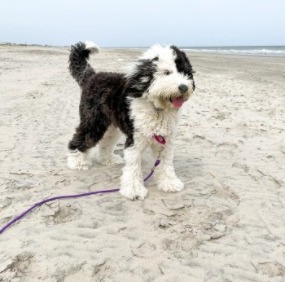 If you're looking to adopt a Sheepadoodle puppy in the Colorado area, we always recommend going through a breeder rather than a pet store. As you can see from our selections, breeders know their puppies inside out and can tell you information regarding their parents, as well as their favorite foods, activities, and temperaments.
We hope these breeders have given you a place to start your latest adventure with a brand new Sheepadoodle puppy.
For more Sheepadoodle guides from WeLoveDoodles, make sure to check out:
Learn more about the Sheepadoodle by watching "Sheepadoodle – Mix of Poodle and Old English Sheepdog" down below: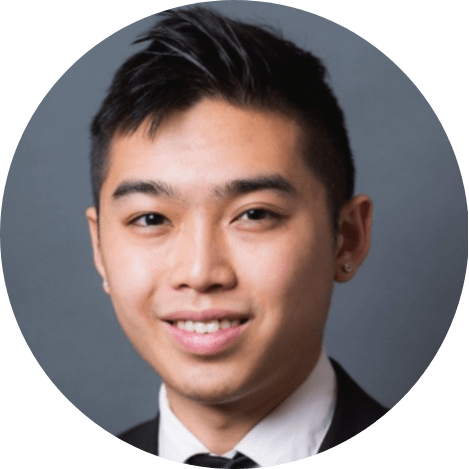 Andy is a full-time animal rescuer and owner of a toy doodle. When he's not saving dogs, Andy is one of our core writers and editors. He has been writing about dogs for over a decade. Andy joined our team because he believes that words are powerful tools that can change a dog's life for the better.
Why Trust We Love Doodles?
At We Love Doodles, we're a team of writers, veterinarians, and puppy trainers that love dogs. Our team of qualified experts researches and provides reliable information on a wide range of dog topics. Our reviews are based on customer feedback, hands-on testing, and in-depth analysis. We are fully transparent and honest to our community of dog owners and future owners.