Are you wondering where you can find mini sheepadoodles for sale? Wherever you are in the United States, there's likely to be a mini sheepadoodle puppy near you, just waiting to jump into your arms! However, it's critical that you find a responsible, reputable breeder who will care for your puppy in his or her earliest weeks.
The mini sheepadoodle is a designer breed that's produced when an Old English sheepdog and a miniature or toy poodle are bred. The dogs are known to be family-friendly and intelligent, and their smaller size makes them ideal for most lifestyles. Best of all, they're largely hypoallergenic!
Does this sound like a breed you're interested in? Great! Let's explore the best breeders and kennels that sell mini sheepadoodle puppies!
Before scrolling down this list of Mini Sheepadoodles for sale, we think you might be interested in these suggestions: Best Mini Goldendoodle Breeders in the United States and Best Double Doodle Breeders in the United States.
Mini Sheepadoodle Breed Information
As you know, the mini sheepadoodle is a cross-bred pup, which means you're going to get the best of both parents! The highly intelligent poodle is easy to train, and the gentle Old English sheepdog is fantastic with kids and incredibly loyal. These dogs make terrific support animals, so if you're in need of a service dog, let your breeder know.
Mini sheepadoodles typically weigh between 15 and 40 pounds when fully grown, and their lifespan is around 15 years. Their hypoallergenic hair is wavy or curly, and can come in a variety of colors. For instance, your mini sheepadoodle could be white, black, grey, or a combination of any of these! As an added bonus, these pups don't drool and they don't heavily shed, so your house will stay clean.
Mini Sheepadoodle-Related Guides: Best Sheepadoodle Generations and All About Sheepadoodle Sizes.
Mini Sheepadoodles for Sale in the United States
It can be challenging to find healthy mini sheepadoodles for sale, and the search can be time-consuming. For that reason, we've put together a list of a few of the best breeders in the country. Start with these breeders, then use your knowledge to expand your search if necessary.
1. Grace Wood Farm Sheepadoodles
You'll find plenty of sweet little mini sheepadoodles for sale at Grace Wood Farm Sheepadoodles. This family-run farm is operated by husband and wife team Luke and Brittney Stasi, and they're located in Fort Mill, South Carolina. If you're within driving distance, you're welcome to pick up your dog in person. Otherwise, dogs can be shipped to anywhere in the United States.
Grace Wood Farm has a limited number of dams and sires that are utilized for breeding. For that reason, you may find yourself on a waiting list for a dog. We assure you – these cuties are worth the wait! Let the team know you're interested in adopting a dog as soon as possible. You'll be contacted when new litters are born.
Dogs are raised in a family environment and your puppy will be well-accustomed to the sights and sounds of everyday life. The vacuum, television, or blow dryer won't bother your dog, and puppies are likely to use their manners when the doorbell rings! Because they're raised with such loving, one-on-one care, your dog's transition into your family will be a smooth one.
Grace Wood Farm dogs, whether parents or puppies, are treated to high-quality and nutritious food. Nutrition starts with mom, and even before pregnancy she is fed the best of the best. Of course, your little mini sheepadoodle is fed well, too! As you know, your puppy will nurse for the majority of the time spent with the breeder. But the transition to "real" food begins at the kennel, and your puppy will be given high quality food just like mama!
Grace Wood Farm utilizes a program called Early Neurological Stimulation (ENS). This is a series of individual puppy exercises created by the US military. Studies have found that following this program results in calm, healthy, and trainable adult dogs with wonderful temperaments. After completion of this program, your puppy will be "enrolled" in the kennel's own, industry-leading curriculum for socialization and stimulation.
Before going home, each puppy is thoroughly vet-checked. All dogs are vaccinated according to age, and your puppy will be current on wormers, too. Vet records will be furnished on Gotcha Day.
We love Grace Wood Farm's customer service. Whether you're a brand-new dog owner or just have questions about your specific puppy, the team is always available to answer any questions you may have. Be sure you check out the educational resources available on this mini sheepadoodle breeder's website.
Grace Wood Farm Details
Location: Fort Mill, South Carolina
Nationwide delivery available
Phone Number: 803-888-4149
Email: gracewoodfarmsc@gmail.com
Website: Grace Wood Farm Sheepadoodles
PuppySpot is comprised of a national network of responsible and reputable breeders. Kennels that list on PuppySpot are AKC- and USDA-supported, so you can be certain that your dog was born and raised in a clean and healthy environment. PuppySpot will screen each breeder before dogs can be posted – if any breeder is found to be in non-compliance with strict standards, they are removed from the platform.
Using PuppySpot to find mini sheepadoodle puppies for sale is an incredible time saver. You can search dogs by breed, then filter your results to match your preferences. Each dog you're shown will come with a ten-year health guarantee, and your pup will have been given a clean bill of health from a vet before joining your family!
PuppySpot breeders are located all over the United States! Thankfully, the platform has fantastic delivery options. You can opt to have your pup shipped to an airport near you if you're located a distance from the breeder. Contact the company to receive a quote for transport.
Update: PuppySpot gave our blog readers an exclusive discount on a new Sheepadoodle puppy. Don't forget to use the code WLD100 at check out for $100 off your purchase.
PuppySpot Sheepadoodle Details
Address: PuppySpot can service the entire U.S. They are located in Florida.
Phone Number: (877) 501-1569
Website: PuppySpot Sheepadoodles
Premier Pups is arguably one of the best sources for mini sheepadoodle puppies for sale on the web. The team focuses on smaller dog breeds, both purebred and designer. From the right partnerships with responsible breeders to help at every step of your puppy's upbringing, Premier Pups sets the bar. Additionally, this breeder also offers a 10-year health warranty on all their mini sheepadoodle puppies for sale – you'll find this to be one of the lengthiest in the industry.
Premier Pups representatives make routine visits to their partner breeders to nurture and create healthy relationships with them. This allows them to ensure that their nationwide network of breeders is producing puppies that are safe, healthy, and ready to join a new family like yours. USDA regulations are in place, and Premier Pups has a zero-tolerance policy for puppy mills.
On-site vets at Premier Pups ensure that puppies are wormed, immunized, and in good health. You may be required to spay or neuter your dog when she or he is old enough – reach out to the breeder for more information on how altering your dog impacts your health guarantee.
Update: Premier Pups is offering our readers a generous $250 discount off any dog – use code WLD250 when you check out.
Premier Pups Details
4. Crockett Doodles
The next resource for finding mini sheepadoodle puppies for sale is Crockett Doodles. This is a South Carolina-based company that ships and delivers dogs to just about anywhere in the country. Dogs are bred to uniform standards, and the network of breeders they use to produce pups are responsible, caring, and professional.
Crockett Doodles started small, but today has hundreds of puppies listed for sale! Don't worry – they're not a puppy mill. The do, however, have a lengthy waiting list so you'll want to fill out your application as soon as you're able. Only if you're selected to adopt will you be contacted, and it may take months, so be patient!
Crockett Doodles are priced between $1,000 and $5,000, with mini sheepadoodle puppies costing $700 more than their standard-sized counterparts. Transportation for your puppy, of course, will cost extra.
Crockett Doodles Details
5. Feathers and Fleece Farm
Feathers and Fleece Farm employs a successful breeding program which starts with mom and ends with the care of your new mini sheepadoodle. Parents are health-tested and are only allowed to produce litters when they're shown to be free from genetic and other disorders. They're temperament-tested, too, and your puppy is more likely to be happy, friendly, and easy to train.
Mini sheepadoodles are priced around $1,900 but this may vary based on your dog's characteristics. Regardless of the price of your dog, he or she will have been vaccinated, wormed, and health-checked. Dew claws are removed and tails are docked. Your dog will be socialized with other animals and with humans, and your puppy will likely have been exposed to everyday stimuli like the sound of a television or a blow dryer.
Once you've decided to adopt from Feathers and Fleece, put your name on the wait list! You may find yourself waiting as long as six to nine months due to the popularity of this breeder. Please contact the breeder about the availability of transportation for your dog if you're not located conveniently to Lexington, Indiana.
Feathers and Fleece Farm Details
6. Poodles 2 Doodles
You'll find plenty of adorable mini sheepadoodles for sale at Poodles 2 Doodles! This Iowa breeder specializes in bernedoodles, cavapoos, goldendoodles, and sheepadoodles, and both standard and mini versions of the designer breeds are available.
Your mini sheepadoodle will come with a two-year health guarantee and will be given a clean bill of health from a vet before being sent home with a new family. But Poodles 2 Doodles doesn't just focus on your puppy's physical health – social and emotional health are important, too! For this reason, your little one will receive plenty of individual handling, playtime, and learning in his weeks with Poodles 2 Doodles mini sheepadoodle breeders.
Puppy pricing ranges from $3,500 to $4,000 and is set based on coloration and size. The wait list isn't generally very long, but we do encourage you to put your name on the list as soon as you're able.
Poodles 2 Doodles Details
7. Once Upon a Doodle
Once Upon A Doodle is a small-scale breeder based in Colorado, but the team offers hand delivery and air travel if their location isn't convenient for you. The kennel was founded in 2013, but despite its tenure, the wait list is relatively short.
Because this breeder is a small one, you can be certain that your pup will receive plenty of loving care in its earliest weeks. Socialization is key to your pup's temperament, and lifetime support is available to buyers like you. As you'd expect from a responsible mini sheepadoodle breeder, your puppy will be vet-checked and cleared of genetic and other conditions before joining a fur-ever family.
Mini sheepadoodles for sale are priced between $3,000 and $3,500, which is about average. The waitlist is fairly short, but you'll need to participate in an application and interview process before you're permitted to place a deposit on a puppy.
Once Upon a Doodle Details
8. Prairie Hill Puppies
Prairie Hill Puppies offers mini sheepadoodles for sale for around $2,800. The kennel is located in Kansas, and they offer to ship to airports across the United States. There's only a very short wait list for a dog, so be sure you check the website to view the adorable, available litters and reserve yours today!
To purchase a puppy from this breeder, you'll need to fill out an application. Prairie Hill wants to know more about your experience with dogs, your physical home, your family members and ages, and your lifestyle. Upon approval, you'll be invited to place a deposit on your dog which will hold your place on the pick list until it's time to choose your companion. Deposits are first-come, first-served.
If you're new to mini sheepadoodles, take a look at the resources available on the Prairie Hill website. The team has compiled information about raising and caring for your puppy. In addition, they welcome questions from their adoptive families even many years down the road! Prairie Hill Puppies wants their fur babies to be healthy and happy, and will support you in any way they're able to ensure this.
Prairie Hill Puppies Details
9. CuddleDoo's
CuddleDoo's is located in Sugarcreek, Ohio. They're a larger breeder relative to others, but they aren't a puppy mill by any stretch! Three families work as a team to produce healthy, happy dogs that are in need of a loving home like yours. Parent dogs are genetically tested, and pups are well cared for by carefully chosen veterinarians.
CuddleDoo's puppies are socialized and will be ready for their new home as soon as they are old enough to be separated from mama. If you live nowhere near Ohio, that's okay! CuddleDoo's will ship your dog to you safely.
Mini sheepadoodles for sale cost between $3,500 and $4,500 based on color and other characteristics. Available pups are listed on the team's website, and they are reserved quickly! Find the dog you want to bring home, then contact the breeder to begin the application process right away.
CuddleDoos Details
10. My Doodle Companion
Last on the list of breeders with mini sheepadoodles for sale in the United States is My Doodle Companion. My Doodle Companion is a multi-family business that specializes in raising designer sheepadoodles of all sizes. Puppies are raised right alongside the families' children, and your dog is all but guaranteed to be an instant member of your family.
As is the case with most breeders, My Doodle Companion has an application process in place. Once you're approved to adopt, you'll be asked to place a $205 deposit to reserve your dog. This deposit will be applied toward the total purchase price of your dog, which is set based on the dog's size and coloration.
Puppies are vet-checked, vaccinated, wormed, and microchipped for safety before going home with you. Speak with the breeder directly about whether you'll be required to spay or neuter your dog; in most cases, dogs are sold as companions only.
My Doodle Companion Details
Conclusion For The Best Mini Sheepadoodles For Sale
Searching for the correct dog breeder can be time-consuming and exhausting. This article gives a list and description of breeders throughout the United States. The Mini Sheepadoodle is a beautiful and loyal companion and perfect for family households or single companions. Many factors go into properly raising a puppy. This includes but is not limited to social stimulation, mental stimulation, health care, proper nutrition, etc. Do your research in finding the best breeder and puppy for you.
Frequently Asked Questions
How much is a mini Sheepadoodle?
This wonderful breed has a price tag ranging from $2500 upwards to a few thousand dollars depending on the breeder and bloodline. You may be paying more if you're looking for rare colors, like the chocolate coat or red and white. The most popular coat colors are black with white or black and are usually the least expensive.
Is a male or female Sheepadoodle better?
Both are equally wonderful in terms of temperament and looks. Sheepadoodles love each family; both are great with other pets and children. Males and females are also not aggressive, and both enjoy cuddles on the couch and going for a trip to the local Starbucks. That said, females are more guard dog oriented and may be more energetic than male Sheepadoodles because they're more job oriented.
Why you should not get a Sheepadoodle?
The only reason not to get a Sheepadoodle is if you're not home a lot and won't have the time to spend with this exceptional breed. The Sheepadoodle needs lots of attention, love, and alone time with family members, and if you're out of your home working, you won't be able to give your dog what he needs.
During puppyhood, they also need obedience training classes and plenty of socialization and mental stimulation. Later on, you should think about introducing your Sheepadoodle to dog sports and allow for plenty of trips to the dog beach and park to give your dog a well-balanced and happy life.
Which is better, Sheepadoodle vs. Bernedoodle?
If you're active and are looking for a breed that can participate in dog sports, then the Sheepadoodle is more likely to engage in more active dog sports.
The Bernedoodle is laid back and enjoys a relaxed walk, while the Sheepadoodle does well with longer, more active walks and needs to expend more energy. The Bernedoodle is not a high-energy dog breed and an hour of daily exercise with playtime a few times a day works well. This can vary significantly depending on your dog.
Remember that regular exercise and fun hikes allow for mental stimulation and help alleviate depression and boredom. Depending on your dog's health and age, all Bernedoodles need exercise and plenty of fun activities. If you're out at work a lot, consider doggie daycares for socialization and fun times for your Bernedoodle. Regardless of which doodle you parent; each day must be fun! Allow for your doodle to have many canine friends and a best friend that he sees a few times a week. Organize birthday parties for your pup and pet vacays together!
If you've never had a sheepadoodle – or a dog – before, you likely have questions. Here are a few of the most common questions we're asked by our readers. Take a glance through before you place a deposit on your mini sheepadoodle puppy!
How big do mini sheepadoodles get?
As you've probably guessed, the size of your mini sheepadoodle will have a lot to do with the size of the parents. Many times, you'll be permitted to "meet" the parents, whether in person or via video call.
With that said, your little sheepadoodle will typically grow to be around 30 to 35 pounds, and your dog is likely to stand around 20 inches tall. Generally speaking, males are slightly larger than females.
Are mini sheepadoodles prone to health issues?
The short answer is no, the breed isn't as likely to develop diabetes, blindness, or other ailments as other breeds are. But it's important to bring your dog to the vet for regular checkups. Hip problems and other joint issues are the most likely to occur in your dog, so early detection is key to keeping your dog healthy.
Do mini sheepadoodles make good pets?
Yes! The loyal and loving nature of the Old English sheepdog, when combined with the intelligence and sense of humor of the poodle, makes this designer breed a fantastic companion. Your mini sheepadoodle is likely to get along just fine with your kids and your existing pets. Seniors love the intuitive nature of these dogs, too – they're gentle and loving and make lovely companions.
To learn more about the Sheepadoodle, check out guides posted by our team at WeLoveDoodles:
You can learn more about this Doodle breed by watching "Sheepadoodle Pros and Cons" from Dog Solid down below:
https://www.youtube.com/watch?v=S5akBeXP0y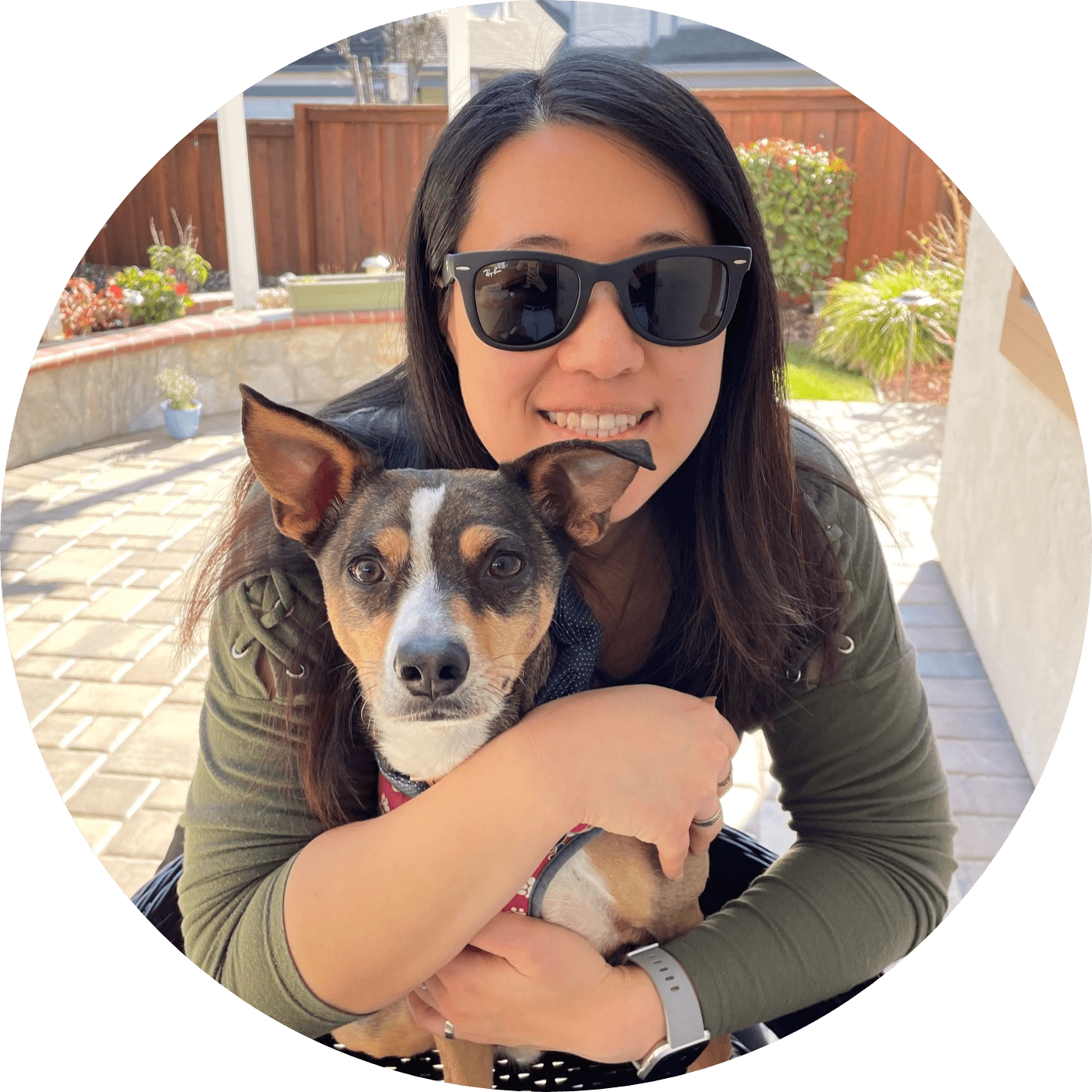 Dr. Sabrina Kong graduated from the Royal Veterinary College in England in 2016 and has been working at a small animal clinic in Northern California since then. She grew up in the Bay Area and got her bachelor's degree from Cal Poly San Luis Obispo. She also became a Certified Canine Rehabilitation Practitioner through a program at the University of Tennessee.
When she isn't in the clinic taking care of her four-legged patients, she enjoys traveling and trying new foods with her friends and her three-legged dog, Apollo. She adopted Apollo from her clinic when he was a puppy with numerous health issues. Dr. Kong truly cares about taking care of animals.