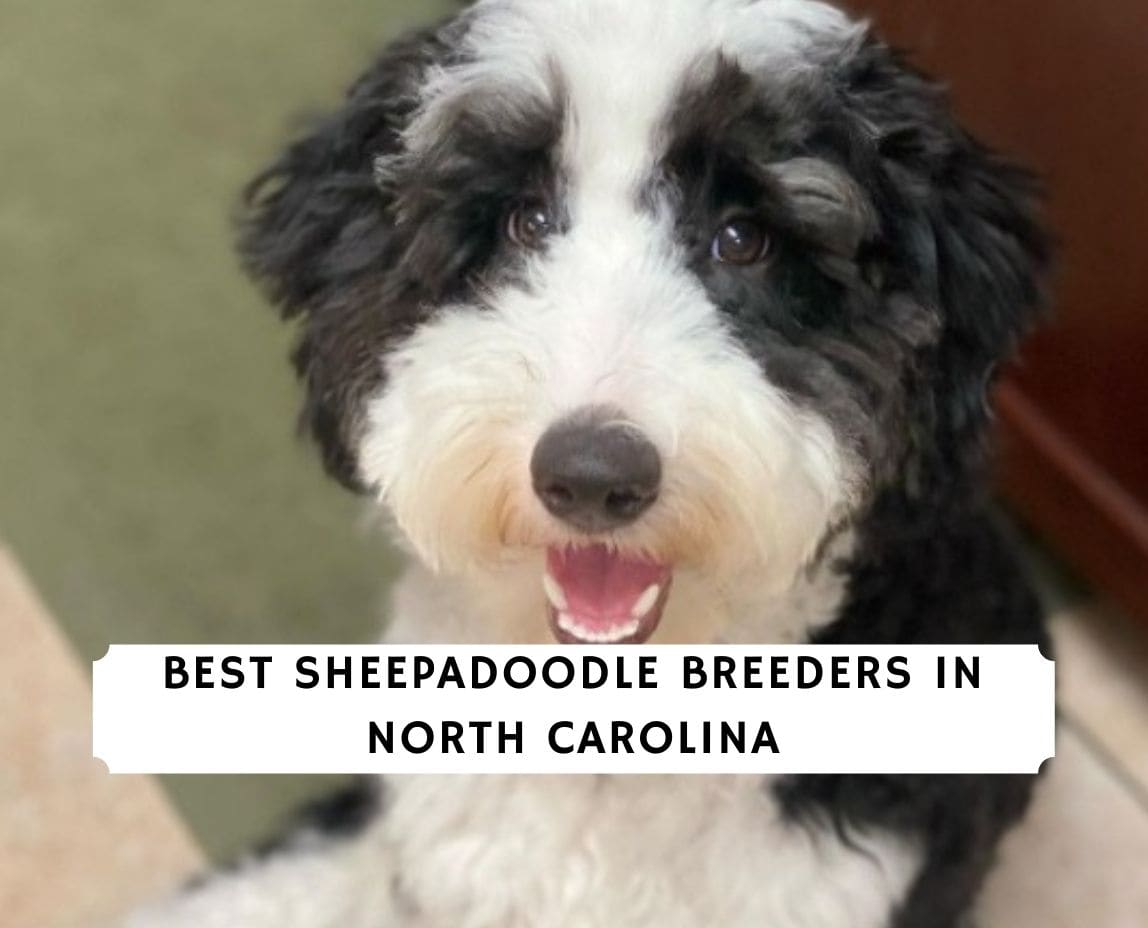 If you're searching for Sheepadoodle breeders in North Carolina, then here's what you need to know about the breed. Sheepadoodles are a hybrid cross of an Old English Sheepdog and a Poodle. This is a medium-large dog breed known for its brilliant personality and cuddly teddy bear appearance.
Sheepadoodles are notoriously friendly and affectionate dogs, making them the ideal companion for any household – from families with young children to an elderly couple. Not only are Sheepadoodles intelligent and friendly, but they are exceptionally gentle and quiet around children.
Their love for humans makes them an unbelievably loyal and obedient breed. Still, it also means that they are prone to developing separation anxiety if left for long periods.
This breed is only suitable for a family that can commit to giving them all the deserved attention. Despite the fact a Sheepadoodle is a hybrid, it can be costly. This is because of the popularity of the breed, which can make finding a breeder who has good availability quite tricky.
Before crolling down this list of Sheepadoodle breeders in North Carolina, check out these recommendations: Best Shiba Breeders in North Carolina and Best Pitbull Breeders in North Carolina.
Sheepadoodle Puppies For Sale in North Carolina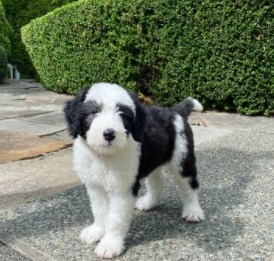 The best option would be to adopt a Sheepadoodle at a rescue shelter, but as the breed is in such high demand, you'd have to be lucky to adopt one. Therefore, you must find a reputable breeder who genuinely cares about the health and quality of their animals.
To help you on your search for the perfect companion, here are the top Sheepadoodle breeders in North Carolina. We have also included some tips on spotting a backyard breeder so you know who to avoid.
Sheepadoodle Product Recommendations: Best Dog Detangler Sprays and Best Dog Grooming Scissors.
1. PuppySpot's Sheepadoodles for North Carolina
Since you're searching for Sheepadoodle breeders in North Carolina, we highly recommend checking out PuppySpot because of how efficient it is. PuppySpot isn't a single breeder but a marketplace filled with Sheepadoodle breeders and breeders of all sorts across the United States. Sheepadoodle puppies listed on the platform are all available and ready to live with you.
There's no need to apply for any waiting list. Once you find and purchase a Sheepadoodle, your puppy will be safely shipped to you in North Carolina. Before continuing on your search for a Sheepadoodle breeder, check out PuppySpot with the link provided below.
PuppySpot Details
2. Luvmydoodle
Luvmydoodle is a small in-home breeder breeds Sheepadoodles, Mini Sheepadoodles, Bernedoodles, Mini Bernedoodles, and Moyen Poodles. Raising the puppies in a home environment is the best upbringing for them because it gets them used to human contact and socialization with other dogs from a young age.
This can only help to soften the transaction to their forever home. The mums in Luvmydoodle are treated with the love and care you would want for any dog. They live low-stress lives filled with cuddles, lots of exercises, and a good amount of socialization.
Plus, the mums are never bred multiple times in their lives, as the owners understand this would affect all dogs' health. Each parent comes with health certificates for potential owners to view their medical histories.
The genetics testing highlights diseases such as degenerative myelopathy and Von Willebrand's disease. In addition, Luvmydoodle only allows people to buy their puppies for the sole purpose of pets, not for breeding purposes.
Each potential buyer must fill out an application, and once successful, they will be put on the waiting list for the next litter. As Sheepadoodles are such a popular breed, it's worth keeping an eye on their website frequently to see when the following applications are available for a future litter.
Luvmydoodle Details
3. Fleury Farm Doodles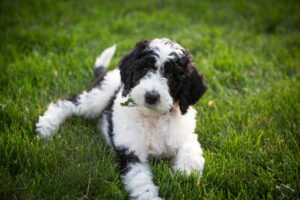 Fleury Farm Doodles is a family-run business that breeds Sheepadoodles, Whoodles, Bernedoodles, and Mini Sheepadoodles. Each parent retires after a few years of breeding to prevent them from developing nasty health conditions, which is why the litter this breeder breeds changes every few years.
They will only ever breed from their dogs to prevent pre-existing health conditions from carrying down the next litter, and they will only sell their puppies to applicants who want them as pets, not for breeding purposes.
The application process is fairly lengthy, but this is pure because they only want to sell their puppies to the right forever homes. A $300 deposit is required, and the puppies are reserved on a first-come, first-served basis.
Fleury Farm Doodles only breeds litters of each breed once a year, so it's essential to keep an eye on the applications and waiting lists in time for the next litter. Each puppy comes vaccinated and with a medical history and a medical history of the parents.
Every parent undergoes an extensive medical examination that looks out for diseases that Sheepadoodles are predisposed to, such as degenerative myelopathy and progressive retinal atrophy.
Fleury Farm Doodles
4. Oak Hill Farm Doodles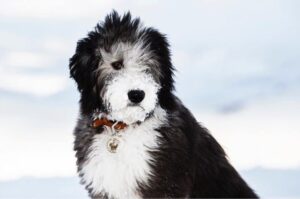 Oak Hill Farm Doodles is a family-owned and operated business specializing in breeding happy and healthy Irish Doodles and Sheepadoodles. Each parent they own is their pet first and foremost, and the only reason they breed is to create healthy litters from genuine people.
Every parent undergoes extensive medical checks to ensure they don't have any predisposed diseases, which is why they only breed from the same line of dogs. Each puppy also comes with a medical history, a free month of medical insurance, and they are also microchipped and vaccinated.
Due to the popularity of their litters, Oak Hill Farm's puppies tend to go rather quickly, so it's important to get your name on waiting lists immediately. In addition, every puppy they sell is only sold as pets, not for breeding purposes, which is why the application process is quite extensive.
This application also requires a $300 non-refundable deposit to ensure potential buyers are committed to owning a puppy. In addition, the puppies come with a temperament guarantee as they begin to socialize with humans and other dogs from a young age, ensuring a friendly and affectionate puppy.
Oak Hill Farm Doodles
5. Dogwood Doodlebugs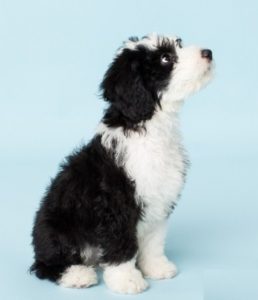 Dogwood Doodlebugs is run and owned by Christin, an absolute animal lover who is passionate about breeding healthy, happy, high-quality doodle breeds. She specializes in breeding Goldendoodles, Bernedoodles, and of course, Sheepadoodles.
Each dog parent undergoes extensive medical testing, including DNA sent to genetic labs to check for over 150 potential diseases. Coat traits are also tested to see how much the puppies are likely to shed (because, after all, no two hybrid dogs will look the same).
No other breeds of dogs are introduced into their breeding schemes to ensure the purest and healthiest litters. When purchasing a puppy, applicants are required to pay a $400 deposit. In addition, puppies are sold only as pets, as Dogwood Doodlebugs doesn't offer breeding rights.
The applications are understandably extensive to ensure that Christin's dogs go to the perfect forever home. However, Christin also has strict guidelines about allowing visitors to meet the puppies for the dogs' safety. As backyard breeders are likely to allow any stranger to see their dogs, this is a clear sign of how seriously Dogwood Doodlebugs take their breeding practices.
Dogwood Doodlebugs Details
6. Shawn Doodled – Doodle Me 1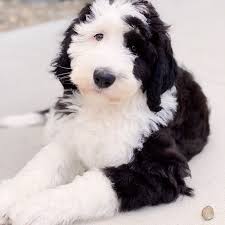 Last on the list of the best Sheepadoodle breeders in North Carolina is "Doodle Me 1." Doodle Me 1 is a family-run breeding business run by passionate Doodle lover Shawn Doodled. Their litters range from Sheepadoodles, Labradoodles, and Aussiedoodles, depending on who is in heat.
Each litter is exposed to socialization from an early age amongst healthy dogs and humans, which is why there are strict visiting rules to prevent them from developing stress or another illness.
The health and quality of Shawn's dogs are his top priority before selling them. Therefore, the breeding times for Sheepadoodles are often a couple of years in between each litter for this breed, and this is purely to allow time to breed from other dogs.
In general, Shawn Doodled only produces 1-2 liters per year to prevent unhealthy overbreeding. This means that if you're looking for a Sheepadoodle, make sure to stay in contact with Shawn to know when he is planning his next litter.
Doodle Me 1 Details
Conclusion For The "Best Sheepadoodle Breeders in North Carolina"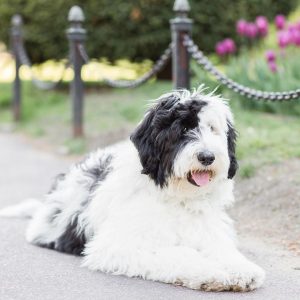 It's easier to distinguish the backyard breeders from reputable breeders than you might think. Here are the clear warning signs of a backyard breeder. Backyard breeders are a bit complex with their visiting times. Some will allow strangers to see the dogs every hour of every day, while others might refuse to allow visitors at all.
This is because they either don't care about the dogs' stress levels (from too much socialization and the risk of spreading illnesses due to their weakened immune systems) or because they don't want to show visitors the truth of their nasty scheme.
If you manage to visit a breeder and you notice there are many puppies, this is a huge indicator of a backyard breeder. Dogs are subjected to overbreeding, which can lead to many health problems for both the dog and its litter.
Backyard breeders will allow you to buy your chosen puppy earlier than eight weeks. Reputable breeders, however, will refuse this, as the first eight weeks of a puppy's life are essential for the puppy to obtain its necessary nutrients from its mother's milk.
Backyard breeders will sell puppies earlier because they will want to breed from the mother as quickly as possible again, which is highly unethical and dangerous.

For more articles with mentions of the Sheepadoodle, you can check out:
Learn more about the Sheepadoodle by watching "Sheepadoodle – Must Know Information and Facts of This Smart Dog Breed" down below: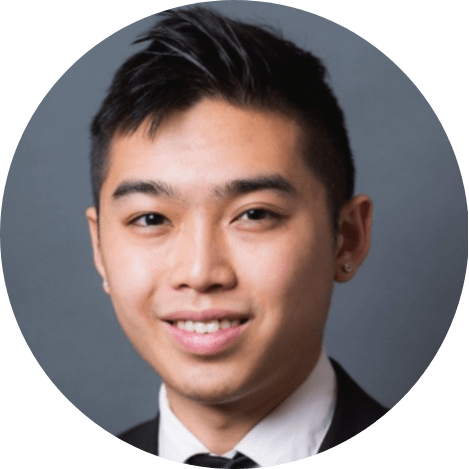 Andy is a full-time animal rescuer and owner of a toy doodle. When he's not saving dogs, Andy is one of our core writers and editors. He has been writing about dogs for over a decade. Andy joined our team because he believes that words are powerful tools that can change a dog's life for the better.
Why Trust We Love Doodles?
At We Love Doodles, we're a team of writers, veterinarians, and puppy trainers that love dogs. Our team of qualified experts researches and provides reliable information on a wide range of dog topics. Our reviews are based on customer feedback, hands-on testing, and in-depth analysis. We are fully transparent and honest to our community of dog owners and future owners.