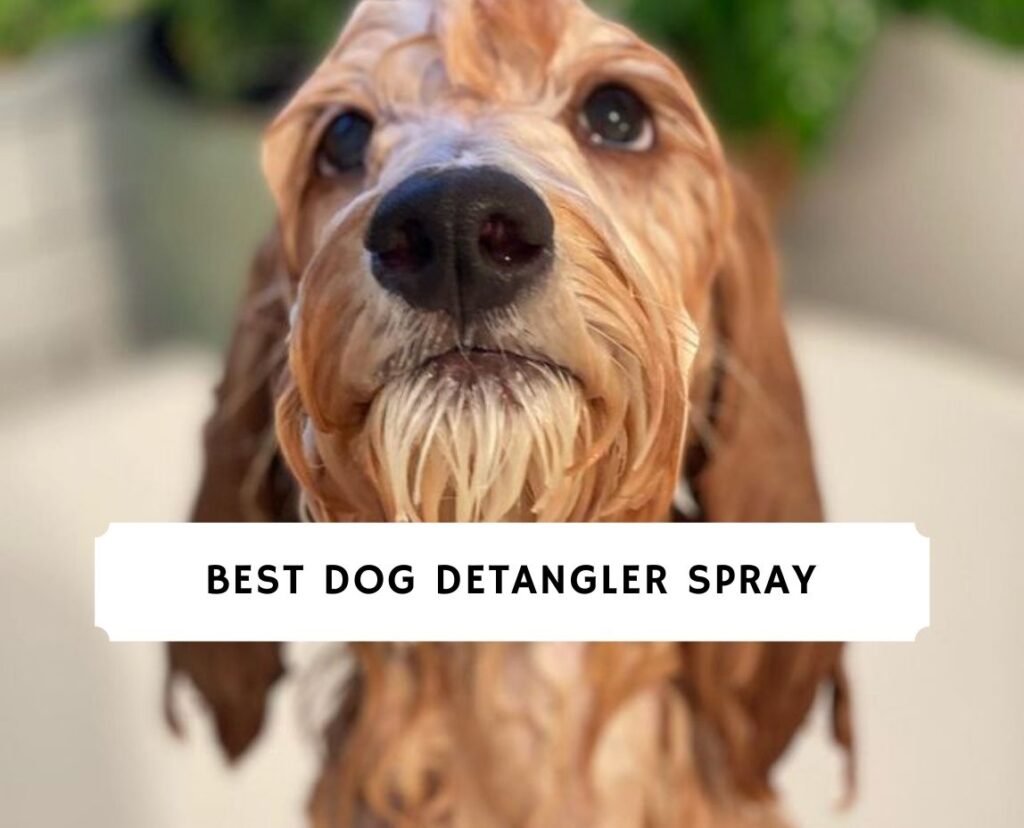 The pet care market is home to various pet products designed for multiple dog grooming tasks, including shampoos, conditioners, and dog detangler sprays. For many pet parents dealing with matted coats is a hot topic. 
With today's specially designed coat sprays, brushes, and dematting tools, removing tangles can be done safely and without pain to your dog. The trick is using the right detangler, which allows for gentler grooming. Manageable mats can usually be detangled because they're not tightly adhered to the skin.
With matting, you can come across both felted and matted areas on your dog. In some cases, with an effective dog detangling spray, it may be possible to brush out a dog's matted ears, tail and face, but if the body coat is felted, it needs to be shaved. 
If you remove a reasonable amount of matting it is not painful when done carefully. Still, sometimes it's necessary to clip the entire body if there is terrible matting along the legs and body. 
Dogs with skin and coat issues will also need far more frequent bathing. But if you're having problems grooming or bathing your dog because of matting, we're here to help you with our top dog detangling sprays.
Bathing & Brushing Technique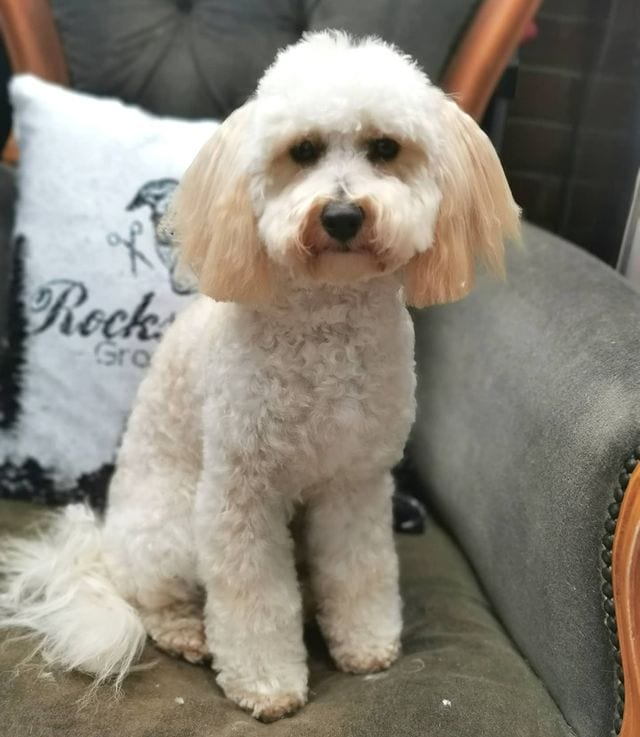 There are so many apparent benefits to bathing and brushing and your dog regularly.
It's beneficial because it helps remove built-up dirt, dead skin cells, and even allergens like pollen from a dog's skin and coat. Grooming your doggo also intensifies the bond between a dog and a pet parent.
The ASPCA  recommends bathing your pup at least once every three months, but many breeds require far more regular bathing, most especially sporting and outdoor dogs. 
Dirty, matted coats should not be brushed because it's damaging to the skin. The dirt and oils in the coat are beneficial in holding the coat together. Water can help allow for the easier removal of matting. 
You should always wash your pet first using pet shampoos and conditioners designed to smoothen the coat's individual hair shafts and make brushing easier. You can also use a high-velocity dryer to lift matted areas up and away from your dog's skin while drying. 
Use of Detangling Sprays
There are some excellent detangling sprays on the market today. These can be applied to a damp coat but tend to work best on a dry coat. Slicker brushes also help with the dematting process. For heavier and thicker knots, you should use dematting tools and a really good wide-toothed poodle comb.
Start by using it from the outside while the mats are wet so that you can split them and reduce the size of the tangles. This allows for a quicker way to deal with matting. You can cut through the tangles from the root to the tip by creating sections or even cutting the hair shorter with scissors before brushing. This reduces tension on the skin with heavy matting.
To decide on which dog detangler will do the best job, you need to keep a few things in mind. Ideally, a dog detangler should do the job as advertised and detangle your dog's fur. Some dog detanglers will even offer extra nourishment to the coat and skin. 
The best dog detangler sprays help to soften knots and mats, making them easier to untangle. They also nourish your dog's skin and coat with some working as leave in- conditioners.
As grooming styles change, brands are developing products to enable groomers and consumers to keep up with the current trends. On-the-go sprays and shampoos are in great demand.
Dog detangler sprays reduce tangling during grooming. You spray it onto your dog's coat to help prevent mats and knots. Dog detanglers are not meant to replace daily grooming but help to reduce the chances of heavy matting.
On-the-go sprays and detangling sprays make life a whole lot easier. So if you don't have much time and want to deliver a spa experience for your pup, try pampering him with dog-detangling sprays featuring naturally derived ingredients that exclude parabens, sulfates, and phthalates. 
But with so many dog detangler sprays on the market, it's sometimes hard to choose, especially if you have a long-haired dog breed. In our best dog detangler guide, we're going to show you what to look for in a dog detangler.
Here's the takeaway on the best detangling sprays for 2021. In a rush? Here are the top picks?
Product
Best Overall
We Love Doodles Dog Detangler Spray
Runner-Up
All Natural Apple Detangling Spray
Most Affordable
Burt's Bees Detangler Spray
Image
The We Love Doodles dog detangler spray is one of the best dog detanglers on the market that was just released in 2022. It's made in the United States of America and tested in some of the best facilities.  The leave-in conditioner contains certified organic ingredients and comes in a large 16-ounce bottle.
All you have to do is spray the detangling spray on your dog and use a slicker brush or pin brush. This dog detangler spray will help remove all mats, knots, and tangles. Additionally, it will also prevent future mats from forming on your dog.
There are no parabens, no sulfates, no dyes, and no harsh chemicals that will hurt or dry out your dog's coat. It also comes with a great lavender smell that will leave your dog smelling great for days. There is also a 100% satisfaction guarantee so you have nothing to worry about when purchasing this product.
Features
Made in the USA with certified organic ingredients
Double the size of most bottles at 16oz
All you have to do is spray and brush
Great smell and prevents future tangles
Burt's Bees products are cruelty-free and formulated without colorants, sulfates, and added fragrances. This product is suitable for all dogs, and it's pH balanced, especially for dogs and puppies. For the price, this is one of the best dog hair detangler sprays on the market today.
Features
Affordable for multi-pet homes

Dog coat detangler reduces stress during dog grooming by minimizing pulling of fur in matted areas

All-natural ingredients crafted with lemon oil to reduce buildup and linseed oil to coat the fur

Cruelty-free product

 Made in the US
Vet's Best is an effective plant-based product line that, for over 30 years, has provided the pet community with terrific pet products. Founded in 1982 by a veterinarian who wanted an alternative to harsh chemicals, Vet's Best features veterinarian-approved, plant-based pet products. We like this product because it also produces moisturizing relief for dry and itchy coats and can be used daily. It's one of the best dog conditioner detanglers. Here's the takeaway. 
Features
A veterinarian formulated blend of natural ingredients

Crafted with sage, aloe, and cucumber

Priced well for multi-pet homes

It contains vitamin B-5 & skin conditioners

Made in the US

Alcohol-free
John Paul is the co-founder of Paul Mitchell, one of the best brands in hair care. The oatmeal conditioning spray soothes, conditions, and moisturizes dry coats without any harsh chemicals. This is also another cruelty-free product that has not been tested on animals. This is a concentrated formula that requires less product than competitive brands. It's priced well and features over 3,600 positive reviews. This is a great dog hair detangler for nonshedding dogs.

Features
Cruelty-free with no animal ingredients

Made in the US

Natural ingredients

Priced well for multi-pet households

All-natural botanical extracts as the PAUL MITCHELL brand for humans

Sustainable packaging

Some of the proceeds from each sale is donated to animal and wildlife organizations

Crafted with 13 conditioning agents and soothes and calms itchy skin.
Bodhi Dog is a small, family-owned Texas business that uses plant-based, natural ingredients in all its pet products. Bodhi Dog was founded in 2016, and they feature grooming, dental, diapers, wraps, colognes, skin lotions for pets, and more. We like this dog detangling spray because it can be used on all pets, even long-haired rabbits and cats, and it's a cruelty-free product. It also acts as a great puppy detangler spray.
Features
Botanical blend that's cruelty-free

Hypoallergenic formula

100% detergent free & 100% alcohol free 

No harmful chemicals, parabens, or SLS, making it perfect for animals with allergies and sensitivities

Eco-friendly recyclable packaging
Nootie is sold in over 3,000 vet clinics and 5,000 plus pet stores and features over 1,800 positive ratings. The Nootie daily spritz pet conditioning spray can be used between bathing and after to condition the coat and moisturize skin. This is a hypoallergenic daily detangling spritz that's offered in 8 scents. Here's the takeaway:
Features
Environmentally safe

Made in the US

Lightly scented with coconut lime verbena

Priced affordably

Not tested on animals

Suitable for dogs and cats

Trusted by veterinarians
Barklogic is a non-toxic and eco-friendly pet product grooming line for all dog breeds and sizes. The products are plant and mineral-derived, cruelty-free, and vegan. The new BarkLogic lines (22 new sulfate-free plant and mineral-based pet products) are infused with natural essential oils known to provide skin and coat benefits for dogs and aromatherapeutic benefits for both dogs and pets parents alike. This is a fantastic leave-in detangler for dogs if they constantly get mats and tangles in their coats.
Features
Non-toxic, safe, and effective

Natural ingredients

Hypoallergenic

Crafted with lavender, aloe, and flaxseed

Plant-based & eco-friendly

Made in the US
What is a Dog Detangling Spray?
Detangling sprays help to soften and moisturize your dog's coat so that it's easier to groom. Detangling sprays are beneficial in removing mats and preventing breakage while doing so. 
If your doggo regularly has matting, a dog detangling spray will help untangle these. Detangling pet sprays also help condition and protect your dog's coat and lessen static. 
What to Consider When Buying a Detangler Spray?
Ingredients
Suppose you are environmentally conscious and also want to refrain from using harsh chemicals on your doggo. In this case, you should opt for natural, plant-based ingredients that are paraben-free and don't feature any harsh chemicals. Some dog detanglers will feature nourishing moisturizers and can be used as a conditioner and detangler, so you don't have to buy both.
Finish
After easing the mats, the perfect finish is a soft and smooth coat with no oily residue and no tangles or mats. Many dog detanglers are not meant to be rinsed, so having a good finish is vital so that your pup doesn't look oily. Always check your dog detangler to see if it should be rinsed off or not.
Cost
Most dog detangler sprays are affordable for multi-pet homes. A great detangler will make it easy to comb your dog's hair, reducing grooming times and the hassle of sealing with mats, most especially during the summer if your dog enjoys the pool.
Scent
We love our furbaby's without the doggo scent. A pleasantly scented dog detangler's smell should not be overwhelming. Opt for a neutral or light pet-friendly scent.
Detangling Tips
Humid areas can cause curly dog coats, so opt for one that is geared towards frizz.

Dogs with long hair may get more coat matting if not groomed every day with the right grooming tools.

Matted hair in dogs tends to occur in areas like the collar, abdomen, and lower legs.

Bad matting can attract dirt and debris to become embedded in the skin and coat.

All mats and tangles are painful to dogs. 

Never use human hair products on your dogs because dogs need a different formulation.
Grooming
No matter what breed you adopt or purchase, short-haired or long-haired, small or large, regular grooming is essential for his well-being. This will also keep his coat looking healthy and glossy.
Brushing: The purpose of brushing your dog is to remove loose hair and keep long-haired untangled. There are numerous dog grooming brushes available for grooming your dog. Bristle or pin brushes, metal wire brushes, and combs are the most commonly used for all kinds of dog hair, from short to long and silky. 
You can even use all three on your dog to remove tangles, mats, and loose hair using gentle and firm strokes. If your doggo has a long, dense coat, it may be prone to matting easily. The key here is to brush out as much as possible of the mat and then trim any remaining tangles. This is controversial since some groomers believe you should wash the coat first before dealing with matting.
Bathing: Bathing helps to keep your dog healthy and clean. It reduces "doggy smells." The key to bathing your dog is to choose a gentle dog shampoo instead of a soap-based product. This will be gentler on your dog's skin and will also prevent flea, tick, and heartworm meds from being washed off. 
How to Wash Your Dog?
Before you get your dog into a bath, make sure to keep his collar on if it's difficult to bathe. Collars help you to hold on to your dog and make bathing easier. Then you can gently pour warm water (on the cooler side) over him and gentle shampoo him with a small amount of shampoo that's easily washed off. 
If you apply too much shampoo, it will take longer to remove, and in cases with dogs that don't enjoy bathing; you should try to avoid stressing your dog out until he's fully relaxed during bath time. Remember to use treats for rewarding your pup while bathing.
When you're finished, rinse and dry your dog's head first before you dry the rest of his body. You should always use clean, warm water to rinse his body. Dry your dog with a towel, and if you're bathing during the winters, keep your dog indoors. If bathing is done correctly during puppyhood; it will become an enjoyable experience for both you and your dog.
Purchasing an Effective Detangler
To avoid the mistake of purchasing a detangler that does not work, we recommend you look at our product reviews. You will be able to know how effective the dog detangler is from the reviews of other users. However, even if you find a few negative reviews, this does not mean the detangler is terrible.
Frequently Asked Questions
Is detangler spray good for dogs?
A detangler will allow for gentler grooming and help with tangles and matting. We Love Doodles explains, "The best dog detangler sprays help soften knots and mats, making them easier to untangle. Dog detanglers also nourish your dog's skin and coat with some working as leave in- conditioners." Opt for natural detanglers free of harsh chemicals that will help nourish the skin and soften the coat.
Which is the best detangling spray?
The best detangling spray for dogs will feature no colorants, sulfates, and added fragrances. It should also be crafted with natural ingredients that are beneficial for your dog's skin and coat. The best detangling sprays for dogs are the following:
Burts Bees
Vet's Best Moisture Mist Dry Skin Conditioner and Detangler Spray
John Paul Oatmeal Spray
Bodhi Dog All Natural Apple Detangler Spray
Nootie Daily Spritz
Bark Logic Calming Leave-In Conditioner and Detangling Spray
What can I use to detangle my dog's hair?
You can use a dog detangler spray if you want to detangle your dog's hair. Watch the video below for more information on how to detangle your dog.
How do you make a dog detangling spray?
There are numerous benefits to using a homemade detangling spray, although there are many natural ones on the market today. Purchasing an all-natural and chemical-free dog hair detangler saves you time. 
An easy-to-make dog detangler recipe includes:
One cup of water or one one-cup cold rooibos tea
One teaspoon of aloe vera gel.
One teaspoon of organic coconut oil.
Three drops of glycerin.
Aloe Vera is soothing to the skin and coat and will help ease skin irritations. You can also use a cup of cold rooibos tea instead of water. This works well for hot spots.
Is coconut oil good for matted hair?
Coconut oil works well for matted hair because it can help remove mats and tangles in your dog's coat. You should apply coconut oil to the tangle or mat and gently work through with a comb. Coconut oil will help smoothen the coat and make the dematting process easier and less painful for your dog.
How do you detangle severely matted hair?
You should apply a detangler or conditioner to the mat and gently work through with a comb. You can also work through the tangle with your fingers and gently try to work through it with a wide-toothed comb. Always work upwards to untangle the knot.
What do you do for a severely matted dog?
The best thing to do for severe matting is to take your dog to the veterinarian for professional grooming. This prevents you from unnecessarily hurting your dog while grooming. Your dog may have skin irritation or infection from a severely matted coat. 
Every breed has specific grooming requirements according to the coat type. If you don't have time to groom your dog correctly, you should schedule regular appointments with a professional groomer. 
Some breeds may have a coat that is more difficult to upkeep, especially those with long silk coats. Long, fluffy coats with undercoats also need special grooming to prevent matting.
Conclusion for the Best Dog Detangler Sprays
All the dog detangler products in this review work well and have excellent reviews. They also feature ingredients that are natural and healthy for pets. All dog hair can become tangled, but the areas most prone to matting are below the collar, armpits, between toes, behind ears, and beneath the tail in long-haired breeds.
 If you have long-haired breeds like Bearded Collies, Lhasa Apsos, Maltese, and Yorkshire Terriers, or a curly-coated furbaby, like Poodles, Poodle crosses and Bichon Frises, you'll need to pay special attention to daily grooming to avoid matting. It's important for every pet parent with a long-haired dog breed to know how to humanely groom a dog's coat and how to deal with matting if it does happen.
Other articles you would like:

Claudia Bensimoun is a writer who specializes in dog content and veterinary topics! Aside from writing for We Love Doodles, Claudia also writes for other major dog blogs like Fido Friendly, Animal Wellness Magazine, and the United States Dog Agility Association (USDAA). She has a ghostwritten over 50 different dog e-books. Her passions include animal welfare, veterinary research, and wildlife conservation.
Why Trust We Love Doodles?
At We Love Doodles, we're a team of writers, veterinarians, and puppy trainers that love dogs. Our team of qualified experts researches and provides reliable information on a wide range of dog topics. Our reviews are based on customer feedback, hands-on testing, and in-depth analysis. We are fully transparent and honest to our community of dog owners and future owners.