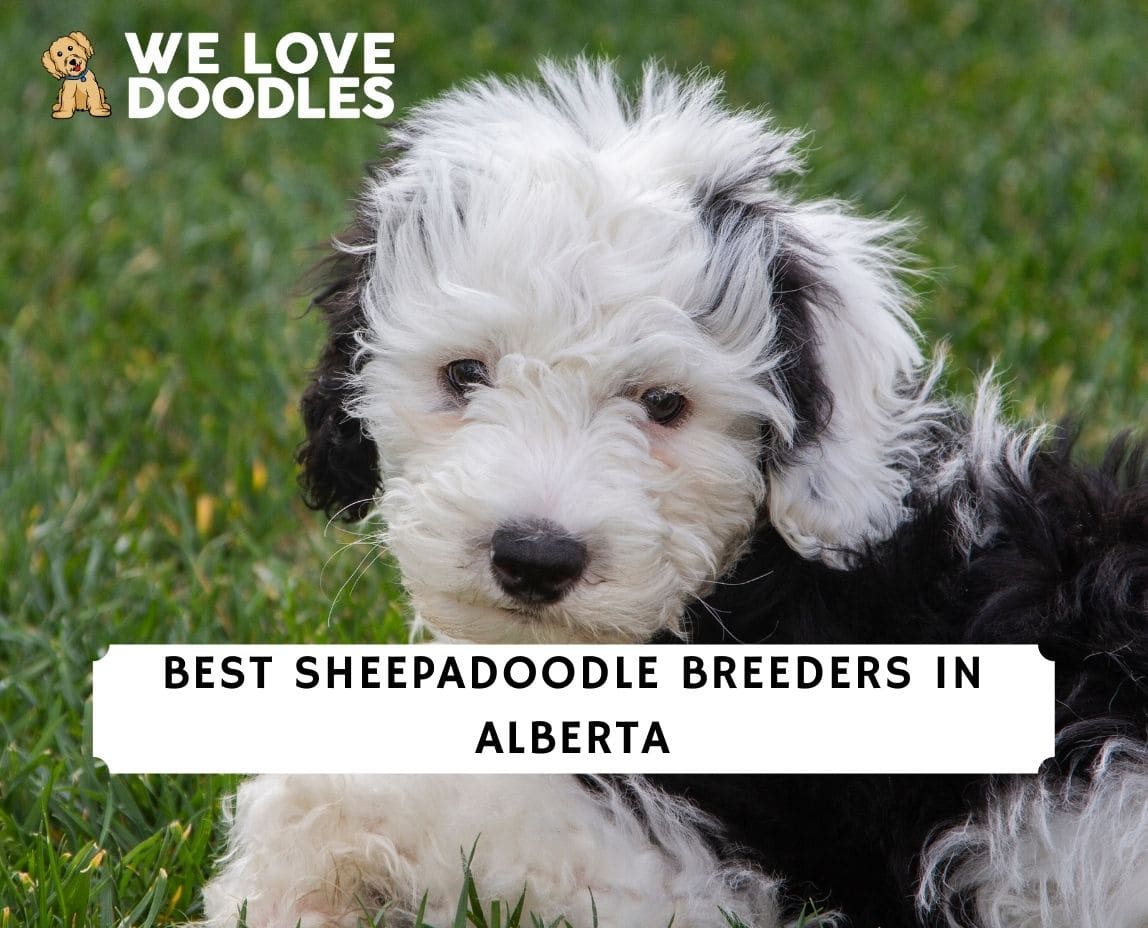 Although Sheepadoodles have gained popularity of late, they remain less popular than their Labradoodle and Bernedoodle cousins. Reliable Sheepadoodle breeders in Alberta are few and far between. Here's what you need to know if you're searching for the best Sheepadoodle breeders in Alberta.
A cross between an English Sheepdog and a Poodle, they have gained popularity for being hypoallergenic dogs with prominent personalities. These dogs have a fluffy teddy bear appearance and a wonderfully loving temperament that people adore very much. They are usually very stable dogs and do not get nervous quickly.
Before scrolling down this list of Sheepadoodle breeders in Alberta, check out these recommendations from our team at We Love Doodles: Best Poodle Breeders in Alberta and Best Cockapoo Breeders in Alberta.
Sheepadoodle Puppies For Sale in Alberta
If you get a Sheepadoodle from some questionable breeder, you will probably have to deal with many physical and behavioral problems. This can take a massive toll on your family financially and emotionally.
Therefore, it is crucial to be sure about the health and quality standards of the breeder before investing in them. We have created a list of the best Sheepadoodle breeders in the state to help you search for the best Sheepadoodles in town.
Sheepadoodle Product Recommendations: Best Dog Football Toy and Best Dog Bells For Potty Training.
1. Cloud 9 Doodles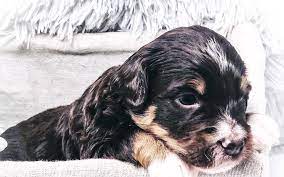 Cloud 9 Doodles is one of the best Sheepadoodle Breeders in Alberta, with over 15 years of dog breeding and training experience. They do not just focus on producing the best companion dogs for families but also provide families with all the support they need in taking care of their pets.
This pet breeder in Alberta does not overbreed the dogs. Moreover, they let the dogs retire early to avoid unnecessary strain on their health. The puppies are subjected to many training programs, including house training, crate training, socialization, and early neurological stimulation.
Every puppy purchased through the Cloud 9 Doodles comes with a 2-year genetic health guarantee and four weeks' worth of free pet insurance through Trupanion. They are also evaluated by a vet, microchipped, and given the first vaccination shots before being listed for adoption.
The waitlist for the Sheepadoodles can be very long. Therefore, to secure your position on the waitlist, you will need to deposit a fee of $300. All the puppies at Cloud 9 Doodles have a fixed price regardless of their breed, color, gender, or generation and are currently $3,800.
They no longer sell puppies at birth and wait until they are seven months old to see how their temperaments develop. After that, their team tries to match families with dogs according to their specific needs and dispositions. They allow pick-up once the puppy turns eight months of age.
Cloud 9 Doodles Contact Details
2. Sheepadoodles by Liz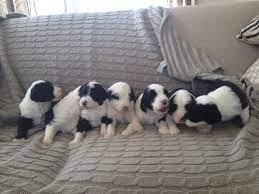 Sheepadoodles by Liz is a family-owned business producing high-quality pets in the Edmonton area in Alberta since 2011. Every puppy is treated with special care and love by each family member.
They invest countless hours together, constantly supervising the dogs and involving them in social activities. This helps them ensure that they grow up to have the best temperament and state of health possible.
All the puppies are subjected to Early Neurological stimulation that helps them adjust to unfamiliar settings more easily. This also reduces their susceptibility to developing stress. To secure your place on the waiting list, the reservation fee is $400.
All the puppies are vaccinated, microchipped, dewormed, checked thoroughly by a veterinary doctor, and screened for common genetic diseases. You can reach out to the team working at Sheepadoodles by Liz through the contact details listed below.
Sheepadoodles by Liz Contact Details
3. Heritage Doodles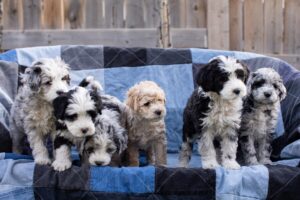 Heritage Doodles is run by a family who believes that dogs must be allowed to live freely instead of being kept in kennels. Therefore, they raise their pups as a member of their own family. The puppies live inside the house and get to interact during daily household activities.
This helps them socialize better and develop more friendly temperaments. You can apply for a puppy online through Heritage Doodles by filling out an online application form.
Once your application is approved, you can reserve your spot on the waiting list for the litter of your choice by depositing a non-refundable amount of $500. To see the dogs available for sale, reach out to them through the information provided below.
Heritage Doodles Contact Details
4. MGF Doodles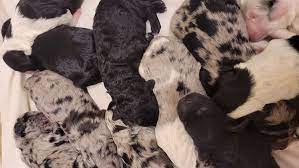 MGF Doodles are a team of Sheepadoodle breeders who began their breeding journey in 2016. They raise puppies within their home, where they interact with kids and other dogs, which helps them get accustomed to common sounds in households.
The puppies get vaccinated, dewormed, and microchipped before they are listed for sale. They also get a complete check-up from a veterinary doctor. Since the dogs are socialized from a young age, they do not have much trouble adjusting to a new family when they get adopted.
Puppies are only sold on non-breeding contracts that require you to get the puppy spayed or neutered when they are of appropriate age. To learn more about their puppy policy, and reserve a puppy for yourself, contact them through the details provided below.
MGF Doodles Contact Details
5. Wild Rose Sheepadoodles
Last on the list of the best Sheepadoodle breeders in Alberta is "Wild Rose Sheepadoodles." Wild Rose Sheepadoodles raise pets as part of their family members while prioritizing their health and temperament.
This is what makes them one of the best Sheepadoodles in Alberta. On purchasing a puppy through this pet breeder in Alberta, you get a 1-year health guarantee against severe or life-threatening hereditary diseases.
In addition to this, you are also given free medical insurance for your puppy for the first 30 days through Trupanion. Every puppy receives their first vaccinations, deworming treatments, and a complete check-up by an expert veterinarian.
You get verified health certificates for all the necessary medical testing that a dog goes through and proof of vaccinations. If the dog is of age, it will be spayed or neutered before being given to you. The dogs are also microchipped in advance.
You can apply online to purchase a puppy through the Wild Rose Sheepadoodles by following the link provided on the website. After your application is approved, a breeder from their team will contact you to discuss your requirements further.
Once you have chosen which litter you will be adopting from, you can deposit $500 to secure your position on the waitlist. To learn more about this breeder, reach out to them through the information mentioned below.
Wild Rose Sheepadoodles Contact Details
How to Choose a Sheepadoodle Breeder in Alberta
It would be best to be very careful while choosing a breeder to buy a Sheepadoolde. Ensure the breeders are registered with the pet health authorities in the area. Ask them to provide you with references from trusted veterinary doctors and previous clients who can vouch for them.
You will also need to use your instinct to check if the breeder is using ethical breeding practices or not. Breeders who are mass-producing dogs will show more interest in generating profit than the health of the pet they are selling.
One way to judge this aspect is by checking if they have any programs to ensure that the dogs receive proper care even after being sold off.
Most ethical breeders will regularly check up on you to see if you treat the dog properly. They will also have you sign a contract restricting you from using the dog for further breeding.
In case of negligence or violation of the contract, they will have strict penalties. Therefore, everyone must conduct proper research on a breeder before trusting them and purchasing a dog from them.
Related: How Much Does a Sheepadoodle Cost and What is a Golden Sheepadoodle?
Conclusion For The "Best Sheepadoodle Breeders in Alberta"
Sheepadoodles have been increasingly becoming popular due to the extent of their loyalty and love. They are hypoallergenic and usually do not have a lot of medical issues. Thus, they also have a long life expectancy.
However, breeding these dogs still takes a lot of expertise and is not something everyone can manage to do. Many people breed Sheepadoodles without having the necessary knowledge to do so correctly. They breed these dogs in excess, knowing that they will help them generate many profits.
As a result of this, many of the puppies produced by these backyard breeders end up suffering a lot of serious medical illnesses. To help you avoid choosing a puppy mill, in this article, we have provided you with the best Sheepadoodles breeders in Alberta, along with their detailed information.
We have verified the authenticity of the breeding practices of these breeders. However, we encourage you to reach out to them and do your research to inspect whether the dog available suits your particular needs or not.
For more guides similar to this list of Sheepadoodle breeders in Alberta, you can check out:
Before you purchase a Sheepadoodle from a breeder in Alberta, you can learn more about the breed by watching "Sheepadoodle Dog Breed Guide" down below: