Those aren't stuffed animals! They're Sheepadoodle puppies, a cross between a Sheepdog and a Poodle, which result in an ultra-sheepy, goofy animal. The popularity of these dogs in the United Kingdom has increased in recent years due to their super-friendly personalities, low-shedding coats, and teddy bear-like appearance.
In general, Sheepadoodles bred from Standard Poodles will weigh 65–85 pounds and stand 18–27 inches high. A Sheepadoodle bred from a mini Poodle and a toy Poodle will be smaller. Typically, miniature Sheepadoodle puppies in the UK will be less than 30 pounds. Let's move on to our list of the 4 best Sheepadoodle breeders in the UK to help you find a dog!
Other articles you would like: Sheepadoodle Lifespans and Goldendoodle Breeders in the UK!
1. Amarante Doodles: Sheepadoodle & St Berdoodle Puppies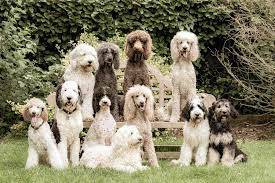 It can be exciting, but also a little scary to bring a new furry family member home. Amarante puppies are truly part of the family and are loving pets that make wonderful companions.
At 2 weeks, they receive a 3-day course of Panacur. At 5.5 weeks, they receive Milpro. Let your veterinarian know when discussing the puppy's future worming program. Socializing and training at Amarante starts with the basics: not getting attention when they jump, clapping their hands and calling 'pup pup pup' when they come to them, and ignoring bad behaviour like play biting.
Amaranta encourages you to enjoy your dog but you can always get in touch if you have any questions, no matter how silly they seem. Their customer service is unsurpassed.
Amarante Doodles Puppy Information:
Size: Standard Sheepadoodle puppies
Amarante Breeder Details:
2. Bouncy-Doodles: Puppies
The puppies of Bouncy-Doodle live and grow up in the family home, around the usual household noises and other pets. They raise them with the help of experienced dog breeders, but they also surround them with love, affection, and cuddles.
They feed their dogs a 100% raw diet, which the breeder wholeheartedly recommends. The puppies are fed raw food from three weeks of age. She is more than happy to answer any questions you may have about raw food or its health benefits.
Bouncy-Doodles wants all of their puppies to leave as well-rounded, confident pups that can move on with their new owners understanding some basic commands. Puppy clicker training begins when the pups are 6 weeks old. It is also important that they understand toilet training before leaving for their forever home. They will also be taken on several car trips, bathed, groomed and in a busy household where there is a lot of noise!
After choosing a name for your puppy, the next step is to call and train them by their name so they become accustomed to it before they go home with you.
Whenever you'd like, you can visit your puppy to begin bonding with him. Additionally, Bouncy-Doodles has a Facebook page where you can see your puppy's development.
It is their goal to ensure you are as confident and happy as possible with the addition of a new puppy to your family; therefore, they are happy to offer guidance and advice as much or as little as you like.
Bouncy-Doodles: Puppies Puppy Information:
Size: Standard Sheepadoodle puppies
Bouncy-Doodles: Puppies Breeder Details:
3. Kellys Kennels
Update (12/12/2022): We can no longer recommend this kennel based on recent news and investigations.
Kelly's Kennels is a UK dog breeding business that is fully licensed and regulated. Breeding puppies for three generations, you can be sure you are getting the benefit of generations of experience.
Modern kennels require veterinary expertise, and they are very fortunate to have a veterinarian on staff. Their veterinarian works closely with their management to ensure that practices and protocols at Kelly's Kennels follow the latest industry standards. Regular visits are made to the Kennels, and their input is highly valued.
Sheepadoodle puppies for sale at this breeder are vet-checked, vaccinated, microchipped, flea & wormed. Their full aftercare service will help your new addition integrate as smoothly as possible into your life. All puppies are provided with a free bag of Royal Canine.
Kellys Kennels Puppy Information:
Size: Standard Sheepadoodle puppies
Kellys Kennels Breeder Details:
Sheepadoodle Puppies in the UK
As Sheepdoodles are typically large dogs, you'll want to make sure your yard is fenced in unless you get a mini or toy mix. You should provide your Sheepadoodle in the UK with regular exercise if you live in an apartment.
A Sheepadoodle's health and wellbeing depend on exercise. Finding ways to include your dog in your regular activities, such as walks around the neighbourhood, running, and hiking in the woods is recommended.
The use of a ball launcher in a good game of fetch burns a lot of energy. You can arrange a playdate in a fenced yard for your Sheepadoodle if he or she enjoys the company of other dogs."
The Sheepadoodle might enjoy splashing through some water like her Poodle parent but stick to "dry play" since swimming cleanup is time-consuming.
Sheepadoodles are excellent for cold-weather climates like the UK due to their thick coats.
In general, Sheepadoodles enjoy playing at dog parks and interacting with other dogs. Because Sheepadoodles have a herding background, they occasionally try to round up small animals and children, so be aware if you are at a dog park where small dogs and large dogs are allowed to mix.
How to Choose a Sheepadoodle Breeder in the UK?
Take your time and pick a reputable breeder if you're buying from a breeder. Finding a reliable breeder takes time. Who qualifies as a reputable breeder? Check out these tips.
1) Make sure your pet is healthy
Pets should be happy and energetic. You want them to be clean and plump, not skinny and weak. Your veterinarian should examine them before you buy them. They will be microchipped and receive their first vaccination at the time of the vet check. A flea and intestinal worming treatment is also recommended.
2) Request to see both parents
You should meet the biological parents of your new pet if you have chosen a good breeder. Often, fathers live far away from their children, even overseas. To learn more about your sire, ask for his contact information.
Children inherit their parents' personalities. Choose carefully!
3) Visit their home environment.
It's critical to check the environment where the puppy grows up. It's easy to say the puppy is clean and make it seem as though they live in a loving, happy home. You should not hesitate to walk away from a breeder if they ask you to meet somewhere else as it is a major red flag.
Where do you find a Sheepadoodle breeder in the UK?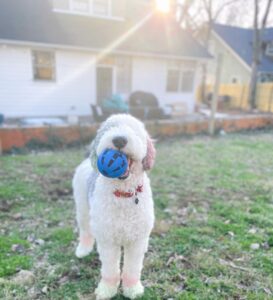 If you plan to purchase a puppy from a responsible, caring Sheepadoodle breeder, you need to know how to recognize one as well as where to find them in the UK.
If you get a dog with serious medical issues or poor behaviour, you may suffer heartache, frustration, and financial costs. In the worst-case scenario, you might also support puppy mills unknowingly.
A purebred dog cannot be sold on an online classified service. When you meet a breeder in person, you can rarely tell whether they are reputable or not. Puppy mills and backyard breeders commonly use classified ads on the Internet as a marketing tool. Breeder websites, word-of-mouth, and membership in breed clubs serve as referral sources.
Check out our recommended UK breeders. You can find a reputable breeder by visiting your local or national kennel club. Members must adhere to a code of ethics in order to join the club. Many breed clubs also offer rescue dogs.
Conclusion for Sheepadoodle Breeders in the UK
Based on positive reviews, satisfied customers, and businesses that deliver on their promises, we selected these 4 Sheepadoodle breeders in the UK. You may have to travel across the country to find your perfect puppy, but it will be worth it! Sheepadoodles are a new and upcoming dog breed in the United Kingdom. They are generally considered mostly hypoallergenic and nonshedding. If you're looking for a loving puppy that typically has multi-colored coats, then a Sheepadoodle might be the perfect puppy for you!
Other articles you would like:
Garrett loves animals and is a huge advocate for all Doodle dog breeds. He owns his own Goldendoodle named Kona. In addition, he volunteers at the Humane Society of Silicon Valley, where he fosters dogs and helps animals. Garrett enjoys writing about Doodles and believes that dogs can teach humans more about how to live than humans can teach a dog.
Why Trust We Love Doodles?
At We Love Doodles, we're a team of writers, veterinarians, and puppy trainers that love dogs. Our team of qualified experts researches and provides reliable information on a wide range of dog topics. Our reviews are based on customer feedback, hands-on testing, and in-depth analysis. We are fully transparent and honest to our community of dog owners and future owners.