The Goldendoodle is among the most popular breeds of dog among families in the UK.
The Goldendoodle, with its iconic teddy bear looks, friendly disposition, and desire to please its human owners, makes a wonderful pet companion, especially for children. The problem is that finding a well-bred Goldendoodle in the UK can be challenging. This is why we've created this comprehensive list of the 7 best Goldendoodle breeders in the UK.
To learn where you can purchase a beautiful Goldendoodle puppy in the United Kingdom, keep reading!
Other articles you would like: Goldendoodle Generations (F1, F1B, F2, F2B, etc) and Goldendoodle Colors.
1. SkenasDoodles
It would be nice if there was a crystal ball so we could pinpoint the best Goldendoodle puppy. Skenasdoodles is fortunately close enough for us to place it as the best Goldendoodle breeder in the United Kingdom. It can be difficult to find a Goldendoodle with all the characteristics you want. Some people prefer specific characteristics like coat colours, sizes, generation, or gender. Contacting each breeder individually will require you to make dozens of phone calls.
A second challenge is that since Goldendoodles are so popular in the UK, there is usually a three-month waiting list. SkenasDoodles, however, has now opened their waiting list, and all the information you need can be found on their website including which puppies are available.
At SkenasDoodles, they always strive to produce healthy Goldendoodle puppies. Every single adult is bred from Health Tested parents. DNA tests are carried out to ensure that no puppy that they breed will ever suffer from hereditary illnesses.
Under Thanet County Council's new legislation, SkenasDoodles holds a five-star breeding licence.
Goldendoodle Puppy Information:
Generation: F1 & F1B Goldendoodle Puppies
Size: Standard size Goldendoodle Puppies
SkenasDoodle Breeder Details:
Location: Based in Monkton, Kent
Telephone: 07852185020
Website: Skenas Goldendoodles UK
Email: skenasdoodles@hotmail.com
2. Kizzabella Doodles
Located on the Lincolnshire and Cambridgeshire border, Kizzabella Doodles dogs are energetic, clever, and love to cuddle. One of the best things this breeder offers is that their puppies are raised in their home where they are trained from a young age. Early sound exposure, mental stimulation, and new experiences are all included in this.
Kizzabella Doodles can breed tiny Miniatures known as Petites, as well as Mediums whose largest can reach the size of Golden Retrievers. They were also the first breeders of miniature Goldendoodle puppies for sale in the UK.
If that's not enough, each pair of parent dogs is matched to ensure that puppies cannot be affected by recessive genetic conditions. In most cases, you will also receive information about grandparents and sometimes even earlier generations, such as hip and elbow scores, DNA test results, EBVs, and COIs for parents.
A unique shade of red Goldendoodles is also a specialty of Kizzabella Doodles and their puppies are all vaccinated, health checked, and come with a health guarantee.
Goldendoodle Puppy Information:
Generation: F1 & F1B Goldendoodle Puppies
Size: Miniature and Medium Goldendoodle Puppies
Kizzabella Doodles Breeder Details:
Location: Based on the Lincolnshire / Cambridgeshire Border
Instagram: @kizzabelladoodles
Website: Kizzabella Doodles UK
3. Curtabem
Curtabem puppies are born and raised in a loving home environment and are given all the attention and love any puppy could hope for. No time or expense is spared on their puppies or mum throughout her pregnancy or after.
An interesting aspect of this particle breeder in the UK is the strict enrichment program they follow, which is designed by puppy culture. Early neurological stimulation (ESN) begins as young as three days old when puppies begin daily enrichment sessions. In addition to strengthening heart rates, decreasing blood pressure, increasing resistance to stress, and boosting the adrenal glands, these sessions benefit their puppies. Your Goldendoodle puppy and dog will reap these benefits well into adulthood. In other words, they firmly believe in the health of their Goldendoodle puppies that they sell.
Goldendoodle Puppy Information:
Curtabem Breeder Details:
4. Northcroft Doodles
Northcroft Doodles are located in the picturesque village of Foston on the Wolds, which is on the outskirts of Driffield, East Yorkshire. Over the years, Northcroft Doodles of the UK have been breeding Goldendoodle puppies. Besides being vet-inspected, they have a breeding licence from the East Riding of Yorkshire Council and have been awarded a 5-star rating – the best rating possible. All their Goldendoodle puppies for sale in the UK are hypoallergenic, healthy, and do not shed.
Goldendoodle Puppy Information:
Generation: F1 & F1B Goldendoodle Puppies
Size: Standard Goldendoodle Puppies
Northcroft Doodles Breeder Details:
Location: Based in Driffield
Telephone: 07941678549
Website: Northcrosh Doodles
Email: northcroftdoodles@icloud.com
5. Willow Goldendoodles
Willow Goldendoodles are based in County Durham in a small village surrounded by open rural spaces. Puppies are born and raised in their living room, in a specially built pen. In the midst of the hub of the house, they are part of the family until they go to their forever homes.
As well as worming and microchipping the puppies, Willow Goldendoodles offers an extensive puppy package that includes 4 weeks of insurance, puppy food, a favourite toy, and a blanket with the scent of their littermates and moms.
Goldendoodle Puppy Information:
Generation: F1 & F1B Goldendoodle Puppies
Size: Standard Goldendoodle Puppies
Willow Goldendoodles Breeder Details:
6. Menethorpe Doodles
Breeding Goldendoodles since 2008, Menethorpe is dedicated to producing healthy, happy puppies. Their home is surrounded by stunning countryside in rural North Yorkshire where all puppies are health tested, and interestingly enough fed a raw food diet. At Menethorpe Doodles, breeding Goldendoodles is based on temperament and personality. Puppies enjoy a lot of exercise, long walks, and all the attention and love they could ask for.
Goldendoodle Puppy Information:
Generation: F1 & F1B Goldendoodle Puppies
Size: Standard Goldendoodle Puppies
Menethorpe Doodles Breeder Details:
7. Razzlin Golden Doodles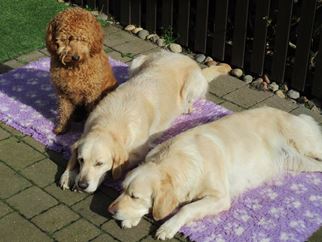 At Razzlin Golden Doodles there is plenty of room for them to breed Goldendoodle puppies as they are nestled away in the beautiful and scenic countryside. The couple decided to breed miniature Goldendoodles in 2012, and their first litter was born in early 2013. The puppies are nurtured in the family home, where they are socialised with other pets and family members.
Goldendoodle Puppy Information:
Generation: F1 & F1B Goldendoodle Puppies
Size: Miniature Goldendoodle Puppies
Razzlin Golden Doodles Breeder Details:
Goldendoodle Puppies in the UK
Goldendoodles are crosses between golden retrievers and standard or miniature poodles, both purebred dogs. Their good looks and sweet, loyal nature have made them one of the most popular family and companion dogs over the years. In the UK, many breed clubs have been formed to ensure that these lovely dogs are bred responsibly as they are not recognized as a breed by the Kennel Club (as of January 2022).
How to Choose a Goldendoodle Breeder in the UK?
A responsible breeder is not only in your best interest and the well-being of your new pet, but it also ensures that you do not patronise a breeder or puppy mill that is doing this for the wrong reasons and creating unhealthy puppies.
1. Ask Tons of Questions!
Before choosing a pup to take home, you'll likely carry out some research. Some aren't enough, though. Be thorough and dig deep!
Your questions, no matter how silly or serious will be answered by a responsible breeder. References from previous puppy buyers should also be available.
2. Healthy Environment & Well-Being
Breeders who refuse to let you see where your new Doodle is being born and raised is a huge red flag. Run fast and look for a new breeder if that is the case!
Keep an eye on the overall condition of the environment when you visit the breeder's kennel or home.
How clean is it? What about safety? Is there enough food and water available? Are they treated appropriately? What kind of attention and affection does the breeder give to their dogs?
You should get an answer to all of these questions. To determine if the puppy's parents are healthy, ask to meet them.
3. Health Testing
It is best to start off with a puppy (and its siblings) with a good health history. A poll found that health testing was the top concern for people.
Where do you find a Goldendoodle breeder in the United Kingdom?
There are a number of Goldendoodle breeders in the UK. It is impossible to go wrong with one of the breeders on our list, but if you wish to pursue your own research there are several different breeders to choose from.
We highly recommend that you pick a Goldendoodle puppy breeder that is vet inspected and has a breeding licence. Otherwise, you have to make sure that the puppy health checks are valid to rule out unregistered breeders and puppy mills.
Frequently Asked Questions
Who are the best Goldendoodle breeders?
In the UK, the best Goldendoodle breeders include the following:
Skenas Doodles
Kizzabella Doodles
Curtabem
NorthCroft Doodles
Willow Goldendoodles
Menethorpe Doodles
Razzlin Golden Doodles
You might also consider these Goldendoodle breeders.
Twin Creek Puppies
Murphy's Doodles
Coastland Goldendoodles
Knudawn Southern Goldendoodles
Beyond Bliss Doodles
Powder hill Goldens
How much does a Goldendoodle cost in the UK?
Finding a well-bred Goldendoodle in the UK can be challenging, but if you work with a reputable breeder, you can find a Goldendoodle puppy for between £800 and £3500.
Which Goldendoodle cost the most?
The F1b Goldendoodle puppies are the most expensive and can cost $6000. Many variants affect the cost of a Goldendoodle puppy, and the average price is around $2,500.
Miniature Goldendoodles will cost, on average, $3,500 plus.
Teacup Goldendoodles are more expensive and cost around $4,000 plus.
The cheapest types of Goldendoodle (F1 straight hair and large standard Goldendoodles) can be bought for about USD 1500
The most expensive are F1 Goldendoodles at $6,000 plus.
Breeders will categorize their Goldendoodle puppies under various sizes like toy, teacup, miniature, medium, and standard Goldendoodle puppies. Another factor that determines the cost is each purebred parent's percentage.
The three most common Goldendoodle generations are: F1, F1B, and F2.
F1- purebred with Golden Retriever and Poodle parents and the puppies have a 50% of being nonshedding and hypoallergenic.
F1B generations are bred by an F1 generation Goldendoodle and a purebred Poodle, with puppies being 75% Poodle and highly nonshedding and hypoallergenic.
F2 generations are produced from either two F1 Goldendoodles or an F1 and F1B.
The most expensive Goldendoodle puppy would be an F1b Goldendoodle because the puppies are the least likely to shed.
What is the rarest Goldendoodle color?
The rarest Goldendoodle color is black. The Golden Retriever and Poodle feature a black recessive gene.
How do you pick a Goldendoodle Puppy from a Litter?
The video below is good at explaining how to pick a Goldendoodle puppy from a litter.
Is it Better to Get a Male or Female Goldendoodle Puppy?
Males, after being neutered, are more laid back and calm, whereas female Goldendoodles may be more reactive. Male Goldendoodles are also slightly larger and more prominent in bone.
Generally, both male and female Goldendoodles are considered friendly and affectionate hybrids. They're also highly friendly and intelligent. Both male and female Goldendoodles have moderate energy levels, yet there are a few differences.
Variances in size based on gender, with males between 23 and 24 inches tall and females between 21.5 and 22.5 inches in height.
Behavioral differences- similar temperament in both male and female Goldendoodles. Males during adolescence may go through a " mark and humping phase."
Both male and female Goldendoodles are easily trainable.
Both are at an equal risk of being infected with diseases or issues related to their reproductive organs.
Males may be prone to prostate cancer, bacterial infections in the prostate area, and tumors and cysts in their reproductive organs.
Female Goldendoodles may be inclined to uterine and breast cancer.
If you want to parent two Goldendoodles, getting one female and one male is best to avoid same-sex aggression.
Both male and female Goldendoodles have the same level of intelligence, grooming requirements, and social skills.
Both need a lot of affection, exercise, and mental stimulation and are one of the best hypoallergenic hybrids to have at home.
Conclusion for Goldendoodle Breeders in the UK
We reviewed a number of UK Goldendoodle breeders, and we trimmed our selection to these top seven. The breeders listed here will all be great choices if you're looking in the United Kingdom for a Goldendoodle puppy!
Other articles you would like: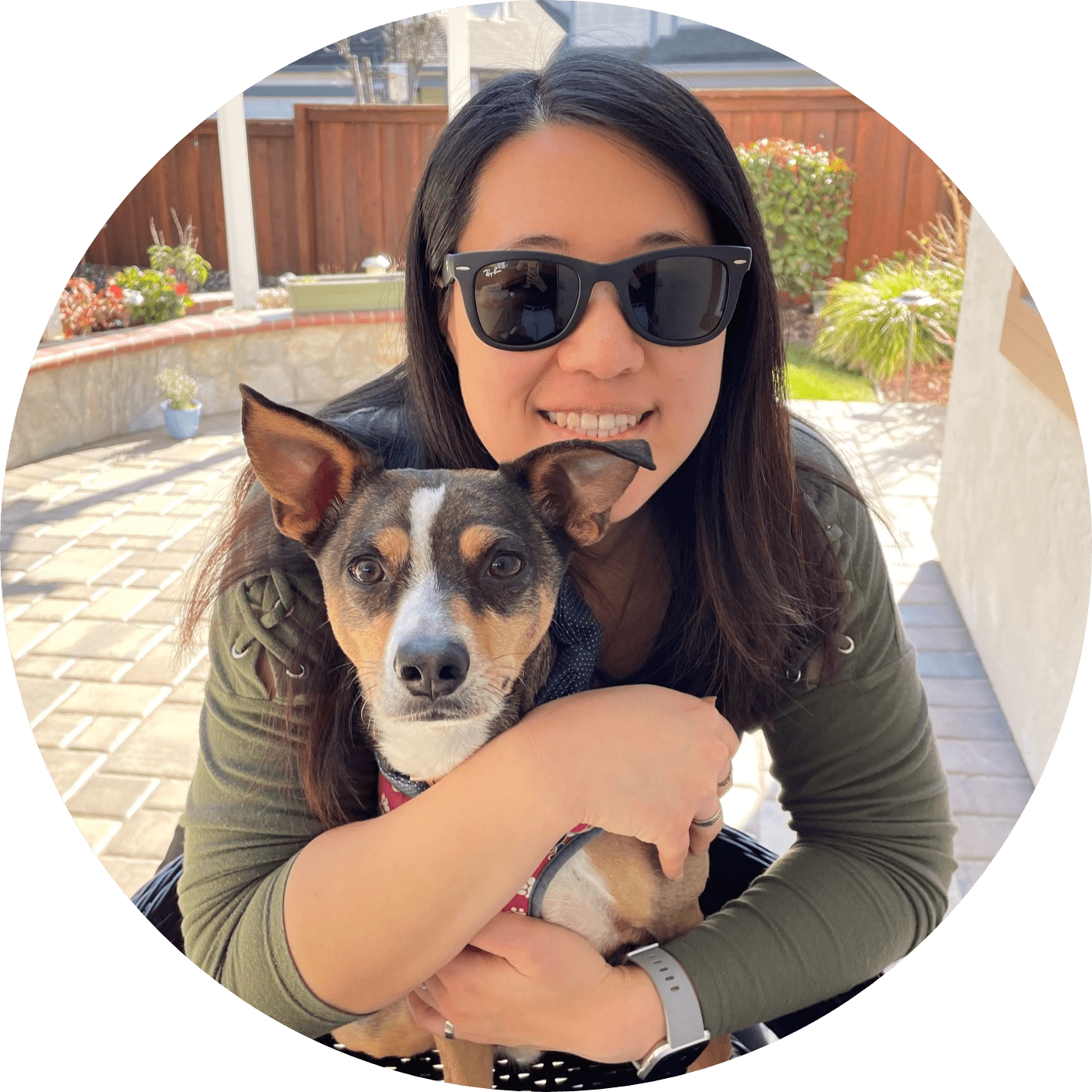 Dr. Sabrina Kong graduated from the Royal Veterinary College in England in 2016 and has been working at a small animal clinic in Northern California since then. She grew up in the Bay Area and got her bachelor's degree from Cal Poly San Luis Obispo. She also became a Certified Canine Rehabilitation Practitioner through a program at the University of Tennessee.
When she isn't in the clinic taking care of her four-legged patients, she enjoys traveling and trying new foods with her friends and her three-legged dog, Apollo. She adopted Apollo from her clinic when he was a puppy with numerous health issues. Dr. Kong truly cares about taking care of animals.