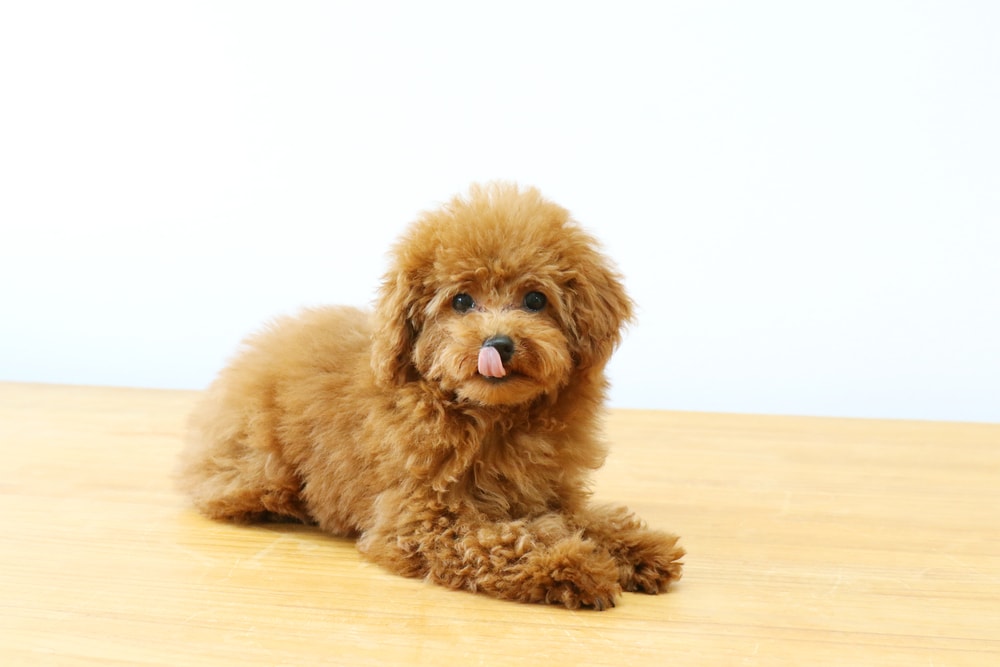 Toy poodles are a gorgeous small dog breed with their curly coats and their large personalities despite their tiny bodies.
Finding the best dog food for toy poodles can be difficult because it is vital that they're getting all the necessary nutrients that they need on a daily basis.
Additionally, toy breeds are more susceptible to digestive issues. These can often be rectified by changing their diets to something created specifically for their size.
They can also experience dental issues from their unusually small mouths and it can be difficult to know how much protein, carbohydrates, and fat they need. Toy poodles will also need to be fed properly to ensure that their coats remain shiny and not matted.
Luckily we have found the five best dog foods for toy poodles so that you don't have to worry about researching everything we've just mentioned.
We've also explained the importance of correct nutrition in toy poodles in our buyers guide a little later in the article.
Product
Best Overall
Blue Buffalo Life Protection Formula Natural Adult Toy Breed Dry Dog Food
Runner-up
Wellness Complete Health Natural Dry Small Breed Dog Food
Budget Pick
Purina Pro Plan Small Breed & Toy Breed Formula Adult Dry Dog Food
Hill's Science Diet Dry Dog Food, Adult, Small Paws
Image
Our favorite dog food for toy poodles is from Blue Buffalo, a popular dog food brand known for its quality ingredients. Real meat is the first on the ingredients list so that your dog is getting a high-quality source of protein.
The chicken will help them strengthen their muscles and keep them repairing themselves quickly after every play session and walk.
This toy breed dog food is ideal for toy poodles thanks to the small size of kibble pieces. These are optimized for protecting their gums and teeth without posing a choking hazard.
A great blend of antioxidants can be found within this dog food, as well as vitamins and minerals to protect their immune system and liver function. There are no poultry by-products in this food or any useless filler grains such as corn or soy. We ranked this as the best dog food for toy poodles because it is nutritious and specifically designed for toy breeds.
Next up is a dry food featuring the highest quality protein and wholesome grains. You won't find any by-products, filler ingredients, or artificial preservatives within this formula, ensuring that your toy poodle only gets the best from their mealtimes.
The guaranteed levels of Omega fatty acids ensure that your dog's coat and skin are protected, keeping it shiny and soft no matter what. Antioxidants and probiotics are also a big focus with this dog kibble, protecting their heart and digestive system.
Feeding your dog this food will show an improvement in their entire body, including their coat and skin, energy levels, digestive health, immune system, and eyes, teeth, and gums. This toy Poodle food is guaranteed to have more than 30% crude protein, keeping your dog strong and happy.
Purina is another popular brand all over the world, and there must be a reason why it has captured such an impressive global audience. This toy breed kibble comes in a 5-pound bag and is high in both protein and calories, ensuring that your dog's energy levels and muscles are protected.
Natural prebiotic fiber is within the formula for this food, ensuring that the intestinal bacteria are suitably nourished for good digestive health. It is also full of other minerals, such as calcium and phosphorus, to protect their bones and teeth.
This dog food is specially formulated for racing toy breeds that love to run for miles. This is not true for all toy poodles, as some prefer to enjoy a more sedentary lifestyle. If this is your pooch, this might not be the best food for them.
Hill's Science Diet is the number one veterinarian-recommended dog food brand. Their Small Paws kibble is designed to be as easy as possible on your toy poodle's stomach and digestive system.
The kibble is rich in omega 6 fatty acids and vitamin E to nourish your poodle's coat and skin, keeping it healthy and happy. A blend of antioxidants is also found within this food for lifelong immune support.
These kibble pieces are 7.5 x 4.5mm, which is much smaller than the traditional kibble found on the market. This will clean your toy poodle's teeth and gums, protecting them from gum disease and teeth decay. Hill's Science is one of the best dry dog foods for a toy poodle, but it does have a higher price point.
Last but not least, Solid Gold Mighty Mini dog kibble is a natural and holistic formula free of gluten and grains. The tiny pieces of kibble are easy to eat by even toy puppies, and it is one of the smallest kibbles on the market.
Real chicken is used which is easy to digest by sensitive stomachs, as well as chickpeas and pumpkin that are full of fiber to promote gentle and healthy digestion.
Omega fatty acids will ensure that your toy poodle's coat is shiny, supple, and soft. Superfoods within the formula provide plenty of antioxidants to protect the immune system. Prebiotics are also used to support gut health. If you're looking for the best puppy food for a toy poodle, you should highly consider Solid Gold.
How to Choose a Dog Food for Toy Poodles
As promised, we will now look into why feeding your toy poodle the right food is so important to their health. Make sure to keep these below considerations in your mind when comparing different toy poodle foods to get the best for your furry friend.
Health Issues in Toy Poodles
Toy poodles are prone to more health issues than regular-sized poodles due to the extra breeding it takes to get them so small. They are prone to bladder stones, cataracts, and skin tumors.
No matter their size, all poodles are also more susceptible to bloating, retinal issues, thyroid problems, and much more.
To avoid your dog suffering from these issues, feeding them a healthy diet full of omega 3 and 6 fatty acids, prebiotics, and antioxidants have never been more important.
Ingredients
Chicken, turkey, and other types of poultry are considered the best sources of protein and therefore are great for toy poodles. However, you should always steer clear from poultry by-products in the ingredients list.
These are not directly from the main poultry source and made of much lower quality ingredients, increasing the fat content rather than protein.
Fish is another good source of protein, but not as beneficial to your dog as poultry. Potatoes, fruits, and vegetables should be included in your toy poodle's diet, but not too much. These three ingredients should only make up around 10% of their food.
Grains are a controversial subject when it comes to dog food. Some animal nutritionists believe that they shouldn't be put in at all as they are commonly seen as filler ingredients that offer nothing to your pooch's nutritional needs.
Macronutrients
Protein
Protein is the most important nutrient in your toy poodles diet and the protein source should be the first ingredient on the ingredients list. In fact, at least 85% of your dog's diet should be made up of protein.
Protein feeds the muscles and supports their heart, while also aiding their immune system. Animal protein is best for any dog, and by-products are not a suitable source of protein.
Carbohydrates
Carbohydrates should only make up a small amount of your toy poodle's diet. The larger the dog, the more carbs they need. This is because carbohydrates are a good source of energy.
However, as toy poodles don't need that much energy as they aren't running or walking for too long, they will only need a small portion of carbs in their diet.
Carbohydrates come from potatoes and some grains. These ingredients should be far down the ingredients list.
Fat
Again, there shouldn't be too much fat in your toy poodle's diet. Fat can also provide energy, but too much of it can cause serious health conditions.
As toy poodles are so tiny, they need an insignificant amount of fat in their diet. The protein source will often offer enough fat, so there should be no other fatty ingredients within the dog food formula.
Omega 3 and 6 Fatty Acids
Omega 3 and 6 fatty acids are great for a dog's skin and coat, as well as digestive and eye health. This is very important for toy poodles when you want to preserve their coats and keep them as shiny as possible.
Antioxidants and Prebiotics
Antioxidants work to protect your dog's liver function as well as their immune system. The more antioxidants your dog consumes, the better their immune system will work and their natural defenses can protect them from diseases.
This is important with toy poodles. As they are so small and therefore closer to the floor, they are always higher at risk for diseases. Antioxidants can prevent them from getting seriously ill from this.
Prebiotics also work to maintain the health of your toy poodle's digestive system. Any prebiotics is good to encourage the digestive system to absorb as many vitamins and minerals as possible from every meal.
Prebiotics also prevent your dog from suffering from upset stomachs and diarrhea, which is never nice – for the owner or the dog.
Wet or Dry?
Dry food is considered best for toy poodles as it helps to protect their teeth and gums.
Dry food is also less rich and therefore won't upset their stomach as much as wet food does. Due to these facts, we have focused on dry food for toy poodles rather than wet food.
Your poodle might prefer wet food; however, and it contains more water which can help to prevent bladder stones. So, you might decide to feed them a mix of dry and wet food.
As long as they're consuming a good amount of kibble every day, you can give them a mixture to get the best of both worlds.
Conclusion for the Best Dog Food for Toy Poodles
Toy poodles are picky eaters that require a nutritious meal and smaller-sized kibble tastes good. Luckily, we've done the research to help you find the best dog food for toy Poodles. All the choices on our list are designed for small dog breeds, and that will keep your puppy healthy and happy. All you have to do is make a decision!
Other articles you will like:
Frequently Asked Questions
Are toy poodles picky eaters?
All dogs can be picky eaters so it's not just a trait known for toy poodles. Some toy poodles can be picky eaters, but some can be very driven by food.
A great thing about toy poodles is that they all have different personalities, so it is possible that your pooch is a picky eater. However, this is not true for every toy poodle.
Garrett loves animals and is a huge advocate for all Doodle dog breeds. He owns his own Goldendoodle named Kona. In addition, he volunteers at the Humane Society of Silicon Valley, where he fosters dogs and helps animals. Garrett enjoys writing about Doodles and believes that dogs can teach humans more about how to live than humans can teach a dog.
Why Trust We Love Doodles?
At We Love Doodles, we're a team of writers, veterinarians, and puppy trainers that love dogs. Our team of qualified experts researches and provides reliable information on a wide range of dog topics. Our reviews are based on customer feedback, hands-on testing, and in-depth analysis. We are fully transparent and honest to our community of dog owners and future owners.