A Toy Poodle is a type of Poodle that is considerably smaller in size. They are ideal for those individuals who love Poodles but cannot keep one because of their lack of space. So, how much do Toy Poodles cost?
The cost of Toy Poodles varies depending on whether you get it from a rescue organization or a breeder. Needless to say, getting a Poodle from a breeder will cost significantly more, at about $500 to $2,000. On the other hand, adopting from a rescue will cost around $25 to $200.
Keep reading below for more information on pricing and other factors to consider.
Before you read this guide, "How Much Do Toy Poodles Cost," check out: 11 Best Toy Poodle Breeders in the United States! (2023) and 10 Best Toy Poodle Haircuts – With Pictures! (2023).
About Toy Poodles
There are three distinct sizes of Poodle: Standard, Miniature, and Toy. The Standard Poodle is the original breed from which the Miniature and Toy Poodles descended to satisfy the demand for smaller canine companions.
Toy and Miniature Poodles, despite their diminutive stature, were used as working dogs. In particular, Toy Poodles have been popular for usage in circuses because of their excellent intellect and flexibility.
The average Toy Poodle weighs six to 10 pounds and stands no more than 25 cm (10 in) at the shoulder. Poodles are the most stylish of all dogs. Their muzzles are long and slender, their stops are tiny, their eyes are dark, and their ears are wide.
Toy Poodles are distinguished by their round faces, short legs, and small, oval feet. Their height is roughly proportional to their length.
The temperament of the Toy Poodle can be described as delicate, bright, playful, proud, and sophisticated. It forms strong connections with its loved ones and is a devoted companion.
The fact that Toy Poodles are exceptionally intelligent, obedient, and graceful contributes to their status as one of the world's most popular pets. The Toy Poodle is vivacious, alert, and always up for some fun. Toy Poodles have more personality and are more likely to bark than Standard Poodles.
History of Toy Poodles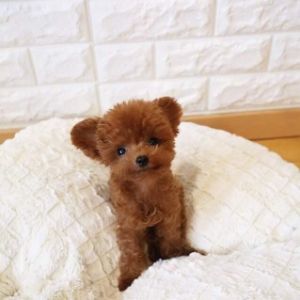 Over 400 years ago in Germany, the Poodle was developed as a duck hunting dog due to the usefulness of its thick, curly coat in protecting against harsh climates. They were highly trainable as retrievers due to their athleticism and enthusiasm to please.
Poodles' original function as retrievers inspired the exaggerated display coat for which they are now known. Hunters would clip the dogs' fur so that the animals could roam freely but still be protected from the weather.
Therefore, hunters would clip their Poodle's claws and remove its tail. They would still have spherical tufts of curly hair covering their chest, hips, and knees.
In the early 20th century, the Toy Poodle was developed as a companion dog, and it quickly became popular among individuals who were restricted to tiny spaces. The Poodle Club of America was established in 1886, and the American Kennel Club officially recognized the Poodle the following year.
Poodles are extremely well-liked among modern pet owners, particularly in France — so much so that the Poodle is France's official dog breed.
The Benefits and Drawbacks of Owning a Toy Poodle
In this section, we'll discuss the benefits and drawbacks of owning a Toy Poodle.
Benefits of Owning Toy Poodles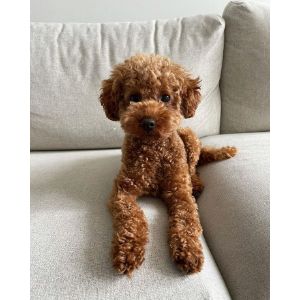 Toy Poodles are incredibly smart and simple to train. They pick up new skills rapidly and take pride in demonstrating them to others.
They are active and energetic dogs that are wonderful companions for kids. Their gentle demeanor makes them the perfect family dog.
They shed very little and with a little bit of grooming, it can be the ideal dog for those who suffer from allergies.
You can get Toy Poodles in a variety of colors. They can be found in black, white, cream, brown, apricot, or red.
Drawbacks of Owning a Toy Poodle
They must be meticulously groomed on a regular basis to prevent mats. Since they have curly hair, it's easy for them to get mats in their hair.
These dogs are small and fragile, making them potentially unsuitable for households with young children.
Like many other dog breeds, Toy Poodles are susceptible to a few health problems. Epilepsy, patellar luxation, and Von Willebrand disease are just a few of the possible health problems these pets can encounter.
Some of these dogs can be quite loud, thus they might not be suitable for those who reside in close quarters.
This is an expensive dog breed.
One-Time Costs of Toy Poodle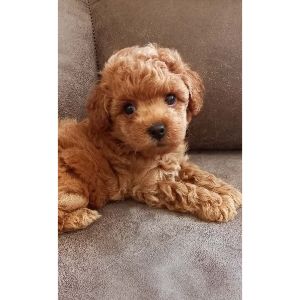 The one-time cost of Toy Poodles involves the Poodle itself and initial supplies and setup.
Getting for Free
The only ways to get a Toy Poodle for free are to either find a stray and take it in, or to find someone who wants to surrender theirs for whatever reason. However, just because you may get a Toy Poodle for free doesn't mean you won't have to pay for it in the long run.
Additional vet care for a stray dog is inevitable, and all dogs have basic needs, including kennels, toys, food, water, and bowls.
Adopting From a Rescue Organization
$25 – $200
Adoption is yet another choice to consider. The adoption fee goes towards the organization's veterinary, vaccination, and general care expenses for the animal since it was brought in.
However, when compared to purchasing from a breeder, this charge will seem minimal. Adoption fees for a Toy Poodle may range from $25 to $200 or more, depending on factors such as the location, the dog's health, and the rescue organization.
Buying From a Breeder
$500 – $2,000
Good breeders take great care to guarantee that their Toy Poodles have excellent bloodlines. They also provide the best veterinary care for their dogs. As a result, they ask for a lot of money. A Toy Poodle from a reputable breeder can set you back between $500 and $2,000.
You may do your part to alleviate the widespread problem of unwanted dogs by adopting a stray Toy Poodle or getting one from a shelter. This will make you happy and give you the satisfaction of knowing that you saved a dog from a life on the streets or a death by lethal injection.
If you do make the decision to purchase from a breeder, you should seriously consider having your puppy spayed or neutered before bringing it home. This will help ensure you are not responsible for the birth of any unwanted animals.
Initial Supplies and Setup
$10 – $1,000+
To properly care for your new Toy Poodle, you'll need to stock up on a number of items. Obtaining basic necessities like food, water, and a secure place to sleep isn't enough.
Monthly Costs
$55 – $5,000 per month
While it's true some things are beyond your control, you should generally be able to handle money the way you see fit. If you want to be prepared for unexpected vet expenses, it's smart to open a savings account and put money down regularly.
This should make it possible to save up for the expenses without compromising the standard of living in your home.
Healthcare
$0 – $500 monthly
There may be long stretches where you don't have to pay anything for your Toy Poodle's care, but eventually, you'll have to take him to the vet. A checkup could cost you $100, whereas flea prevention could cost only a few dollars.
There's also the possibility your dog will become injured or ill, requiring expensive medical care.
Food
$20 – $150 monthly
The food cost alone for Toy Poodles can range from $20 to $150 per month, depending on the brand and quantity you pick. Consult your veterinarian for advice, as they will be able to identify any food allergies or dietary restrictions your dog may have.
Grooming
$0 – $100 monthly
Toy Poodles need frequent grooming to keep their coats in top condition. The total amount spent on dog grooming each month can vary, though, depending on how you choose to care for your pet.
With a one-time investment in a hair trimmer, a nice comb or brush, and nail clippers, you can handle your dog's grooming by yourself at home. If you'd rather have someone else handle it, you should expect to pay anywhere from $25 to $100, based on the extent of the work involved.
Medical Care
$0 – $5,000+ monthly
A dog's health and longevity depend on regular trips to the veterinarian. An annual wellness checkup is recommended, at a cost of $50 to $250 depending on the level of care needed.
You won't have to stress about taking your Toy Poodle to the veterinarian every month unless it becomes hurt or sick. Payments may be required on a recurring monthly basis for some medications.
The price for prescription medications may vary greatly, so you should budget anywhere from $5 to $200 every month for as long as your dog needs them. The costs associated with treating an injured or sick dog can easily run into thousands of dollars.
Costs for your dog's monthly medicine and veterinary care could range from zero to several thousand dollars, depending on the period and the severity of his condition.
Insurance
$30 – $50 monthly
Most pet insurance policies provide coverage for emergency vet care, but not preventive care.
With an insurance plan, Toy Poodle owners can save hundreds or even thousands of dollars on veterinary expenses in the event that their pet requires extensive medical attention due to an illness or injury.
Depending on the coverage level and insurer, the monthly premium for pet insurance might be anywhere from $30 to $50.
Environment
$5 – $60 monthly
Costs associated with your dog's environment are what you'll have to pay for on a regular basis to ensure he lives in comfort. For the few months it takes to housebreak your Toy Poodle, you may need to invest in puppy pads.
Toys are easily damaged, so it's necessary to replace them frequently. Having some tasty snacks on hand is always a good idea.
Entertainment
$0 – $100+ monthly
The reality is that dog entertainment doesn't have to cost a dime. You can keep your dog entertained every day in a variety of ways, including by giving them your undivided attention, providing them with stimulating activities like toys and time outside and engaging in frequent training sessions.
However, you may spend money on activities like camping and road trips to provide even more amusement for your dog, and yourself in the process.
Frequently Asked Questions
Are Toy Poodles worth it?
Due to their size, intellect, and disposition, Toy Poodles are wonderful pets for many families.
Do Toy Poodles shed?
Toy Poodles are minimal shedders, making them a great choice for dog owners worried about allergies.
How long do Toy Poodles live?
Toy Poodles typically live for 10 to 18 years.
Conclusion for "How Much Do Toy Poodles Cost"
Getting a pet is a huge financial commitment. Before you look at Toy Poodles, it's important to fully understand the full cost associated with it. It's also important to save money in case of emergencies; all part of being a responsible pet parent.
Now that you have a better understanding of how much a Toy Poodle costs, check out:
Learn more by watching "TOY POODLE PUPPY | 10 Things You Need to Know Before Getting One" down below:
Garrett loves animals and is a huge advocate for all Doodle dog breeds. He owns his own Goldendoodle named Kona. In addition, he volunteers at the Humane Society of Silicon Valley, where he fosters dogs and helps animals. Garrett enjoys writing about Doodles and believes that dogs can teach humans more about how to live than humans can teach a dog.
Why Trust We Love Doodles?
At We Love Doodles, we're a team of writers, veterinarians, and puppy trainers that love dogs. Our team of qualified experts researches and provides reliable information on a wide range of dog topics. Our reviews are based on customer feedback, hands-on testing, and in-depth analysis. We are fully transparent and honest to our community of dog owners and future owners.