Our team created this guide to help you understand the differences between a toy Poodle and vs. Maltipoo. Even though these dog breeds have similar appearances, such as having a curly white coat, they're both different in their unique ways. By the end of this guide, you'll have a better understanding of the two dog breeds.
Before you scroll down this guide, "Toy Poodle vs. Maltipoo," you can check out these other dog comparisons from our team at We Love Doodles: Poodle vs. Goldendoodle Dog Breed Comparison and Maltese vs. Poodle Dog Breed Comparison.
History of The Toy Poodle
Poodles have been selectively bred to be smaller and smaller, resulting in a purebred dog of smaller and smaller sizes. A Poodle's smaller size is achieved through continuously selecting the naturally smallest pup from each litter and pairing them with another more diminutive Poodle.
This differs from hybrids, which generally have a smaller dog as part of the mix to reduce the overall size. As a result, each successive generation produces smaller offspring.
The Toy Poodle descended from the much larger Standard Poodle as a compact combination of intelligence and loyalty. Because of this, they were extremely popular in the early 1900s with the wealthy and royalty in Europe. Easily trained, they provided entertainment in traveling circus shows and were often taught tricks.
History of The Maltipoo
Originally the Maltese and Toy Poodle were bred together, but since then, they have become an adorable offshoot of each other. This dog has big eyes, a short stature, and a fluffy coat, which makes it sometimes called "the cutest dog in the world."
Maltese are popular breeds whose history is steeped in pampered companionship. Since the early 1990s, Maltipoos have become increasingly popular due to the Doodle crossbreeds. Maltese are naturally relatively low shedders, so introducing Poodles could reduce shedding in offspring.
However, a high level of maintenance is required for the Maltese coat, as it is prone to tangling and matting. Since a purebred Maltese dog breed is all white, they are also prone to dirtying easily and having tear stains around their eyes. While retaining many desirable traits of the Maltese, the Maltipoo has an easier-to-manage coat and a wider color range.
Related: What is an F1 Toy Maltipoo?
Physical Appearance of a Maltipoo and Poodle
Maltipoos and Poodles come in many different sizes and generations. You can check out these images below and see if you can spot the differences between these two dog breeds.
Toy Poodle
The Toy Poodle has a small stature and a long body shape. Its arched neck leads to muscular shoulders, and the back is strong. Since their legs are long and their feet are small, they are very light on their feet, which makes them very fast runners. Straight tails set high, and ears hanging close to the head are characteristic of these animals.
Black, blue, cream, red, and white are some of the 11 standard colors of the Toy Poodle. To prevent matting, they must brush their long, curly coat almost daily. The hair on Toy Poodles needs to be cut by a groomer at least once every quarter. They shed little, so they are hypoallergenic dog breeds since they do not shed.
Related: Silver Standard Poodle Guide and What is a Phantom Poodle?
Maltipoo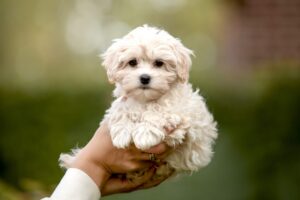 A Maltipoo is a pure white dog, bringing a wide array of colors only through the introduction of the Toy Poodle. Although they can display any Toy Poodle colors listed above, Maltese coats tend to dilute Maltipoo shades with lighter colors such as apricot, cream, white, café au lait, brown, fawn, silver, and silver beige more common. Maltipoos can sometimes be seen in shades such as black, dark brown, or red, but these are extremely rare.
Maltipoos can be solid colors or particolored. Due to neither parent breed being prone to shedding, Maltipoos typically have low dander and low shedding coats. Compared to a purebred Maltese, the Maltipoo has a wavy, curly coat instead of the straight poker coat seen in a purebred Maltipoo.
In addition to giving the Maltipoo an adorable shaggy appearance, it is generally easier to brush. Brushing is easier than flossing, but that doesn't mean you can bypass it. Given their short stature, Maltipoos are prone to catching on the ground and picking up debris since they prefer to keep their coats longer. You will likely have to brush and wash your hair regularly unless you decide to keep them short.
Size of a Poodle vs. Maltipoo

Toy Poodle
Toy Poodles were considered to be the original "handbag dogs." Their small size and weight, along with their popularity among rich and famous owners, have led to the Toy Poodle being associated with designer carriers akin to the latest fashion handbags. However, the Toy Poodle is not as robust as other breeds of larger and heavier sizes.
Young children must handle a Toy Poodle gently to prevent accidental injuries caused by overzealous play. There is a legend that Toy Poodles are completely unaware of their small size, which may cause them to engage in accidental trampling when playing with larger dogs.
Related: When is a Toy Poodle Full Grown?
Maltipoo Size
A Maltipoo is still considered a very small dog, but it can look more stocky than a Toy Poodle. They can also grow a bit larger overall because of their fluffier coat. With a height range of 8 to 14 inches and a weight range of 7 to 12 pounds, they can average between 8 and 14 inches in height.
Temperament

Toy Poodle
Known for their pride, Toy Poodles love being the center of attention. Its unique characteristics include cheeriness, alertness, pride, playfulness, and mischief. These dogs are great companions and are wonderful with children when supervised.
It is very easy for a Toy Poodle to adapt to new situations because they are very playful and love to meet strangers. Their nature as watchdogs/protective breeds may cause them to bark more than the average level. A toy Poodle requires a lot of mental stimulation and is very trainable.
If they are left alone for a long period, they may develop separation anxiety. Investing in a dog walker or doggy daycare is a good idea if you are away for a long time. While they are suited to apartment living, they are sensitive to cold and need a warm sweater and blanket to stay warm. When you get home, you'll have to pay close attention to them.
Maltipoo
There is nothing better than a Maltipoo as a companion. Dogs like these make great family pets because they are affectionate and love people. In addition, if they were socialized as puppies, they would get along with other household pets. People they don't know well, or strangers are not welcome.
When a Maltipoo is raised by different families and receives varying levels of socialization, their temperament can differ greatly. Getting your Maltipoo socialized early will help them become more comfortable in any situation, but it is particularly important when they are young.
It is generally regarded as an animal of great gentleness and affection. When meeting new people or experiencing new things, they tend to get startled easily, so they need lots of reassurance. Since Maltipoos are small and have low activity levels, they are perfect for apartments.
Health
It is well known that smaller breed dogs often live longer than their larger breed counterparts due to their tiny stature.  It is not uncommon for Toy Poodles that come from reputable breeders to be extremely healthy dogs and live into their middle to late decades.
Both breeds are indeed more prone to some conditions than others. Toy Poodles are more prone to neurological disorders, cancer, and accidental injuries due to their small size.  Maltipoos tend to suffer from joint, cancer, and cardiovascular problems compared to other breeds.
Toy Poodle
Toy Poodles are healthy when fed well and exercised, but they can also get sick like any other dog. Common dog ailments include cancer, bloat, ear infections, and obesity. Dog owners often overlook the importance of healthy teeth. Make sure your pet's mouth is free of rotting teeth by inspecting it regularly.
These problematic teeth can compromise the health of your pet. A host of other problems, including kidney and heart disease, can be caused by infections of the teeth and gums. Toy Poodles are prone to parasites, including fleas, ticks, and worms, which can harm their health.
Your pet's coat may become dull, thin, and listless as it becomes lethargic. You will also see a weight loss in your pet. If you suspect your home is infested with these parasites, speak with your veterinarian about possible treatments.
Health concerns for toy Poodles can be:
problems with the eyes
seizures
patellar luxation
hip dysplasia
infections of the ears
problems with teeth
The lifespan of a toy Poodle is usually 12-15 years, but they can live up to 20 years if they are in good health! Taking care of a Toy Poodle's teeth from a young age is very important because they are prone to having bad teeth. The best way to keep your dog's teeth healthy is to brush them with dog toothpaste and give them dental chews.
Maltipoo
Even though a Maltipoo is a bright, energetic little dog, it is susceptible to sickness like any other dog. Many problems and tooth loss can occur in young and small dogs due to gum disease and tartar build-up. Infections of the teeth can spread throughout the body, putting the whole body at risk.
It is also possible for them to develop Progressive Retinal Atrophy. Although there is no cure for this disease, your veterinarian can provide your pet with some treatment options. There is a typical lifespan of 12 to 14 years for Maltipoos. The Maltipoo rarely dies before age nine, although it has happened in some cases.
Various health problems can develop in these dogs, as with any breed:
allergies
hip dysplasia
patellar luxation
cataracts
infections of the ears
problems with the teeth
It is important to never leave them outside for very long periods in the sun since this breed does not tolerate heat well.
General Care
Toy Poodle
Daily exercise is essential for your Toy Poodle. Taking it on walks and playing ball games in the garden are great things you can do with it. Toy Poodles should be brushed twice a week. If you are concerned about its curly coat, you can have it clipped short.
Training and socialization are important to get your pet used to walk on a leash. Schedule regular visits to the veterinarian for your Toy Poodle. Your dog can die from certain serious canine diseases. You should provide a peaceful, dry sleeping area for your pet.
Water and food bowls must be provided for it. Keep them clean by washing them regularly. Dog food should be provided to your Toy Poodle in the best quality. Don't eat foods with colorants or fillers. Instead, choose natural foods. In addition, try to feed it homemade food like boiled chicken, brown rice, yams, and greens. Dogs must eat simple, nutritious foods.
Maltipoo
Giving your pet a soft, warm, and dry bed would be best. Other options include a soft 'nest' on the floor or a traditional dog basket. Make sure that you feed a Maltipoo commercially manufactured food that is high-quality. To keep it healthy, this is necessary. Avoid stomach problems by keeping your Maltipoo diet simple.
To give it some variety, you can mix its dry kibble with chopped boiled chicken, brown rice, and vegetables. Depending on its size and activity level, you will have to determine how much food it needs, but you should prevent overfeeding it to prevent obesity. Many illnesses can be caused by obesity in dogs.
Conclusion For "Toy Poodle vs. Maltipoo"
Maltipoos and Toy Poodles are pretty evenly matched when it comes to cuteness. When a dog stays a puppy forever, who could not fall in love with it?  Here are some key similarities and differences between these two pint-sized puppies to help you decide which is right for you.
If you find this dog breed comparison guide helpful, you can check out these other articles from our team at We Love Doodles:
You can learn more about the Poodle and the Maltipoo by watching "Maltipoo vs. Toy Poodle – Comparison Between Two Dog Breeds" down below: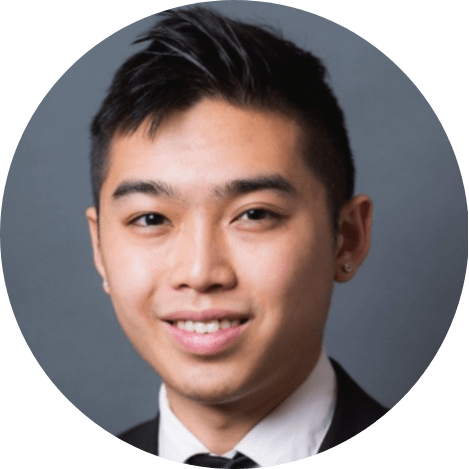 Andy is a full-time animal rescuer and owner of a toy doodle. When he's not saving dogs, Andy is one of our core writers and editors. He has been writing about dogs for over a decade. Andy joined our team because he believes that words are powerful tools that can change a dog's life for the better.
Why Trust We Love Doodles?
At We Love Doodles, we're a team of writers, veterinarians, and puppy trainers that love dogs. Our team of qualified experts researches and provides reliable information on a wide range of dog topics. Our reviews are based on customer feedback, hands-on testing, and in-depth analysis. We are fully transparent and honest to our community of dog owners and future owners.