The Sheepadoodle dog breed, a Poodle, mixed with the Old English Sheepdog, is an incredible family companion to raise in your home. However, raising this hybrid dog breed isn't as easy as you think. There are many important things to remember, like potential health issues and feeding it properly.
Sheepadoodles originated in 1992, and their name came from altering the term "Poodle," which is similar to the Labradoodle. Sheepadoodles are intelligent and have tons of energy. This in-depth guide will give you everything you need to know about the Sheepadoodle.
Before you scroll down this Sheepadoodle guide, you can check out these incredible Doodle breeds covered by our team at We Love Doodles: Best Largest Doodle Breeds and Best Poodle Mixes.
Learning About The Sheepadoodle
Sheepadoodles are intelligent dogs and are great family pets to have. However, raising a Sheepadoodle takes a lot of responsibilities, like grooming, feeding, and training. The Sheepadoodle comes from the Poodle mixed with the Old English Sheepdog. There are small and standard-sized Sheepadoodles, and the size depends on their parent breeds.
Generally, a smaller dog will have a longer lifespan than a larger dog. A Sheepadoodle's lifespan depends on its size (miniature, medium, large, etc.). The average life expectancy of this Poodle mix ranges between 12 to 15 years.
As for the Sheepadoodle's parents, the Old English Sheepdog and the Poodle's lifespans are slightly different. By knowing this information, you'll understand the Sheepadoodle a little better. Like all living creatures, a Sheepadoodle could deal with health issues as it grows.
The life expectancy of a Poodle ranges from 12 to 15 years. The Old English Sheepdog's life expectancy ranges from 12 to 15 years. It's a Sheepadoodle's responsibility to ensure it's living a healthy life through exercise and the proper diet.
Related: What is a Reverse Sheepadoodle?
Care
Sheepadoodles require more care and attention from their owners. This type of Poodle mix loves to socialize with people, so leaving it at home alone would lead to separation anxiety. If a Sheepadoodle's owner isn't often at home, it wouldn't be a wise choice to own a Sheepadoodle in the first place.
Raising a Sheepadoodle in an active household environment would be a better choice because it'll get to play with anyone living there. When a Sheepadoodle's owner has to leave the house, certain dog products could help this breed deal with separation anxiety.
A Sheepadoodle's owner could purchase specially-made products like a dog bed or a toy for separation anxiety. Raising a Sheepadoodle or any dog breed can be quite challenging. For such a simple term, caring for a dog requires enormous responsibilities.
Some of these examples of Sheepadoodle responsibilities that future owners should prepare for include:
Feeding a Sheepadoodle properly with the right dog food and treats.
Teaching a Sheepadoodle dog important commands like sitting, going inside the house, fetching, etc.
Grooming a Sheepadoodle's fur or bringing it to a dog groomer can cost a lot of money.
Cleaning a Sheepadoodle's mess, such as dog waste, breaking items around the house, spilling things, etc.
Giving a Sheepadoodle the proper amount of exercise ensures it'll live a long and healthy life.
Related: Best Brushes For a Sheepadoodle and Best Sheepadoodle Haircuts.
Health Issues
Every dog breed has its health issues that owners should be prepared for. There are common health issues, and then there is a possibility that a Sheepadoodle could suffer from certain rare dog diseases that every owner should know about.
Since a Sheepadoodle's parents are the Old English Sheepdog and the Poodle, it's prone to deal with health issues its parents had. When purchasing a Sheepadoodle, it's important to understand its parents' medical history.
Common health issues that a Sheepadoodle is prone to include:
Obesity: Feeding a Sheepadoodle with the proper and healthy diet is important. If a Sheepadoodle is over 10-20% of its ideal body weight, it's likely obese. Healthy diets and daily exercising can help avoid obesity in a Sheepadoodle.
Diarrhea: A Sheepadoodle can suffer from diarrhea, and it can happen from multiple causes. When a Sheepadoodle suffers from diarrhea, it'll releases liquid-like stool often.
Arthritis: When a Sheepadoodle is dealing with Arthritis, inflammation of its joints occurs. This health condition will cause a Sheepadoodle to feel uncomfortable and in pain.
Cancer: Like humans, a Sheepadoodle could deal with cancer throughout its life. There are various types of cancers that a Sheepadoodle could suffer from, such as Osteosarcoma, Mastocytocoma, lymphoma, skin cancer, or bladder cancer.
Vomiting: When a Sheepadoodle vomits, it could be its stomach feeling upset. The cause of an upset stomach in a Sheepadoodle could be due to intestinal parasites or consuming things that shouldn't be consumed. A Sheepadoodle dealing with dietary discretion could mean that it consumed leftover table scraps, stuff from the garbage, toxic stuff, food that is spoiled, or insects around the house.
Diabetes: The lack of insulin in a Sheepadoodle's body could lead to Diabetes, a biological response from its body. A Sheepadoodle could be dealing with Diabetes depending on the amount of sugar and glucose in its blood.
Kennel Cough: In a situation where a Sheepadoodle is coughing, it is suffering from kennel cough. Kennel Cough is a more general term for dog breeds like the Sheepadoodle that are coughing due to any conditions it's suffering from.
Dental Disease: Without the proper dental care, a Sheepadoodle could suffer from Periodontal Disease, which could worsen if the owner doesn't take good care of it. A Sheepadoodle suffers from Periodontal Disease because of tartar and plaque building up over time. The buildup of tartar and plaque on a Sheepadoodle's teeth could lead to losing teeth, infections on its gum, the loss of bones, and other unforgiving health issues.
Heart Disease: Heart disease is another common health issue, whether it's a Sheepadoodle or other dog breeds. There are different causes of heart disease, such as irregular heart rate or muscle disease.
Allergies: Humans can be allergic to certain things around their environment but did you know that Sheepadoodle dogs can also be allergic? A Sheepadoodle could suffer from different types of allergies, such as certain types of food.
Luxating Patella: When a Sheepadoodle's knee cap appears out of the ordinary, like popping out, it is called Luxating Patella. In the term 'Luxating Patella,' the meaning of word luxating means dislocated or out of joint. An example of Luxating Patella in a Sheepadoodle is when it starts skipping and moving around using three legs and suddenly goes back to normal walking on four legs like nothing was wrong.
Hip Dysplasia: The larger a Sheepadoodle's size is, the higher the chance it could deal with hip dysplasia. Hip dysplasia is a skeletal condition commonly occurring in large dog breeds with a lower chance in smaller dogs. When a Sheepadoodle deals with hip dysplasia, the function of its hip joint acts like a ball and socket, which wasn't developed correctly. As time passes for a Sheepadoodle, the ball and socket continue to grind, leading to deterioration. Eventually, deterioration would lead to a Sheepadoodle's function of its joint.
Epilepsy: Epilepsy for a Sheepadoodle is a chronic condition that could lead to constant seizures. According to data, epilepsy occurs in approximately 0.7% of dogs in the United Kingdom, 1 out of every 130 dogs.
Cataracts: When a Sheepadoodle's eye lens starts to cloud, it's likely suffering from cataracts. The cause of cataracts is due to water balance in the lens. As a Sheepadoodle's eye becomes more cloudy, it'll be more difficult for light to reach its retina, which could slowly lead to blindness.
Life Expectancy
The life expectancy of standard Sheepadoodle ranges from 12 to 15 years old. The size of a Sheepadoodle can play an important factor in how long it'll live. There are miniature Sheepadoodles, medium Sheepadoodles, and large Sheepadoodles. Size isn't the only factor in a Sheepadoodle's lifespan – there are other important things to consider, such as a Sheepadoodle's health.
The same applies to dogs, like humans dealing with different hands. A Sheepadoodle could unexpectedly suffer from a rare dog disease or a common health issue. To ensure that a Sheepadoodle is living its best life, the owner(s) should constantly bring their dog to a veterinarian check-up.
Keep in mind that the life expectancy of a dog like the Sheepadoodle will likely increase over time due to improvements in healthcare and a better lifestyle. In the past 40 years, the life expectancy of dogs has doubled. Since a Sheepadoodle's lifespan is between 12 to 15 years, this data will likely change as time goes on.
Related: How Long Does a Sheepadoodle Live?
Weight
A Sheepadoodle can be heavy or light depending on this dog breed's size. In this case, we'll cover the weight of the most popular types of Sheepadoodles: Toy Sheepadoodles and Standard Sheepadoodles.
Toy Sheepadoodle: The weight of a Toy Sheepadoodle ranges between 10 to 25 pounds (lb).
Standard Sheepadoodle: The weight of a Standard Sheepadoodle ranges from 55 to 85 pounds.
According to the American Kennel Club, the average weight of a Sheepadoodle ranges from 60 to 70 pounds. While this is the average, many Sheepadoodles are below and above the average weight (larger Old English Sheepdog parent).
Related: Micro Sheepadoodle Information, Facts, and Images and When is a Sheepadoodle Full Grown?
Characteristics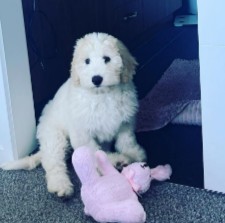 A combination of a Poodle mixed with the Old English Sheepdog results in a Sheepadoodle, which is often described as the perfect household companion. Poodles are ranked as the second most intelligent dog breed, and their remarkable curly coat has improved the lives of many people around the world.
The term Doodles originated from various Poodle mixes. With the Old English Sheepdog mixed with the Poodle, the Sheepadoodle can learn commands and tricks much quicker than other dog breeds. Most Sheepadoodle dog breeds are hypoallergenic, which means they shed much less due to their wavy and curly coats.
A hypoallergenic dog breed like the Sheepadoodle is an ideal companion for any person sensitive to a dog's fur. A Sheepadoodle makes the perfect service dog due to its intelligence, coat type, and being a family-friendly companion.
Price
The cost of a Sheepadoodle puppy ranges between $1,000 to $3,500. With inflation and high demand for this Poodle mix, most Sheepadoodle puppies are likely near $3,500. Doodle dog breeds are increasingly popular, so higher demand could lead to a higher value in Sheepadoodle puppies. Another factor determining the cost of a Sheepadoodle puppy is its colors. Certain Sheepadoodle colors are much rarer, which means that some people are willing to pay more.
Appearance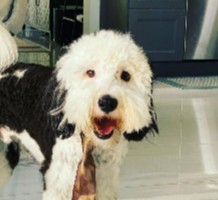 Sheepadoodles don't have just one appearance. You can find Sheepadoodles with different coat types, such as wavy and curly coats. The curlier a Sheepadoodle's fur coat is, the less shedding occurs. The result of a Sheepadoodle puppy's fur coat depends on its parents.
As for colors, Sheepadoodle's fur can come in different colors. Some Sheepadoodle's colors are rarer than others. A Sheepadoodle's color can be a mixture of white and black, pure black, pure white, and gray. Another factor that could play a role in the appearance of a Sheepadoodle is a Sheepadoodle's generation.
There are various types of Sheepadoodle generations, such as:
F1 Sheepadoodle
F1B Sheepadoodle
F1BB Sheepadoodle
F2 Sheepadoodle
F2B Sheepadoodle
F3 Sheepadoodle
Related: F1 vs. F1B Sheepadoodle Comparison and Sheepadoodle vs. Goldendoodle Dog Breed Comparison.
Conclusion For "Sheepadoodle Information, Facts, and Images"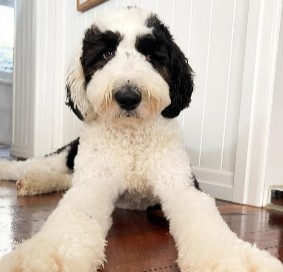 The Sheepadoodle, a Poodle, mixed with the Old English Sheepdog, is an intelligent dog breed perfect for families. This Poodle mix is great for children and active households. Raising a Sheepadoodle or any dog breed, in general, isn't an easy task.
There are many responsibilities to keep in mind. Depending on the type of coat and color rarity, the price of Sheepadoodle puppies could be higher than expected. Hopefully, this Sheepadoodle information will help you with everything you need to know about this incredible dog mix.
If you find this Sheepadoodle guide informative and helpful, you can check out these other articles covered by our team at We Love Doodles:
You can learn a lot more about the Sheepadoodle dog breed by watching "Top 10 Pros and Cons of Owning a Sheepadoodle" down below: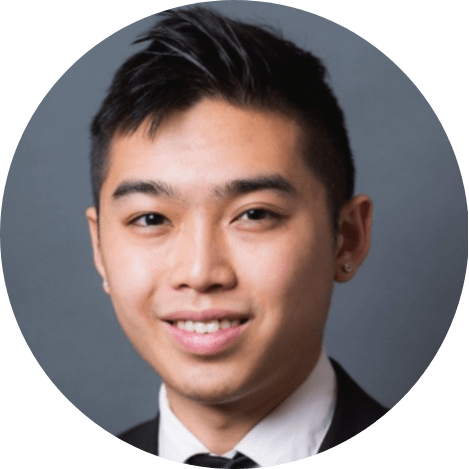 Andy is a full-time animal rescuer and owner of a toy doodle. When he's not saving dogs, Andy is one of our core writers and editors. He has been writing about dogs for over a decade. Andy joined our team because he believes that words are powerful tools that can change a dog's life for the better.
Why Trust We Love Doodles?
At We Love Doodles, we're a team of writers, veterinarians, and puppy trainers that love dogs. Our team of qualified experts researches and provides reliable information on a wide range of dog topics. Our reviews are based on customer feedback, hands-on testing, and in-depth analysis. We are fully transparent and honest to our community of dog owners and future owners.