If you're looking for an excellent family dog, the Sheepadoodle is just one of many great options. This breed combines the intelligent mind of the Poodle with the loyal, social nature of the Old English Sheepdog. With their incredibly soft fur and affectionate personalities, they can make perfect companions for cuddling.
The Sheepadoodle also has a rather beautiful appearance. This dog's curly, black and white fur is sure to catch plenty of eyes when you're at the park. And not only is their fur beautiful, but it's hypoallergenic as well!
So if you plan on adopting this wonderful dog, it's essential to think of a suitable name for them. And if you're struggling to find the perfect name, you've come to the right place. Here are some of the best Sheepadoodle names for your new friend!
Check out these other articles: Sheepadoodle Coat Colors and Do Sheepadoodles Shed?
Tips for Choosing the Best Name for Your Sheepadoodle
Before we move on to the names, here's a little guide to help you choose the perfect name for your new Sheepadoodle. Remember that every Sheepadoodle is different, so finding the right name may require some trial and error.
Consider Their Story
Does your dog have a unique story? If they do, it could provide some wonderful name inspiration.
If your Sheepadoodle is a former stray, a name like "Wolf" could reflect their wild past. Alternatively, if your Sheepadoodle has been through a lot of hardships, something like "Hero" could reflect their strength. And if your Sheepadoodle used to live on a farm, a sheepdog-appropriate name like "Shep" could be perfect for them.
Consider Their Personality
While you may not know your dog's personality yet, it can be a big help in finding the perfect name for your dog. Because of this, you may want to wait until you've gotten to know your furry friend before choosing a name for them.
Big, tough Sheepadoodles deserve powerful names like "Brutus" or "Apollo." Or if your dog is on the timid side, a cuter, softer name like "Teddy" or "Bubbles" could be a nice fit as well. And if your dog is a goofball, we have a whole section of funny Sheepadoodle names later on!
Consider Their Appearance
Although Sheepadoodles don't vary too much in their appearances, your dog will likely have something about their appearance that stands out.
If your Sheepadoodle is the runt of the litter, a small name like "Teddy" might be perfect for him. Or if the pattern on their fur has the appearance of a mask, something like "Bandit" could work as well. And if your Sheepadoodle has fur that hangs over their eyes, "Shaggy" could make a rather appropriate title for them!
Consider Your Preferences
Overall, the most important thing about naming your dog is finding a name you enjoy. When you like the name you've chosen for your Sheepadoodle, you'll have a much easier time remembering it.
Be sure to pick a name that's easy for you to pronounce. Also, choose something that resonates with you; if you're fond of mature names, don't feel like you need to choose something cute for your miniature Sheepadoodle.
Now that you know what to look for in a dog name, let's move on to the list!
Best Female Sheepadoodle Names
There are so many opportunities when it comes to female Sheepadoodle names. Some people enjoy cute or flowery names for their female dogs, while others enjoy more sophisticated titles. Or if your female Sheepadoodle is a tough girl, a tough goddess name like "Athena" could be a perfect choice.
No matter your preference, the right name for your female Sheepadoodle is out there. Remember, even if your dog is a girl, you don't need to choose something from this list–there are plenty of great options for female dogs in later sections as well.
Here are some of the best names for your female Sheepadoodle!
Duchess
Athena
Jackie
Harley
Astrid
Arya
Melody
Ariel
Bella
Rosie
Bonnie
Ivy
Dixie
Dodie
Jamie
Trixie
Maxine
Cleo
Chloe
Zoe
Stella
Maggie
Phoebe
Roxy
Freya
Gracie
Evie
Pepper
Lily
Riley
Best Male Sheepadoodle Names
With so many amazing male dog names out there, narrowing down the perfect one can be a little difficult. You could go with something traditional like "Max," or something a bit more unique like "Caesar."
We'll cover a few more specific categories later on, so if you're not fond of any of these names, you might find some better ideas in a different section.
And even if your Sheepadoodle is a male, it doesn't mean he needs to have a super masculine name–something gender-neutral like "Sammy" could work wonderfully, for instance.
Only you will know the best name for your male Sheepadoodle, though, so here are a few great ideas to get you started!
Cody
Roman
Toby
Caesar
Brutus
Max
Sammy
Benny
Finn
Archie
Artie
Tommy
Jackson
Kenny
Baxter
Winston
Cooper
Remy
Wally
Bruno
Thor
Vinnie
Apollo
Buster
Chester
Kobe
Milo
Jasper
Lucky
Boomer
Odin
Cute Sheepadoodle Names
Sheepadoodles are nothing short of adorable. With their floppy ears, big beady eyes, and cuddly personalities, you'll find yourself saying "aww" nearly every day with this dog breed by your side.
If you want a name that's cute yet silly, something like "Wiggles" could be the way to go. Alternatively, if you want a title that's a little more sophisticated, a name like "Angel" may be just what you're looking for.
So if you'd like a name to reflect the adorable nature of your Sheepadoodle, you're in luck–there are plenty of cute names that are perfect for this breed, regardless of their gender.
Sugar
Teddy
Darling
Biscuit
Cookie
Snowball
Boots
Kiki
Sprinkles
Sweetie
Wiggles
Winnie
Bunny
Woody
Bubbles
Peaches
Angel
Princess
Skye
Sunny
Sunshine
Pumpkin
Snoopy
Nature Sheepadoodle Names
The Sheepadoodle loves the great outdoors, and you can attribute that to their old English sheepdog heritage. They make excellent companions for walks through nature. They're also bursting with energy, so expect to spend a lot of time in the backyard with your new Sheepadoodle.
Because of this, you may want to consider choosing a nature-themed name for your Sheepadoodle. Not only can these names reflect your dog's outdoorsy personality, but a lot of them are simply beautiful. A lot of these titles are gender-neutral as well!
Here are some of the best dog names for Sheepadoodles who love nature.
Daisy
Willow
Rocky
Bear
Wolf
Blizzard
Aspen
Oakley
Brook
Geyser
Jasper
Marsh
Heather
Hazel
Basil
Robin
Raven
Buttercup
Flora
Iris
River
Savanna
Sandy
Moose
Chestnut
Maple
Fern
Blossom
Ivy
Wren
Sparrow
Tundra
Mini Sheepadoodle Names
Some Sheepadoodles are smaller than others. This can happen when you mix an old English sheepdog with a miniature Poodle rather than a standard Poodle. If this is the case with your Sheepadoodle, you may want a name to reflect their small and lovable size.
Many of these mini Sheepadoodle names such as "Clover" or "Jojo" can reflect your dog's size in a sophisticated way. Or if you don't mind something a bit more unconventional, you may enjoy a name like "Hushpuppy" or "Pebbles" instead.
Here are some good Sheepadoodle names for your fun-sized friend!
Clover
Candy
Buddy
Cupcake
Tiny
Pancake
Jojo
Tatertot
Hushpuppy
Minnie
Teacup
Button
Pint
Honey
Marshmallow
Gumball
Bean
Pebbles
Black and White Sheepadoodle Names
The black and white fur of the Sheepadoodle is truly beautiful. While some people may think color-based names are cliche, there are plenty of creative options to choose from as well.
From classic names like "Oreo" to more creative titles like "Obsidian," there are so many unique black-and-white themed Sheepadoodle names to consider!
Here are the best Sheepadoodle names to reflect their black and white color scheme!
Oreo
Cookies 'n' Cream
Obsidian
Onyx
Panda
Badger
Cow
Snake-Eyes
Tux
Ace
Chess
Yin & Yang
Luna
Inky
Domino
Pepe le Pew
Skunk
Dotty
Cruella
Sushi
Truffle
Orca
Mickey
Spot
Patches
Monochrome
Funny Sheepadoodle Names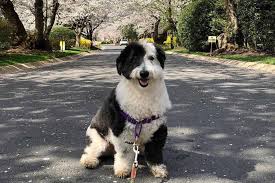 Anyone who's met a Sheepadoodle can testify that these dogs can have some goofy personalities. With a Sheepadoodle in your home, you can expect a lot of laughs in the years to come.
Remember, dog names don't have to be serious. If none of the names on this list have resonated with you so far, it may be helpful to loosen up a bit and consider something on the goofy side!
Here are some good Sheepadoodle names for a dog with a truly silly personality! They'll surely bring a giggle out of someone in the future.
Banjo
Goofy
Bacon
Puptart
Waffles
Meatball
Dogzilla
Chewbacca
Sherlock Bones
Lollypup
Pupsicle
Santa Paws
Chicken Nugget
Nibbles
Elmo
Subwoofer
Barkley
Muddy Buddy
Bingo
Peewee
Bubby
Conclusion for Sheepadoodle Dog Names
Now that you've got plenty of inspiration, it's time to narrow down the best Sheepadoodle names for your dog!
Fortunately, choosing the best one will be even easier once you get to know your Sheepadoodle. Sometimes, the perfect name will jump right out at you the second you meet them; in other cases, it may take time to ease into a name.
No matter what name you choose, make sure it's one you love–after all, dogs generally don't care what you call them. Above all else, they just want a loving home!
Other articles you would like: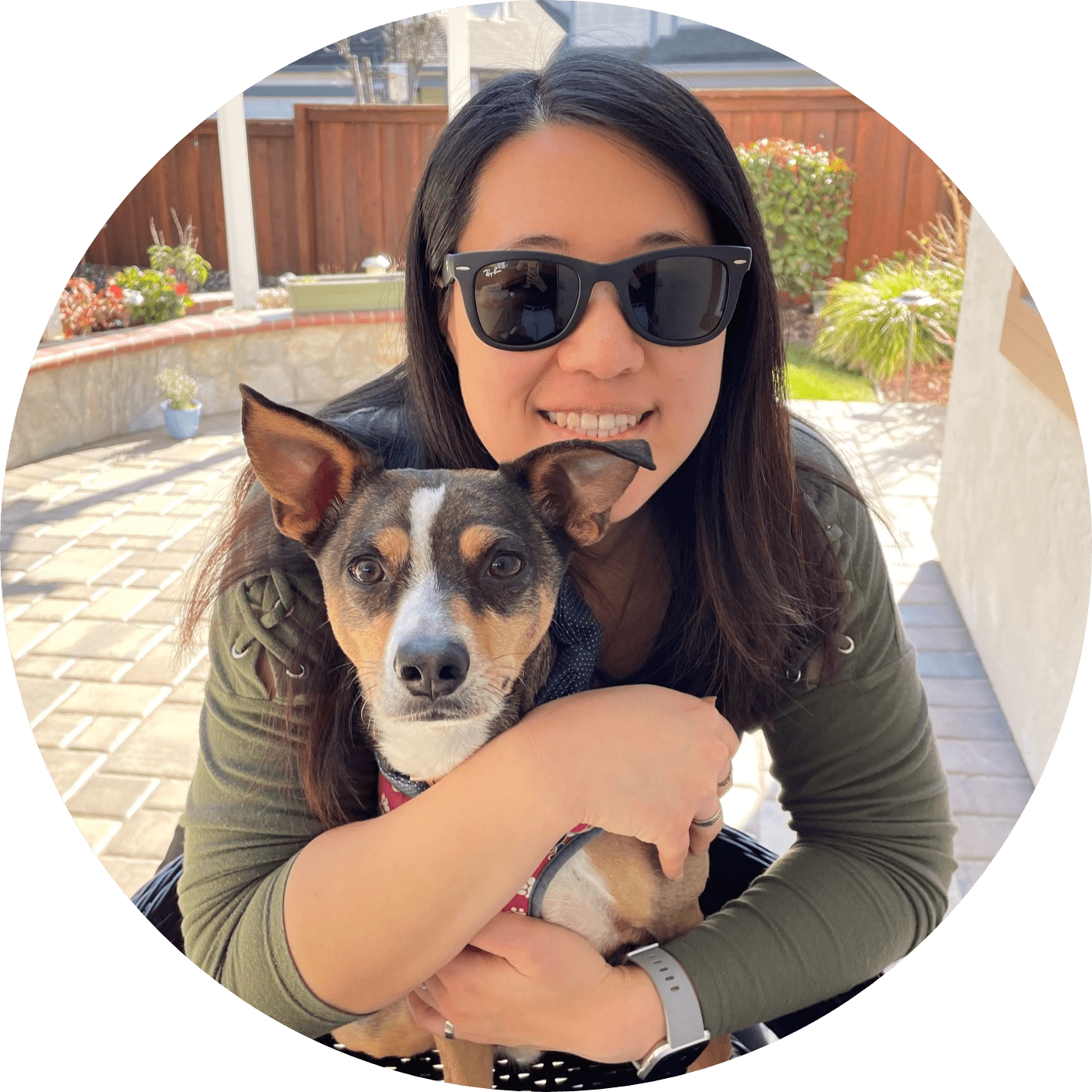 Dr. Sabrina Kong graduated from the Royal Veterinary College in England in 2016 and has been working at a small animal clinic in Northern California since then. She grew up in the Bay Area and got her bachelor's degree from Cal Poly San Luis Obispo. She also became a Certified Canine Rehabilitation Practitioner through a program at the University of Tennessee.
When she isn't in the clinic taking care of her four-legged patients, she enjoys traveling and trying new foods with her friends and her three-legged dog, Apollo. She adopted Apollo from her clinic when he was a puppy with numerous health issues. Dr. Kong truly cares about taking care of animals.