Goldendoodles make wonderful household pets. But did you know that they aren't just golden? Goldendoodles come in several different colors. Today, we'll be talking all about the black and white Goldendoodle, including information, images, and other fun facts!
Before you scroll further down this guide, "Black and White Goldendoodle Information, Facts, and Images," you can check out these other Goldendoodle-related articles from our team at We Love Doodles: F1 vs. F1B Goldendoodle: What's the Difference? and Can a Goldendoodle Be a Service Dog?.
Black and White Goldendoodles Information
A Goldendoodle is a cross between a Golden Retriever and a Poodle. They are known for their friendly demeanor and their gorgeous coat.
The energetic yet kind Goldendoodle loves people, too. They are excellent for households with young kids and new dog owners. They also make great emotional support animals since both of their parent breeds are sociable and extremely smart.
The black and white Goldendoodle's coat typically comes from breeding a white Golden Retriever with a black Poodle.
History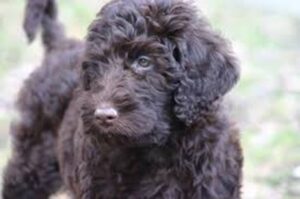 The Goldendoodle is one of the most recent "Doodle" (Poodle mix) breeds. Goldendoodle breeding dates back to the 1990s. The idea underlying the creation of the Goldendoodle was to make a larger Doodle that would shed less and still have the bright and sociable traits of the Golden Retriever.
Since the Goldendoodle remains a relatively new crossbreed, the majority of its puppies are the offspring of first-generation breeding. That means that most Goldendoodles are the direct offspring of a Poodle and a Golden Retriever instead of two Goldendoodles.
Despite the Goldendoodle being fairly popular, they are still not recognized as a registered breed. This is mainly because Goldendoodles are not considered purebred. Instead, they are seen as a mixed breed. However, you can still get your Goldendoodle enrolled in the American Kennel Club's partner program.
Black and White Goldendoodle Appearance
Size
A Goldendoodle's weight and height mostly depend on his Poodle pedigree, because Poodles have a wider variety of sizes than Golden Retrievers. In particular, a Standard Poodle parent will produce a large Goldendoodle, whereas a Miniature or Toy Poodle parent would result in a smaller pup.
Standard Goldendoodles can weigh as much as 100 pounds in and measure over 21 inches tall. Miniature Goldendoodles are normally under 35 pounds and between 14 and 17 inches tall.
Color
While Poodles come in a variety of hues, Golden Retrievers tend to have coats that are between wheat and golden. The most common Goldendoodle color is teddy bear gold. However, other colors include black, brown, cream, and red.
Rarely, a puppy produced from several generations of doodles will exhibit recessive color characteristics like grey, blue, or even several colors. The black and white Goldendoodle comes from breeding a light-colored Golden Retriever with a black Poodle.
Coat
The "hypoallergenic" coat of the black and white Goldendoodle is arguably one of its main draws. A Goldendoodle is a descendant of the Poodle, which is a breed of choice for allergic dog owners. The Poodle doesn't shed much, making it a good choice for folks who frequently scratch or sneeze around puppies.
Goldendoodles that are more Poodle than Golden Retriever will have the curlier coat of a Poodle. Meanwhile, a Goldendoodle with more Retriever will have a wavier coat. If your Goldendoodle is exactly 50/50 Poodle and Golden Retriever, its coat type will be a complete mystery!
All doodles have a double coat made up of a thick underlay of short hairs underneath a topcoat of longer hairs, known as guard hairs.
More Black and White Goldendoodle Information
Learn even more information about the black and white Goldendoodle!
Temperament
Goldendoodles are an excellent choice for families with young kids because of their mild temperament, which comes from their Golden Retriever ancestry. They tend to be cautious with babies and young children. They also make kind friends with kids as they get older.
As with any breed, you must still keep an eye on your Goldendoodle around young children and make sure your kids understand how to behave around animals.
Due to their tremendous affection, black and white Goldendoodles like interacting with people and other animals, including cats and other small critters. They're also laid back.
Because Goldendoodles inherit their brains from both parents, they are also intelligent and highly trainable.
Living Needs
A Goldendoodle needs playtime and training every day, whether it's a daytime stroll or a backyard game of fetch—or both! With such a laid-back attitude, they'll thrive with more buddies (both canines and humans). Goldendoodles are also known for their love of water, so swimming offers them an additional exercise option.
A small Goldendoodle is more likely to thrive in apartment living than a standard-sized Goldendoodle, however, exercise outdoors is still vital either way.
Additionally, neither the standard nor the miniature Goldendoodles are extreme barkers. So there's no need to be concerned about angry neighbors, as long as your pup has been correctly socialized and trained.
Black and White Goldendoodle Health
While Goldendoodles are generally healthy dogs, all breeds are prone to certain problems. Even though not all Goldendoodles will contract one or more of these illnesses, it's still necessary to be conscious of them if you're thinking about getting one.
If you're purchasing a puppy, make sure to choose a reputable breeder who will provide you with the health certifications for both of your puppy's parents. Medical certificates demonstrate that a dog has completed examinations and is free of a particular condition.
Here are some of the common health problems that may affect a black and white Goldendoodle. Keep in mind that just because a black and white Goldendoodle may be more prone to these issues, it doesn't mean that they're certain to develop them.
Patellar Luxation
This issue affects tiny dogs frequently. Patellar luxation is a painful condition in which the knee joint moves into and out of place. Although many dogs with this illness live quite ordinary lives, it may be debilitating.
Ear Infections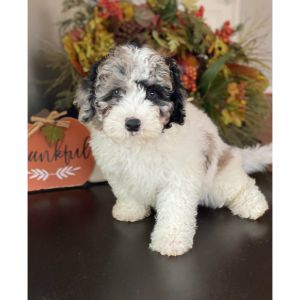 Due to their floppy ears, which collect moisture, Goldendoodles may experience issues with ear infections. Make sure to continuously clean and check their ears.
Hip Dysplasia
This hereditary disorder causes the thigh bone to improperly fit into the hip joint due. However, it can also be brought on by starvation. While this doesn't happen to all dogs, some can develop immobility and pain in either one or both of their rear legs. X-ray screening is the most accurate method of disease diagnosis.
In either case, as the dog matures, arthritis might appear. If you're purchasing a puppy, you should ask the breeder for documentation confirming the parents have had hip dysplasia testing and are healthy. It's best not to breed dogs with this problem.
Progressive Retinal Atrophy (PRA)
The gradual deterioration of the retina is brought on by this set of eye disorders. Early symptoms include night blindness. As the condition advances, your dog may start to lose its ability to see during the day. Provided that their surroundings don't change, many dogs can easily adapt to their reduced or damaged eyesight.
Von Willebrand's Disease
This blood condition, which can occur in both humans and canines, has an impact on the coagulation process. Symptoms of the condition include nosebleeds, bleeding gums, prolonged bleeding following surgery, persistent bleeding during or after heat cycles, or blood in the feces.
This condition cannot be treated and is typically diagnosed between the ages of three and five. Treatment options include cauterizing or suturing wounds, giving blood transfusions before surgery, and avoiding certain drugs.
Allergies
Dogs frequently suffer from allergies, and the Goldendoodle is no different. You can handle food allergies by removing foods from your dog's diet. Contact allergies are brought on by a response to a substance that makes contact with your dog's skin, such as bedding, flea powders, dog shampoos, or other chemicals.
Airborne irritants including pollen, dirt, and mildew and can cause inhalant allergies. The course of treatment for allergies depends on the underlying reason and may involve changes in diet, medication, and environmental modifications.
Gastric Dilatation-Volvulus (GDV)
This fatal illness, sometimes known as bloat, can strike big, deep-chested dogs like larger Goldendoodles. This is especially applicable if they only eat one large meal per day, eat it quickly, and follow it up with lots of fluids or intense activity.
Bloat is far more common in older dogs. GDV happens when the abdomen twists while being swollen with gas or air (torsion). The dog is unable to burp or vomit to let out the additional gas in the belly, which interferes with the normal blood circulation toward the heart.
Symptoms of bloat include a bulging belly, excessive salivation, and retching without throwing up. Your dog may also show signs of anger, depression, lethargy, and frailness. It may also have a fast heartbeat. If you see any of these symptoms, it's critical to take your dog to the vet right away.
Hypothyroidism
This is a condition in which the thyroid gland doesn't produce enough hormones. It can also cause related issues such as epilepsy, alopecia (hair loss), overweight, tiredness, discoloration, pyoderma, and other skin diseases. Medications and dietary changes are used to treat hypothyroidism.
Caring for a Black and White Goldendoodle
Black and white Goldendoodles are typically very simple to care for and train. They are intelligent and generally willing to please, making them the ideal candidate for both new and experienced trainers. You should use positive reinforcement to train them rather than harsh punishments, which could undermine their self-esteem.
All breeds should be socialized, but for a sensitive dog like the Goldendoodle, it can be particularly helpful in removing any nervousness or shyness.
The Goldendoodle needs lots of exercise. Typically, 20 to 30 minutes of physical activity every day will be sufficient to prevent boredom in a Goldendoodle and promote good physical health.
Since Goldendoodles flourish when around their family, they're not the best pets for an outdoor or kennel lifestyle. Therefore, owners should plan to keep their Goldendoodle mostly inside.
If a Goldendoodle is left alone for extended periods, it may develop anxiety issues, which can manifest as destructive behavior.
Frequently Asked Questions
What is the personality of a black and white Goldendoodle?
Like other Goldendoodles, the black and white Goldendoodle is intelligent, calm, and friendly.
What is the rarest color of Goldendoodle?
The rarest coat color for a Goldendoodle is the silver Goldendoodle.
How long do black and white Goldendoodles live?
On average, you can expect your black and white Goldendoodle to live anywhere from 10 to 15 years.
Black and White Goldendoodle: Perfect for You!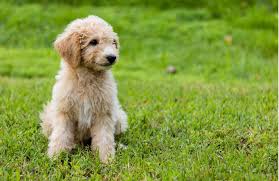 Apart from being adorable, black and white Goldendoodles are also incredibly fun and sociable to have around. They are the perfect dogs for both new and experienced dog owners, families and individuals, and anyone looking to have a fun, loyal, friendly pooch in their home!
If you find this guide, "Black and White Goldendoodle Information, Facts, and Images," helpful, you can check out these other Goldendoodle-related articles from our team:
You can learn more about the Goldendoodle dog breed by watching "Goldendoodle Pros and Cons | The Good AND The Bad!!" down below:
Garrett loves animals and is a huge advocate for all Doodle dog breeds. He owns his own Goldendoodle named Kona. In addition, he volunteers at the Humane Society of Silicon Valley, where he fosters dogs and helps animals. Garrett enjoys writing about Doodles and believes that dogs can teach humans more about how to live than humans can teach a dog.
Why Trust We Love Doodles?
At We Love Doodles, we're a team of writers, veterinarians, and puppy trainers that love dogs. Our team of qualified experts researches and provides reliable information on a wide range of dog topics. Our reviews are based on customer feedback, hands-on testing, and in-depth analysis. We are fully transparent and honest to our community of dog owners and future owners.