How do you define what a Standard Goldendoodle is? Teacup, toy, mini, medium, standard, etc. — there are so many Goldendoodle sizes, and breeders use many terms you probably won't recognize. This cannot be very clear. Fortunately, this Standard Goldendoodle guide will help you. By the end of this article, you will know everything there is to know about this adorable and affectionate breed.
Goldendoodle Sizes

Breeders commonly refer to these sizes when talking about the Goldendoodle.
Teacup
Toy
Mini
Medium
Standard
The Standard Goldendoodle dog can reach 22 inches and weigh 50 to 70 pounds. Male Goldendoodles grow up to be larger than females. The tiny Goldendoodles are bred by using more miniature Poodles. Different sized Poodles were produced for various purposes. The resulting Goldendoodles' behavior, temperament, and traits may also differ from what you might expect. If you want to know your Goldendoodle puppy's adult size, look at the breed's parents.
Goldendoodle Guides: When is a Goldendoodle Full-Grown and Mini Goldendoodle Size Guide.
History of the Goldendoodle

The Goldendoodle, also known as the Groodle, was first bred in the 1990s. The successful breeding of the Labradoodle paved the way for the Goldendoodle, which was bred from a Standard Poodle and a Golden Retriever. The new breed is sought after because of its parentage, health, and personality. Cross-breeding a Golden Retriever with a Standard Poodle was to get a hybrid dog with the hypoallergenic coat of the Poodle. Since the Labradoodle was successfully produced, breeders also wanted a hybrid with the Golden Retriever's sweet personality. Because of this quality, Goldendoodles can work as guide dogs who assist the visually impaired. This also makes them excellent dogs for first-time pet owners.
Dogs with Hypoallergenic Coats: Best Poodle Mixes and Best Giant Doodle Breeds.
Standard Goldendoodle Generations

There are several Goldendoodle generations to keep in mind. The F1 Goldendoodle is the most "standard" you can get with these dogs. F1 stands for a first-generation Goldendoodle while F2 for a second-generation dog. Then there is the F1B, which means backcrossing the hybrid with a purebred Poodle or Golden Retriever. There are also the multigen Goldendoodles. However, it is only the F1 Goldendoodles that have the hybrid vigor and other advantages. This hybrid vigor refers to the health benefits of first-generation puppies, who get the least number of diseases passed down from their parents. These reduced number of illnesses are only those common between both its parents. However, a second or third-generation puppy doesn't get the same benefits. The Golden Retriever traits and genes decrease in strength as they are passed down through generations. This makes the F1 a Standard Goldendoodle on a lot of points.
Goldendoodle Generation Guides: F1 vs. F1B Goldendoodle and Best Mini Goldendoodle Generations.
Housing Your Standard Goldendoodle

It doesn't matter if you live in the city or a rural area, you will need a large home with a big backyard if you wish to keep the Standard Goldendoodle. If you're living in an apartment or condo, the Standard Goldendoodle may not be a good option for you. This breed needs plenty of space to play and roam, so a fenced outdoor area is a must. The Standard Goldendoodle has a tendency to jump onto furniture, kitchen counters, etc. When your pet is in the mood, it won't mind knocking over a thing or two. You can forget about displaying fragile objects.
Goldendoodle Question: Are Goldendoodles Good With Kids, Dogs, and Cats?
Exercising Your Standard Goldendoodle

Standard Goldendoodles are highly energetic and playful. They require plenty of exercises, so devote at least an hour a day to physical activity. Make sure your pet gets outdoor time as well. Take your Standard Goldendoodle out for walks, hikes, runs, or any high-energy sport. If you love to swim, then there is no better match for you than the Goldendoodle. They relish water-play and can easily outswim humans. Goldendoodles do not ask for constant stimulation if you make sure their physical and mental exercise needs are met. Once done with a good workout, your pet will happily lay on the couch and spend time indoors. Give your dog enough exercise, so it doesn't release all that pent-up energy inside the house.
Goldendoodle Guide: Goldendoodle Energy Level Information.
Training Your Standard Goldendoodle

Keep the following information in mind when training the Standard Goldendoodle. Their assertive temperament means training is best done when they are young. Socialization and behavior lessons teach them how to maintain and respect boundaries. This is when trainers conduct obedience lessons, including when to bark, when to stop, and when to listen to their owner. After all, you don't want your grown-up dog to go chasing after all small dogs and strangers, no matter how pure their intentions are. You'll also need to potty train your Goldendoodle. If you're a first-time dog owner, getting an adult dog without proper training might get you in trouble. You may not be ready to handle the strong will and high energy level of the Standard Goldendoodle. One thing that works in your favor is that they love to please, so positive reinforcement works best while training.
Goldendoodle Training Guides: How To Train a Goldendoodle and How To Train an 8-Week Old Goldendoodle Puppy.
Temperament

The Goldendoodle temperament varies, depending on the size of the dog. As mentioned, the purebred parents of different sizes were bred for various purposes, which affected the hybrid's personality. Since the Standard Poodle and Golden Retriever were bred for retrieving purposes, a match between these two means you get a hybrid who loves to play catch. That is also the reason these dogs are so outgoing, expressive, and non-aggressive. They are so friendly that they will greet strangers and unfamiliar pets enthusiastically. You guessed it: Goldendoodles do not make good guard dogs.
The Goldendoodle is one of the most intelligent dogs in the world. They can memorize commands, routes, and schedules faster than other breeds. No wonder they make excellent service and therapy dogs. Goldendoodles are known to be sensitive to the surroundings and their owners' emotions. Having a Goldendoodle is like having a versatile friend — it can be whatever you need it to be. This emotional intelligence, smartness, and activeness make it a gem of a dog. The Standard Goldendoodle is a gentle dog who craves lots of attention and playtime.
You can keep them occupied with activities or games that feed their curiosity. However, they are known to suffer from separation anxiety, so leaving them alone for hours is not a good idea. Expect your pet to snuggle and demand affection as soon as you get home from work. This breed loves to play, and they thrive in an active family. Children will adore chasing or playing catch with this furry companion. Some Goldendoodles can grow to a large size or get out of control when playing with children. This is why adult supervision is necessary to avoid accidents.
Health

The Standard Goldendoodle has a life span of 10 to 15 years. Please take note that the smaller the breed, the more health problems it will have. The same holds for the Goldendoodle. Suppose you remember the "hybrid vigor" of the first-generation puppies. In that case, you now know that a Standard Goldendoodle will have both: decreased illnesses from being a first-generation pup and a larger size. Food allergies, diabetes, heart disease, and increased blood pressure are common issues that you can avoid with a good diet and sufficient exercise.
However, below are some diseases that the breeding parents have in common, which can pass down to the Goldendoodle.
Hip Dysplasia
Atopic Dermatitis
Epilepsy
Genetic Problems
Joint Problems (hip or elbow)
Von Willebrand's Disease
Patellar Luxation
Gastric Dilatation-Volvulus
Hypothyroidism
Goldendoodle Health-Related Article: What Should I Do If My Goldendoodle Has Diarrhea?
Appearance

If you love cute dogs, then Goldendoodles are an excellent option. They look like cuddly, mobile teddy bears. A Standard Goldendoodle usually has a hypoallergenic coat. However, their coat needs to be brushed several times a week to maintain it. There are also Goldendoodle shampoos that you can use. Thankfully, these dogs love attention and pampering, so grooming them will be a breeze. Since a Standard Goldendoodle has equal parts Poodle and Golden Retriever, the coat texture and color vary based on the parent's coat. Common coat colors include white, black, grey, brown, red, orange, golden, cream, apricot, or chocolate. The texture can be wiry, curly, straight, or silky.
Related Goldendoodle Guides: Types of Goldendoodle Colors and Goldendoodle Grooming Guide.
Diet Requirements

Feed your Goldendoodle puppies three meals when they are still growing, and then switch to two meals a day for adult dogs. Check if the parents had food allergies and whether they have been passed on to the puppy. You will need to pay attention to what you feed your Goldendoodle and how much. Both smaller and larger Goldendoodles have big appetites. If you are a first-time dog owner, better talk to your vet about dietary requirements based on age, size, exercise, and health issues. If you don't learn about these nutritional requirements and overfeed, your pet could gain weight and suffer from related problems. But don't underfeed them either, as the dog will have no energy and won't move. It's completely normal for these dogs to ask for treats or more food, but that does not necessarily mean they are hungry. You should remember the consequences if you plan on overfeeding your companion.
Goldendoodle Dog Food Recommendations: Best Puppy Food For a Goldendoodle and Best Dog Food For Goldendoodles.
Conclusion For "Standard Goldendoodle, Information, Facts, Images"

Before you decide to adopt a Standard Goldendoodle companion, you'll need to remember several key things. You'll have to understand the cost of a Goldendoodle and if it's within your budget. The price of a Goldendoodle can be high. However, there are other costs such as food, grooming necessities, etc. If your living environment is small, then you should think about the sizes of a Goldendoodle you're going to introduce into your home. There are many factors. After all, introducing a Goldendoodle companion into your home is a huge step. Our team at WeLoveDoodles wishes you the best in your new chapter in life with your Goldendoodle companion.
For more Goldendoodle-related guides, you can check out:
To learn more about the Goldendoodle dog breed, watch "Goldendoodle Dog Breed Guide" from Smart Dog Lover down below: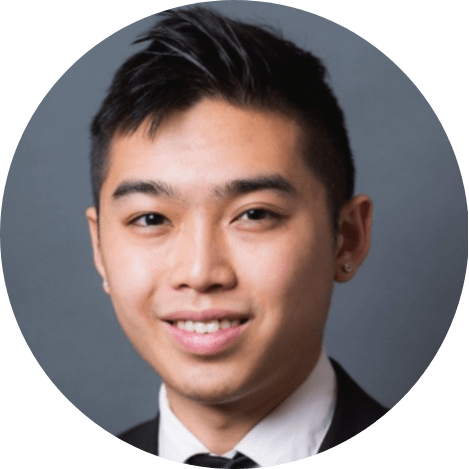 Andy is a full-time animal rescuer and owner of a toy doodle. When he's not saving dogs, Andy is one of our core writers and editors. He has been writing about dogs for over a decade. Andy joined our team because he believes that words are powerful tools that can change a dog's life for the better.
Why Trust We Love Doodles?
At We Love Doodles, we're a team of writers, veterinarians, and puppy trainers that love dogs. Our team of qualified experts researches and provides reliable information on a wide range of dog topics. Our reviews are based on customer feedback, hands-on testing, and in-depth analysis. We are fully transparent and honest to our community of dog owners and future owners.