Is your dog acting clingy out of nowhere? If you landed on this page after searching, "why is my dog so cuddly all of a sudden," you've come to the right place. You're likely worried about your dog and wondering whether there is anything majorly wrong with it. Often, it's not something you need to be overly concerned about. Here are reasons dogs display sudden affection.
Before you scroll down to a more in-depth answer to this question, "Why is My Dog So Cuddly All of a Sudden," you can check out these other dog-related guides from our team at We Love Doodles: Best Low-Maintenance Pets That Like to Cuddle and Why Does My Dog Bite My Cat's Neck?
1. Your Dog Most Likely Misses You At Night
It's normal for your dog to act cuddly in the morning. That's usually more common when your dog sleeps outside or in a different room than you. Sure, your dog might miss you every night. However, your dog might have missed you even more last night.
Perhaps you slept a little longer than usual, or maybe they had a bathroom accident and felt guilty. There could also have been strange noises at night. A lack of stimulation and exercise during the day could also be a factor.
More Dog-Related Guides: Why Does My Dog Lick Me in the Morning and Why Does My Dog Sit Alone in Another Room?
2. Your Dog Knows That You Have to Leave to Go Somewhere
Over time, your dog will get to learn your schedule. Your dog might not realize it at first, but it will soon get to know that you leave to go to work at 8 AM every day. Eventually, they might start acting up a little before you leave to work, becoming overly attached.
More Dog-Related Guides: Why Does My Dog Lick My Hair and Why Won't My Dog Go on Grass?
3. Your Dog Notices When You're Packing to Leave
Dogs aren't stupid. They're highly intelligent and can determine if you're going on a trip, especially if it's not your first time. If your dog saw you packing a suitcase or backpack in preparation for a business trip, they might know you will be away for a while. Being cuddly is a way of showing you that they already miss you.
More Dog-Related Guides: Why Does My Dog Roll Around After Eating and Why Does My Dog Walk Around and Poops?
4. Your Dog Could Be Suffering From an Illness
The answer to "why is my dog so cuddly" isn't always that they have separation anxiety or are starting to miss you. Sometimes, it's because your dog is in pain or feeling sick. Perhaps your dog has a fever. According to the AKC, your dog's nose should be wet and cold. If it's hot and dry, they may have a fever. However, it's a bit more complicated than that.
If you can, buy a pet thermometer, a more accurate device for measuring if your dog has a fever (102.5 degrees or higher). If your dog is sick, it might also display other worrying symptoms. For example, they might have red eyes and shiver excessively if they have a fever. A fever isn't the only sickness your dog might have.
They may have stomach problems. A common symptom is a lack of appetite, but your dog might also vomit. If you are afraid your dog is sick, it's best to take them to a vet who can check them out. A pet may also be cuddly if they are experiencing pain, such as joint pain or arthritis. In those cases, a vet can also pinpoint the cause of the suffering and give you a remedy to treat it.
More Dog-Related Guides: Rare Dog Diseases Every Owner Should Know and Reasons Dog is Wobbly and Off-Balanced.
5. You Dog Could Be Feeling Anxious
A common reason dogs seek comfort through sudden cuddling, which can cause you to ask, "why is my dog so cuddly all of a sudden" is that they are anxious about something. Many things can trigger anxiety in dogs. Often, it's something in the environment. For example, a thunderstorm with thunder and lightning can be frightening for a dog, especially if it's a puppy not used to such storms.
Loud noises outside, whether from a passing car, motorcycle, or construction across the street, can also cause anxiety. Your puppy might be anxious if you haven't fed them on schedule, or they may have come across something that scared them, like a giant spider.
If you adopt a dog from a shelter, it's normal for them to suddenly experience anxiety and seek reassurance at random times. Most likely, the dog experienced a trauma of some sort in its life. Perhaps the previous owner beat them, or maybe they were alone on the street to fend for themselves. Either way, your dog might seek comfort when remembering its past trauma.
More Dog-Related Guides: Why Does My Dog Nudge Objects with His Nose and Why is My Dog Eating Grass Frantically?
6. Your Dog Probably Had a Terrible Dream
Your dog might also have had a bad dream. Dogs and other animals – even fruit flies – have dreams, just like humans, according to the AKC. Your dog typically dreams about their day. Since they spend around half of their day sleeping, there is ample opportunity for bad dreams to happen.
Your dog might experience a bad dream if it had a bad experience earlier in the day. When waking up from a doggy nightmare, your pet might be fearful and anxious. They may seek comfort in your embrace, so allow them that chance. It will help them feel much better.
More Dog-Related Guides: What Can I Give My Dog to Sleep At Night and Why Does My Dog Sleep on Me?
7. Your Dog Might Be Suffering From Separation Anxiety
Are you coming home after a long day at work? Your dog might have missed you. Perhaps you got a new job, or your job is now requiring you to return to the office instead of working at home like you used to do. It's okay if your dog experiences some separation anxiety.
However, if it gets excessive, it will be a problem. Your dog needs to learn to stay home alone and not act up. You can train them by leaving the house for increasingly longer periods. Also, ensure to provide your dog with enough stimulation while away. Buy toys that they love, for example.
More Dog-Related Guides: Best Dog Toys For Separation Anxiety and Best Dog Beds For Separation Anxiety.
8. Your Dog is Old And Might Have Dementia
If your dog is old and suddenly showing a lot of affection, it might be suffering from dementia. Canine cognitive dysfunction is like Alzheimer's in humans.
Symptoms can include:
General confusion and disorientation
Getting lost where they never got lost before
A lack of appetite
A change in eating or sleeping schedule
A sudden disinterest in things they love
Your dog might also be overly affectionate at random times. They may have forgotten that you just hugged them and want a hug again. There is no cure for dog dementia, unfortunately. The best thing you can do is ensure your furry friend enjoys a high quality of life in their final years. Make sure they are eating, getting enough exercise and rest, and receiving the love and care they need from their favorite human.
More Dog-Related Guides: When to Put a Dog Down Due to Dementia?
9. Your Dog Had a Traumatic Experience
Your furry friend might have had a traumatic experience while you are away. For example, let's say you hire a dog walker to walk your dog daily. The dog walker might have abused your dog and hit them in anger. Perhaps another dog in the group bullied them and bit them. These traumatic experiences can profoundly affect canines and cause them to seek extra comfort.
More Dog-Related Guides: Why Does My Dog Kick His Legs Back Randomly and Why Do Dogs Scratch The Floor?
10. Your Dog Sense a Threat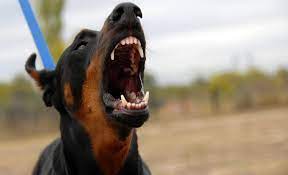 Your dog might go to you and try to cuddle you when something scares them. For example, there might be a stranger in the house. Even if the stranger is your friend, your dog might not be used to them. Canines can also perceive a delivery man at the door as a threat.
It's not only humans who may seem threatening to your dog. If your dog meets a new doggy friend at the dog park, they may act anxious and vulnerable for the rest of the day. It's important to accustom your pet to meeting strange dogs regularly, so it's not a significant event for them.
More Dog-Related Guides: Why Do Dogs Like Period Blood and Why Do Dogs Rub Their Face?
11. Your Dog Might Be Feeling Cold
There may be another reason your dog is cuddly, and it's pretty simple. Perhaps your dog is feeling cold. It is gravitating towards your warmth. This problem is expected during the winter, particularly if you reduce the heat or turn it off to save money.
It's also more common for certain dog breeds (particularly those without heavy fur) to feel cold during the harsh winter months. There are several things you can do to keep your dog warm. First, raise the temperature in your home. If you don't have central heating, or if it's not enough, consider getting a portable heater instead.
You should also provide your dog with a warm place to sleep. Their bed should have heavy, warm blankets. That way, they can head there any time they feel cold. Finally, provide a jacket or coat for your dog. Make sure your dog is comfortable wearing one. Many dogs need to wear one in winter, even inside the home. Other dogs might only need a coat when going on a walk outdoors.
More Dog-Related Guides: What Temperature is Too Cold For Dogs Inside and What Should I Do If My Dog's Ears Are Cold?
12. Your Dog Knows When Someone is Pregnant
Why is my dog so affectionate lately? The answer to that question is that you may be pregnant. Dogs have very refined senses of smell. They can sniff hormones and other things that we humans can't. When you're pregnant, you undergo hormonal changes that might not be obvious to other humans.
However, dogs can often notice that. After recognizing your hormonal changes, your dog might become worried about you. They may or may not know you're pregnant, but they may realize something is happening. In these situations, your dog isn't extra cuddly because it is scared or anxious. They are not seeking comfort but trying to provide it. They want to know that you are okay.
More Dog-Related Guides: Why Do Dogs Sleep With Their Bum Facing You and Why Does My Dog Suddenly Scream?
13. Your Dog Knows When You're Feeling Emotional
Your mood can affect your dog's mood and emotional state of mind. Dogs are very much in tune with the attitudes of their loved ones. If your dog senses that you are sad or anxious, or if they feel something is amiss, expect them to react in one way or another.
Don't be surprised if your dog acts extra cuddly and affectionate when that happens. It might be trying to comfort you or be so scared and upset that it is seeking comfort from you. Until it knows that you are okay, it will not be okay, either.
More Dog-Related Guides: Why Does My Dog Sleep By The Door and Why Do Dogs Arch Their Backs?
14. Your Dog Could Be Pregnant
If your dog is pregnant, she might act differently. While many dogs act more distant during pregnancy, your dog may be more cuddly. It's essential to know the signs of pregnancy in dogs, including enlarged nipples, increased appetite, fatigue, and more. It's best to take her to a vet, who can run diagnostic tests like an ultrasound or an x-ray to see if your dog is pregnant.
More Dog-Related Guides: Best Supplements For Pregnant Dogs and Signs That Your Pitbull is Pregnant.
Conclusion For "Why is My Dog So Cuddly All of a Sudden"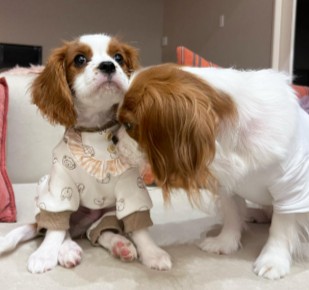 Hopefully, you now understand the main reasons dogs act more affectionate all of a sudden. If you've been asking, "why is my dog so cuddly all of a sudden," try to see if any of the above applies. If the behavior becomes more erratic, or your dog doesn't calm down, take them to a vet for a professional diagnosis.
If you find this guide, "Why is My Dog So Cuddly All of a Sudden," helpful, you can check out these other dog-related guides from our team:
You can learn more about why a dog can be so cuddly with a person by watching "Why Do Golden Retrievers Love to Cuddle" down below: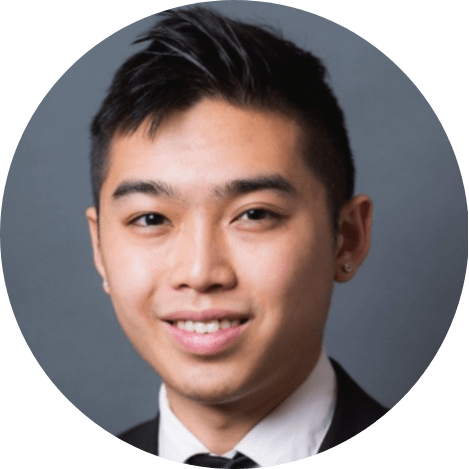 Andy is a full-time animal rescuer and owner of a toy doodle. When he's not saving dogs, Andy is one of our core writers and editors. He has been writing about dogs for over a decade. Andy joined our team because he believes that words are powerful tools that can change a dog's life for the better.
Why Trust We Love Doodles?
At We Love Doodles, we're a team of writers, veterinarians, and puppy trainers that love dogs. Our team of qualified experts researches and provides reliable information on a wide range of dog topics. Our reviews are based on customer feedback, hands-on testing, and in-depth analysis. We are fully transparent and honest to our community of dog owners and future owners.