Why does my dog lick my hair, and what does this mean? Does your dog tend to run over to lick your hair and head? There are several reasons they're acting this way. Most of the time, this behavior isn't a sign of anything serious, though sometimes, there may be an underlying issue.
Your puppy may lick your hair to show affection because they like the smell or taste of your hair, groom you, or relieve boredom. However, sometimes hair-licking may signify an illness or a diet issue.
You'll have to pay attention to other signs and symptoms to determine why this behavior occurs. Below are the answers to your burning question, "why does my dog lick my hair" and other signs to look out for.
Before you scroll down this guide, "Why Does My Dog Lick My Hair," you can check out these other dog-related questions answered by our team at We Love Doodles: Why Does My Dog Cry When Carrying Toys and Why Does My Dog Lick My Underwear?
Reasons Why Your Dog Licks Your Hair
You may find this behavior upsetting or maybe just a little annoying. Here are ten reasons your dog may lick your hair.
1. Your Dog is Showing Affection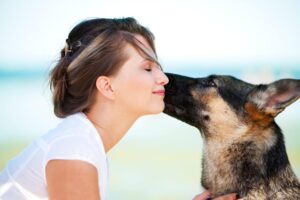 One of the main reasons your dog licks you is to show affection. Canines are loyal pets, and most breeds will uniquely communicate to show their owners some love.
Since they can't talk to us, they must use body language to express their feelings. Perhaps your dog licked your hair as a puppy, and you gave them a positive reaction. Your dog then took it as a sign that hair kisses make you happy.
Some signs they're trying to show affection:
They jump around excitedly
Wagging their tail
You just got back after being away
If your dog seems happy, especially if you just came home from a long day at work, your puppy is likely showing you affection.
2. Your Dog Like the Smell or Taste
Dogs have a keen sense of smell, so your dog may have noticed a sweetly scented shampoo or conditioner on your hair. If your canine tends to sniff your hair and then lick it, it could be because they're attracted to the hair-care product scents.
If this is the case, your dog may also try chewing your hair. They may smell like lavender or vanilla and think you smell good enough to eat. You may notice your pet licking your hair at certain times, such as after a shower. Dogs may also lick wet hair after a shower if they're thirsty.
Related: What Smells Do Dogs Hate and Best Smelling Dog Shampoo.
3. Your Dog is Grooming You
Your dog sees you as a part of the pack, and grooming or licking falls into pack behavior. Grooming you connects to the first observation of your dog licking your hair to show affection. Dog pack members will lick and groom each other as a sign of affection to indicate that they're a bonded pair. Grooming is your pet's social bonding rather than telling you you smell bad.
Related: Why Does My Dog Lick My Underwear?
4. Your Dog is Licking Your Hair Out of Boredom
If a dog doesn't get plenty of playtime or exercise, ithey'll find a way to stimulate its mind. So, if your dog starts licking your hair, they may be bored. Your puppy is likely licking your hair out of boredom if it happens when they haven't had much exercise and don't lick afterward.
Ensure your dog gets plenty of time to play with toys, go on walks, or run around the backyard to remedy their boredom. Exercise is an essential part of keeping your dog healthy and happy.
Related: Why Do Dogs Lick Each Others' Ears?
5. Your Dog Wants to Get Attention
Another reason your dog licks your hair or head is to get your attention. When they were adorable puppies and exhibited this habit, you likely smiled and gave them verbal affirmation.
Your canine companion realized that licking you is an excellent way to get you to engage. As time goes on, it may be frustrating when your dog tries to get you to give them attention when you're busy.
While you may try to say, "Stop." to Fido, this will likely encourage the behavior. Even a negative reaction is a reaction, so it is better to shift your dog's attention. Rather than react, redirect your dog to something else, like a chew toy, to help stop the behavior.
6. Your Dog Might Have Anxiety
Dogs can feel anxious the same way humans can. If your dog has anxiety, it may exhibit grooming behaviors as a self-soothing method. If they tend to lick your hair before you leave, your puppy may have separation anxiety.
Your dog releases pheromones from their saliva that help soothe them so that they may lick you or themselves during times of stress. If your dog struggles with anxiety, consider taking them to a trainer or veterinarian.
Other signs of anxiety in dogs:
Aggression
Urinating or defecating inside
Panting
Drooling
Pacing
Excessive barking
Destructive behavior
Related: Nutracalm For Dogs Review and Goldendoodle Separation Anxiety.
7. Your Dog Could Be Dealing With an Illness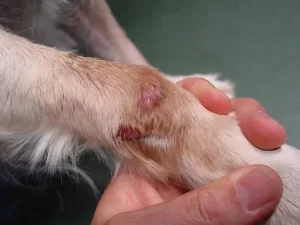 Some pets will lick non-food items when they're ill, including hair. So, one reason your dog started licking your hair could be an underlying illness or disease. That is more common in elderly dogs and is more likely if this is a sudden behavior. If your dog has recently begun licking your hair, take them to the veterinarian for a checkup.
Other symptoms may include:
Vomiting
Diarrhea
Urinary changes
Loss of appetite
Personality changes
Hair loss
Itchy skin
Related: Rare Dog Diseases Every Owner Should Know.
8. Your Dog Might Have Diet or Digestive Issues
Dogs are instinctual hunters, so if they lack nutrients, they'll search them out in unlikely places, such as your hair. If your dog also begins licking your ears, they may be in search of earwax for the same reason.
Other symptoms of diet or digestive issues:
Dull coat
Dandruff
Body odor
Bad breath
Flatulence
Fur loss
Excessive shedding
Unusual bowel movements
Related: Best Dry Dog Foods For Loose Stools.
9. Your Dog Wants to Let You Know That It's Hungry
As we previously mentioned, dogs will use behaviors to communicate. So, your dog might lick your hair or face to let you know they're hungry. As puppies, they receive nutrients from their mother. Not only do they drink their mother's milk, but they will eat regurgitated food from her.
So, how do they tell mom they need some food? They'll lick her face. Some dogs don't outgrow this habit and will use the same behavior to let you know they want some kibble. If your dog begins chewing on your hair, they may do so to tell you they aren't getting enough vitamins and minerals.
Related: Best Dog Foods For Older Small Dogs with Few Teeth and Best Soft Dry Dog Food For Older Dogs with Bad Teeth.
10. Your Dog Wants to Reassure You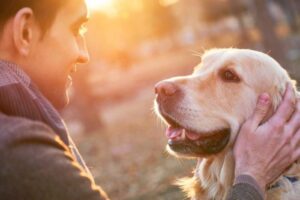 Your canine companion spends enough time with you to where they can know how you're feeling. Whether happy, angry, or sad, your puppy will pick up on the small cues you give them. Many times, your dog will want to attempt to cheer you up.
As dogs, licking is a behavior that helps soothe them when they're feeling anxious. So, if your puppy realizes that you're upset or stressed, it may try to lick you to help you relax. To them, licking your hair is exactly what you need.
Your dog may continue licking to keep you happier for as long as possible. Naturally, once your puppy starts licking your hair and face, you probably will get a mood boost. Then, they recognize the positive interaction and continue the behavior.
Frequently Asked Questions
Here are the most commonly asked questions regarding "why does my dog lick my hair?"
Why is my dog constantly licking my head?
Dogs licking one another or a human's head or face is typical social behavior. Dogs may lick your head all the time as a way to show affection, ask for food, or try to get attention. Your dog may also groom you by saying, "you're a part of the pack."
Why is my dog licking my ears and head?
Most of the time, licking is your canine's way of showing you some love. If your dog licks your head and ears, they may do so to show you affection. However, licking your ears may signify that your dog lacks vitamins and nutrients. Contact your veterinarian if you notice any signs or symptoms besides the licking.
Why does my dog like grooming me?
Dogs have a keen sense of smell that is much stronger than humans. Your dog wants to groom you to "clean" something smelly off of you because they like the scent. Alternatively, your dog is showing pack behavior since they view you as the head of their pack.
Should I allow my dog to lick my face or head?
Although you may love getting lots of kisses from your pets, it's best not to allow your dog to lick any "open" body parts or wounds. Dogs have bacteria in their saliva, and humans cannot tolerate all of it. However, this doesn't mean your dog can't lick you; try to keep your face or open wounds off-limits.
Conclusion For "Why Does My Dog Lick My Hair"
Dogs may lick a human's hair for various reasons. As pack animals, your dog may lick you to groom you. Sometimes, your dog is trying to show you affection or cheer you up as a way of communication. Sometimes, a dog licking your hair may signify something more serious.
Dogs with an illness, anxiety, or diet issues may lick hair for a different reason. Look for signs, symptoms, or unusual behaviors if the hair licking happens suddenly. If you believe something is wrong with your dog, schedule an appointment with the veterinarian.
If you find this guide, "Why Does My Dog Lick My Hair," helpful, you can check out these other dog-related questions answered by our team at We Love Doodles:
You can learn more about your dog's licking behavior by watching "Why Does Your Dog Lick You" down below: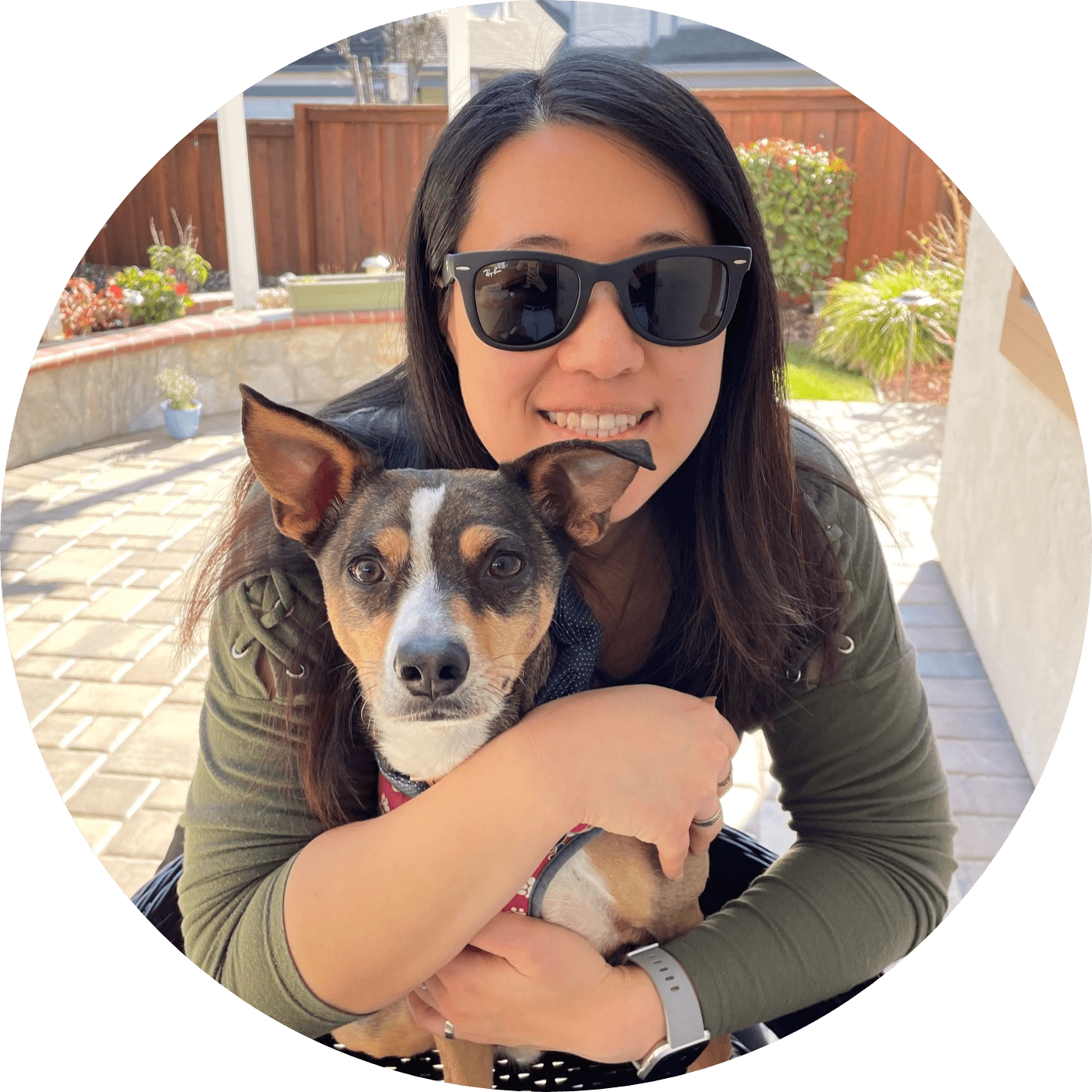 Dr. Sabrina Kong graduated from the Royal Veterinary College in England in 2016 and has been working at a small animal clinic in Northern California since then. She grew up in the Bay Area and got her bachelor's degree from Cal Poly San Luis Obispo. She also became a Certified Canine Rehabilitation Practitioner through a program at the University of Tennessee.
When she isn't in the clinic taking care of her four-legged patients, she enjoys traveling and trying new foods with her friends and her three-legged dog, Apollo. She adopted Apollo from her clinic when he was a puppy with numerous health issues. Dr. Kong truly cares about taking care of animals.