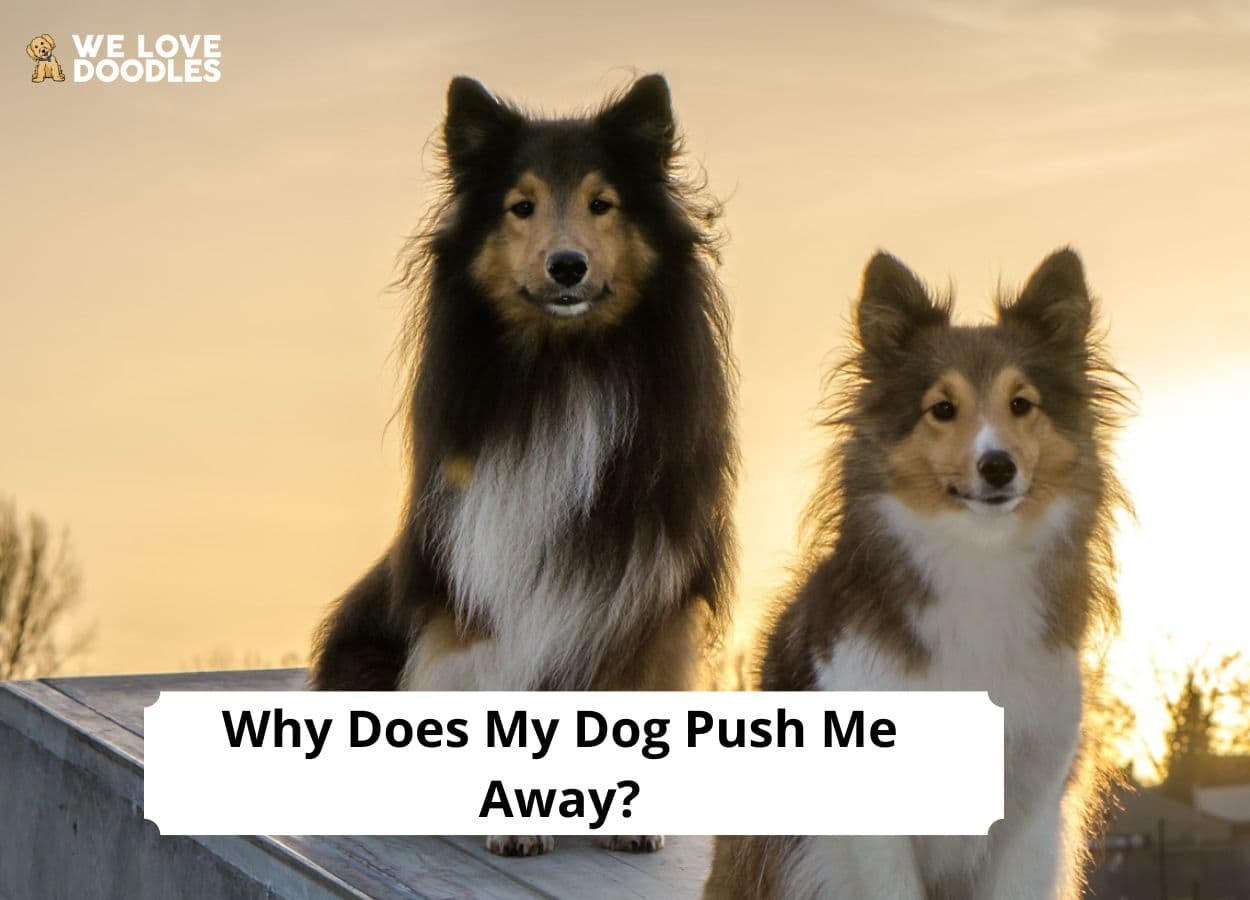 Why does my dog push me away, and what does this mean? If you noticed this behavior from your dog, here's what you need to know. It is your job to understand your dog and its mannerisms more than anyone else, so it may get confusing when they do something that is not understood entirely.
Dogs are more intelligent than we think, and their body language and actions are their way of speaking and communicating with us. Certain habits are harder to understand and might have you questioning why does my dog push me away? Pushing could mean a few things in dog language, and this article will try to discuss each possible reason and see if it applies to your situation with your dog.
Before you scroll further down this guide, "Why Does My Dog Push Me Away," you can check out these other dog-related questions answered by our team at We Love Doodles: Why Does My Dog Lick My Underwear and Why Does My Dog Roll Around After Eating?
1. Your Dog is Trying to Grab Your Attention
Dogs seeking attention might get it through methods they have known to work in the past. Shoving you could be a quick way to get your attention, especially if you reward the action by giving your puppy the focus it requires. Rewarding improper attention-seeking in dogs will reinforce their manner of getting your focus.
If having your dog shove you every time they want attention becomes annoying, there are a few ways to tackle this issue to prevent unwanted behavior from your dog. Next time your dog starts pushing you away, do your best to ignore them. Giving the dog attention by telling it no is still providing attention.
Ignoring your dog while it actively shoves you might be difficult, and walking away from it might be a good tip. Providing your dog with attention is vital for its development, as it helps with cognitive function. Even older dogs require dedicated attention daily to help with their brain function. Your dog needs a minimum of one to two hours of focused attentiveness daily.
One significant possibility your dog might be so adamant about your attention is because its attention needs are unfulfilled. Many activities help your dogs with their attention needs; simple walks are a great way to stimulate their senses and get essential time with your dog.
One other way is to train your dog to teach it new tricks, be sure to reward them after. Another method is giving your pet physical touch in the form of cuddles. Certain dog breeds require more attention than others. Researching your dog's breed might tell you how much attention they need daily.
Huskies and Border Collies are among the highest attention-demanding dog breeds, so be prepared to provide lots of dedicated interaction. By providing your dog with frequently scheduled activities, your dog should no longer push you for attention.
Ignoring your dog when they push you away will also ensure that they know to wait for their scheduled play time for their attention needs. If your dog remains adamant about getting your attention through shoving, it might be a good idea to space out your scheduled attention. Splitting up your playtime throughout the day might help your dog's attention needs stay fulfilled for the day.
Related: What Should I Do If Have a Crying Chihuahua and Why is My Dog So Obsessed With Me?
2. Your Dog is Trying to Say No to You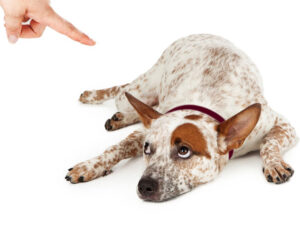 Dogs are limited when communicating with us, as they cannot speak like us. For them, shoving us away could be their way of telling us to stop or refusing something entirely. If it is shower time for your dog and they start pushing you away, it is their way of denying the shower.
Having your dog push you away while you try to bathe them can make the task difficult, especially if your dog is on the larger side. Baths can be very stressful for dogs, but there are a few steps to alleviate their stressors and provide them with a calmer experience. Showering your dog outdoors is a good idea only when the weather is hot.
Water can be cold and uncomfortable during colder seasons. Consider moving the dog's shower indoors in a controlled environment. When it comes to shampoos, pick one that is unscented or faintly scented. A strong odor may overstimulate its senses and cause them to feel stressed. Be sure to provide lots of treats for your dog to motivate them to comply with the shower.
Try rubbing peanut butter on a nearby surface to distract your dog while you get down to business. One last potential worry your pet may have is a slippery floor. Dogs will feel stressed if they cannot balance themselves and attempt to escape. Placing a simple towel will give your dog secure footing and help them calm down.
If you are not showering your dog and they still shove you away, they might be telling you no for another thing. While your dog may love attention most of the time, if you tried to hug it and it pushed you away, it may be a sign that your dog needs some time to itself and feels overstimulated.
It is best not to take this personally, as your pet needs alone time just as much as you do. Look to see if there is a pattern for when your dog starts pushing you away, and see what you can do to help your dog. It is counter-productive to yell at your dog when you want them to stop this specific action, as it might reinforce the method for getting your attention. Ignoring it is the way to go.
3. Your Dog is Probably Scared of Something
If your dog feels threatened or scared, it may start aggressively shoving its body at you. Your dog might not necessarily push you; it may shove someone else if they are the reason your dog is feeling frightened. If the room has another dog or pet present, your dog might start to react in this manner.
This does not always mean that another animal or person in the room for your dog to feel afraid and start shoving you. Loud noises or thunder might be enough to scare your puppy. All dogs handle stress and fear differently, and shoving may be a way for your dog to deal with such emotions.
Having a dog that fears other humans can be difficult when you have guests, but there are ways to help improve how your dog reacts to strangers. When your guests first come over, have them pay no attention to the dog. Keep them from interacting with the dog and advise them to avoid eye contact.
If your dog is treat-motivated, you can have your guest periodically throw your dog a treat from a safe distance. You must let your dog greet the stranger and come close to them on their terms, do not rush this step. Your dog must feel in control of the situation, or it may feel stressed and uneasy.
Your dog will probably not approach the guest on their first visit, but they may eventually do so in time. Another good idea is to keep doors open if your dog feels overwhelmed and wishes to escape. If all your exits are closed, your dog may feel trapped and can turn aggressive and start shoving you or your guest away.
4. Your Dog is Dealing with Dominance Struggle
If your dog pushes you away with a lot of force, it may display dominance. This is your dog's way of informing you that they are in charge, not you. Your dog may only do this if they are feeling aggressive, but it should not be ignored. The best way to handle this is to remain composed and assertive. Your dog might often display dominance if they see you anxious or stressed.
A good way to break this behavior pattern is only to feed your dog when they are calm. Another smart idea is to have your dog depend on you for certain actions, like feeding, opening the door, and other similar things. Having the opposite performed by your dog is also possible. If you notice that your dog is pushing themselves away, it means they confirm that you are in charge.
5. Separation Anxiety Could Be What Your Dog is Feeling
Having your dog lean on and push you slightly might signify separation anxiety. A good way to know if this is the case is to monitor your dog for signs such as your dog following you relentlessly and seeking constant physical contact. Many other signs indicate separation anxiety in dogs, starting with excessive drooling near their owner, fidgeting behavior, frequent indoor urination, following their owner to no end, and lack of appetite.
Other serious symptoms of separation anxiety include constant vocalization when your dog is without their owner, causing damage to furniture, and scratching at the front door when the owner has left. The study shows over 20% of dogs have been diagnosed with separation anxiety.
Separation anxiety in dogs is a serious condition that should be treated as soon as possible, as it poses potential dangers to the house, themselves, and their owners. Dogs with separation anxiety have been known to damage furniture and cause general destruction to a household when the owner is absent.
On top of causing damage to houses, dogs have been known to injure themselves while chewing on random household items and cause injury to themselves. Aggression is also likely higher in dogs with separation anxiety and can be directed at strangers and even the dog's owner. Luckily, separation anxiety in dogs is treatable with a few approaches.
If you can accommodate another dog, the presence of another pet can bring comfort and security to the dog suffering from separation anxiety when its owner leaves. The other pet can also be a cat, though you must ensure your dog is comfortable in their presence. You can also take your dog for exercise before leaving them alone.
The workout tires them out and leaves them calm and relaxed. For this method to work, you need to maintain consistency in your workout schedule so that it can bring positive benefits. Another positive of exercising your dog is that it will tire them out and stop them from pushing you away. They also benefit from getting direct attention from you.
Related: Best Dog Toys For Separation Anxiety and Best Dog Beds For Separation Anxiety.
Conclusion For "Why Does My Dog Push Me Away"
Having a dog push you away can be a confusing gesture for your pet. The action can mean a few things ranging from a lack of attention to separation anxiety. If the pushing is troublesome and frequent, some steps can be taken to stop it, such as exercising your dog and giving them dedicated attention daily. Directly ignoring the action will deter your dog from repeating the action and unlearning it from their fuzzy heads.
If you find this guide, "Why Does My Dog Push Me Away," informative, you can check out these other dog-related questions that we covered:
You can learn more about why your dog pushes you away by watching "Why Does My Dog Push Me Away When I Hug Her" down below: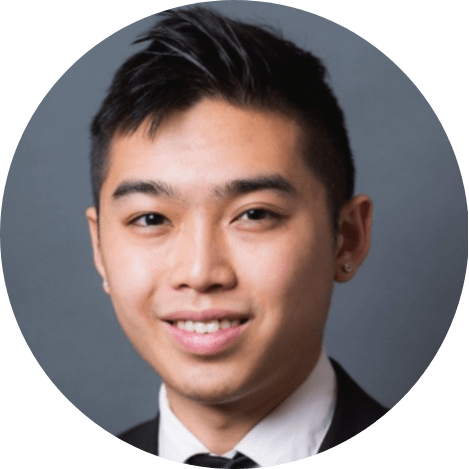 Andy is a full-time animal rescuer and owner of a toy doodle. When he's not saving dogs, Andy is one of our core writers and editors. He has been writing about dogs for over a decade. Andy joined our team because he believes that words are powerful tools that can change a dog's life for the better.
Why Trust We Love Doodles?
At We Love Doodles, we're a team of writers, veterinarians, and puppy trainers that love dogs. Our team of qualified experts researches and provides reliable information on a wide range of dog topics. Our reviews are based on customer feedback, hands-on testing, and in-depth analysis. We are fully transparent and honest to our community of dog owners and future owners.