At first, when your dog is obsessed with you, it is endearing.  However, it is unusual for your dog to appear completely fixated and highly obsessed with you. The obsession may make you concerned and leave you questioning what makes your dog behave like this.
Your dog is obsessed with you because they want attention and exercise. They may also be hungry, anxious, suffering from separation anxiety, or bored. Sometimes the obsession may be a breed characteristic.
By the end of this post, you will be able to tell why your dog is obsessed with you. We have also provided some tips that will come in handy when trying to stop or reduce the behavior.
Other articles you would like: Are Cough Drops Bad For Dogs? and Can Dogs Get a Brain Freeze?
Why My Dog is Obsessed With Me?
It's natural for your dog to be affectionate toward you. Affection, on the other hand, can sometimes turn into an obsession. The following are some conceivable explanations my dog won't leave my side:
They Yearn for Your Attention
It's possible that your pup is obsessed with you because your pet craves your attention. Often, when your dog feels like you are drifting, they may tend to become overly obsessed with you for you to acknowledge their presence.
Your Dog Wants to Play
Your canine companion is obsessed with you because they may want to play, especially if the dog is a high-energy breed like a Husky who isn't getting enough play.
A dog should get around an hour of play every day, which would be beneficial to ensure that they receive the appropriate activity depending on the breed.
They are Famished
Another principal reason my dachshund is obsessed with me is that they may be starving.  If your furry friend gets less obsessed with you after a meal and more obsessed when they haven't fed in a long time, this is likely the reason.
Ensure you're serving your pet the recommended diet and giving them the appropriate quantity of food to avoid this situation.
Fear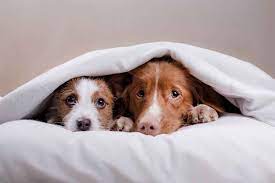 It's plausible that your pet is obsessing over you out of terror. Sometimes, the obsession is more likely if they do so in situations that could make them nervous.
For instance, when around people your pawed buddy doesn't feel safe around or someone who abused them.
Nature
It's important to remember that most dog breeds were created to assist their owners in their daily tasks. As a result, if you've given them a lot of training, they'll naturally seek advice from you, explaining why your buddy seems obsessed with you.
Separation Anxiety
Separation anxiety in dogs can be pretty severe, finding it challenging to get through the day for you and your dog.
Your dog is most likely suffering from separation anxiety if they grow apprehensive at the possibility of being left alone. The behavior often happens when your pet notices you are about to leave.
If you Subconsciously Encourage that Behavior
Canine pets will often obsess over their caregivers because their owners have unconsciously cheered on the behavior. You may mostly notice this behavior if you offer them what they want, such as playing, cuddling, and giving them treats.
They tend to grow so much love for you that they want to be around you.
Boredom
Boredom in dogs can lead to a range of behavioral problems. While other dogs may become bored and bark excessively, some dogs will want to stay closer to their owner.
They are On the Lookout for Something
Dogs are brilliant creatures. Your furry friend understands that you are the only one who can satisfy their needs. And if they are desperate for anything, they can try to get it by becoming utterly obsessed with you.
Sometimes, they may just be hungry or simply looking for a game to play.  However, it can be aggravating when your pup attempts to get something by turning into an overly affectionate puppy.
The Breed's Attributes
People have domesticated specific canines with distinct characteristics since time immemorial. Some canine breeds are bred to be innately more loyal to their caregivers than others. The loyalty may often manifest as obsession since they want to stay closer to you and nobody else.
Golden Retrievers, for example, develop strong bonds with their owners. This connection has the potential to become obsessive very quickly. While it is possible to help your dog overcome his attachment, you should consider his breed.
How to Determine Why Your Dog Is So Obsessed With You
Consider the following while attempting to determine why your furry companion is obsessed with you. It will be simpler to take the appropriate action after you have a better understanding of the cause:
When Your Pup Developed this Habit
To find answers to why your canine pet is obsessed with you, determine when your dog first developed the obsession with you.
Several events that may have occurred concurrently with them being obsessed with you include the following:
You rewarded them at once
You've changed residence, which is making them develop separation anxiety
Someone mistreated them
When Your Dog Develops A Greater Affection Toward You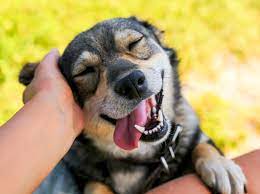 It may be beneficial to note the point at which your pawed canine buddy gets more enamored with you since this may explain why.
The obsessive episodes could occur at any time, for instance:
If you haven't fed them in an extended period
When a particular individual is present
Whenever you would typically go for a walk
When you would usually commit a more significant amount of attention to them
How Do You Persuade Your Dog to Abandon His Obsession with You?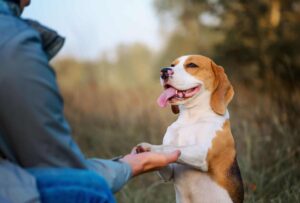 There are various ways to address your dog's obsession with you. The best course of action for your dog will depend on the underlying cause of its behavior.
Tip 1: Teach your Pet to Heed Your Instructions
If you haven't already, providing your dog with extensive training will benefit you. It will be much easier to encourage your dog to behave as you desire if you train them to respond to your commands.
For instance, train your pup to lie down and stay in a specific position to help them become less obsessed with you. If the canine buddy develops an excess emotional attachment to you, you can direct them to lie down.
Tip 2: Exercise Your Dog
If your dog is not receiving adequate exercise, you should ensure they do. You may walk them or hire a dog walker to do it for you.
You might also try playing fetch with them to tire them further out, which is especially good if your dog is an active breed.
Tip 3: Ensure that they Consume A Balanced Diet
It would be prudent to verify that your furry companion is consuming the proper foods. Sometimes they may be obsessed with you when trying to communicate that the food is causing an upset.
Tip 4: Ensure that they Are Always Preoccupied
Supply your pet with items to keep them occupied. You may provide them with toys, dog puzzles, and bones.
Tip 5: Negative Reinforcement Should Be Avoided Whenever Possible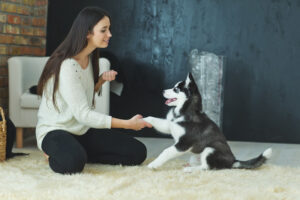 It's possible that by satisfying your pet's desires when they develop an interest in you, you've unintentionally groomed them to become obsessed with you.
Rather than rewarding your pup when they become preoccupied with you, avoid citing them and instead use positive reinforcement, train them and encourage them to behave the way you want.
Tip 6: Provide Sufficient Mental and Physical Stimulation
If your dog is acting out of boredom, the most important thing you can do is to keep him from becoming bored in the first place. It may include taking him on longer walks or spending additional time with them as they play.
Agility and disc dog sports are beautiful ways to maintain your dog's physical activity level.
Tip 7: Consistent Routine
Because their lives are so uncertain, dogs may develop attachments and obsessions. If you do not have a timetable for your dog, they may become agitated since they have no idea what will happen.
Maintaining a routine for your dog is an excellent way to keep you and your dog in check.
Your furry friend will recognize when to feed, play, or relax. You'll be surprised at how much your dog's behavior changes after your schedule is set.
Tip 8: Schedule Some Time for Cuddling and Bonding
Your furry friend may be obsessed with you because they lack time to bond with you. Thus, what is the optimal course of action? Of course, it's to ensure that you're providing them with good cuddles and attention!
You must invest time in developing a bond with your pet. It strengthens your link and causes your brain to release oxytocin, a feel-good hormone.
A good amount of cuddling and connecting with your dog will also help reduce their clinginess and obsession with you. Additionally, spending time with your dog is pleasurable.
Tip 9: Utilize a Crate to Assist in coping with Separation Anxiety
Separation anxiety can be a significant difficulty for both you and your dog. It can make you feel self-conscious about leaving the house and make your dog uneasy.
The critical point is that separation anxiety is not your dog's fault. Additionally, keep in mind that tolerance and persistence will arise with time.
Crate training is one of the most effective methods for assisting a dog with separation anxiety. Crate training can be a lengthy and slow procedure for dogs who suffer from separation anxiety, but it is well worth the effort.
You may require additional assistance depending on your dog's separation anxiety severity. Consult your veterinarian or schedule an appointment with a pup behaviorist specializing in separation anxiety and positive reinforcement to obtain assistance.
Conclusion for Why is My Dog So Obsessed With Me?
The bond between a pet and a caregiver or owner can be sweet, but it is also natural and normal to feel like they are crossing the line. Follow this guide, and you may mitigate the situation.
Other articles you would like: 
Garrett loves animals and is a huge advocate for all Doodle dog breeds. He owns his own Goldendoodle named Kona. In addition, he volunteers at the Humane Society of Silicon Valley, where he fosters dogs and helps animals. Garrett enjoys writing about Doodles and believes that dogs can teach humans more about how to live than humans can teach a dog.
Why Trust We Love Doodles?
At We Love Doodles, we're a team of writers, veterinarians, and puppy trainers that love dogs. Our team of qualified experts researches and provides reliable information on a wide range of dog topics. Our reviews are based on customer feedback, hands-on testing, and in-depth analysis. We are fully transparent and honest to our community of dog owners and future owners.