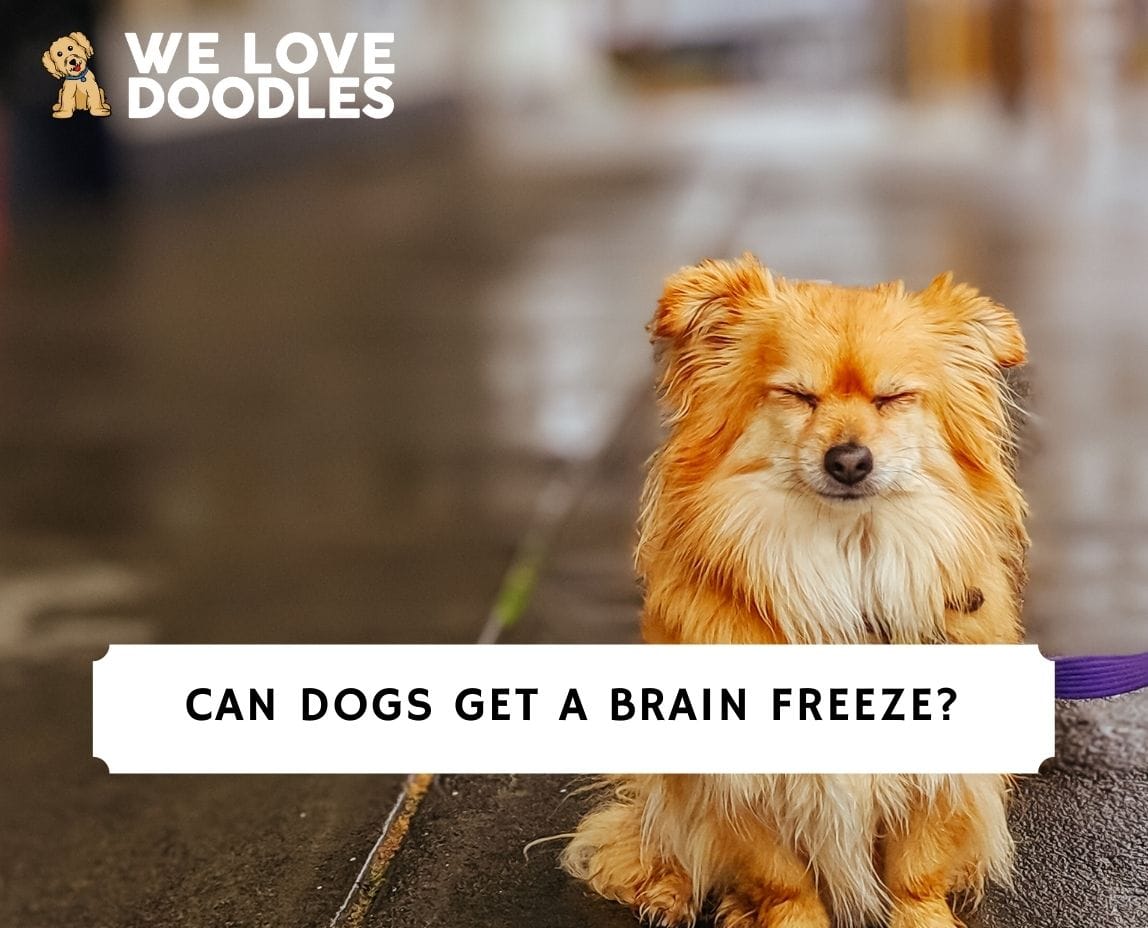 With a puppy and a cold dessert, you're probably wondering: "Can dogs get a brain freeze?" Nothing beats the experience of eating ice cream on a searing hot summer day. Then your dog starts whining—the heat is getting to them too.
You stretch your arm to offer your puppy a few licks to cool off, but you hesitate midway: can dogs get a brain freeze? Dogs can experience a brain freeze if they eat ice cream too fast. They will feel a tingling of the nerves due to the rapid constriction of blood vessels, accompanied by sharp pains in the head area.
Train your dog to eat slowly or forgo the cold treats altogether to avoid this uncomfortable sensation. This post is about how dogs get a brain freeze. Stick around and learn how to identify that your dog has a brain freeze and the remedies you should take immediately.
Before scrolling down to the answer to this guide, "Can Dogs Get a Brain Freeze," check out these other dog questions from our team at We Love Doodles: What Temperature is Too Cold For Dogs Inside and What Should I Do If My Dog's Ears Are Cold?
How Can Your Dog Get a Brain Freeze?
Your dog can get a brain freeze. Just like us, canines have blood vessels and nerves in the mouth. When they ingest something cold, the palate is suddenly cooled, resulting in nerve response from the rapid constriction of blood vessels.
The local vasoconstriction of the blood vessels sends pain signals through the trigeminal nerve, which causes the face-contorting instant pain.
Related: Best Dog Door For Cold Weather.
What Causes Brain Freeze in Dogs?
Brain freeze in dogs is due to two primary causes: Eating cold treats too quickly or an underlying health issue. Read on to understand how they each contribute to this unpleasant sensation.
Cold Treats
Because dogs are attracted to the foods and drinks around them, they will rarely refuse a snack —even if it is frozen cold. They always try to get a bite off whatever you're eating, whether ice cubes or frozen yogurt.
Suppose they take a humongous bite or lap up the entire portion of the ice cream in quick licks; localized vasoconstriction occurs, affecting the nerves in the mouth and face. They may get the infamous ice cream headache.
Medical Issue
Some health problems impact the nervous system of dogs. When a medical disease affects the trigeminal nerve mainly, a brain freeze may occur as an accompanying symptom. If you suspect your mutt is experiencing a brain freeze but haven't fed on anything cold, they might have a medical condition.
It would be best to get to the veterinary as soon as possible. It is often difficult for the untrained eye to notice specific health issues, yet some are deadly to canines. Thus, the need to act as soon as abnormal behavior presents.
Related: Best Pet Insurances For Small Dogs and Best Pet Insurances For Large Dogs.
How to Know When Your Dog Has a Brain Freeze
You know what a brain freeze feels like if you've bitten a large chunk off an ice lolly or taken a massive spoonful of cold, creamy delight. But how do you tell when your mutt is having one? Although scientific evidence is limited, there are numerous anecdotal tales to help you figure out when your dog has an ice cream headache.
Here's what most pet parents say you should look out for:
Strange behavior such as excessive pacing and widening of the eyes and mouth.
Frequent shaking or tingling.
Pain in the forehead, characterized by contorting of the face.
Whimpering uncontrollably or crying.
Let's find out what you should do if you notice any signs a few moments after your dog eats something cold.
What to Do When Your Dog Gets a Brain Freeze
Now that we know what a brain freeze is and the tell-tale signs that your dog is affected, is there something you can do?
Remove the cold stimuli on the palate. As soon as your puppy has an ice cream headache, do away with the cold treat.
Offer warm water. Drinking warm water reverses the effect of the cold on the canine's palate.
Comfort Your puppy. If the dog is shaking or pacing uncontrollably, rub its forehead and fur in gentle strokes. You can also try muttering some soothing words and sounds to help alleviate these symptoms. The actions bring both physical and emotional comfort.
Can Dogs Die From Brain Freeze?
Well, no, your dog will not die from an ice cream headache. Fortunately, brain freeze in dogs is a temporary condition. The tingling and sensations of discomfort are not severe and, typically, go away on their own quickly. But if you don't eliminate the cold stimuli, there can be subsequent brain freeze headaches.
If the cause isn't medically-induced, there's nothing to worry about. Offering comfort is all you need to do to soothe your puppy. And because canines are naturally speedy eaters, teach your dog how to slow down.
Is Traditional Ice Cream Good For Dogs?
If you own a dog, you must have gone through the phase where you figure out their diet plan. Now here, the question isn't to give or not to give but whether to give is harmful? Ice cream is primarily made from milk, which is a dairy product.
Almost every vet advises against giving traditional ice cream to your mutt. Scientific research proves that dairy products are highly toxic and could lead to short- and long-term health problems. Moreover, some dogs are lactose intolerant.
They cannot produce lactase which causes the digestive condition. If you notice vomiting, excessive thirst, loose stool, bloating, malaise, or toileting accidents in the house after eating cold dairy products, your dog might be lactose intolerant.
Tips For You And Your Dog
Opt for dog-friendly ice creams. They are specially made for the canine digestive system. Although it won't make your puppy vomit or gassy, it can still give your puppy a brain freeze if wolfed down in rapid succession. If you can't find any dog ice cream to buy, you can make your own at home.
It would be best to have plain yogurt or lactose-free ice cream and other dog-friendly foods and fruits like pumpkin, strawberries, peanut butter, bananas, and even chicken tidbits. If you're worried about weight gain, check below for other ways you can cool off your puppy.
You may also make flavored ice cubes. Use a regular ice cube tray to freeze yummy tasty liquids safe for your dog to achieve this. Popular choices include beef or chicken broth and blended dog-friendly fruits like blueberries, bananas, and watermelon.
More Dog Guides: What Temperature Is Too Hot For Dogs to Walk and What Does It Mean If My Dog Keeps Swallowing?
Alternative Ways to Cool Off Your Dog

1. Find Some Shade
If you're hanging out outside, try to find some shade to rest under for a few minutes. Stay away from the direct sun. Opt to take the tree-lined path instead of walking in the open. Or stay in an air-conditioned room on a hot day. `
2. Offer Cold Water
Give your doggy a bowl of cool fresh water. Adding a few ice cubes to Rover's room-temp water will achieve the desired effect. However, ensure it is not too cold to avoid a brain freeze.
3. Visit a Water Park
Numerous water parks provide dog-friendly facilities to keep your dog cool, social, and active. You can find a traditional family water park that allows pets on-site or one made just for puppies. Most operate from Spring Break all through the summer months.
4. Set Up a Kiddie Pool
Most dog breeds love water and will willingly jump into a pool given the opportunity. Because they are playful, curious, and adventurous, water is an excellent source of fun. If an inflatable kiddie pool is difficult to come by, a sprinkler in your backyard can do.
Conclusion For "Can Dogs Get a Brain Freeze"
Dogs get brain freeze headaches from eating icy snacks too quickly. When you notice signs that your puppy has one, try to alleviate the discomfort using the methods above.
The summer months are some of the most incredible times for any dog parent. There are tons of activities for you and your furry friend to bond over. And now you know what to do the next time your fluffy friend shows signs of an ice cream headache.
If you find this guide, "Can Dogs Get a Brain Freeze," helpful, check out our other guides:
For more information on this topic, you can learn more about dogs getting brain freeze by watching "Do Dogs Get Brain Freeze" down below: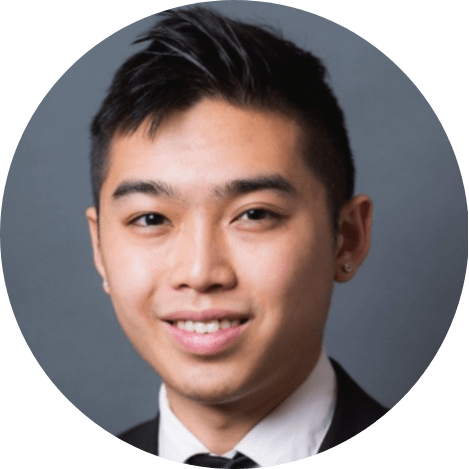 Andy is a full-time animal rescuer and owner of a toy doodle. When he's not saving dogs, Andy is one of our core writers and editors. He has been writing about dogs for over a decade. Andy joined our team because he believes that words are powerful tools that can change a dog's life for the better.
Why Trust We Love Doodles?
At We Love Doodles, we're a team of writers, veterinarians, and puppy trainers that love dogs. Our team of qualified experts researches and provides reliable information on a wide range of dog topics. Our reviews are based on customer feedback, hands-on testing, and in-depth analysis. We are fully transparent and honest to our community of dog owners and future owners.