Why does my dog bite my cat's neck, and what's the reason behind this? Cats and dogs have a long, storied history of antagonism. In Disney's Lady and the Tramp, the cats play the villains. Dodie Smith's beloved story about kidnapped Dalmatian puppies takes extreme circumstances before the cat teams up with the canine heroes.
With that kind of context, it's natural to be anxious when you spot your dog biting your cat's neck. But not all animal signals translate to human actions the way we expect them to, and neck biting doesn't have to be antagonistic. So, what is the answer to "why does my dog bite my cat's neck?"
Before you scroll down to a more in-depth answer to this guide, "Why Does My Dog Bite My Cat's Neck," you can check out these other dog-related questions answered by our team at We Love Doodles: Why Won't My Dog Go on Grass and Why Does My Dog Cry When Carrying Toys?
Why Does My Dog Bite My Cat's Neck?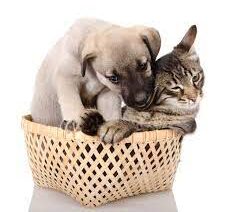 There are several reasons dogs bite the necks of cats they live with, from playfulness to possessiveness. Figuring out which behaviors are behind your dog's feline neck biting will feel like cracking a code. Remember that as disconcerting as it looks, it's normal animal behavior.
Biting is an integral part of the animal language; unless it looks painful or unwanted, you don't need to worry. Nevertheless, here are some answers to "why does my dog bite my cat's neck" to help you figure out the culprit for this unwanted habit.
Dog-Related Questions: Why is My Dog Fixated on My Cat and Why Does My Dog Lick My Underwear?
1. Your Dog is Probably Playing with Your Cat
This might seem odd since neck biting isn't our go-to way of demonstrating affection. However, a bit of playful neck biting is classic dog-speak for "come play with me." It's particularly common in puppies, who are still being socialized.
Disconcerting as it looks, you should encourage a bit of playful neck biting so long as it stays harmless. It's one of the primary ways dogs learn boundaries from you and other animals. If you're concerned about your cat being added into the mix, your feline friend should be able to hold their own against an upstart puppy.
They keep them in line with a combination of nonverbal cues like:
Hissing
Bristling tail
Batting with paws
If you become genuinely concerned the play-biting is escalating into something dangerous for either pet, intervene. The most effective way to do so is by distracting your dog with another toy.
Balls are ideal because they have an independent trajectory and will get your puppy far away from the cat. But a treat-stuffed kong, a favorite cuddly toy, or a dog-safe bone also make excellent alternatives.
Dog-Related Questions: Why Does My Dog Push Me Away and Why Does My Dog Roll Around After Eating?
2. Your Dog is Grooming Your Cat
Another answer to "why does my dog bite my cat's neck" is that they're the groomer of the relationship. Animals that live together often engage in mutual grooming. It's normal for one to appoint themselves the "official" groomer. In bonded pairs, it's the dominant animal.
How an animal establishes dominance is based on a complex algorithm:
Personality
Age
Spayed/neutered status
However, your animals establish their hierarchy, a good way of determining who's top dog, as it were, is by watching who does the grooming. Typically when we think of grooming, we think of animals washing one another. Certainly, they do a lot of that.
Cats' tongues especially are textured to help them remove dirt from their own and others' fur. But neck biting, and more generally, is an integral part of grooming. In addition to a thorough bath, biting allows your dog to eliminate parasites like fleas that might be bothering their feline friend.
3. Your Dog is Being Friendly to Your Cat
Friendly neck-biting might not sound believable, but it's another potential reason your dog is biting your cat's neck. As with play-biting, this is especially common in puppies. That's because biting is how young pooches communicate with each other and their mother. Initially, it doesn't matter since newborns have no teeth.
But puppy teeth are infamously sharp, so when they do grow in, this kind of well-intentioned neck biting loses its appeal quickly. Normally an older dog, cat, or even puppy that's had enough of being gnawed on won't hesitate to make their displeasure known by temporarily shunning the biter. This usually teaches biting inhibition.
If you are concerned your puppy isn't developing biting inhibition, and their nipping and mouthing habit is uncomfortable for your cat, it's time to step in and train them. The most effective way to train your pup is by redirecting their focus.
Puppies are most exasperating when teething because, just like human babies, they have a compulsive need to bite everything and everyone. When you notice your dog biting an unmoved cat, refocus their attention on a benign teething object, like a ball, bone, or kong. Chances are high that if your puppy is teething, they won't care what they bite so long as it helps them deal with their oral discomfort.
Dog-Related Questions: Why Does My Dog's Ear Make a Crackling Noise and Why is My Dog Scared All of a Sudden?
4. Your Dog is Expressing Dominance Towards Your Cat
Sometimes the answer to "why does my dog bite my cat's neck" is less innocuous. Neck biting can also be a way of expressing dominance. Cats have a reputation for wanting to rule the roost, but older dogs with no experience of felines or that previously had your full attention may object to that habit.
Some dogs register that objection by inappropriately biting the cat's neck. It can also be a sign of jealousy. Pay attention to when your dog bites the cat's neck. Does it happen when you or another pet wants to pay attention to the cat? Or when the cat sits in the dog's favorite spot? If so, your puppy may communicate jealousy and their sense of possessiveness towards you and their home.
Other signs of dominance or jealousy in dogs include:
Humping
Maintaining eye contact
Vocalizing
Watch your pets for signs of dominance. Left unchecked, it can lead to personality clashes that escalate to hostility between your dog and cat. That's a significantly more serious problem than neck biting.
Dog-Related Questions: Why is My Dog Eating Grass Frantically and Why Does My Dog Nudge Objects With His Nose?
5. Your Dog is Most Likely Managing Stress
That said, sometimes, the reason why dogs bite cats is to manage stress. Stress can be brought on by mundane things, like boredom, to more problematic triggers like past cat-related trauma. Therefore, you must know beforehand whether your dog has any history with cats.
Dogs and cats remember traumatic experiences, so asking them to relive them without warning or outlet can be dangerous. If your dog was ever chased, attacked, or scratched by a cat, think carefully before adopting a feline. If you know your dog tolerates cats, their stress may come from elsewhere.
Canine stress can be the result of:
Sudden family death
New household member
Moving home
Pain or underlying health condition
Boredom
How you handle your dog's stress depends on what's causing it, and we will talk about that shortly. But first, how do you tell benign neck biting from something more serious?
Dog-Related Questions: Why Does My Dog Walk Around and Poop and Why Does My Dog Kick His Back Legs Randomly?
How Can I Tell if My Dog's Biting is Harmless or Not?
We've discussed the difference between aggressive, stress-induced, and playful biting. But how can you tell which is which? The best indicator is to ignore the dog biting your cat's neck.
Instead, look at the cat's response. Your cat's body language will be the most telling indicator. For instance, a cat is happy to be groomed, rests its weight evenly on its paws, and its tail is unruffled. A playful cat might respond with bunny kicks or reciprocal biting.
In contrast, they don't want canine attention if they stand there rigidly or don't move when your dog bites or pulls on their neck. When that's the case, it's time to distract your dog with something else to gnaw on.
It would be best if you kept an eye out for:
Flat ears
Bushy tail
Arched back
Shifting weight
All these are strong indicators that your cat's tolerance for neck biting is wearing increasingly thin.
Dog-Related Questions: Why is My Dog So Obsessed With Me and Why Do Dogs Scratch The Floor?
How to Minimize a Dog's Stress Biting
As discussed, the answer to "why does my dog bite my cat's neck" is sometimes harmless. And sometimes, it's brought on by stress or anxiety. So, how do you minimize your dog's stress?
1. Environmental Enrichment
If your dog is stressed because they are bored, environmental enrichment may help. This approach uses a combination of external stimuli and independent play to keep your dog happy and engaged without exasperating your cat. Long walks and games of fetch are ideal, especially for more athletic dogs to run off energy and leave your cat in peace.
That's not always practical for owners who don't work from home. That's where independent play comes in. Games like puzzle toys are the perfect way to redirect your dog's energy. They don't have to be expensive, either. A puzzle toy made from a cardboard box works as effectively at hide-and-seek as anything you could buy online. It may even persuade the cat to play, too.
Dog-Related Questions: Why Do Dogs Like Period Blood?
2. Synthetic Pheromones
Another effective way to tackle stressed dogs is by using synthetic pheromones. Dogs and cats rely on pheromones to claim ownership of an environment and feel secure in it. Occasionally, the influx of unfamiliar pheromones is upsetting, especially when a new animal enters the house.
Canines release pheromones when they:
Rub against furniture
Brush your ankles
Groom each other
Synthetic pheromones fool your dog into feeling there are more of their natural scent markers present than is the case and can help discourage aggressively or dominance biting.
Dog-Related Questions: Why is My Dog's Poop Grainy?
3. Introduce Dog and Cat Gradually
It also helps to introduce dogs and cats gradually. Doing so helps build tolerance and ensures any neck biting by your pooch remains playful and affectionate. For the best results, keep them separate until they feel comfortable eating together. That's one of the clearest signs of trust. While it won't stop your pets from vying for dominance, it will ensure the give-and-take between them is less cut-throat and more agreeable.
Dog-Related Questions: Why Do Dogs Rub Their Face?
4. Build Dog-Only Time Into Your Schedule
Finally, if you worry your dog is jealous of the cat in their life, build in some dog-only time. Walks are an excellent option since dogs find them necessary while cats are less than thrilled about the idea. This human-dog time reassures your puppy they aren't being replaced and can manage problems like possessive behavior or resource guarding.
Dog-Related Questions: Why Does My Dog Sleep Between My Legs?
Conclusion For "Why Does My Dog Bite My Cat's Neck"
So, what is the answer to "why does my dog bite my cat's neck?" There's no one easy answer. Dogs are as different as the people who own them, and their behavior depends on their personality and even their prior history with cats. A good way to tell if the neck biting is playful or aggressive is by looking for signs of canine aggression.
It also helps to pay attention to your cat. Are they tolerating the neck biting or even reciprocating? Or do they exhibit signs of feline anxiety? How you answer these questions will help you understand why your dog bites your cat's neck.
If you find this guide, "Why Does My Dog Bite My Cat's Neck," helpful, you can check out these other dog-related questions answered by our team at We Love Doodles:
You can learn more about your dog's behavior with your cat by watching "Stop Puppy Biting With These 7 Rules For Training" down below: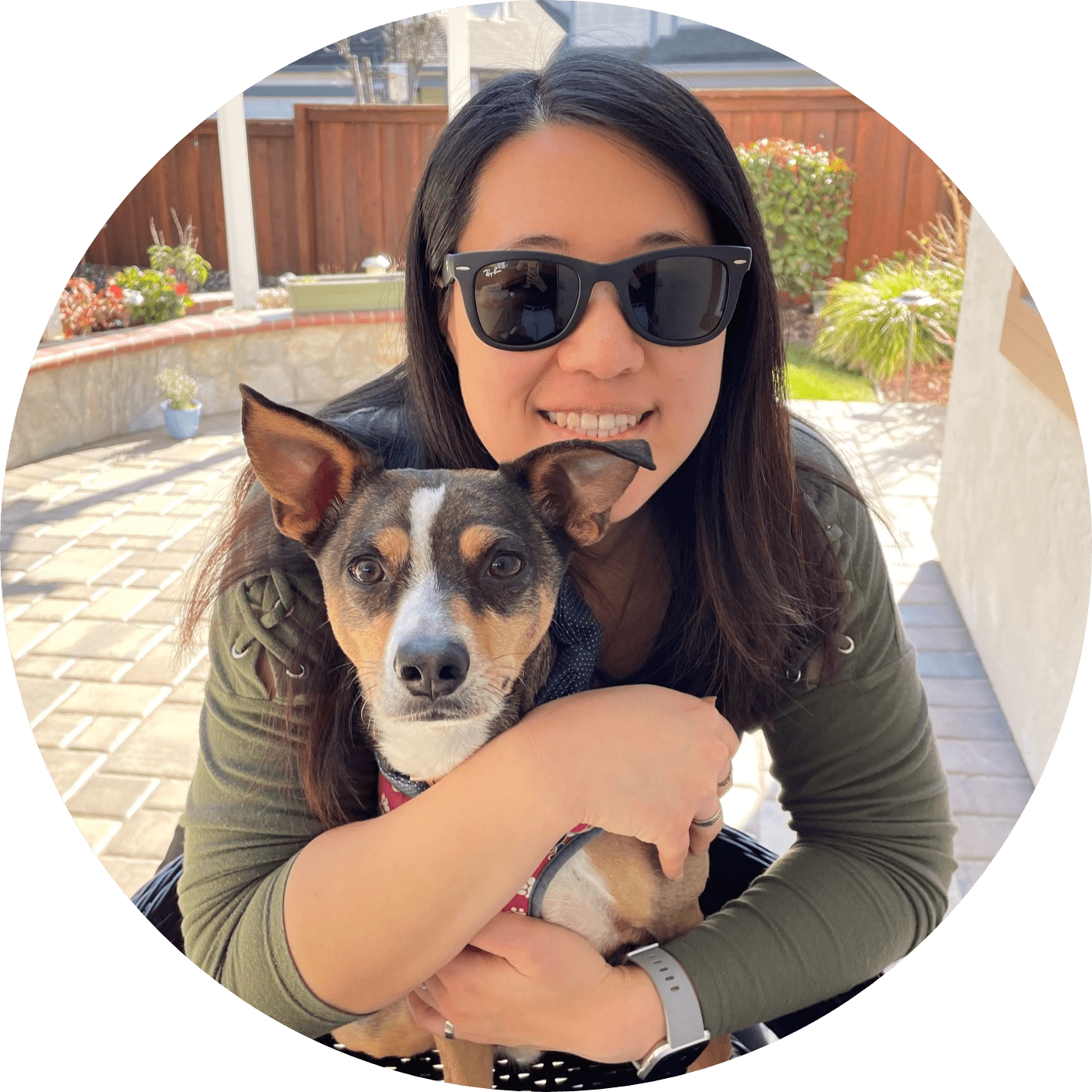 Dr. Sabrina Kong graduated from the Royal Veterinary College in England in 2016 and has been working at a small animal clinic in Northern California since then. She grew up in the Bay Area and got her bachelor's degree from Cal Poly San Luis Obispo. She also became a Certified Canine Rehabilitation Practitioner through a program at the University of Tennessee.
When she isn't in the clinic taking care of her four-legged patients, she enjoys traveling and trying new foods with her friends and her three-legged dog, Apollo. She adopted Apollo from her clinic when he was a puppy with numerous health issues. Dr. Kong truly cares about taking care of animals.