Is your dog eating grass frantically? Here's what you need to know. Many dogs eat grass at some point, but when it happens frantically, it raises concern. Turns out that such a behavior change can occur due to certain reasons. If you find your dog wanting to munch on some grass at the slightest chance, something may be wrong.  Here's why your dog could be eating grass frantically.
Before scrolling down this guide "Why is My Dog Eating Grass Franctically," check out these helpful guides: Why is My Dog Eating Grass All of a Sudden and Tips for Choosing a Good Dog Food.
Why Do Dogs Eat Grass?
Dogs may eat grass when they suffer from gastrointestinal upset. In such cases, your dog will whimper at your door and beg to be let out. Once they go out, they will eat as much grass as they can. If this happens at an unusual time, then you should know that something is wrong. We can't say for sure why dogs choose to eat grass to relieve stomach aches. Some people believe that it's because the grass is difficult to digest, and dogs know it. They can tell the difference between the grass and their normal food and that it takes time before it's processed. Some people say that dogs do it when they want to force themselves to throw up. Grass blades are ticklish and scratchy, and with that in mind, dogs still eat them. They will likely grab a mouthful to trigger a gag reflex that will make them vomit.
Your dog could be eating grass for several reasons:
Need for a balanced diet
Love for greens
Gastrointestinal Relief
Dog Food Recommendations: Which Dog Food Has Never Been Recalled?
Should You Be Worried When Your Dog Eats Grass?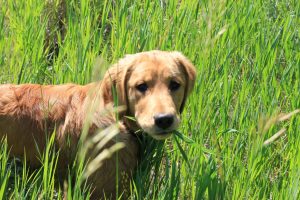 First of all, you should know that selective eating and frantic eating are not the same. If your dog enjoys eating grass now and then, he will often spend time looking for grass to eat. In this case, he may be selective in choosing the kind of grass to eat. If your dog frantically eats to relieve his stomach, you will find that he is not selective. In this case, the dog will rush out and grab a mouthful from the first patch of grass they come across.
When you notice this behavior in your dog, you should do something about it. You should consult a veterinary professional. They will help you solve the problem so that your dog will be comfortable again. However, not all stomach problems need medical attention. Most times, stomach issues go as soon as they come. If the issue lingers, you should seek medical care. If not, then leave your dog alone.
Dogs are intelligent, which means that they know what to do in certain situations. They eat grass when they want to get some relief. If they intend to vomit, then they are trying to eliminate the cause of the pain they are experiencing. Dogs eating grass are like humans taking an antacid. It would help if you observed your dog know how often he eats grass. If it's a regular thing, you should try finding out what's causing the pain.
Dog Feeding Guide: When to Switch Puppy to 2 Meals a Day?
How to Address The Problems When Your Dog is Eating Grass
You can stop your dog from eating grass by making a few adjustments to its diet. Try switching to dog food that has a lot of vitamins and a new protein source. Observe your dog after doing this to see if they have stopped their grass-eating habit. You should consider kibble with higher fiber content and a few probiotics. With these foods, you're sure that your dog's every nutritional need will be met. Diet modifications have been found to help make dogs stop eating grass. You should give it a try and see if it works for your dog.
Dog Food Review: Spot and Tango Review – Healthy Dog Food.
Is Eating Grass Dangerous For Dogs?
There is no cause for alarm when a dog is found snacking on some grass. However, you must ensure that it does not make up a large amount of their diet. The grass is natural and filled with a lot of vitamins, which means that it's healthy. It's wise to consider certain problems that may occur if your dog eats grass. The major issue that could happen is sickness due to fertilizers and pesticides. The grass in local parks is often chemically treated. It would be best if you kept an eye on your dog while spending time at the park.
Don't allow your dog to eat anything that is chemically treated. Your dog should not also eat any potentially poisonous substance. Toxic plants or fungus could hide in the grass your dog is eating. If you want your dog to be safe, always look around and get rid of any harmful thing in your yard. Lastly, you should ensure that your dog does not eat too much grass. When dogs take in large quantities of grass, it can block their gastrointestinal tract. That could be dangerous since grass does not digest easily.
More Dog Food Recommendations: Best Air-Dried Dog Food and Best Dog Foods for Joint Health.
Conclusion For "Why is My Dog Eating Grass Frantically"
Occasionally, dogs like to eat a little grass here and there. While this behavior may seem strange to you, it's nothing new among dogs. It's up to you to decide whether or not you want to change your dog's grass-eating habit. Remember that dogs eat grass for many different reasons. If you feel that there's a nutritional deficiency or serious medical problem at play, talk to your vet.
For more articles similar to "Why is My Dog Eating Grass Frantically," you can check out:
To learn more about why dogs eat grass, watch "Why Do Dogs Eat Grass" from SciShow down below: