Phew! Did you catch a whiff of your dog's breath? It was pretty ripe and it seems like no matter what you do, you can't seem to improve their breath. There are certain things that we try to avoid giving our dogs for health reasons but it's hard to know just what is or is not safe to give them.
One question we see a lot is can dogs eat mint? Just like with just about anything else that your pet can consume safely, it is important to serve mint in moderation to your pet. Dogs can eat mint, and in fact, you might find it as a common ingredient in some dog treats, but you don't want them to eat too much mint either.
In this guide, we will discuss with you just how safe it is for your dog to eat mint and all the things you should be aware of. Mint can be useful for many things but there are cautions that need to be made as well.
Be aware that not every variety of mint is considered safe for consumption for your pet and we will get to these things in the guide. There is one type of mint leaf in particular that can be toxic for dogs.
Keep reading to answer "can dogs eat mint?" and more!
Feeding Dogs Mint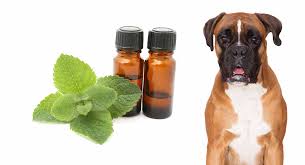 When you purchase dog food or dog treats that promise to freshen your dog's breath, there is a strong likelihood that these contain mint in some form. That's safe! These will not harm your dog and can, in some instances, provide alternative health benefits for your dog as well.
As with most ingredients, mint should be consumed in moderation. You might hear types of mint that are not recommended and often that is because these are over-eaten and lead to additional issues for dogs.
In the right amounts and the right types, mint can freshen breath and also aid in a healthy digestive process. However, there comes a time when too much mint or certain types of mint can do more harm than good.
There are some mint varieties that are actually poisonous to dogs so this is something to be aware of and we caution you to know your mint plants before using those for your dogs.
If you do give your dog mint, and they experience any type of reaction like weakness, vomiting, or diarrhea, give your vet a call right away.
Nutritional Values
There are a lot of health benefits for mint. We often assume that things that are healthy for humans are also healthy for our pets. This is true to an extent but we must also be vigilant and understand the parts that could be harmful.
Let's cover some of the nutritional benefits of mint in more detail.
Vitamins and Minerals
Mint is packed full of good vitamins and minerals that have a lot of nutritional benefits and can enhance your dog's health in many ways as well.
For example, mint has high levels of Vitamin A and Vitamin C. These vitamins contribute to a healthy immune system, healthy bones, healthy skin, and healthy vision. These are major components for pets and things that we often see deteriorate with their health over time.
Mint also contains traces of a multitude of minerals. These minerals include the following.
Copper
Iron
Magnesium
Zinc
Potassium
Folate
Phosphorous
Calcium
These mineral levels are indicated by a trace but they do offer nutritional value for your dog and could potentially support a mineral they are not receiving enough of.
Antioxidants
Mint offers antioxidant properties. These antioxidants have a multi-faceted benefit. They can protect the dog's cells from free-radical and oxidation damage, leaving them healthier overall.
Additionally, mind leaves can also provide dietary fiber and assist with healthy digestion processes for your dog. Mint can be used to soothe an upset stomach, providing relief from things like diarrhea or illness.
If your dog potentially suffers from inflammatory bowel disease or excessive gassiness, mint can play a part to help relieve these symptoms as well.
Allergy Relief
Some dogs suffer from allergies that cause skin conditions or even just seasonal allergy side effects. It's not uncommon for us to treat our dogs with things like Benadryl or even allergy shots at the vet.
Mint can actually help to relieve some of these symptoms because it contains rosmarinic acid. Mint also contains menthol, which is a natural decongestant for humans and animals.
Breath
Mint has a lot of different characteristics that contribute to its ability to freshen breath. This is why mint is common in toothpaste and gum or breath mint options. Mint has antimicrobial, antiviral, and antifungal properties that can help with bad breath.
Can Dogs Eat Mint Leaves?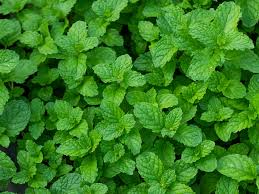 When considering whether or not dogs can eat mint, this is perhaps the most crucial question to consider. Dogs can eat mint leaves in moderation but should never have more than a few leaves in one day.
However, while most mint leaves are totally safe for your dog to ingest, there is one particular leaf that can be toxic. If you are not familiar with the mint leaf that you are offering your pet, it might be better to be safe than sorry. You can already look at how to safely plant a garden for your dog.
The English Pennyroyal mint leaf is toxic for dogs. This particular mint leaf does grow in most areas of the United States, although it does not thrive in cold regions. If you are feeding your dog mint leaves, do your research and be aware so that you do not accidentally give your dog this poisonous mint leaf.
If after consuming mint leaves of any kind, you notice signs of weakness, diarrhea, or vomiting, we recommend that you contact your vet immediately as they could have ingested a toxic mint leaf.
Remember, mint leaves are ok if you know that you are not giving them this particular leaf variety. Also keep in mind, that they should only have a few leaves per day at the most.
Can Dogs Eat Mint Candy?
If you decide to give your dog mint candy, you should be very careful. We really don't recommend feeding your dog mint candy because there are too many things that could go wrong.
For starters, peppermint candy can have sugar and sugar could have negative effects on your dog's health. Sugar can lead to high blood sugar levels, obesity, and decaying teeth health.
However, let's take it one step further. Many mint candy options contain an ingredient known as xylitol. Xylitol is toxic to dogs. If your dog eats a mint candy with xylitol, they will most likely experience some unpleasant side effects and their lives could be in danger from the toxicity.
If you are very careful of the ingredients, it is possible to give your dog mint candy but we recommend that you find other ways to give your dog mint and do so carefully and safely.
Can Dogs Eat Wintergreen Mints?
Wintergreen is not a true mint variety. Wintergreen is actually an evergreen that is often compared to mint because of the flavor and smell. It is comparable to mint in many ways, and we see it used in things like breath mints and gums for the same reasons that mint is used.
Wintergreen comes from evergreen plant oil and what you should know is that wintergreen is poisonous for dogs. Wintergreen candy is commonly artificially flavored, but we recommend that you stay away from this one just to be on the safe side.
Conclusion for Can Dogs Eat Mint?
In review, mint and spearmint can be quite handy to use in your dog's diet. It should be used in moderation as giving them too much can lead to negative side effects. In addition, be sure to be aware of the specific mint leaf that could be toxic in order to be sure you are providing your dog with the best source of mint.
We recommend using mint extract or mint leaves that you absolutely know is mint and not wintergreen. We hope that you enjoyed our article on "Can Dogs Eat Mint?"
Other articles you might like:
Garrett loves animals and is a huge advocate for all Doodle dog breeds. He owns his own Goldendoodle named Kona. In addition, he volunteers at the Humane Society of Silicon Valley, where he fosters dogs and helps animals. Garrett enjoys writing about Doodles and believes that dogs can teach humans more about how to live than humans can teach a dog.
Why Trust We Love Doodles?
At We Love Doodles, we're a team of writers, veterinarians, and puppy trainers that love dogs. Our team of qualified experts researches and provides reliable information on a wide range of dog topics. Our reviews are based on customer feedback, hands-on testing, and in-depth analysis. We are fully transparent and honest to our community of dog owners and future owners.