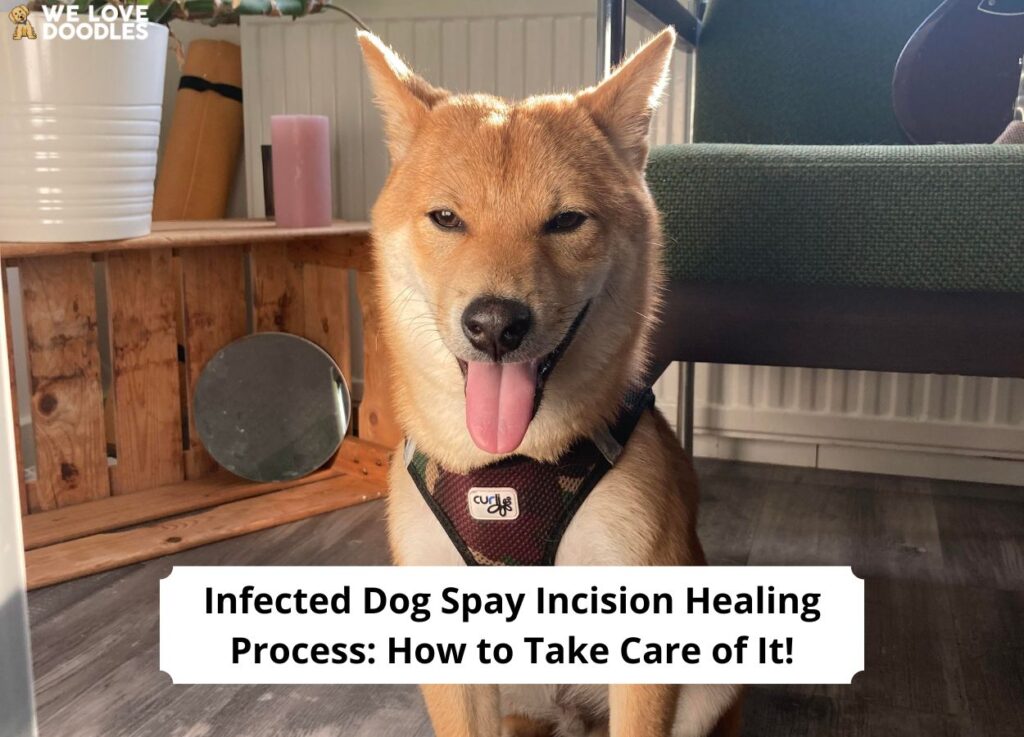 For most pet owners, having a female dog spayed is a very stressful time. Surgery for spaying or neutering a pet can become challenging if proper post-operative management is not given. This guide will help you deal with an infected dog spay incision so you can enable healing.
As caring dog owners, we should all remember that our concerns do not end when the veterinarian performs the spay or neuter surgical operation. In this article, we'll talk about the infected dog spay incision healing process.
You can use warm Epsom water compresses to speed up the healing of the infected wound. Additionally, it's crucial to clean the incision site of any dead or infected tissue. Use salt water to clean the wound. Give your dog prescribed pain relievers to alleviate the discomfort.
Let's talk a little bit more about how to take care of your dog's infected incision and what to expect.
Before reading this guide, "Infected Dog Spay Incision Healing Process: How to Take Care of It," check out: Dog Spay Incision Broke Open: What You Should Do? (2023) and Why Is My Dog Sad After Spaying? What You Need to Know! (2023).
How Can I Tell If My Dog's Spay Incision Is Infected?
An infected dog spay incision will likely be puffy and red. Furthermore, some blood or pus leakage may be visible in the region. The wound's sutures may be torn, and you could even notice underlying tissue poking through them.
It's also typical to have sudden bruising, swelling, or redness where the incision was made.
Other typical indications of an infected spay incision include experiencing nausea or diarrhea, abscess, or oozing at the surgical site for more than 24 hours after the surgery.
Some dogs may vomit shortly after anesthesia that is yellow or brown.
What Signs Indicate a Dog's Spay Incision Is Infected?
Your dog may display several signs if the incision site is infected. The severity of the symptoms will vary based on how bad the infection becomes.
The female dog may experience nausea and vomiting as a result of discomfort, along with localized inflammation and redness. Dogs may also act normal while having diarrhea, which can be deceiving. However, additional symptoms like a high temperature and weakness should be apparent.
There is a possibility that germs will spread within the wound and enter the dog's stomach if the outside of the incision site becomes infected. That is the most extreme case. Before having your female dog spayed, make sure she has gotten all the required vaccines.
Redness
Based on the severity of the infection, the area surrounding and above the incision may have minor to severe redness or inflammation.
If the condition is moderate, the redness should gradually improve and disappear by itself; this is natural. If your dog gets pimple-like growths around the incision site or if the redness extends to other places surrounding the wound, contact your veterinarian right away.
Drainage or Pus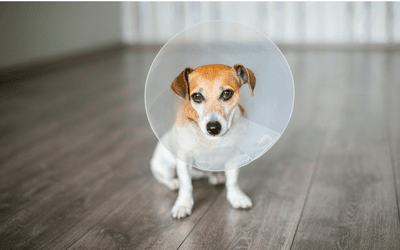 After a spay procedure, an incision is a wound that is now recovering. Every normal wound can secrete a clear or pink fluid, which would be typical.
However, an infected dog's spay incision site may leak a foul-smelling yellowish fluid (also known as pus). One of the initial indications that the spay incision on your female dog is infected is what doctors refer to as wound drainage.
Furthermore, in the initial days following spaying or neutering, you may notice a change in the color of your dog's urine.
Foul Smell Coming From the Incision
A foul smell will be ever-present after pus. This is because the germs enter healthy tissue and make smelly pus instead of clear or pink fluid with no smell.
When doctors refer to "pathogens," they mean "bad" bacteria that have colonized the wound and begun to produce the foul wound odor that is sometimes referred to as "malodor."
This type of offensive odor is even worse than a dog's morning breath!
A High Fever
Infection and germs in dogs can result in a fever. Because a high temperature indicates that the dog's body is battling bacterial colonization, this is both a positive and a negative indication.
Therefore, an infected wound can also have disastrous effects. You should take your dog's temperature and let your veterinarian know if you find that the top of the dog's head is warm.
Warm to Touch
The infected surgical incision will be warm to the touch and could become further infected if you touch it. Our hands aren't always clean, and if we aren't careful, we could infect our dog's incision site.
The infected incision site usually feels warmer than the rest of the body, and redness always follows. Pus and swelling might be present. It is advised that you keep an eye on your dog because this may also be the initial indication of an infection.
Painful or Itchy to Touch
If your dog experiences pain, it likely won't let you examine its wound. This is because dogs can't talk and they are unable to pinpoint the area of pain. However, based on how it appears, you may infer that the infected incision site is extremely painful and your dog won't want you touching it.
If you try to touch a dog's infected incision, it will whimper or get anxious. It makes sense, considering how agonizing that must be! Additionally, your dog may begin breathing rapidly as a result of intense pain.
Hardening or Swelling
Doctors commonly refer to this as a "seroma." Seromas are the bumps that appear after wounds heal. They could develop naturally while your dog heals, but they might also appear if the wound is contaminated.
Even so, swelling or hardness isn't as bad as the other signs and may or may not be a sign of infection.
If the spay incision on your dog is not painful or inflammatory, it most likely represents a tiny region of fat necrosis. This indicates that some of the subcutaneous fat perished and has transformed into scar tissue. This is not seen as dangerous, but pet parents may find it annoying.
What Should I Do If the Spay Incision on My Dog Is Infected?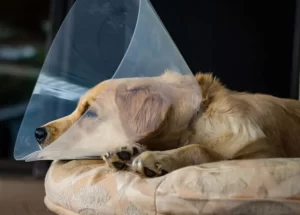 Owners should examine their female dog's spay incision many times every day throughout the recovery phase of the procedure until it has fully healed.
You should be worried if the surgical incision exhibits distinct symptoms of infection, such as significant swelling, bright redness, fluid oozing from it, red bumps surrounding it, or reopening. If the dog's incision has reopened, make an immediate call to the vet.
During the first few days following surgery, your dog might try to lick the surgical site instinctively. A pet's incision develops an itching sensation while it heals, much like human wounds do. Dogs lick or chew the region aggressively when they are itching.
The simplest way to prevent your dog from licking is to always have its cone on. If the wound starts to look or smell infected, contact the vet immediately. Let the area fully dry on its own before wrapping it in gauze or a cloth. Minor wounds and scratches don't often need to be covered.
How Long Does My Dog Need to Be Wearing an E-Collar?
If your dog nibbles or licks a lot, the danger of the sutures falling out or of the spay incision site being infected rises. You may need to purchase an Elizabethan collar (E-collar) if your dog continues to lick the wound to break the behavior.
E-collars can be unpleasant, and some dogs even find them frightening! However, your dog will have to put up with this "suffering" for seven to 10 days following surgery since it is in its best interest.
Both female and male dogs are advised to wear cones following spaying or neutering. You can ask your vet when it's appropriate to remove the cone from a male or female dog.
How Should a Dog With an Infected Spay Incision Be Treated?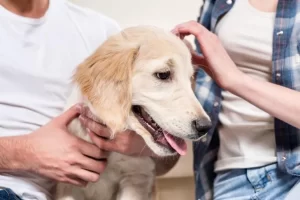 Many patients discover that straightforward Epsom salt soaks — applying warm, spongy compresses to the problem area — are just as effective as antibiotics, even though antibiotics are required. If the infection is minor and surface-level, obtain confirmation for this option from your veterinarian.
Clean the wound by removing dead or infected tissue. Cleanse the wound with salt water (or a saline solution). If an abscess forms, you should either drain it yourself or have your veterinarian remove it.
Wrap the area in bandages and saline-soaked gauze. Prescription painkillers and anti-inflammatories can help your dog feel less sore and swollen.
Simple seromas beneath sutures are prevalent in restless dogs. Be mindful that even though they almost usually fade away on their own, you ought to keep your dog less active than you have been to prevent any more fluid build-up, infection, or potential pain.
How Can I Tell If My Dog's Surgical Wound Is Healing or Infected?
Within the first few days after spay surgery, the surgical incision corners often expand and turn red. The area around the incision site may bruise and have a little blood-tinged fluid leakage. Since the borders of the dog wound won't heal together, a slight space between them is okay.
You should contact your veterinarian as soon as you see blood or anything trickling from your female dog's spay incision site while she is standing. Your female dog's spay incision site may have a few torn stitches or be infected.
Call your veterinarian as soon as you see a large gap or exposed tissue.
Frequently Asked Questions
What happens if a spay incision gets infected?
If your dog's spay incision becomes infected, you may notice bruising, swelling, redness, and leakage. The safest course of action is to contact your veterinarian for follow-up care.
How to tell if your dog's spay incision is healing correctly?
If everything is healing well, your dog's spay incision will have normal-colored or slightly pink skin.
What should a spay incision look like after four days?
A dog's spay incision should be clean and dry, and not be swollen after four days.
Conclusion for "Infected Dog Spay Incision Healing Process: How to Take Care of It"
The infected dog spay incision healing process requires constant observation.
Responsible dog owners work with their vets to spot infection symptoms and treat them quickly. We hope this article helped you understand how to take better care of your baby during this time.
For more guides similar to "Infected Dog Spay Incision Healing Process: How to Take Care of It," check out:
Learn more by watching "5 Possible Complications After Spaying Your Dog" below:
Garrett loves animals and is a huge advocate for all Doodle dog breeds. He owns his own Goldendoodle named Kona. In addition, he volunteers at the Humane Society of Silicon Valley, where he fosters dogs and helps animals. Garrett enjoys writing about Doodles and believes that dogs can teach humans more about how to live than humans can teach a dog.
Why Trust We Love Doodles?
At We Love Doodles, we're a team of writers, veterinarians, and puppy trainers that love dogs. Our team of qualified experts researches and provides reliable information on a wide range of dog topics. Our reviews are based on customer feedback, hands-on testing, and in-depth analysis. We are fully transparent and honest to our community of dog owners and future owners.