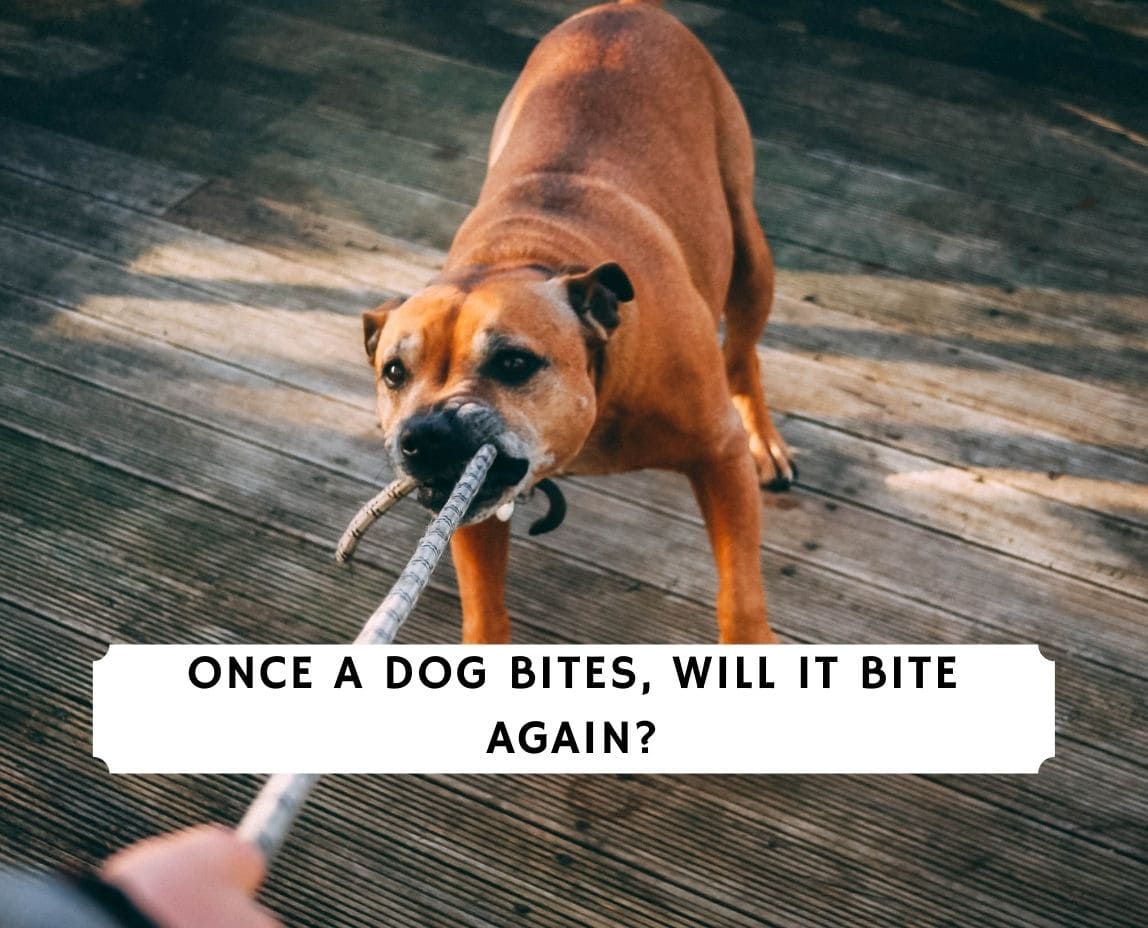 Did your dog bite something valuable, you, or someone you know? Once a dog bites, will it bite again? Whether you've been around dogs for just a short amount of time or have had one around for years, you'll know that they can have some interesting personalities. From gentle and calm to aggressive and energetic, dogs can come in all sizes and temperaments. For dogs who tend to show a bit more aggression or have a stubborn, "I'm in charge" attitude, their potential for acting out aggressive behaviors is much higher. Even if they show their aggression just once, they can slowly develop a habit of challenging behavior that can cause serious problems later on in their life. Aggressive and violent behavior needs to stop right away for change to happen in a dog's temperament.
One way in which dogs act out on their aggressive behavior is through biting. This can respond to many different emotions and environments but is usually always an adverse reaction to something. If a dog has been caught in a problematic situation and responds with biting, what are the chances that it will bite again? As it turns out, it can quickly become a habitual response if not addressed immediately. To help you protect yourself, those around you, and your dog themselves, it's helpful to know the biting habits of dogs. Here, we share some insights on a dog's tendency to develop a habit of biting and reasons why they choose to respond in that aggressive way. We'll also share some ways you can address the situation before and after your dog bites.
Before scrolling down this article "Once a Dog Bites, Will It Bite Again," check out similar articles that could be helpful to you: How To Stop a Goldendoodle From Biting and What Should I Do If My Puppy Won't Stop Biting Me?
Will a Dog Bite Again After Biting?
A dog with a harsh response can bring big trouble to you and your family. As it turns out, a dog who bites just once can slowly develop the habitual reaction of biting in the future. One bite can lead to another bite, and then another, and so on. Once a dog has bitten someone for the first time, the chances that it will happen again actually increase. This is because a dog sees how effective their biting can be. When a dog bites, the person or thing they bite often retreats and submits or leaves the area around them. This can be seen as a success in whatever emotion the dog is acting out on, whether it be fear or annoyance.
As the dog recognizes the effectiveness of the bite in getting what they want, they may be more inclined to try the same response at another time as well. This can slowly develop into a habitual behavior that can become very difficult to stop in the future. Biting is always a severe reaction that should not be taken lightly. This aggressive behavior can spiral and lead to more issues in the future. While a dog biting does not automatically mean the dog needs to be removed from the home, the dog should be taken with extreme caution in the future, especially around strangers or other things that may spark that same aggressive behavior.
Related Dog Articles: What Should I Do If My Dog Chewed Through Its Crate?
Why Do Dogs Bite?
So why does a dog choose to respond in such an aggressive and traumatic way in the first place? Most often, dogs bite out of a variety of different emotions that are important to address. While some dogs may be more inclined to bite than others due to their natural temperaments, it's important to remember that any dog can bite. If you notice any of these tendencies in your dog, be sure to find ways to resolve the situation.
1. Fear
One of the most common reasons why dogs bark is out of a sense of fear. They fear for their safety. They fear for the protection of their family and their home. Fear can be a powerful emotion that can lead to some pretty drastic behavioral responses. When a dog is afraid, they make choose to cower and submit. Or, they could rise to the challenge of their fear and act out in aggressive ways.
Related Dog Article: Why Are Chihuahuas So Aggressive?
2. Defensive
Another feeling in which a dog may respond with biting is in the act of self-defense. When a dog feels threatened, there is a good chance that they will discover ways to help protect themselves and the people and things they care about. They may choose to bite out of a response to protect their physical safety. They may become territorial about their space or home, showing aggression toward strangers or people who they believe shouldn't belong in their area.
Dog Product Recommendations: How To Use a Shock Collar For Aggressive Dogs.
3. Annoyance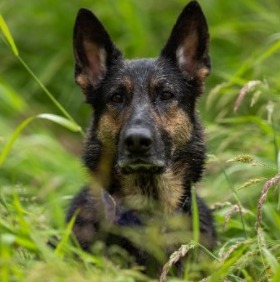 A dog may also become annoyed or bothered by their environment or action being done to them. For example, kids who do not know how to act around dogs may pull on their tails or tug at their fur. This can become quickly annoying and frustrating for a dog, responding with an aggressive attack. They may have a low level of tolerance for such behavior and will make it known that that is not something that they enjoy.
Related Dog Article: Why is My Dog Cowering?
4. Surprised
Depending on the dog's temperament, they may also bite out of a response to being surprised or startled by something. For example, if a dog is peacefully sleeping and someone comes up behind them to scare them, it can provoke an aggressive response. This may not necessarily be an intentional response. However, it could be a natural reaction to something that brings them a great surprise.
5. Disturbed
Similar to annoyance, dogs may not feel like interacting with new people or environments or being bothered in any way. This can often happen when they are injured, are sick, or deal with some other kind of pain. Dogs who don't feel full should be left alone most often and not bothered by others if they don't feel like it. In this, it's vital to provide care and love for your dog in other ways rather than petting or touching in ways that aren't comfortable for the dog.
Dog Product Recommendations: Best Horns For Dogs To Chew On.
6. Maternal Instincts
For new moms who recently have puppies, they may be more inclined to some more aggressive behavior. They can become very protective of their puppies and are very dedicated to preserving their care and health as she is with them. While this tight-knit bond does fade over time, the mother must be given time and space to care for her puppies during the first few days and weeks of the puppy's life. These emotional reactions can stem from their natural temperament or a traumatic experience they encountered in the past. Some dogs may be more naturally inclined to be aggressive than others. If a dog leaves their mother too early or has experienced some other kind of severe trauma, its behavioral responses may also be altered significantly.
Related Dog Article: How To Get Your Dog To Respect You.
How Do You Train Your Dog Not To Bite?
Biting can be a serious offense for dogs. Once a dog bites, the likelihood of them biting again increases. This can mean disastrous effects on the relationship between a family and their dog. Despite the habitual possibility that comes with biting, there are also ways to combat this damaging behavior. Training a dog not to bite and improve its overall behavior takes time, energy, and effort. However, it can make all the difference in transforming their attitude and natural response to be much less aggressive. Obedience training, teaching dogs commands, and establishing yourself as an authority figure can help you control your dog's behavior both now and in the future.
Spending time in training can help boost your relationship and also remove negative behaviors from your habits. Using positive reinforcement can also be an effective strategy in training dogs. This is when you use praise and other rewards to encourage positive behavior. On the contrary, using aggression or violent punishment on your dog when they misbehave is usually not a recommended practical approach to training. They may, in response, follow that aggressive behavior for themselves, further causing problems rather than developing resolutions. While obedience training can be frustrating, it's important to have patience and remember the importance of a well-behaved dog.
As a puppy, their biting may be much less intimidating but can escalate in the future. Starting training as a puppy is valuable in creating a positive environment and behavior for them. Much of this is anchored in the socialization process that puppies are intended to go through as they grow up in their first few months. With new puppies, it's important that they can explore and discover different places and people. Take them to various parks. Let them meet other dogs and people. Expose them to loud noises and fast-moving things to help ease their reaction not to get startled too easily.
This exposure to new things can help them learn to deal with new situations and learn not to be afraid of strange environments. Their fear is decreased, and they won't be as anxious or intimidated when entering new spaces in the future.  Another very effective way to reduce aggressive behavior in dogs is to have them either spayed or neutered. While this procedure removes their ability to reproduce, it also alters their hormones to become less aggressive in their behavior and overall temperament. They may be more relaxed as they are not preoccupied with trying to find a mate.
One of the most critical things in navigating training your dog understands their body language and natural tendencies. As a puppy grows up into an adult dog, they will have developed their habits and tell-tale signs of their thinking and feeling. These biological reactions are something to pick up on to effectively determine when your dog is in pain, disturbed, annoyed, defensive, or fearful. Things like growling, stiff posture and movement, and wagging their tail rapidly can point to adverse reactions that may soon come.
Helpful Dog Guides: How To Use an E-Collar To Train Your Dog and Best Training Collar For Small Dogs.
Frequently Asked Questions
How likely is a dog to bite again?
This will depend on several factors, including the dog's age, health, previous history of aggression, and current circumstances. However, studies have shown that dogs who have bitten once are more likely to bite again than those who have not bitten before.
Will, a dog that has bitten bite again?
The AKC explains that most dogs will try to communicate discomfort before biting by barking, growling, or snapping at the air and that there are numerous reasons that dogs bite. These include the following:
Fear
Bring startled
Protecting/Guarding
Frustration
Pain
Play
Will a dog that has bitten bite again?
The breed of dog has nothing to do with aggression. Aggression is a learned behavior, and there are many causes of aggression. You should never put your dog in a situation where they feel vulnerable to attack by other dogs.
Some dogs bite out of accidental reinforcement for past behaviors and our responses to aggression. However, you should never punish your dog for being aggressive. It may initially suppress aggressive behavior but eventually cause various negative manifestations like aggression.
Always reach out to your veterinarian to rule out health issues that may be causing pain and to a positive trainer to help you work through aggressive behaviors.
Should you get rid of a dog if it bites?
No, you should not! Working with a positive trainer can help you manage and train your dog to better cope with their aggression. Unfortunately, there are many reasons a dog may bite, and it does not necessarily mean that the dog is aggressive.
Dogs may bite out of fear, in self-defense, or because they are in pain. Understand the situations your dog is in that trigger the aggression and aggressive responses, and try not to place your dog in the same situations again.
Can you rehabilitate a dog that bites?
Yes, you can rehabilitate a dog that bites. There are many ways to go about this, but it will require patience and consistency on your part. Remember that rehabilitation is a process, so don't expect results overnight. Be prepared to work with your dog for weeks or even months, depending on the severity of the biting behavior.
Why do dogs bite without warning?
Once your dog bites, the chances that he'll bite again increases.
Unfortunately, dogs that bite without warning are often trying to communicate something. It could be fear, pain, or a general feeling of being threatened. If your dog feels any of these things, he may try to bite to protect himself.
There are several reasons why dogs may bite without warning. It's essential to understand what your dog is trying to tell you when he does this. Only then can you take the necessary steps to prevent it from happening again.
One reason why dogs bite without warning is that they're feeling threatened. This may be because someone is trying to take their food away or feel like they're being cornered. So if your dog feels like he's in a situation where he may be harmed, he may try to bite to protect himself.
Another reason why dogs bite without warning is that they're in pain. If your dog is hurt and you try to touch him, he may lash out and bite. This is because he's trying to communicate that he's in pain and doesn't want to be touched.
If your dog bites without warning, it's essential to understand why. Once you know the reason, you can take steps to prevent it from happening again. If your dog feels threatened, ensure he has a safe space where he feels comfortable. As usual, always reach out to your veterinarian and a behaviorist to help you with dog training issues.
Conclusion For "Once a Dog Bites, Will It Bite Again"
A dog's biting response is not something to be taken lightly. This aggressive and violent response can be disastrous for both the bitten person and the dog. Once a dog bites, the chances of them biting again increase. Therefore, it's essential to take biting seriously in all cases. Notice your dog's body language and pay attention to their emotional state, especially when they are in new situations or are meeting new people. Being able to identify any triggers for aggressive behavior early on can help you prevent bites from happening. While the likelihood of biting increases after just one bite, a dog is not a total lost cause after one acting out. Continual training and addressing the underlying contributing factors to a dog's negative behavior can be precious in raising a friendly and kind dog.
For more similar dog content, you can check out:
To learn more about this behavior in dogs, watch "How To Make a Dog Stop Biting and Why You Must Do This" from Top Dog Tips down below: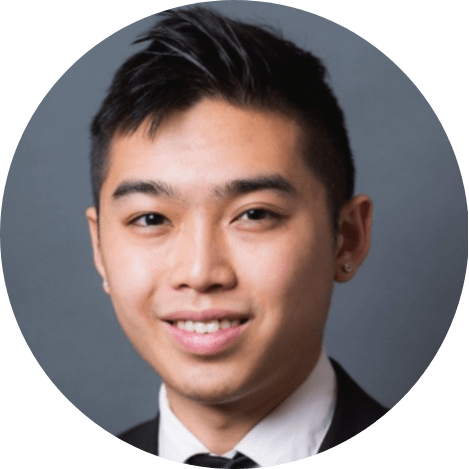 Andy is a full-time animal rescuer and owner of a toy doodle. When he's not saving dogs, Andy is one of our core writers and editors. He has been writing about dogs for over a decade. Andy joined our team because he believes that words are powerful tools that can change a dog's life for the better.
Why Trust We Love Doodles?
At We Love Doodles, we're a team of writers, veterinarians, and puppy trainers that love dogs. Our team of qualified experts researches and provides reliable information on a wide range of dog topics. Our reviews are based on customer feedback, hands-on testing, and in-depth analysis. We are fully transparent and honest to our community of dog owners and future owners.