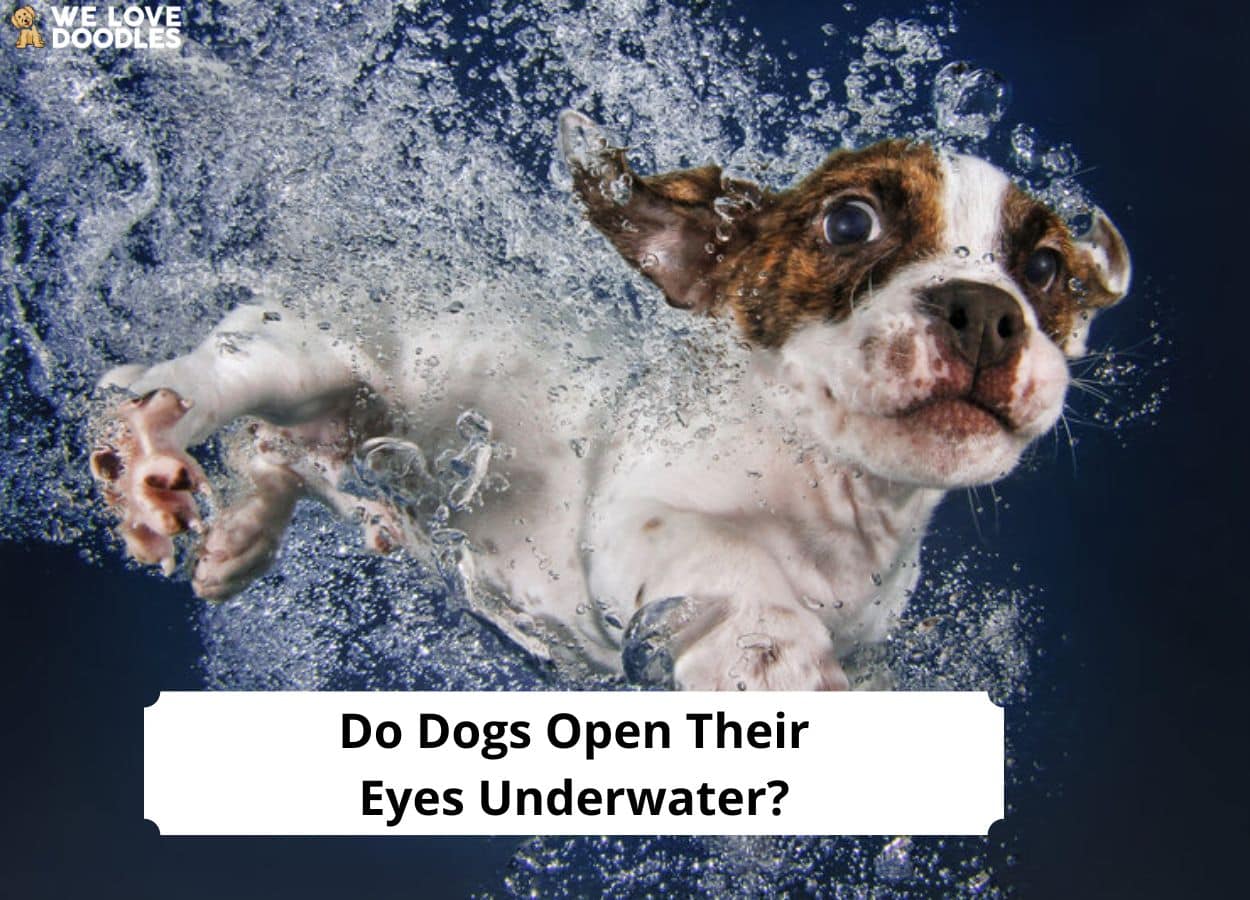 Today we are going to answer the question if dogs open their eyes underwater. When dogs are underwater, it is very common to observe them opening their eyes. It is true that they may blink briefly when water hits their face, but they won't do so for a long period of time.
Their eyes are sometimes open as much as possible while they dive underwater in order to track an object. Keep reading to learn what dogs can do underwater with their eyes and how they are are mostly great swimmers.
Before you scroll further down this guide, "Do Dogs Open Their Eyes Underwater," you can check out these other similar content: Why Do Dogs Smell After Going Outside and What Smells Do Dogs Hate?
Can Dogs See Underwater?
Underwater, dogs are able to see. In the same way humans see things in a blurry state without goggles because their eyes are similar to human eyes, they see things similarly underwater. Despite that, their vision isn't clear.
A living environment determines how well an animal's eyes function. In the presence of air, humans are best able to see on land. Flying at a high altitude allows birds to see. Due to the natural surroundings of a fish in the water, fish are able to see underwater more clearly than humans. It is scientifically impossible for dogs to see clearly underwater for a number of reasons.
Despite their different shapes and lens thickness, terrestrial mammals have quite similar eyes. This lens thickness is used for refracting light that has a low refractive index compared to the fluid of the eye.
Since water and eye fluid have the same refractive index, dogs cannot see clearly underwater. Dogs' vision becomes blurry as a result. Like a projector underwater, the light expands unfocused, but in normal circumstances, the light is focused to a very small point.
Do All Dogs Know How to Swim?
In addition to their ability to bark, dig, and be affectionate towards humans, dogs were born with strong natural instincts. In addition, many people believe all dog breeds are naturally able to swim.
Canines must be willing to perform a simple paddle swimming method in order to tread water properly? In spite of this, swimming does not come naturally to dogs.
Keep your dog above the water and he will automatically start his doggie paddle. They start cranking their legs as soon as they see the water in their usual, pedaling motion. Dropping them in and watching them go seems to be the only thing you need to do. Swimming canines can be divided into three categories.
Dogs That Swim Well
There are four types of dogs in the first category: water spaniels, golden retrievers, Irish setters, English setters, and Newfoundlands. Swimming is their strongest suit.
Their strong legs are mainly responsible for this, but their genes may also play a role. It is not unusual for this breed to be fond of swimming.
Dogs That Can Learn To Swim
These breeds include bulldogs, dachshunds, and boxers. In aquatic conditions, they are obviously unable to keep themselves afloat because it is difficult for them to stand up.
The pug, which has a small face, becomes exhausted very quickly when swimming for long periods of time. Even though Maltese and Chihuahuas are trained to swim well, they may get cold or scared in the water, which increases their risk of drowning.
Dogs That Have A Fear Of Water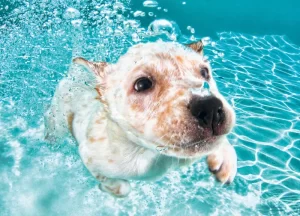 Water is a genuine fear for many dogs, even though they are physically equipped to swim. The breed of this pet has a tendency to panic when submerged underwater. Panicking in water will make a dog stressed, which will make him more likely to drown. Just like a rhodesian ridgeback hunting lion must be trained not to fear the lion, a dog must be trained not to fear water.
Unfortunately, your pet and you cannot rejoice over this news. When they are scared of the water, dogs often jump on top of you and kick and scratch until they are able to get on land.
Can Dogs Hold Their Breath Underwater?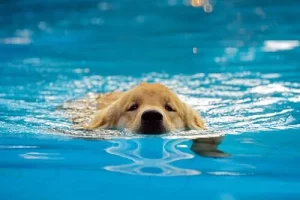 Some dogs are capable of holding their breath underwater for a short period of time. A dog's body preserves oxygen when it is submerged in water, as it does with other animals.
Reflexes are automatic and involuntary. The dogs' hearts won't beat as fast, and they won't breathe normally. Additionally, blood was diverted from non-essential organs to the brain and heart.
The larger the breed and the larger the lungs, the better able they are to maintain their breath for lengthy periods. In contrast, smaller dogs have difficulty holding their breath for longer periods of time.
There is no need for dogs to swim for long periods of time when they are wet, but this is not advised. If you leave your dog unattended, they may suffer injury or death because they can't do it naturally.
The good news is that there is a way to keep your dog safe and happy while they enjoy themselves in the water without him diving underwater. A few life jackets and boating accessories, such as life nets, will do.
The dog will enjoy swimming in these without having to go underwater.
Can Dogs Smell Underwater?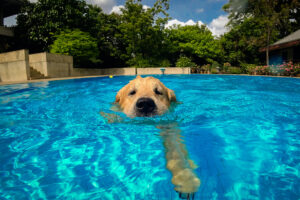 It's possible! Dogs may even be trained to detect underwater objects by becoming specialized in this field. Every year, search dogs are trained to find objects submerged underneath lakes, streams, rivers or other bodies of water. They often sniff out cadavers and are referred to as cadaver dogs – a grim, but appropriate name.
Furthermore, dogs are highly developed in terms of their ability to sense smell underwater. The dog's skull has two holes through which it can draw in the scent without inhaling, so even though its sense of smell is strong, it can draw in the scent without inhaling water by opening its mouth underwater.
When you suspect that your dog is picking up a scent from underwater, you may see some strange behaviors in him. You can expect your dog to make some twitching movements or adjust its head to learn the scent better. Not just once or twice, but more than once, they will become obsessed with sniffing the air.
In the water or on the boat, you can often see them running around with their noses high in the air. Your dog will most likely bark a lot, growl a bit, or otherwise make noise to get your attention to tell you what he knows. You need to take care of your dog! Take your pup for a walk or listen for anything funky, or dive down to see if any strange smells are coming up on him when it's safe.
Can Dogs Hear Underwater?
Over 300 million olfactory sensors exist in a dog's nose, making its sense of smell very powerful. Six million are all that humans have. Furthermore, your dog's brain is 40 times more powerful than ours when it comes to analyzing smells.
There are many things that dogs can detect underwater, due to their highly developed sense of smell. Detecting people, drugs, dead bodies, and lost items underwater is a specialty of some dogs, including police dogs.
Dogs have two holes in their mouths so they can draw in scents without inhaling. Dogs can draw any scent without inhaling water if they dive into the water and open their mouths.
As a result, the dog is able to detect and smell something underwater and be able to locate the object. Submerged bodies and drugs are detected by dogs using this skill.
If your dog detects something in the water, how can you tell? Because dogs are always excited, it might be hard to tell. The dog is sniffing out something near the water, but you may be able to detect subtle behavior.
There is a possibility that your dog's head may twitch. The dog will be able to get a better grasp of the object he or she is smelling by doing this. You'll hear plenty of barking and growling from your dog once he begins sniffing and running around the water.
Tips To Keep Your Dog Safe Around Water
Never Leave Your Dog Unattended Around Water
This is the only rule you should follow. If you leave your dog alone near water, whether it's in a pool, lake, river, or ocean, they may become sick. Things can go very wrong very quickly if you're not there to help, even if you're the strongest swimmer.
Keep your pup close, but don't stay there all the time. Ensure he's under your watch. You should be on the lookout for signs of fatigue, trouble with the current, or over-focusing on something dangerous. When you're at the beach, there's more to worry about than just the water.
Fish and debris washed up on shore should not be fed to your dog. If your dog tries to eat something, he might be injured or sickened. Don't let him get too close to fishing tackle boxes full of sharp hooks that could cause him harm.
Understand Your Dog's Breed
The ability to swim is not the same for every dog. Drowning is more likely to happen to those who do not do it well.
A few of the strongest swimming dogs are Golden Retrievers, Portuguese Water Dogs, and Newfoundlands. These are less of a concern if you've got one. Water is a natural habitat for these dogs, and they thrive in it.
In contrast, brachycephalic breeds cannot swim well. As a result, dogs with flat faces and short snouts tire easily and quickly in the water, such as Bulldogs, Pekingese, Pugs, Boxers, etc.
It's impossible for other dog breeds to paddle hard enough to stay afloat because of their small legs. There are some dogs that can barely swim at all, like Basset Hounds and Corgis.
Pay Attention to Water Conditions
The red flag that warns swimmers it is unsafe to enter the water on the beach? Dog owners should also pay attention to this sign. Dogs can be in danger from undercurrents and big waves. In addition, dogs with smaller fur or fewer furry coats may be affected by cold water. It can be dangerous for your dog just to splash around in freezing shallows.
Be aware of the current if you're going to fish or canoe in the river. Dogs can be swept under by fast currents in a matter of seconds. The life jacket comes in handy when there are strong currents in rivers. If you're at a lake, avoid water that's covered in blue-green algae, which is harmful to dogs.
If you find this guide, "Do Dogs Open Their Eyes Underwater," helpful, you can check out these other articles from our team at We Love Doodles:
You can learn more about your dog's underwater activities by watching, "How Your Dog's Nose Knows So Much" down below:
Garrett loves animals and is a huge advocate for all Doodle dog breeds. He owns his own Goldendoodle named Kona. In addition, he volunteers at the Humane Society of Silicon Valley, where he fosters dogs and helps animals. Garrett enjoys writing about Doodles and believes that dogs can teach humans more about how to live than humans can teach a dog.
Why Trust We Love Doodles?
At We Love Doodles, we're a team of writers, veterinarians, and puppy trainers that love dogs. Our team of qualified experts researches and provides reliable information on a wide range of dog topics. Our reviews are based on customer feedback, hands-on testing, and in-depth analysis. We are fully transparent and honest to our community of dog owners and future owners.