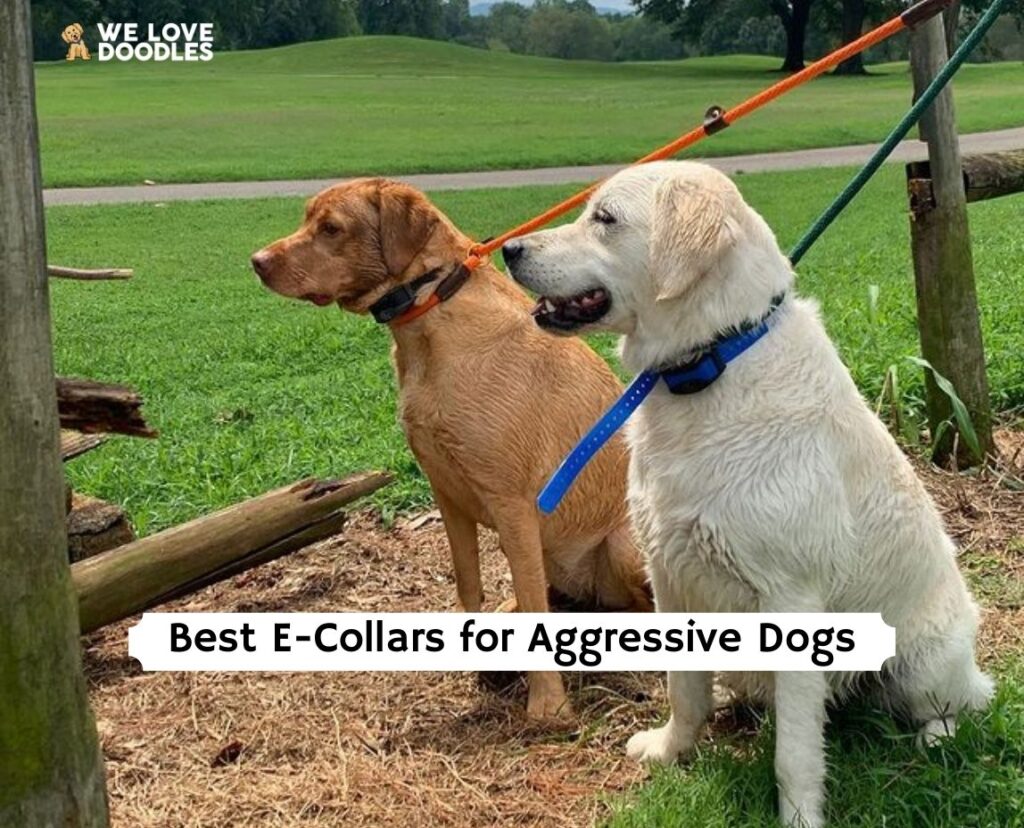 Imagine, you're huddled by the fire in a dark forest. The bushes to the side start to rustle. You can do one of three things: flee, approach it, or stand your ground and prepare to fight. If there was a nasty predator behind those bushes, you could guess which one of the three actions sealed your fate. This fight-or-flight was later refined to become aggressive behavior, where animals like dogs would show aggression in an attempt to keep threats from approaching them and save them from a fight. In the wild, this is mandatory, but in today's domesticated world where we humans call the shots, aggressive behavior is only useful in a few niche tasks like law enforcement and military.
This is a problem when your dog starts showing signs of aggression. It can lead to a host of problems, the worst of which can lead to losing your dog. One of the best ways to solve this is through training, but if your furry friend's a little too volatile, you might need some tools to help maintain their focus.
Enter shock collars. Through the use of weak static electricity, these training collars can help keep your dog focused, alongside other features that can help you manage them when it's time to help them with their aggression. We'll show you a list of collars that can and will help you with training them, alongside some general tips on how to use them. 
Hold On, Don't Shock Collars Cause Aggressive Behavior in Dogs?
Misuse of any training tools, or even just incorrect training procedures can cause dogs to feel fear, anxiety, and confusion, which then leads to increased aggressive behavior. A prong collar, for example, when misused can cause your dog to associate it wrongly with pain and discomfort, which could make them direct anger towards you or anyone holding it. 
With proper training, a tool like a shock collar will provide them with a sense of order and obedience, giving you a window of opportunity to help them control or confront what triggers their aggression. It's not uncommon for a professional trainer to use shock collars when dealing with aggression. We'll tell you more about that at the end of the list.
In a rush? Here are the top picks!
Product
Best Shock Collar
Pet Resolve E-Collar
Runner Up
SportDog Training Collar
Most Features
Dogtra Shock Collar
Image
The first on the list is perhaps the swiss knife of the shock collars. Made as an all-around collar and is fit enough to be used for hunting, the Pet Resolve electronic collar will have all the functionality you could use not just for training but for outdoor activities. 
 Features
Three Training Functions: Shock, Vibration, and Tone Modes

10 Static Stimulation Levels

3/4 Mile Range

Supports up to 3 Collars and Remembers Settings Per Collar

LED Light on Reciever

Weatherproof Remote Control, Waterproof Collar

Automatic Anti-Bark Mode

"Always Awake" / No Automatic Sleep-Mode

Quick-Charge Lithium-Ion Rechargeable Batteries
Most modern collars have three main training functions. Shock, Beep, and Vibration Mode. These can be used in creative ways to help signal your dog, such as using the beep as a "recall" signal, which is useful when you're out hunting, training them in wide outdoor areas, or even just letting them loose in the park. 
You can adjust the strength of the shock with 10 as the maximum. As far as strength goes, what matters is you don't overdo the shock level, especially with temperamental dogs. Some might react to levels 1-2, and some dogs are either too beefy or too dense to react to anything lower than 5.
The remote has an above-average range of 3/4 miles or about 1300 yards. This is an open space, so if you're outside with plenty of trees between you and your dog, it might dampen the range. In case you do find yourself in areas with plenty of trees and it's getting dark, the receiver comes with a remote-activated LED that helps show where your dog is. 
The remote control is splashproof, which means you can clean it on running water, even at higher pressure, but should not be immersed in water. The receiver, however, is completely waterproof and can stay intact for about an hour under 25 feet of water. The battery life lasts around 50-70 hours, but that depends on how often you use it. 
It's worth noting that this remote training collar does not have a "Stand-by" or "Sleep" mode. Most collars do this when they are on but unused for several minutes. It affects the battery life, but the bonus is you don't have to keep waking the device up before using it, which could cause a miss-press if you're not aware that the remote is already in sleep mode.
In case your furry buddy has a bit of an excessive barking problem, this collar also doubles as a bark collar. The remote won't work when switched to this mode, so you need to manually switch it back if you want to use the other features. In this mode, the receiver will listen to your dog's barks. If they bark too much after a few seconds, the collar will make an audible beep. If they keep on barking, the collar will deliver a shock based on the level you set, then pause for a minute. This way, your dog will learn to stop at the beep, but still, be allowed to bark to a smaller extent.
Aggressive dogs often have this problem and it's never a good experience to get complaints from your neighbors after a tiring day of work. However, this is just one solution among many.
The second collar on the list is a powerful hunting collar. It may not be for everyone, but for people serious about ensuring the best for their dogs no matter what can opt for these kinds of hunting collars. It has simple features compared to the first collar, but as long it's used responsibly and properly, a collar of any caliber is just as effective. 
 Features
Three Training Functions: Shock, Vibration, and Tone Modes

10 Static Stimulation Levels

1/2 Mile Remote Range

Supports up to 3 Collars and Remembers Settings Per Collar

No-Look Remote Control Design

Easy-to-Read OLED Screen

Waterproof Remote Control and Reciever

Quick-Charge Lithium-Ion Rechargeable Batteries
It has the three basic functions needed for effective E-collar training. Before doing training, it's always best to use the lowest shock level first and check how your dog responds. If even the lowest level is too much, opt for vibrate. Smaller and "softer" breeds like Poodles, Shih-Tzu, and the like may find the static stimulation too much. (this is assuming they are above 10 lbs.) 
This collar's maximum strength is at level 10 and the vibration is pretty palpable and sharp, enough to get a dog's attention in a heartbeat. The range is lower than the first, only at 1/2 mile, or about 900 yards. This range will lessen the more clutter there is in the environment, so keep that in mind if you're using this in places with lots of foliage. 
The remote can be paired with a maximum of three receivers, allowing you to coordinate with multiple dogs and the small comfort of a No-look design means you need to pay less attention to the remote and more to your dogs. It's not much to think about but goes a long way for new users. 
The remote has a decent OLED screen that's pretty visible in the dark. Also shows information like the shock level, battery level, and which collar the remote is communicating with. Both the remote controller and the collar receiver are waterproof and can withstand being underwater for about half an hour before any potential water damage. Battery life is the same, about 50-70 hours per full charge. The margin is wide because it highly depends on how many training sessions you do per charge. This is one of the best shock collars for an aggressive dog.
 The next collar is much simpler in terms of what it offers but offers a wide range of correction levels through the use of a rheostat. It doesn't have any other features other than what's expected of modern shock collars, but for some owners and professional trainers, that might already be enough.
Features
Three Training Functions: Shock, Vibration, and Tone Modes

127 Static Correction Levels

1/2 Mile Range

Waterproof Remote Control and Reciever

Quick-Charge Lithium-Ion Rechargeable Batteries
People state that the collar is only "Moderately" powerful, which could mean the lower shocks could feel just like a sharp-ish vibration. That would be ideal for smaller, more sensitive dogs. The rheostat or dial allows you to have 127 levels in total. At this point, pinpointing the levels isn't going to be as easy and it's better to think of the levels as percentages now. 
The remote has a decent range of 1/2 miles. Since it uses radiofrequency, anything that dampens radio signals can dampen it too, like trees, cars, and walls. In cases where the remote isn't reaching the collar, the simple act of raising it up high can actually work. 
The remote looks a bit on the bulky side but is actually nice to hold, and the buttons align with your fingers when you grip it. Both the remote and receiver are waterproof and can withstand a deep of about 25 feet for an hour before they get potential water damage. As far as battery power goes, it's a bit longer due to the simplicity of the features, giving you about 70-80 hours of use per full charge. If you're looking to train your aggressive dog with a training collar, this is a great pick.
 Don't get the wrong idea, the shock collar isn't just for smart dogs, it's actually for everyone who's willing to learn. The remote looks like a classic stopwatch so it gives that added feel that you're coaching your dog like the pro-athlete they look like when they start zooming around the yard. 
Features
Three Training Functions: Shock, Vibration, and Tone Modes

100 Static Stimulation Levels

"Blunt" Shock Type

1/2 Mile Range

Can support up to 2 collars

LED Light on Reciever

Weatherproof Remote Control, Waterproof Collar

Quick-Charge Lithium-Ion Rechargeable Batteries
 One feature that sets this product apart from most collars is the "blunt" shock that they advertise across the different models. This could just mean that they employ a weaker shock compared to the rest of this list, or the electricity is delivered at a lower frequency but with the same energy. No matter the type or strength though, what's important is finding the lowest level your dog will respond to. 
The kit offers 100 levels of stimulation for this matter. You can change the levels via the dial on the top of the remote. The small display on the remote face will tell you the level so you don't have to guess the approximate levels. 
The remote has a total range of 1/2 miles in an open space. With this kind of range, no matter if a house is between you and your dog, you can effectively signal your dog from anywhere in the house, unless you're in a place that somehow blocks radio signals. 
The remote is technically waterproof in the sense that it floats. This is incredibly handy if you're training your dog to fetch things in water or hunting with them because there's a real risk of the remote slipping off your hand because of its shape. The receiver is waterproof too but doesn't float. 
Now, like our first collar, this kit also has an LED light. It's not going to be bright enough to light the way, it could be if it's dark enough, but it's certainly visible enough to see your dog's location in the dark or in thick fog. 
Battery-wise, you get the same 50-70 hour general active time per full charge and it only takes 2-3 hours to charge it back to full. 
Made for beefier dogs, this collar has a larger leash and an overall chunkier appearance. It's worth noting though that most of the time, a dog's aggression is inversely proportional to its size. The bigger dogs tend to be the more patient ones and as you go smaller, the more aggressive they tend to be.  
Features
Three Training Functions: Shock, Vibration, and Tone Modes

15 Static Stimulation Levels

Distance Tracker

1/2 Mile Range

LED Light on Reciever

Weatherproof Remote Control, Waterproof Collar

Quick-Charge Lithium-Ion Rechargeable Batteries
 It has the three basic training features modern collars ought to have. We eventually settled on Shock, Vibrate and Beep because it suits a great majority of users. A professional dog trainer would use the beep and vibrate to do most of the training by using it as signals and only use the shock as part of aversive training paired with positive reinforcement. It has 15 levels of shock, a bit more range than some collars, and, according to people's reviews, leans on the stronger side, so be careful when using higher levels.
It has a decent range of 1/2 miles at open space, and the "Distance Gauge" is a handy feature that shows you an approximate measure of how far the receiver is from the remote control. It doesn't give any numbers but it lets you know if your furry buddy's about to leave the signal range, and also with some clever turning left and right, you can approximate which general direction your dog is in by watching how the distance gauge fluctuates. Great for moments where your dog bolts off into the distance and gets lost.
In case they do get lost and it's dark, the receiver also has a remote-activated LED. It's bright enough to light the way, but more importantly, it shows where your dog is. In conjunction with the distance gauge, it could prove useful.
The remote can withstand any weather you're willing to endure, but should not be immersed underwater. The receiver is waterproof and can withstand and even operate under 25 feet of water for about an hour. The battery life, still the same 50-70 hours based on usage and charges back to full in 2-3 hours. 
Frequently Asked Questions
A shock collar is only one tool among many which owners use to stamp out unwanted behavior in their dogs. The training is almost always paired with Positive Reinforcement and eventually replaces the shock collar entirely. This is only a small fraction of an entire system of processes and first-time users can feel lost without a general direction on how to use them, especially when using them to solve aggressive behavior. With that in mind, we gathered questions people commonly ask about shock collars and dog aggression to hopefully give you a general view of their usage, and what must be kept in mind. 
Why is my dog aggressive in the first place?
There are too many factors to consider all at once, but trying to figure them out by generalizing some concepts, helps narrow it down. 
Some breeds are just bred to be aggressive. Not "hurt you on the spot" aggressive, but instead, more "active" in certain traits like being more territorial, protective of family members, more attuned to herding animals, being better hunters, or just being downright energetic. German Shepherds, for example, make excellent police dogs because they come from a long line of sheepdogs who are more attuned to detecting intruders like foxes and wolves and keeping their sheep safe. 

Anxiety, illness, and trauma also place a crucial role. Dogs suffering from pain or discomfort often show aggression to avoid conflict they know they can't win. If you find your dog suddenly becomes aggressive, consider examining them and taking them to the vet for a consult.

The Unknown affects dogs as much as humans. If they bark at visitors or intruders, it's likely that they don't know who those are yet, and just consider them in general as threats in their heads. The same goes for dogs who bark at the sound of passing cars. Simply exposing them to these stimuli better, especially with you around, can reduce this, though some training may be required. 

Dogs do as owners do, in some cases. Are you someone who often scolds and chases after kids who ruin your front yard? It's likely your dog will pick that up and consider any small humans entering the yard as intruders. If your dog doesn't get any kind of negative stimuli from doing these kinds of actions(like being scolded themselves), they will end up turning it into a habit.
Is shock collar training cruel?
It's only as cruel as the person that does the training. Virtually any kind of training can be cruel if viewed in the right perspective and done a certain way. One good simile is kitchen knives. They are very dangerous, having a sharp edge enough to slice through meats of any sort, however, if used responsibly, is an invaluable tool in any kitchen. 
You're still right to be skeptical, because shock collars well, shock. They still use electricity, the same electricity that flows in sockets and that zappy doorknob on cold winters. Manufacturers and companies do what they can to control this shock, to the point where it's less pain and more irritant. They spend a great deal of money making this consistent and less likely to fail, so when it comes to shock collars, lean on quality over price. (The collars on our list are known for their quality, that much we can assure.)

When you get your hands on one of them, you have a responsibility to use them as safely as possible, as you would a kitchen knife. Here are some tips:

Every week or training session, find the lowest shock level your dog will react to. Place the shock collar properly on your dog and set the level to the lowest. Wait for your dog to relax, then trigger the shock for a second. If they react in the smallest way, like looking confused, or turning their head, start training on that level. Otherwise, switch to the next level and try again until they show the tiniest reaction to it.

Follow the two-finger rule when adjusting the collar's tightness. If you can snuggly fit two fingers between the neck and collar, it should be tight enough for the prongs to make consistent contact with the skin, but not too tight that it's uncomfortable. Do not leave the collar on your dog for more than 8 hours. 

Test the collar before placing it on your dog. All the collars in this list come with a small test light that helps you check if the shock is working properly. Test both the momentary and continuous shock for maybe a minute or until you're satisfied that it works. This way, you know if the collar gets "stuck" in shock mode for some reason or any other potential problems before starting.

Read the Manual. Some collars like the educator series have few buttons, so they need button combinations to use certain features. Others like Pet Resolve have safety manuals and some how-tos like activating and setting the bark limiter. 
How do I train my dog using a shock collar?
The most common and advisable method is the Positive Reinforcement + Negative Reinforcement training. To be clear, this does not involve punishment of any sort, unlike the "carrot and stick" approach but there are some similarities between them. 
The idea is to use the shock collar to "push" them into performing the correct behavior, and when they do so, are then rewarded by something they like. In this scenario, performing the wrong behavior actually does nothing except keeping the shock collar's sensation happening. Let's go into more detail.
Let's say you want your dog to approach you when called. As an example, let's say you want your dog to stop chasing and snarling at the deliveryman and approach you when called. You first teach them the command and the appropriate action: Use a really long leash. When you say "C'mere!" or any other command (make sure you're highly consistent on this command). Lightly tug the long leash until they approach you, then signal that they did a good job and reward them with a treat. Keep doing this until they do this about 80% of the time.
Then it's time to reinforce the taught behavior. Set the shock collar up, find the lowest level your dog will react to, alongside the treats. With the shock collar remote at the ready, call your dog's attention and say "C'mere!" then activate the shock. As soon as they approach you, stop the shock, signal that they did good and provide the treat. Keep doing this for about 15-20 mins with small breaks. After the session, keep the collar on for a few hours (no more than 8) to avoid your dog associating obedience with the collar. After a week or two of these training sessions, your dog should reliably stop what it's doing and approach you when you say "C'mere!".
The idea behind this training is to make your dog "learn how to turn the sensation off." This gives them a sense of agency and minimizes confusion. This method shows that you're NOT using the shock AFTER they did the wrong behavior, instead, you provide the sensation prior to any behavior and only remove it after they did the correct action. You should never use the shock for punishment, ever. At least don't do it after they do any negative behaviors. The proper method is to teach them basic commands (sit, heel, recall, etc.) then use those commands to stop them from doing the unwanted behavior.     
Conclusion for Best E-Collar for Aggressive Dogs
A dog's psyche is made up of many layers and is as complex and varied as there are dog breeds. Aggression can come from many sources. Once you have a general idea of where it's coming from, you can then either consult a vet, a professional trainer or do it yourself. As long as you treat your furry buddy with all the love and respect they deserve, any training would be fruitful, and eventually, you'll only need praise and a tactical bag of treats on your future training with them.
Other articles you would like:
Garrett loves animals and is a huge advocate for all Doodle dog breeds. He owns his own Goldendoodle named Kona. In addition, he volunteers at the Humane Society of Silicon Valley, where he fosters dogs and helps animals. Garrett enjoys writing about Doodles and believes that dogs can teach humans more about how to live than humans can teach a dog.
Why Trust We Love Doodles?
At We Love Doodles, we're a team of writers, veterinarians, and puppy trainers that love dogs. Our team of qualified experts researches and provides reliable information on a wide range of dog topics. Our reviews are based on customer feedback, hands-on testing, and in-depth analysis. We are fully transparent and honest to our community of dog owners and future owners.